At Royal Swimming Pools we pride ourselves on offering our customers simple, easy, and fun solutions to make buying, building, and enjoying your swimming pool a cool breeze on a warm summer day! And we tackle maintaining your pool with this same mindset!
Royal Swimming Pools is a proud partner with APi,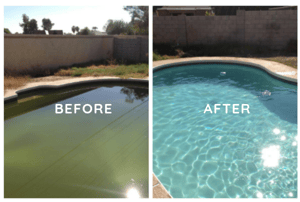 a company leading the way in effective water treatment products that are proactive, instead of reactive. All APi products are based on the philosophy that preventing problems is more efficient than treating problems. Below you'll find a short recap of our favorite APi solutions. Dive in and see how E-Z maintaining your pool can truly be.
E-Z POOL
E-Z Pool is a proven water care program that combines simplicity with incredible water quality in a once-a-week application. A specially blended, multi-tasking formula for proactively managing swimming pool water while eliminating the confusion and inconvenience of adding multiple chemicals on a continuous basis.
It contains a stable oxidizer, algae shield, clarifier, scale inhibitor, water conditioner and balancers (pH, Total Alkalinity, and Calcium Hardness) to keep swimming pool water clean, clear, and trouble-free.
E-Z Pool is the perfect solution for your weekly pool maintenance schedule, as well as your seasonal pool closing and winterizing routine!
Go ahead, make it E-Z!
Learn more about what E-Z Pool can do for you and your pool here!
BONUS: When paired with Pool Frog mineral system, you can reduce your chlorine tablet consumption to 0%! and with the cost of chlorine tablets still at an all time high, it's a great time to switch over to fresh mineral water. Read more here.
Revive! START UP/CLEAN UP

A multi-action product that uniquely removes phosphates (algae food), metals including copper and iron, scaling carbonates, organic debris and other contaminants that cause cloudy murky water. (Seriously, even if your pool looks like a swamp monster's favorite vacation spot. Pics for proof? You got it! See before and after photos of Revived pools here.)
Revive is formulated for use on new pool startups, remodel/refills, spring openings, abandoned pools, and severe algae cleanups of all swimming pools. It's compatible with all pool chemicals sanitizers, and finishes.
Revive! WEEKLY
Remember how we said that APi products focused on proactive solutions more than reactive fixes? Revive also comes in a handy dandy Weekly system to add to your routine for upfront problem-solving and preventative maintenance.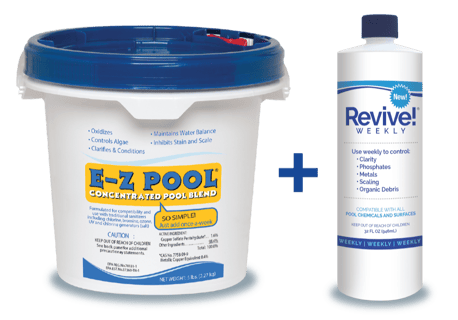 A superior clarifier which also controls phosphates, metals, scaling and organic debris. Enjoy the highest water quality possible in just seconds per week.
PEPPER®
If you have a Saltwater pool, you cannot forget your PEPPER®! As the perfect solution for saltwater pools, PEPPER® is a special blend of select ingredients formulated to work specifically with the unique demands of salt systems.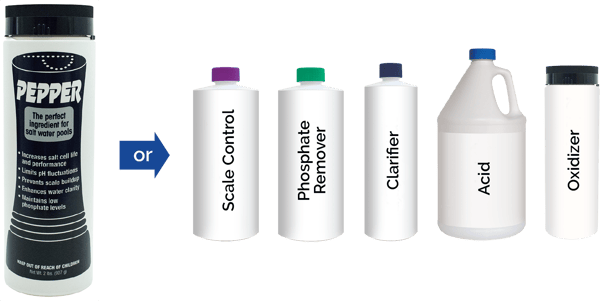 Use PEPPER® regularly to increase the life and performance of the salt water generator, improve sanitizer effectiveness, greatly enhance water clarity, limit troublesome pH fluctuations, help maintain low phosphate levels and prevent scale buildup on the generator, pool equipment, and surfaces. Learn more about PEPPER® here!
CLOUD OUT
Cloud Out is a specialty blended formula that restores water clarity in all swimming pools. The fastest-dissolving granules clear cloudy water FAST without affecting the water balance.

Cloud Out is compatible with all sanitizers and pool chemicals including salt, chlorine, bromine, biguanide, ozone, UV, and minerals.
Cloud Out is especially effective in removing pink, white, and clear deposits without having to close the pool.
Additional resources for your pool maintaining journey: