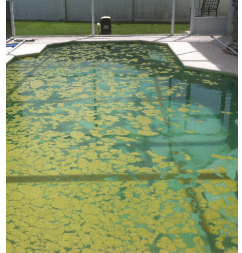 You've seen those pools. The pools that are home to creatures related to Swamp Thing, the Lock Ness Monster, or just your friendly neighborhood reptilians.
But you never want that to be YOUR pool! We're not judging; too many times folks buy a house with a neglected pool or didn't add the right mixture of winterizing chemicals (because let's be honest, that can be confusing without EZ POOL) and opened their pool to see quite a mess. Whatever brought you to this point, we understand that you're now looking for a QUICK revive!
Revive START UP/CLEAN UP is formulated for use on new pool startups, remodel/refills, spring openings, abandoned pools and severe algae cleanups. Revive WEEKLY is designed for the ongoing maintenance of all swimming pools.

Revive is compatible with all swimming pool finishes, chemicals, sanitizers, flocculant and clarifier. Revive START UP/CLEAN UP and Revive WEEKLY do the work of several products, acting as a phosphate remover, metal treatment, and clarifier.

Revive! START UP
PERFECT FOR: New Pool Construction or Renovation (unfilled pools):
When initially filling the pool, spray or pour Revive into the deep end. As the water level rises, Revive will treat the pool walls and source water, resulting in clean, clear water for the initial fill. When filling is complete, brush/vacuum pool and continue with regular water care program.
Revive! CLEAN UP
PERFECT FOR: Phosphate build-up, severe algae, metals or scaling (filled pool):
If algae is present, brush walls and shock pool prior to application. If no algae, simply brush the walls; no shock is necessary. (For best results, circulate pump for 60 minutes.)
Turn off circulation pump and filter.
Attach a garden hose to Revive START UP/CLEAN UP bottle and apply the entire contents over pool surface.
Wait 24-48 hours for debris to settle to pool bottom, then slowly vacuum to waste. Once pool floor is clean, run filtration system normally for at least 24 hours.

Tips:
Highly contaminated pools typically require 2 or more bottles.
Allow additional time for Revive to work in cold water.
Revive cannot be overused. The more used, the more contaminants removed.

Revive! WEEKLY
PERFECT FOR: Routine problem-solving and preventative maintenance:
Revive WEEKLY works on a proactive basis to remove phosphates, metals, scaling carbonates, and debris without clouding the pool water.
Continue to circulate pump and filter
Add Revive WEEKLY (4oz per 10,000 gallons) in front of return jets or directly into the skimmer with pump running and main drain open.
Run pump for 48-72 hours.
Clean or backwash filter after 7 days. For best results, repeat weekly.
For best (and easiest) results, pair your Revive! WEEKLY with E-Z POOL! E-Z POOL is a proactive water program that prevents problems instead of treating them on a reactive basis after they occur. Plus when used with Revive, you can take advantage of their No Algae Guarantee* (read more here)!

This match made in heaven combination brings you the 24-Hour Pool Fix if you find that you have pool water problems on a regular basis.
Quickly clear cloudy water
Eliminates chloramines
Contains algaecide
Oxidizes pool
Contains no chlorine
Reduces TDS
Removes iron and copper
Removes organic debris
Removes scaling carbonates
Removes phosphates
INSTRUCTIONS
Balance water and clean/backwash filter.
Add ten scoops (5lbs) of E-Z POOL and 16oz of Revive! for every 10,000 gallons of water. Let the pool circulate 24-48 hours without swimming.
After 48 hours, clean/backwash filter again, recheck balance and adjust if necessary, add typical chlorine dosages, Check chlorine readings in 24 hours.
Repeat process if necessary.

BONUS: When paired with Pool Frog mineral system, you can reduce your chlorine tablet consumption to 0%! and with the cost of chlorine tablets still at an all time high, it's a great time to switch over to fresh mineral water. Read more here.