With a seemingly endless amount of liner patterns to choose from, you've probably asked yourself, "how do I choose the best liner for my pool". Choosing the right liner for your new or existing swimming pool is one of the most important decisions you will make when planning for your new pool as it will affect the appearance of your pool.
As you'll want to make sure that you understand how the end result will look, we have compiled our top tips and recommendations that we've given over the last 30 years to help you make an amazing choice to suit YOUR preferences!!
This post will specifically be covering what to know when choosing an Inground Pool Liner, however you can visit our post here if you're looking for insight on choosing an Above Ground pool liner.
IMPORTANT: Due to the rise in demand caused by the 2020 pandemic, pools and liners in general are experiencing delays in manufacturing and shipping. It's important to shop early as the entire industry is currently delayed by several weeks and in some cases several months. Many liner manufacturers closed down for much of 2020 and are still trying to catch up all while the demand continues to increase. Some liner patterns are still not considered "back in stock" yet due to a depletion of raw materials. Unfortunately, closures in international and domestic supply chains are making it difficult for manufactures to get the materials they need to create liners and in some cases pools. The best plan you can have is to purchase your pool and/or liner 3-6 months before you want to start building to ensure you have everything you need on time. More on purchasing a pool during or even post-pandemic can be found here. Now back to choosing your liner (since that is after all a fun part of the design process).
COLOR
Remember that seemingly endless amount of liner patterns we mentioned? The first step to narrowing down your choices is to determine what you want the overall color of your pool to be! If you know up front that you want more of beachy looking pool, you'll save a lot of time by passing over the dark blue liners scattered throughout the pattern line up.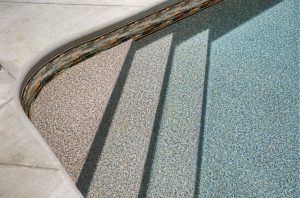 While the liner plays a very large role in the end result of your pool's color, there are other factors to keep in mind when choosing your liner color as well. For example, one factor is the sky. Your pool will act like a mirror and reflect the sky and clouds. That's why the ocean is blue rather than beige like the sand!
The ocean is another great example to showcase the importance depth has on your water's color. When you are standing on the shore, toes just barely being covered the waves rolling in and out- the water is clean when you look at it and shows the sand and shells exactly as they are. But as you continue further in, the water becoming deeper and deeper, you begin to lose the details of the sand beneath your feet until they disappear altogether into an ocean of pure blue.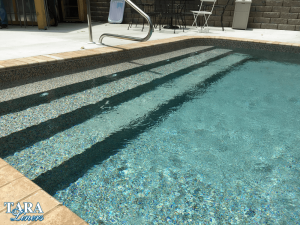 This will be the same effect that depth will have on you pool! The color and detailing of your steps will be the color and detailing of your liner pattern as is. As the floor of your pool goes deeper under water, the color will also deepen and the fine details of your pattern will blur, as shown above in the Tara pattern Cascade Creek!
The natural lighting surrounding your pool will also have a major role to play in the color of your finished pool. Just like weather will cause the color of your pool to alter (sunny days making your pool's color more vivid; cloudy days making your pool look darker) so will any large objects casting shadows near your pool; tress or your house for example. Where will these shadows be throughout the day? Will your pool receive a lot or minimal sunlight? If your pool is going to be shaded most of the time, you may opt to go with a lighter/brighter pattern color to offset some of the darkness as well as to avoid being able to notice more UV damage in an otherwise darker liner.
Speaking of picking color, there are four main color profiles that vinyl liners come in- Deep Blue, Light Blue, Aqua, and Vivid Blue. Each will have several different actual patterns that you can choose from and most are available with or without borders tiles at the top. Having an idea of which color profile you are looking for will same you a fair amount of time so here are some of the pros and cons of each!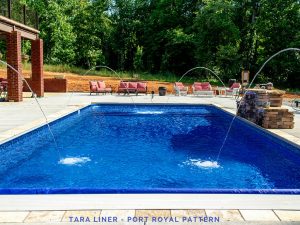 Deep Blue- A darker liner is more likely to absorb sunlight, and therefore can help to warm your pool water. Darker liners will also make it more difficult to see debris and dirt in your pool. But as liners become darker, they are more inclined to fade over time due to UV damage and Chlorine. You will notice fading quicker, but it may take longer to actually bleach completely since most liners are printed on darker blue vinyl. Deep blue liners seem to hold their color longer, even though you will still see tone changes.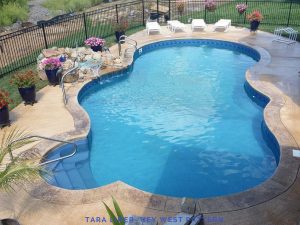 Light Blue: Lighter colored liners will not be as susceptible to fading. They will attract less sunlight and will be less likely to show bleaching and fading as fast over time due to less UV damage. A lighter liner will show more debris and thus, demand to be cleaned on a more regular basis. A popular reason for choosing this style is due to there being less of a change in the way the pattern looks over longer periods of time.
Aqua: The aqua color profile is getting more and more popular! Traditionally when people think pool color, they think blue... like a BLUE blue. Tan colored liners have grown in popularity among those who don't necessarily want a basic blue pool. Sandstone liners will make your pool appear aqua in color, and more of a lagoon look. If choosing an aqua liner, it may be best to pair with gray options such as coping, steps, skimmers, or even a slide for optimum aesthetics.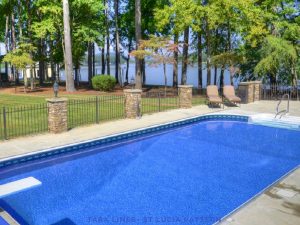 Vivid Blue: While somewhat darker than Light Blue or Aqua, Vivid Blue liners appear brighter in direct sunlight, giving off a vibrant color that can attract attention to your pool. The richer, louder blue color appeals naturally to the eye, and goes well with all sorts of landscaping and patio furniture. This look is one of the more common today, and is typically what new pool owners are wishing to achieve.
Okay! Hopefully you've narrowed it down at least a little bit (even if it's just eliminating one or two color profiles or knowing that you want a deep rich pool color). But if not, check out what one of our manufactures has done on their website here to allow you to see what certain patterns look like in water on finished pools. Now, let's talk about the actual pattern!
PATTERN
The good news is that no matter what color you decide to run with, there will still be a plethora of pattern and tile options available to you! There are patterns that mimic natural stones, marble, gunite, ceramic tiles, and even jewels.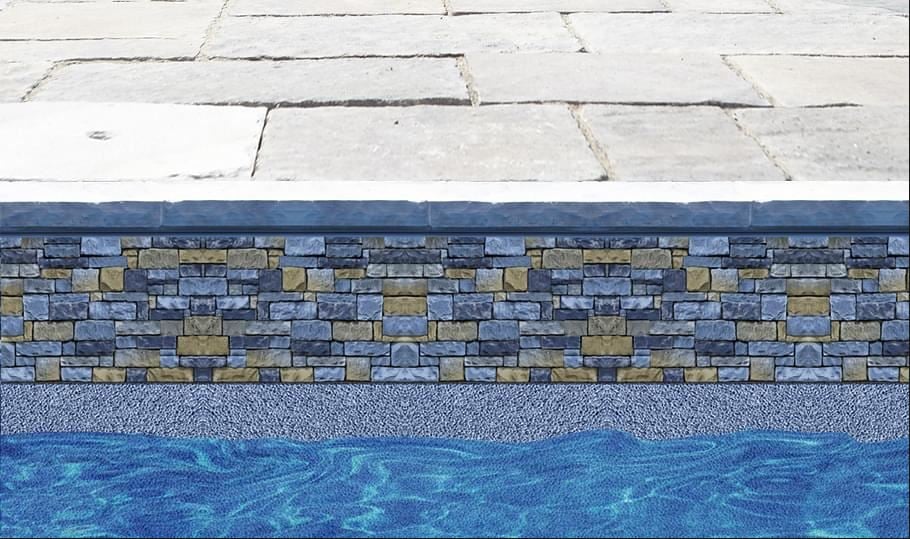 Some of our liners by Merlin even have what they call Aqua Luster; patterns with metallic or shimmering inks! When sunlight hits these bad boys the look is truly marveling!
No matter what look you are going for, there's a liner to meet that demand! Another way to look at your liner is to coordinate tile pattern (the top row of design or boarder) with its surroundings.
If you know what kind of deck will be encasing your pool, you can choose something that complement those features, your patio design, or other natural surrounding elements in your backyard.
That being said, depending on your surroundings, a tile pattern can enhance your poolscape, or distract from the vibe that you are going for.
Some liner patterns come without tile patterns, however, if you find a liner that you absolutely love but are not the biggest fan of the upper boarder, never fear! Tile patterns/boarders can be removed from almost any liner upon request. It's a very convenient upgrade for those seeking simplicity!
WHAT'S GOING TO BE COVERED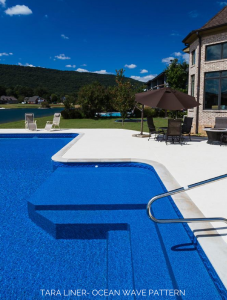 Now you may be thinking, obviously, the pool is going to be covered. What about other features within your pool?
Vinyl liners are kind of like magic.
There's almost nothing that they can't cover in your pool in order to create a seamless appearance.
You can cover a number of stair types and other built-in features in your liner choice: Swim-outs, sundecks, benches, tanning ledges, in-pool bar stools… if it's under your pool's water, ask if it can be covered! This is an important thing to know up front as it will help in determining if you want a textured liner!
TEXTURE
Texture can be an invaluable option if you decide to go with vinyl over steps!
The vinyl is embossed with a texture that feels good under foot and provides grip and additional traction in higher traffic areas of your pool.
While most manufacturers have an additional charge for textured vinyl, it is a much safer option in any pool.
Some liners even have an all over pool texture to cover the entire liner and not just the steps.
Some textures give the feel of gunite, have recessed "grout lines" on tiled patterns, or create the feeling of compressed sand beneath your feet!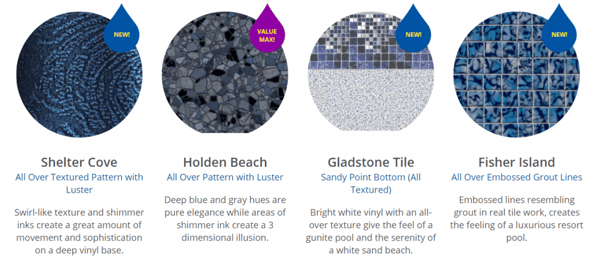 BONUS INFORMATION: Textured vinyl is great but it is not a substitute for good pool chemistry. You still need to maintain the proper chemical balance in your pool to avoid slippery algae build up.
Balancing your chemicals properly will insure years of use and beauty of your vinyl lined swimming pool.
Automated chlorination systems, mineral systems, and salt systems will help maintain lower levels over a longer period of time vs. shocking your pool weekly.
There are other options as well such as Ozone and UV that can reduce the need for chlorine, reducing or slowing down the fading time on your liner. Another option to look for is a liner that offers a coating to protect against UV and Chlorine.
H2okay! uses a superior coating and has been proven to increase the liner's lifespan by reducing the amount of fading over time. Ask which of our liners has this feature!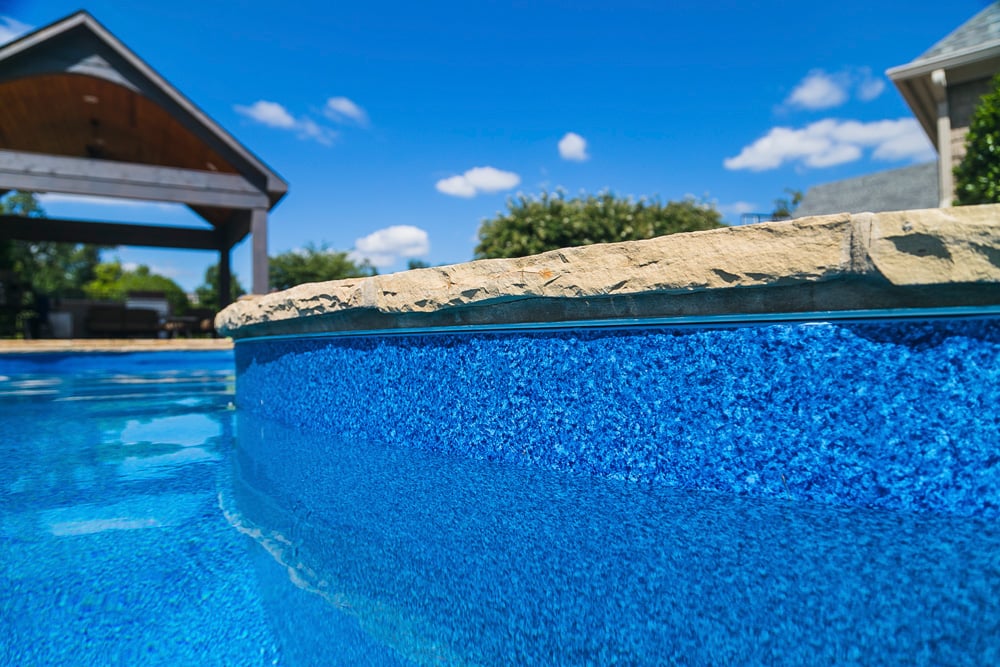 THICKNESS
This should be obvious: the thicker, the better right? Not necessarily!
In most cases a thicker liner will last longer, and will be less likely to be cut or punctured.
However, if installed in colder climates on a cooler day, thicker liners are not as pliable as a thinner liner. That's important also in that with installations where the liner is a little tighter, if you over stretch the liner, it will reduce the life of that liner. But that can be avoided entirely by preparing to install your liner properly.
Warm, breeze free days are the best, and leaving your liner in the sun or a warm basement for a good bit beforehand can aid in making it more pliable!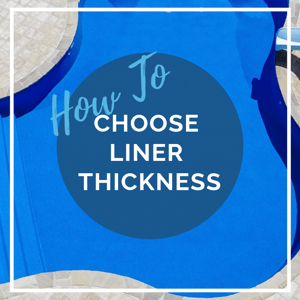 For these reasons, we normally suggest going with the pattern that you like the most and consider the thickness of the liner last.
If the pattern is available in multiple thicknesses, and it's in your budget to upgrade, it's almost always a good idea to do so; especially in warmer areas with longer seasons. For more information on liner thickness, click here!
Whichever pool liner you choose, maintenance is important, but it's good to know that it will eventually need to be replaced. This is one of the big reasons vinyl lined pools are so popular.
Changing the liner is not an extremely expensive process and can give your pool a brand new or even completely different look with ease!
We hope that this information has helped you in narrowing down your decision a little bit or has at least provided enough information to make you feel confident in moving forward! As always, if you have any questions or concerns our team is always willing to help!
Additional resources for your pool buying journey:
Additionally, one of our favorite liner manufactures, Tara Liners, has a new feature on their website that allows you to see what some of their liners look like in the water on a completed pool ( you can even change the decking to more closely match what yours will look like!) Check it out and let us know if there are any liner patterns that you like but can't find on our site. We're an authorized Tara dealer and would be happy to help.
Hopefully, we've helped answer some questions for you on choosing your new swimming pool liner! However, we'd like to cover a different question now: Why buy your from us? What value do you as a consumer get from purchasing your liner from us?
The image below covers so many benefits of shopping with Royal Swimming Pools however we want to point out what we're really passionate about as consumers ourselves. What we're talking about isn't our incredible track record of 30 years in the industry. It isn't our ability to create customized items in a way that is simple and easy to understand. It's not even our long list of ways to buy including multiple easy financing options? It's more important that all of that. Because it's about you.
The three most important items that you can focus on below is how we treat... you. Our team builds real relationships with our customers. If you call in and speak to a sales consultant, that consultant provides support to you before your sale, can assist with your purchase, ensure that all your measurements line up properly. But it doesn't end there. We provide that same one-on-one support during your installation, if you have any technical, troubleshooting, or even warranty inquiries later down the line, we'll have you covered!
This leads to our high customer satisfaction rating. Yeah, no for real- almost 5,000 reviews here with a rating of 4.8! Want more? See what reviews folks have said about us on Google! If you're pressed for time you can check out some customer feedback below.
We pride ourselves on taking care of our customers before, during, and after they choose to shop with us. This has led to our high customer satisfaction rating which has been made obvious by the positive feedback we see across multiple platforms. Why buy from Royal Swimming Pools? Because we'll treat you like royalty every day.