First, you have to know that the options are endless for your pool shape. Choosing a shape essentially comes down to two major points: Personal preference and how much room you have in your yard. That being said, it's wise to put additional thought into your overall goals to ensure that you are getting the most out of not only your pool but your entire backyard.
Here are some questions that you should consider when choosing your pool's shape:
PLACEMENT & SPACE
What size of a pool are you wanting and how much yard space do you have to available for it?
How much patio and/or decking space would you like? This will be a major item to consider if you are building a new deck or patio as you'll what to size your pool accordingly.
Where will the pool sit (and at what angle) in your yard?
Is there any existing landscaping that you want to try to keep? Certain pool shapes can work with what's already growing/living in your backyard.
Are you thinking about adding any other outside features either now or in the future? Trees, shrubbery, waterfalls, outdoor kitchen, etc.
USERS & ACTIVITIES
Who will be using your pool on a regular basis? Children and anyone with mobility challenges should be accommodated in order to make enjoying the pool and an easy and safe experience.
What kinds of activities will your frequent swimmer engage in—lap swimming, pool parties, diving, water sports, etc. What's going to be your favorite pool related activities?
How deep do you want your pool to go? Recreational activities, such as diving, will require certain depths.
STYLE & FEATURES
What vibe are you going for with your backyard space? Relaxing and tranquil like a spa? Luxurious and contemporary like a resort? Or a full-blown tropical paradise?
What fun accessories, such as slides, diving boards, tanning ledges, and hydrotherapy spas.
Will your pool be complimenting the style and architecture of your home?
These questions hopefully helped you understand the overall look, feel, and goals that you are longing to meet with your new pool purchase. Now let's dive into the actual shapes!
GEOMETRICAL
Rectangles, squares, round circles, ovals, and more; geometric pools are the go-to for modern contemporary households.
| | | |
| --- | --- | --- |
| | | |
| Rectangle Pool | Square Pool | L-Shape Pool |
| | | |
| --- | --- | --- |
| | | |
| Lap Pool | Round Pool | Roman Pool |
RECTANGLE
A classic rectangle's sleek straight lines reinforce an architecture's grandeur, creating an ambiance of elegance. While the corners of your rectangle can be true 90 degree angles, many pool owners soften this modern look by rounding the corners, typically by a 2', 4', or 6" radius.
BONUS TIP: Keep in mind the benefits of 2' or 6" radius corner rectangle is that you can have an automatic cover built directly into the coping.
When you think Rectangle, think:
Luxurious

Traditional
Timeless
Sophistication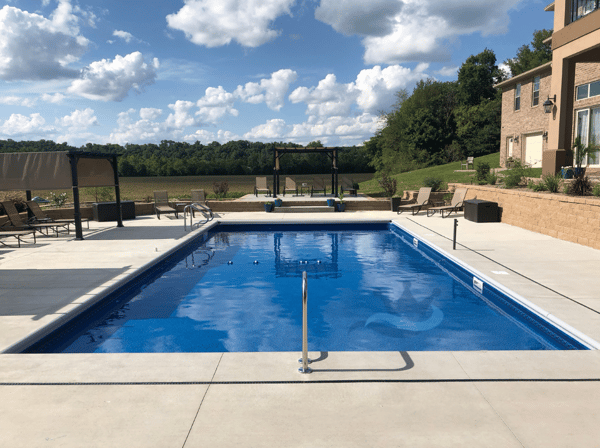 But don't let your home's non-traditional elements deter you from this popular choice! This shape never goes out of style. Plus, there are so many variations of the rectangle, that you can change the aura very quickly. For example, a lap pool shape (a long and skinny rectangle) is primarily used for exercise but can also double as a small oasis in and of itself. These are great for the athlete looking to fit big dreams in a space.
Here are some other modifications to the time-honored rectangle:
GOTHIC
Remember those softened radius corners on the rectangle pool? Reverse the curves in the corners and you have a Gothic shape pool! A simple twist on a classic shape changes the feel entirely!
When you think Gothic, think:
Mid-Century Royalty
Romance
Elegance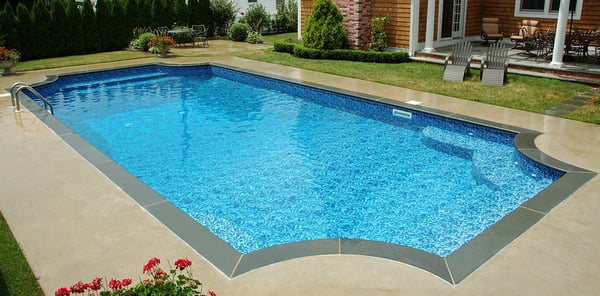 GRECIAN
Cut of the corners off of your rectangle and you are left with a Grecian design that reflects centuries-old architecture from Greece! The standard diagonal of this is 6' however, we can customize the angle if you prefer! In the image example here, you'll see that the corners have been removed but the owner added a step to each end.
When you think Grecian, think:
Tuscan Estate
Formal
Classic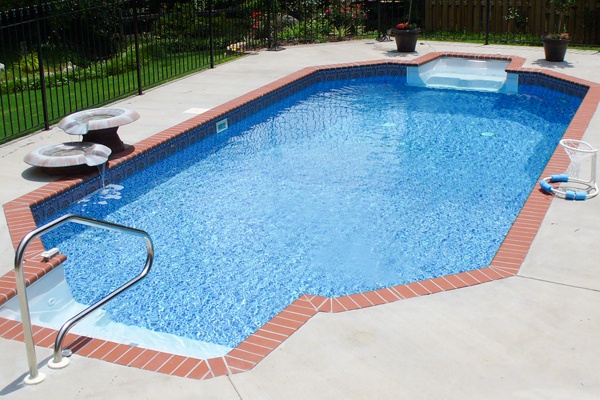 ROMAN
Often paired or compared with its pool shape cousin, the Grecian, the Roman pool shape is another play off of classical architecture. This shape takes your rectangle and creates a "bubble" on one or both ends of your pool.
When you think Roman, think:
Hollywood Mansion
Legendary
Chic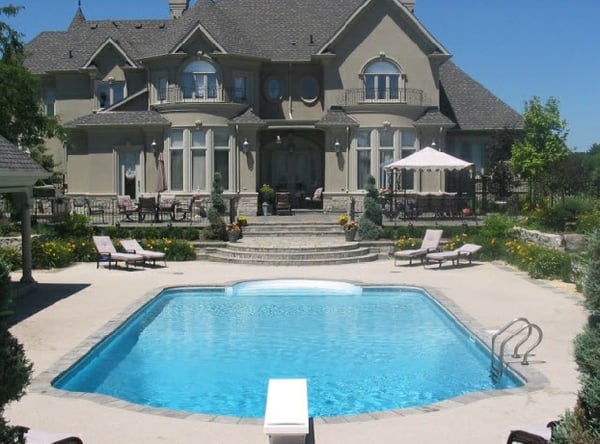 OVAL
Imagine those "bubbled out" end of your Roman Pool and instead of the bubbles taking up a small portion of your pools end wall, they take up the entirety of the pool's ends. That's right, the oval is a play on the rectangle thanks to its two straight sides! An oval is just a rectangle with a rounded end.
When you think Oval, think:
Effortless
Community
Leisure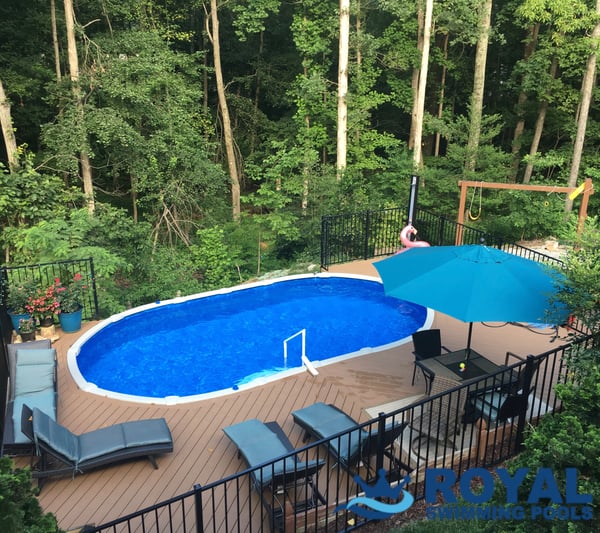 L-SHAPES
Ah, the marriage of two rectangular shapes… what more could a homeowner want! Especially if the pool will serve as a retreat for multiple types of swimmers! This is phenomenal shape option for sports-focused pools since there can be an area for advanced swimmers as well a separate portion of the pool for either novice swimmers or those wishing to simply relax. It's the best of both worlds.
BONUS TIP: If you have your heart set on a diving pool, the L shape pool can help make your slope much more ideal when it comes to meeting the depth requirements
Similar to the L-shape is the T-SHAPE: a highly functional design that incorporates a diving area on one end and a long play area on the other!
When you think L-Shape, think:
Resort Living
Functional
Sports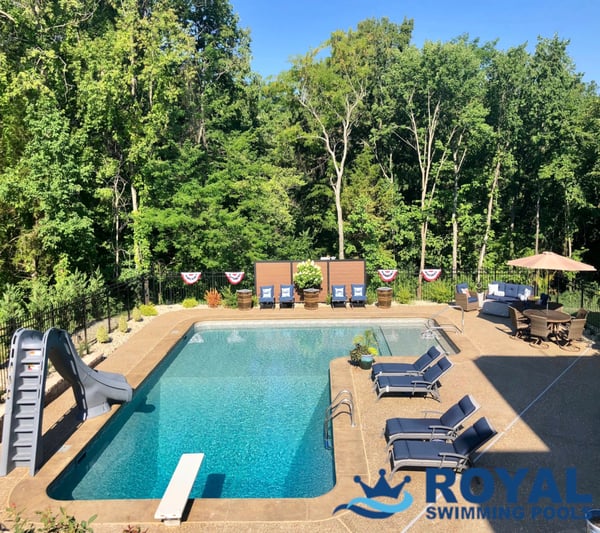 FREEFORM
Here we are the Wild Child of the pool shapes! Freeform pools are essentially any of the possible shapes that you didn't learn in Kindergarten. These are perfect for homes that desire a more natural looking watering hole that blends into their surroundings more organically. These shapes are ideal when you are building your pool around existing features and landscaping!
When you think Freeform, think:
Private Oasis
Tropical
Lagoon
Tranquil
Freeform Examples:
Really though, you can create a freeform pool to replicate almost any shape you can imagine. Create your own lazy river. Big music buff? How about a guitar or piano-shaped pool. Whatever your passion, your pool can reflect it!
Additional resources for your pool buying journey: