There are so many reasons someone may be interested in the idea of burying an above ground swimming pool.
A sloping/rolling/rocky yard that cannot accommodate a traditional inground structure

An existing deck that needs to be level with the pool but is lower than a traditional above ground pool wall

Wanting the look of an inground pool without the higher price tag that goes along with it
Whatever your reason may be, the first question that pops up is if it is safe to bury an above ground swimming pool. The short answer is, YES! It can* be. However, it's important to know that not every above ground swimming pool can be buried.
"How do I know which ones are safe to bury? Or how deep they can be buried safely?"
So glad you asked...
As the name suggests, above ground pools are (or were) designed to go above the ground and not in it. However, depending on how deep you're wanting to bury your pool you may have more options than you thought.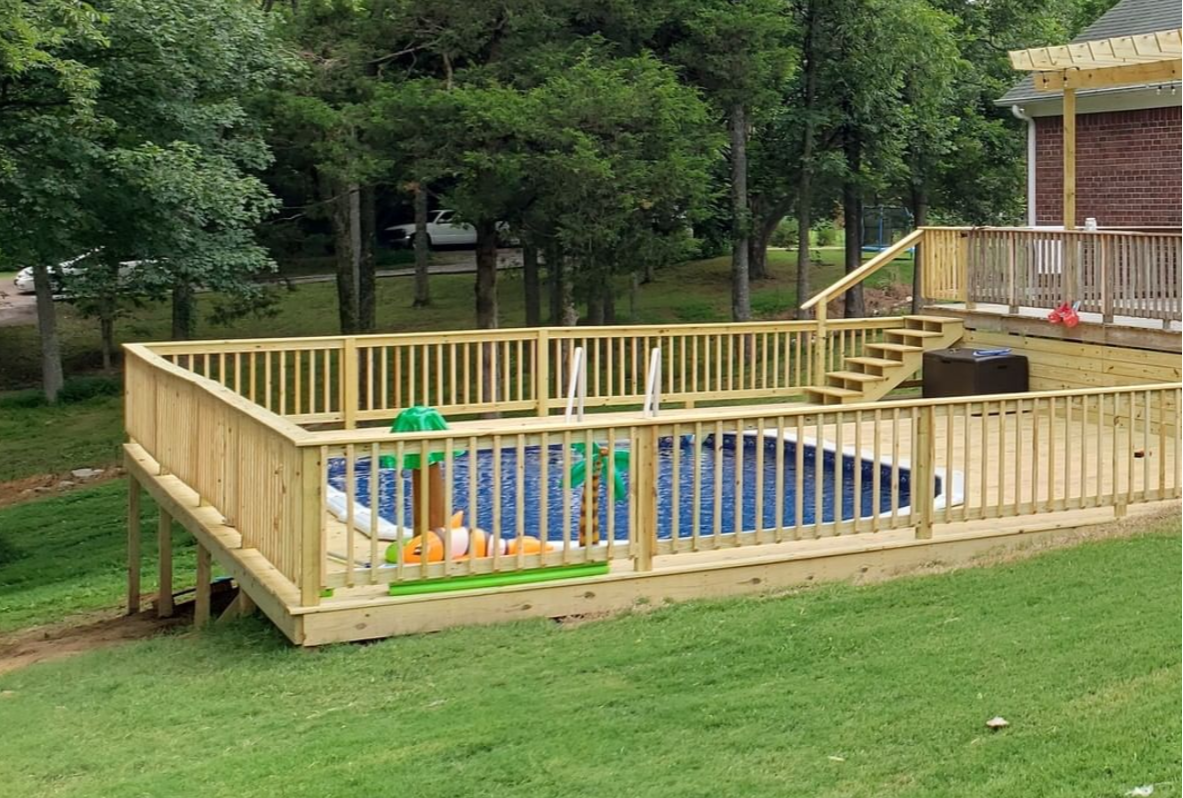 How deep do you want to bury your above ground pool?
Fun fact, ALL above ground swimming pools can go in ground 1-2 feet with proper drainage. Don't be tempted to skip over that last part either. Without proper drainage, burying your pool, even that short amount, is no longer a safe option- for those swimming or for the pool structure itself. However, most people talking about putting an above ground pool in the ground are looking for a bit more depth than that.
No problem. As long as you know what type of "above ground" pool to buy it's safe to do.
If you want to bury your pool more than 1-2 feet, you're looking for the above ground pools that are designed to be buried. These are known as semi-inground pools.
A semi-inground pool is exactly what it sounds like: a pool that is partially installed above ground and partially installed in the ground.

Traditional Above Ground Pools VS Semi-Inground Pools
First of all, yes, a semi-inground pool falls into the above ground pool category. This is because not all above ground pools are created equal. There are three main types of above ground pools.
Traditional Above Ground
Salt-Friendly
Semi-Inground
While a salt-friendly model will be either traditional or semi-inground if you want a salt system you have* to make sure you are getting a salt-friendly pool model. Check out this article for details.
The main difference between a semi-inground and above ground swimming pool is the strength of the materials being used.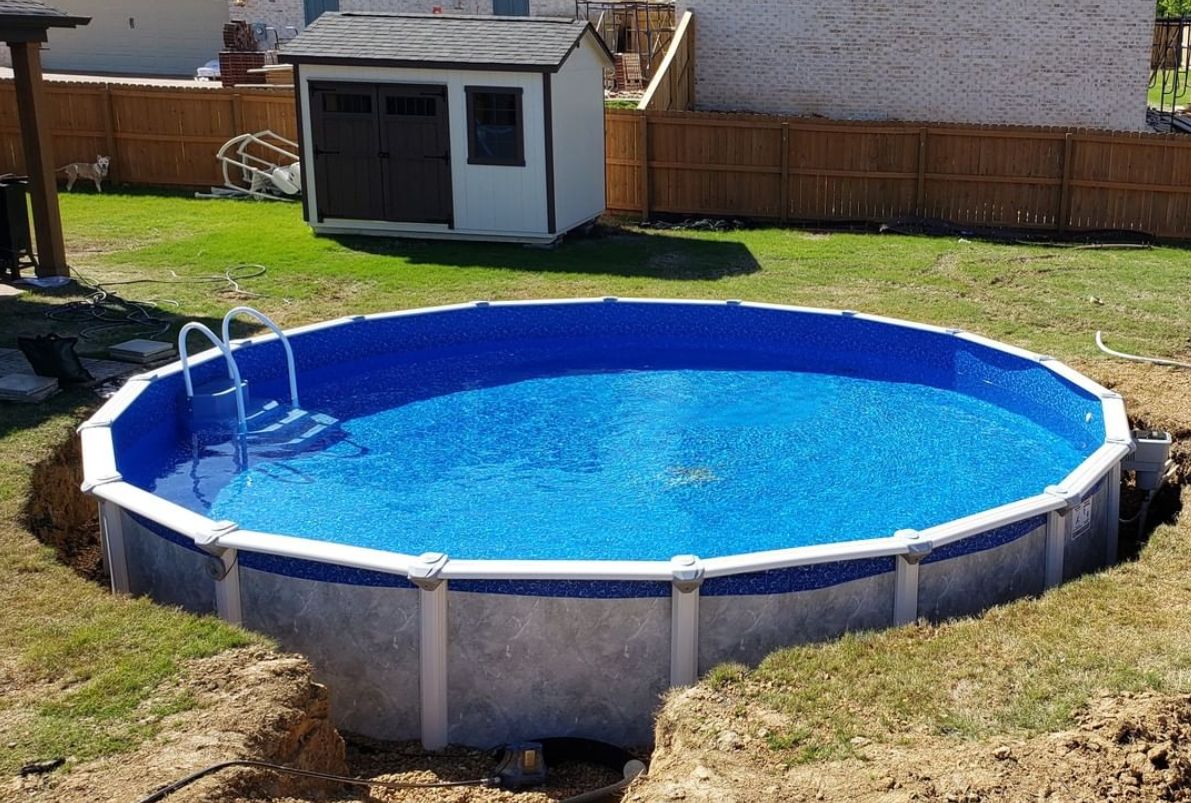 Why is that important?
A traditional above ground pool is not designed to be buried. The thin steel or aluminum wall of traditional above-ground pools gets its strength from the pressure of the water. It is not strong enough to withstand the force of the ground pushing back against it as well. So the pool could easily cave in on itself (or your swimmers) if buried. Therefore, a pool needs stronger and thicker walls to be buried safely.
Another issue you could face is that the skimmers on a traditional above-ground pool are not meant to have outside pressure on them, so they could also break easily when buried.
And then there's the added issue of potential corrosion. Although standard above ground pool walls can have a corrosion-resistant coating (especially those salt-friendly models), they are not designed to be exposed to the constant moisture on the outside wall that comes from being buried in the ground. As such, they tend to corrode faster, especially in areas with acidic soil.
Manufacturers solved these issues when they started creating Semi-inground swimming pools, designed to be buried just a little bit or even completely in the ground.
Semi-Inground Pool Pros
Price: Perhaps the greatest advantage of a completely buried semi-inground pool is that it gives you the inground look at a smaller price point. A semi-inground pool costs around $2,000 - $5,000, which is significantly less costly than an inground pool of the same size.
Quick Installation: An inground pool can take several weeks to install, depending on the type and size of the pool you want. However, with a semi-inground pool, even if you want to completely bury it you can excavate your yard, build the pool, and be ready to use in a few days to a week depending on the weather and your install team.
Durability: There's no question that semi-inground pools are far superior to traditional above ground pool models when it comes to strength and durability. For example, the pool wall on a semi-inground is 2 inches thicker on average than the walls of a traditional above ground pool. Since they are designed to be able to go in the ground they are also built with less corrosive materials. Many families who live near the ocean will choose a semi-inground pool even if they do not plan to bury it for this reason. The best option, in this case, would be to get a salt-friendly semi-inground.
Semi-Inground Pool Cons
Although there are several benefits associated with semi-inground pools, there could be disadvantages to consider depending on your desired design.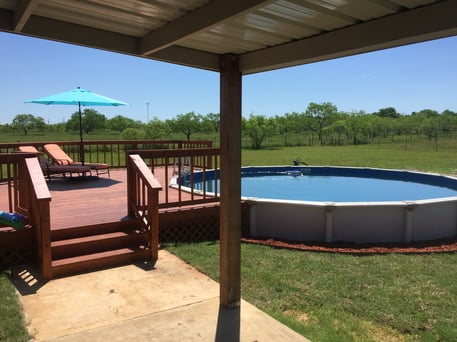 Costlier than traditional above ground pools: The price of a semi-ground pool is higher than that of a general above ground pool that you can't bury. This is due to the stronger material used in creating the pool components. Besides the initial cost of buying a semi-inground pool kit, you also have to factor in the excavation/burying costs.
Customization Restrictions: When installing an inground pool, you have the ability to fully customize the shape and design. When burying a semi-inground pool, you have to work within the existing parameters of the stock shapes and sizes. The most common shapes are oval and circle, however, we're seeing more options coming into the industry for various shapes
Less Flexibility with Depth: Burying a semi-inground pool instead of installing an inground pool can give you less flexibility with depth. Although maybe not as much as some may think. Just like not all above ground pools are created equal, neither are liners. Did you know that you could opt for an "expandable liner" for your semi-inground or even traditional above ground pool, and now you have the option to add a deep end? Here are more details on how to create a deep end in your above ground pools.
Purchase a Semi-Inground Pool from a Reputable Brand
In conclusion, yes, you can safely bury a semi-inground pool. However, burying a traditional above ground pool will lead to safety concerns as well as void your swimming pool's warranty.
However, once you bury your semi-inground pool, you can enjoy the advantages and aesthetics of an inground pool at a much lower price point.
Interested in learning more? Use the link below to view in-stock Semi-Inground Swimming Pools ready to ship nationwide.
Thanks for reading! For more information on Semi-Inground swimming pools check out our additional resources below: