Quick and Easy ways to enjoy your dream pool sooner!
With the demand for swimming pools higher than ever, the importance of purchasing early has never been more important. Thankfully, there has never been an easier time to finance your dream backyard! You can now have the luxury of making easy and low monthly payments, or even choose to just pay for your pool a couple months after ordering it! We've partnered with three of the most trusted names in the industry in order to offer you financing options that are best for you and your family!
* Please note, Royal Swimming Pools may be compensated through links in this post.
LightStream, Affirm, & HFS all offer quick and convenient options for financing your pool or spa! Each offers fast approvals and nearly instant shopping capabilities once approved! Here are the main questions to ask yourself when deciding which option is best for you!
How much will you be financing?
Affirm

offers loans ranging anywhere between $250-$17,500!
LightStream

offers loans ranging anywhere between $5,000-$100,000!
NEW! HFS offers loans at a minimum of $5,000 to a max of $250,000!
ALL approve loan amounts based off of your existing credit score.
When do you want to pay off your loan?
If you're looking for just a little bit of assistance for under two years, Affirm is a great option! They allow for loans terms for 3, 6, 12, 18 or 24 months starting at 10% APR. An example of your monthly payments could be along the lines of $43.96/mo. based on a purchase price of $500.00 at 10% APR for 12 months.
Fine Print: Based on credit and subject to an eligibility check. Payment options through Affirm are provided by these lending partners: affirm.com/lenders. Options depend on your purchase amount, and a down payment may be required.
For those looking to make payments over the span of a couple years, LightStream offers lower interest rates starting from the time of purchase. The lower interest rates for extended time period offered by LightStream is a wise choice!
HFS is our newest financial affiliate and they also offer longer repayment terms (a max of 15 years) with lower interest rates than some other lower term options.
You can compare the main features of each lender below!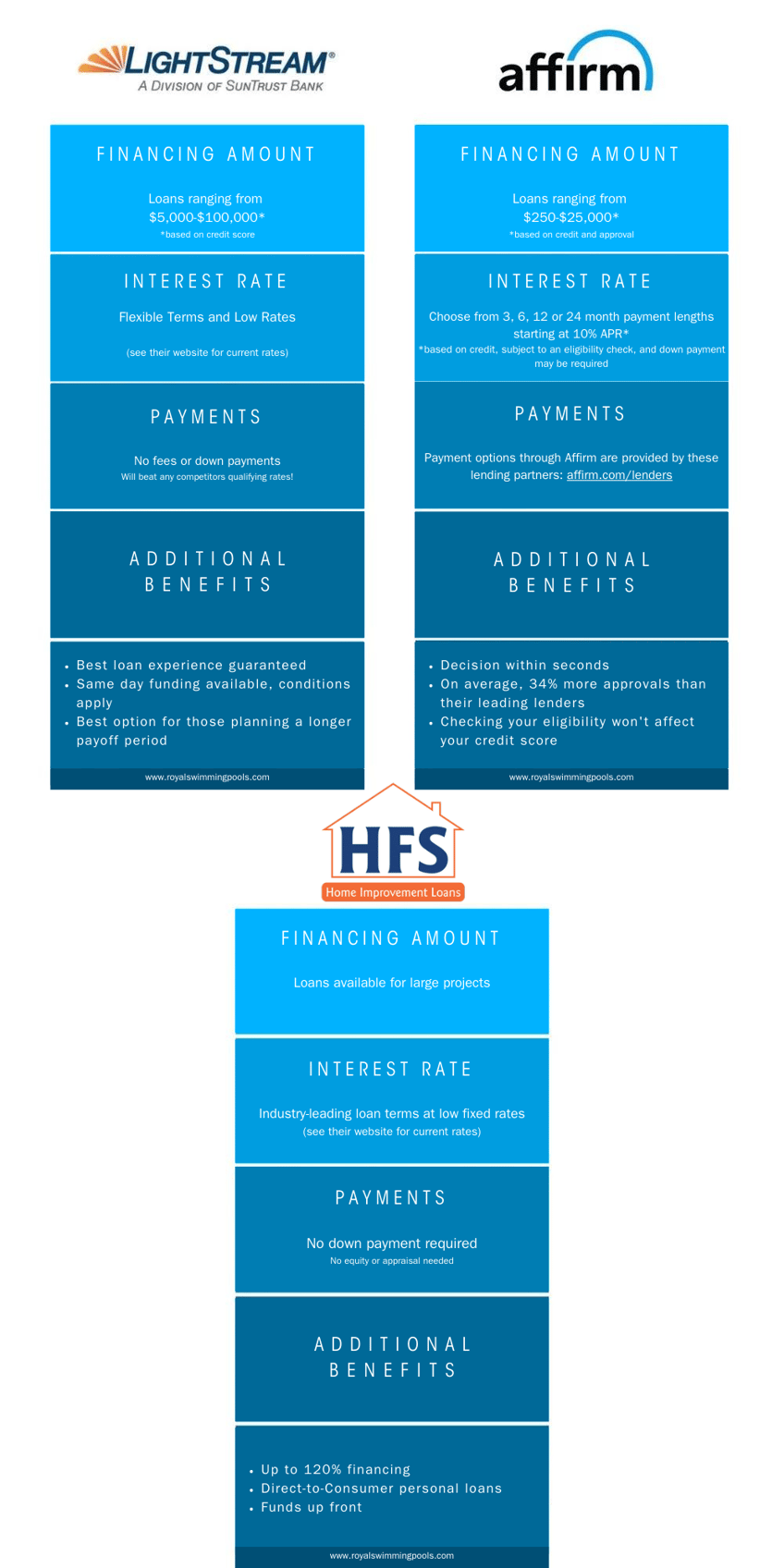 To Apply for Financing: Affirm can be seen on any qualifying product page or choose LightStream, or HFS Financing (60 SECOND loan application) !


Additional resources on buying your dream pool: