Choosing your coping type for your swimming pool, whether on a brand new build or a remodel, is one of the main ways you create your backyard's aesthetic and add an extra touch of design quality.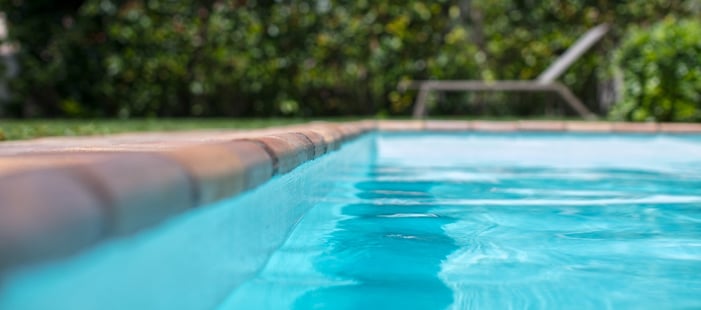 What is Coping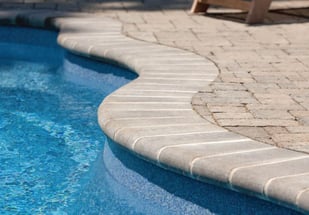 Coping is what separates your pool's edge from your deck. It essentially is the safety cap that keeps the edge of your splash zone safe from harsh steel edges as well as protects the pool wall from weather, water damage, and general wear and tear when getting out of the pool.
Basically, coping is the material that frames the edge of the pool.
Coping options have evolved over the years to include pavers, bricks, natural stone, tile, and plastics, but the most common type of coping material is concrete.
What is Concrete Coping
Concrete coping is a popular choice for the same reasons concrete decks are.
They are:
Easy to install
Durable
Cost-effective
Available in a wide array of style options
Can mimic other more expensive materials
There are three types of concrete coping options.
Pre-cast Concrete Coping "Stones"
Concrete Pavers

General square and rectangular manufactured pieces

Poured Concrete

Highly customizable with multiple decorative pattern choices
While pre-made and manufactured concrete can be a beautiful choice (if done well), today we're going to focus on poured concrete options since these tend to be the most popular among both pool builders and homeowners for fast, easy, and beautiful deck designs around the pool.

The concrete coping in the images above was created using Stegmeier Foam Forms
How Poured Concrete Coping Works
When going with poured concrete coping, it allows your coping and your deck to be one unit. This means the coping around your pool is stronger and more likely to resist damage and breakage since it's not smaller individual pieces placed around your pool but one strong complete unit.
As the name suggests, concrete is poured into place on top of the pool wall and extends a concrete lip out over the pool wall beyond the deck, into the pool.
Concrete can be poured like this only by using foam forms.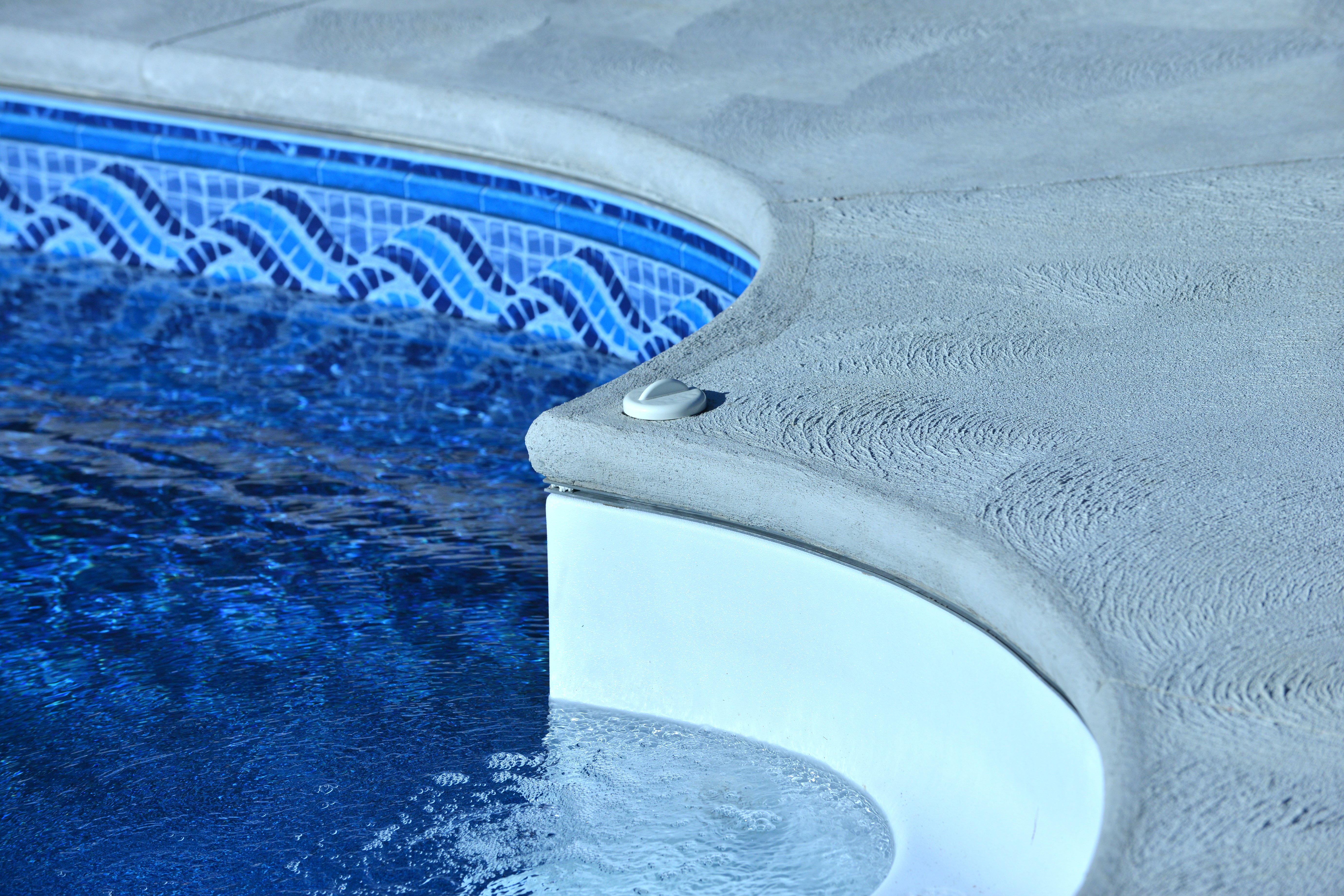 What Are Foam Forms
Often mistaken as nothing more than packing material, foam forms are long strips of foam with a design etched into one side and are a very important item in your pool kit.
Foam Forms play two roles in your poured concrete coping design:
They keep the concrete pour from overflowing down the wall and onto the pool floor
The pattern etched into the forms transfers onto the edge of the concrete which will automatically enhance your deck design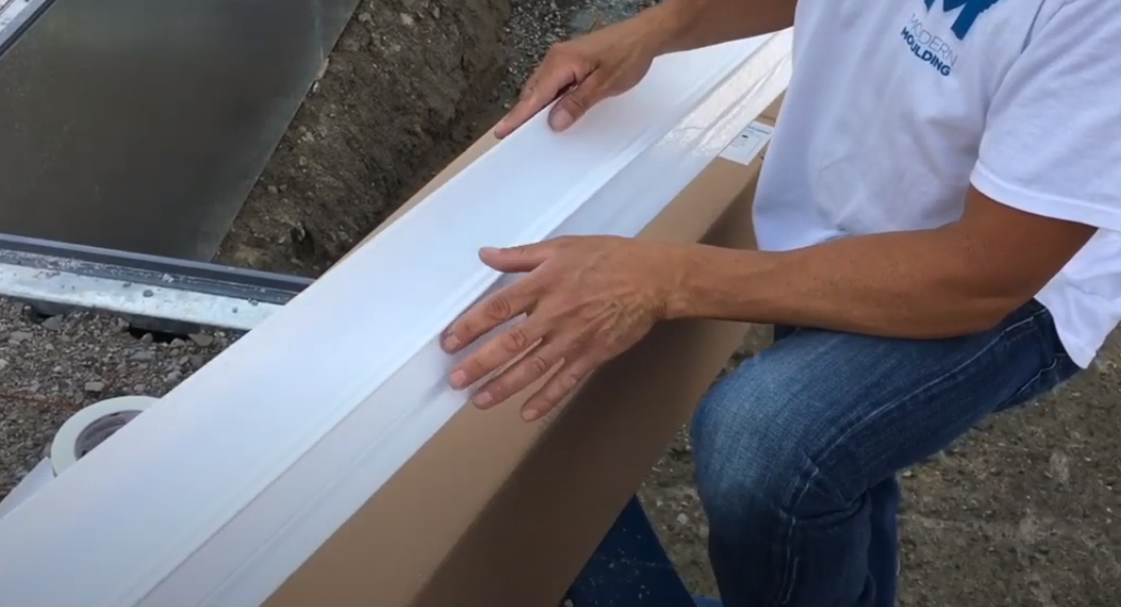 Choosing the Your Foam Form
There are three main things you'll consider when choosing a foam form:
Design
Installation Type
Cost

Design
Foam foams come in a large variety of heights and molds which allow you to create exciting and unique architecture on the edge of your swimming pool. Once the concrete has been poured and cured against the foam form, it hardens into that form's design. This is what instantly elevates your concrete deck into a luxury item. The design element is 100% personal preference to style but it's always a good item to consider your home's architectural design as well for an overall cohesive look.

The forms above are Modern Moulding foam forms from Royal Swimming Pools
Installation Type
Yes, installation type may not be as glamorous of a topic or nearly as much fun as choosing your design, but it is an extremely important consideration, especially depending on who is installing it; DIY, handyman, construction crew, or a highly experienced pool builder. The installation is VITAL to the end look.
Foam forms attach to the inside wall of your pool. All foam forms can be cut down to size for that perfect final fit. This means that even if you have a foam form that is damaged in one area, you can simply trim that area completely off and still use the remaining form. And because they're flexible, they conform easily to most free-form designs and can be bent to a tight radius.
A secure fit is necessary to ensure that no wet concrete leaks into the pool (especially for a vinyl liner pool with a liner track). There are three types of ways Foam Forms are attached to the pool wall:
Here's why your installation type is so important:
Once the foam form is securely attached to the pool wall, the forms are sprayed with either form release or cooking oil on the side of the form where the concrete will touch. This makes the forms a lot easier to remove once the time comes.
Then it's time to pour the concrete, which is poured close to but not directly up against the form in order to avoid pouring too much at once and having concrete go over the form and into the pool. A shovel or rake is used to gently push the poured concrete up against the foam form.
This is where your type of installation really comes into play since if too much concrete is poured too closely or too quickly, it can push into the forms too vigorously and can shift their location either making your coping and/or decking uneven or allowing concrete to slip into your liner's bead track before your liner is installed. As you can imagine, that is not a place you want concrete to harden. You want the foam forms SNUG against your pool's wall.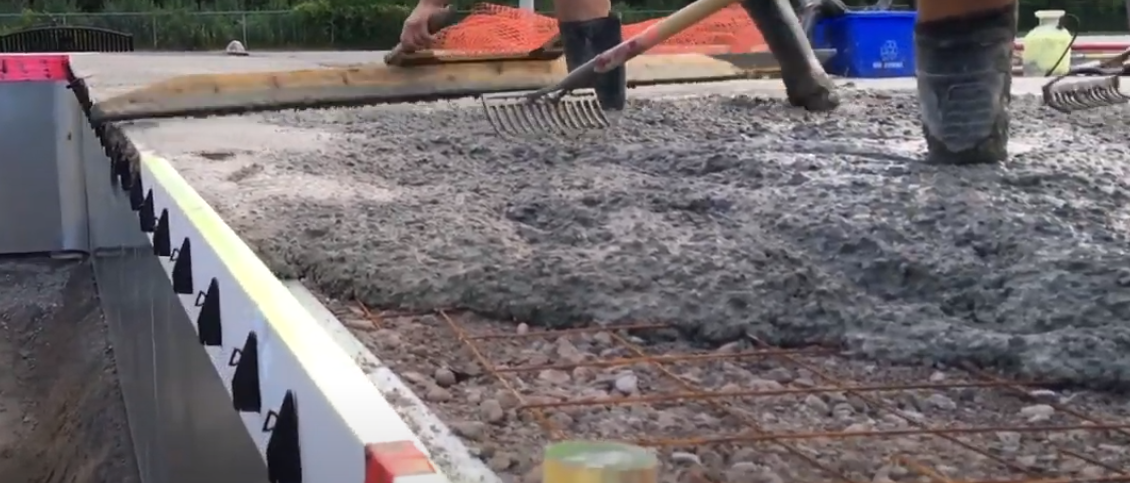 Lastly, the foam forms are removed once the concrete is set but not fully cured. The concrete needs to be hard enough to hold its shape but still be wet enough to be smoothed out at the edges and joints using a damp sponge or foam profile edging tool.
For double-sided tape, you simply pull off the forms. The Tie Wires or the reusable Clips have the extra step of removing them first but the results are almost always better than double-sided tape alone.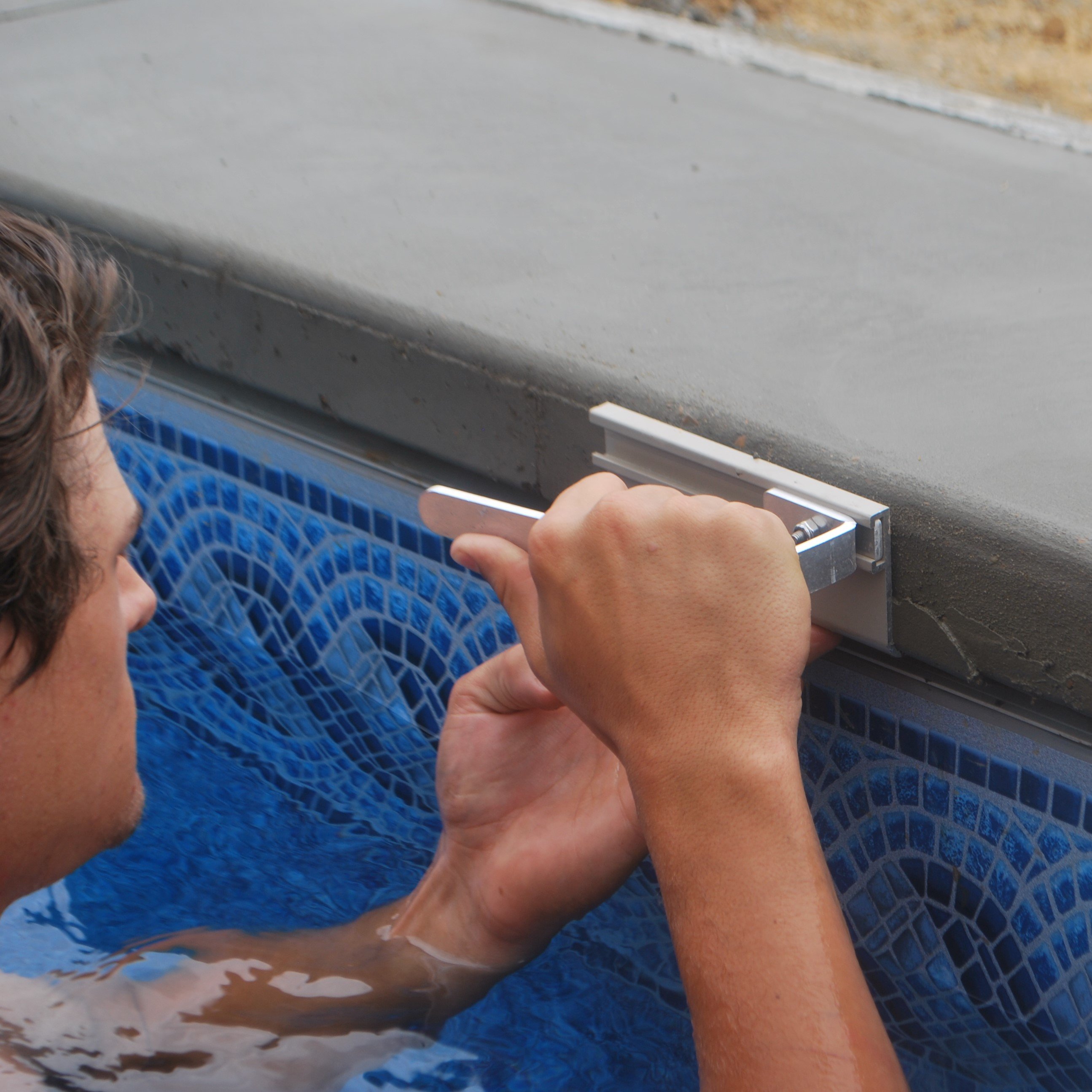 Cost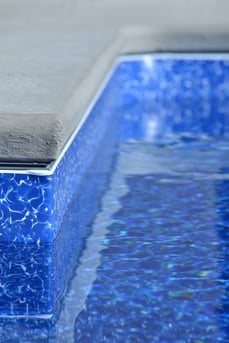 While your design type and pool size play a role in your foam form cost, the brand you go with use to play a huge factor as well. This was because the two primary manufacturers of foam forms for swimming pools in North America are located in two different countries: Stegmeier located in the USA and Modern Moulding located in Canada. As you can imagine, shipping 8-foot pieces, no matter how light, can be a costly endeavor if needing to ship internationally.
One main reason Stegmeier has been the leading choice for US-based pool builders for so long is due to the brand being so widely available with both swimming pool distributors and decorative concrete distributors.
However, for the first time, international shipping costs are no longer something pool builders or homeowners have to factor into their US pool build budget. Royal Swimming Pools has officially become the first US-based distributor of Modern Moulding foam forms, saving you hundreds of dollars in shipping. Now that you have more great options to choose for concrete coping design from let's break down these two industry giants:
Stegmeier VS Modern Moulding Foam Forms
Design
Stegmeier forms come in lengths of 8 feet to 12 feet, in both straight and radius shapes. While all forms can be cut to fit the pool's dimensions, shipping these longer sizes can be a tad more costly if needed on their own.
Modern Moulding is offered in 8 feet as well as the hard-to-find 4 feet lengths, making them not only less costly to ship but also less likely to get damaged in transit from sticking out so much.
Installation
Stegmeier offers foam form designs that utilize the traditional double-sided tape which you can use with or without wire ties.
Modern Moulding foam forms come with reusable form clips that have the same purpose as the tape and tie wire combo, but are easier to use and faster in the field. This also tends to yield more accurate/even lines in your concrete once the foam is removed.
Cost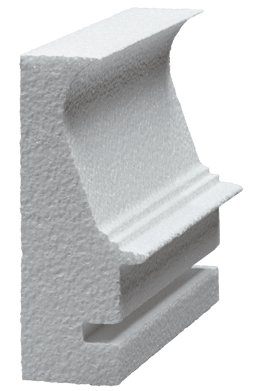 Regardless of the form forms, you choose you'll need to purchase a little more than you need to have enough for your swimming pool. Why? Sometimes, the ends of the foam forms get damaged either in transit or during the installation. This is not a major issue as the ends can be cut off and the rest of the form still used. need to be cut off. So, ordering more than you need assures you that you have enough for your project even if some foam pieces are damaged.
One main reason Stegmeier has been the leading choice for US-based pool builders for so long is due to the brand being so widely available with both swimming pool distributors and decorative concrete distributors.
However, that could all change now that Modern Moulding, the major form supplier in Canada has officially found a USA-based home to distribute from. This means builders and homeowners will no longer have to pay high international shipping rates to receive this product. On top of having the cheaper shipping associated with 4-foot package lengths compared to 8-12 feet for Stegmeier.

Why Choose Foam Forms for Your Swimming Pool?
Foam forms are durable, flexible, and lightweight options for creating a beautiful finish to your concrete deck coping.
Modern Moulding and Stegmeier Foam Forms are the two most popular options for this kind of swimming pool coping. Both products will create a beautiful finished look for your pool!
Want more tips for your pool? Continue diving into the related articles below.