Outdoor, seasonal design has always been a quiet staple of summer and accompanies the most important and anticipated moments of outside social gatherings. When outdoor design is pulled together tastefully, an otherwise basic space becomes a magical environment for intimate gatherings and an outstanding way to impress guests.
When most people are looking for a unique summer space, they tend to overlook a major area of expression. Homeowners will often spend all their time designing groves, waterfalls, fountains, and other embellishments at eye level and forget about how the area overhead is a wonderfully uncharted space for the design inclined.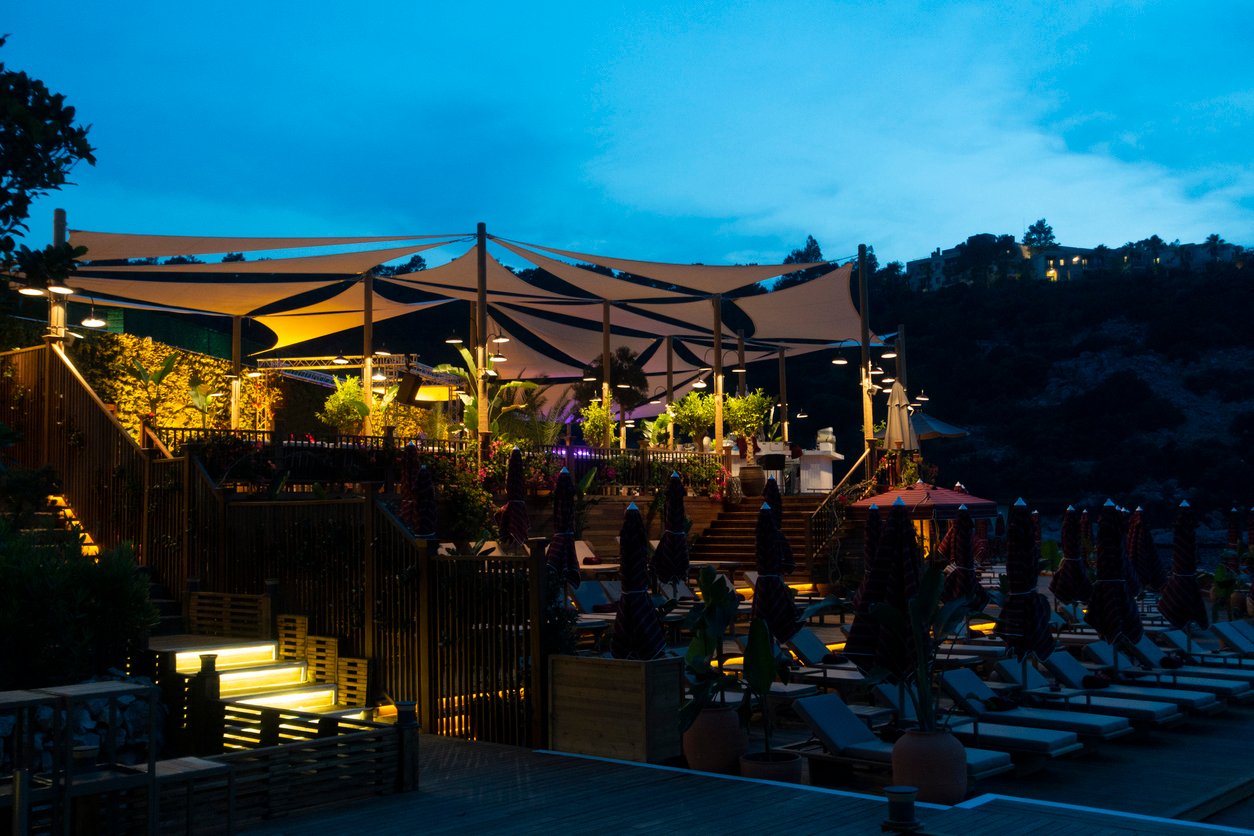 Right now, a lot is happening when it comes to different exterior designs and trends. However, this summer's biggest trend is an increased desire to provide an area where guests and outdoor-space-frequenters can spend more time having fun in the sun because they are also protected from the harmful rays of UV light.
Thankfully, the world of design now includes specialists like Tara with their new high-end luxury product line Shade Escapes by Tara; which incorporates artistic vision with the heavy-duty high-quality material standards seen in the pool industry.
Shade Escapes by Tara can greatly benefit homeowners who not only wish to elevate their outdoor spaces into elegant environments but also protect their loved ones while allowing for more time spent comfortably outside.
This brand new product line is brimming with the latest innovations and trends in both design settings and sun safety and has some truly exceptional side benefits as well. With this in mind, we're diving into the 5 biggest reasons Shade Escapes by Tara are essential and could be an invaluable part of your outdoor design!

5. Shade Escapes Protects Your Family and Your Guests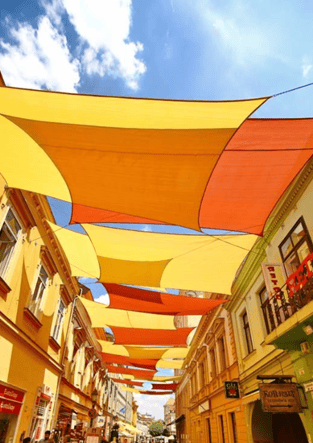 In the world of outdoor design, escaping the direct rays of the sun is commonly an afterthought following either an unpleasant sunburn or sitting in heat becoming too sweaty and uncomfortable to endure much length of time outside. This is typically when one starts to look into adding umbrellas or a pergola to their outdoor retreats. While these can be fine choices, there's an option that provides you with not only more shade but also more protection.
The reason why Shade Escapes are the best product on the market for high-end outdoor design is that nature lovers of all ages have come to recognize two major threats to their outside time: skin cancer and heatstrokes.
While it may be easy for some to forget that they are exposed to UV rays even while swimming, Shade Escapes provides shades that can minimize exposure and act much like a layer of sunscreen. The HDPE fabric (that will talk about further below) provides a much-needed barrier against the sun naturally but the fabric used provides up to 98% UV protection from the blistering sun.
Likewise, when it comes to heatstroke prevention, hydration is key, but so is temperature. Most families and outdoorsy folks want to spend all day outside, often forgetting about the chance of overheating. With Shade Escapes, not only do you have the previously mentioned UV protection, but you're providing a space that is up to 20 degrees cooler in even the hottest months.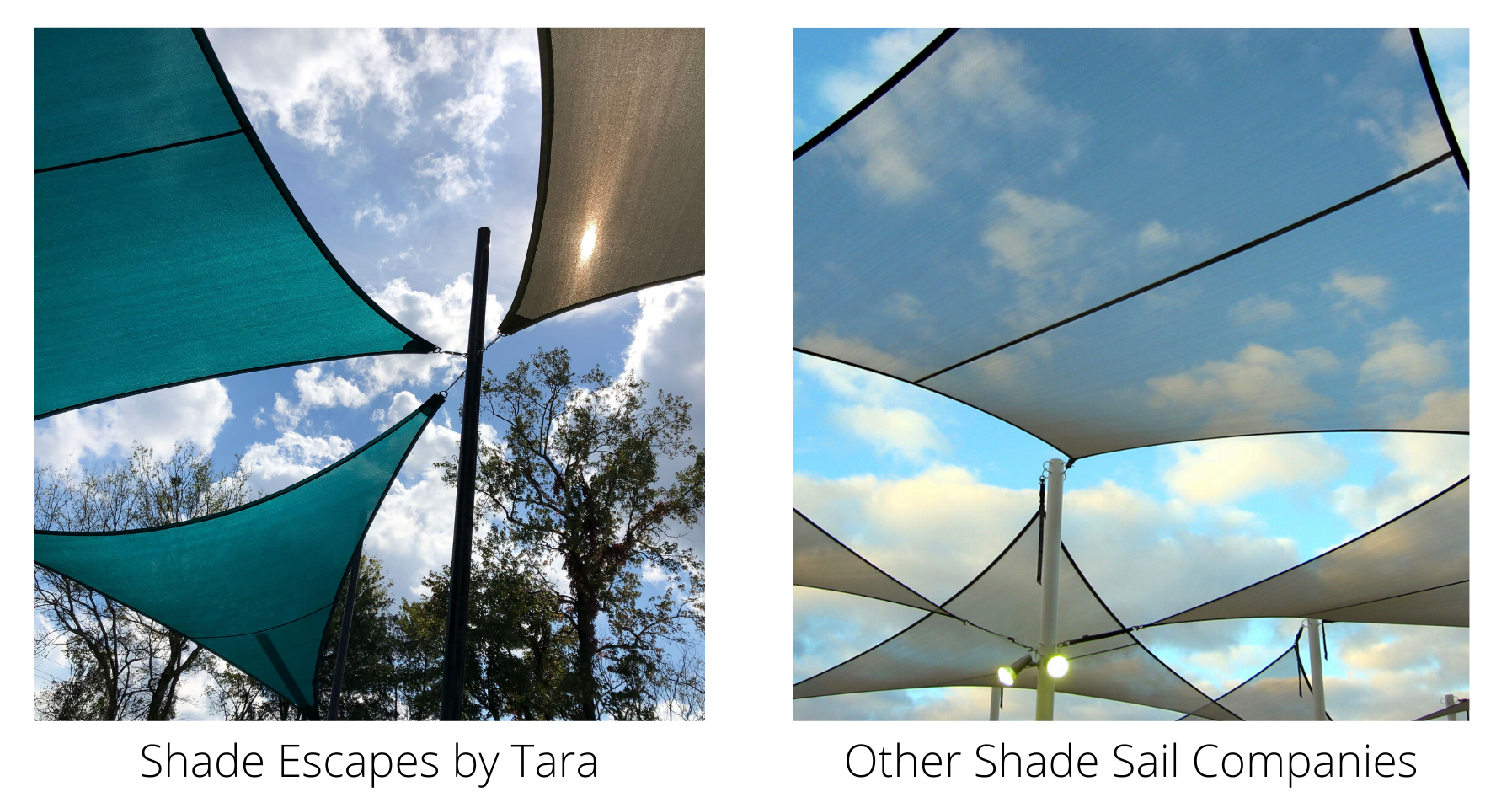 What about when it's not so hot? Unlike Pergolas, Shades Escapes can be taken down and put back up throughout the year, changing your look, and sun/heat exposure as seasonally desired.
Unlike other shade options, Shade Escapes by Tara isn't just an element of design. From making sure the Cannonball King can protect his title all day long to ensuring that Fido doesn't risk getting overheated when he refuses to come in from rolling in the grass just yet, this is a product dedicated to keeping your loved ones safe while doing what they love most.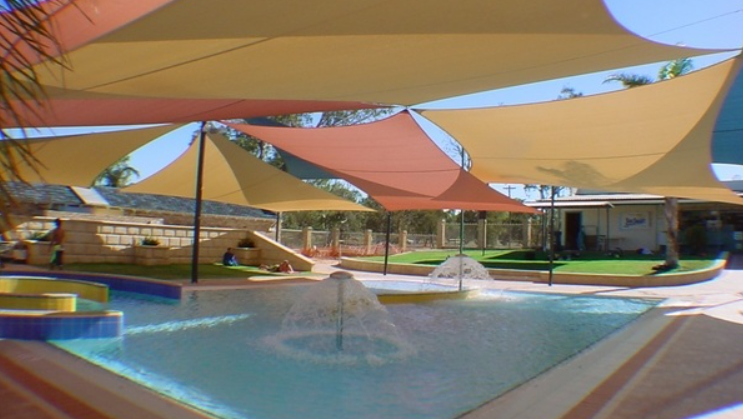 4. Shade Escapes Are Commercial Grade Yet Publically Available
The Basics: A canvas that goes over a pool or covers specific outdoor areas is called a shade sail. They will block some degree of UV and provide an escape from the direct rays of the sun. For the homeowner, shades are primarily used to cover patio and pool areas but are also great options for floating decks and outdoor animal enclosures.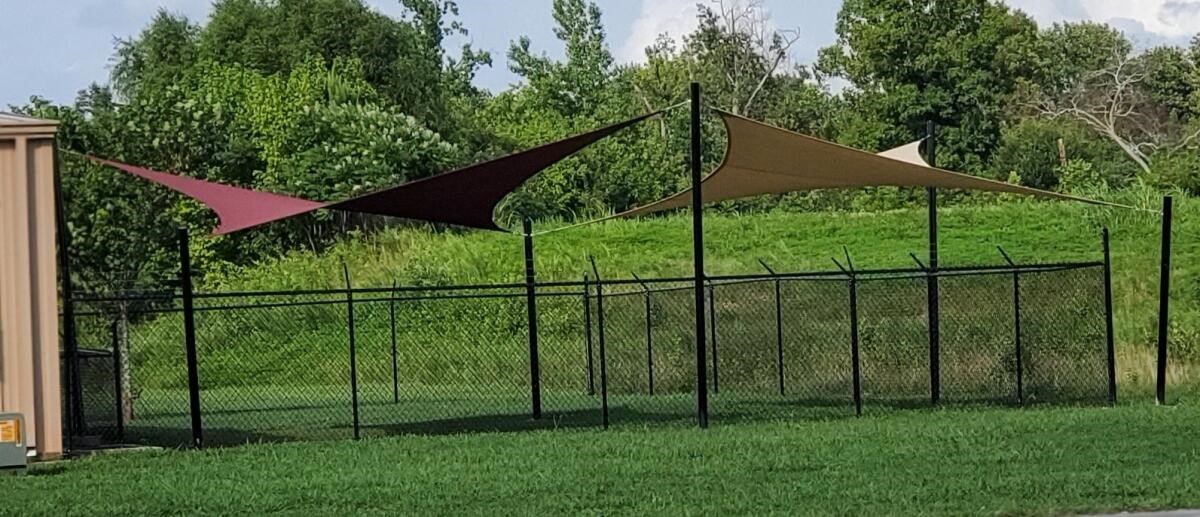 However, the scope of businesses that utilizes sun shades knows no limit. Many areas that get excessive sunlight in their high-traffic outdoor locations like luxury hotels rooftops, public boardwalks, resorts, and warehouses will use sails to add a touch of ambiance to their atmosphere, all while providing their patrons with a safe cool escape from the heat. You've most likely seen a sail in action anywhere from your local restaurants to city shopping districts. Even Royal Caribbean's private island welcomes visitors to the island with a dock full of colorful sails.
So no matter where you go, these little beauties are sure to be popping up everywhere. This IS the new "it" item.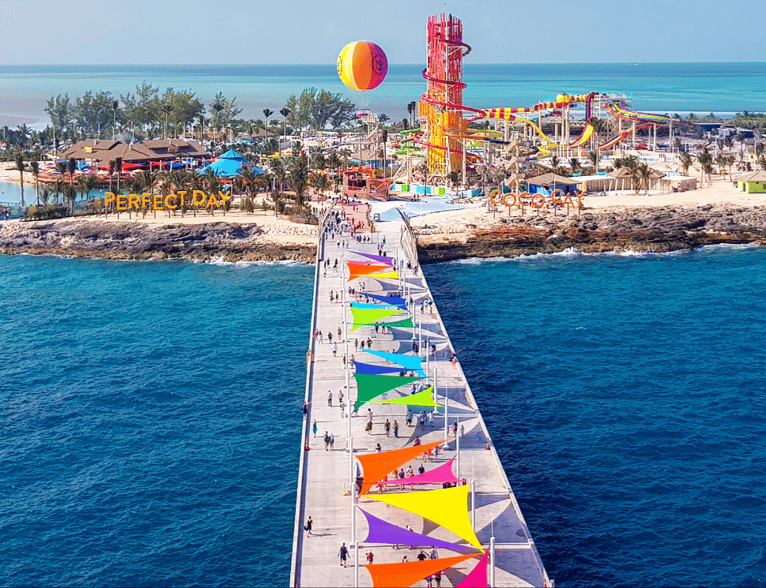 While most shade sails use 185 GSM fabric, Shade Escapes by Tara are made from 340 GSM Commercial Grade HDPE Fabric, of which we'll go into more details further down below, but at the bare level means that there's finally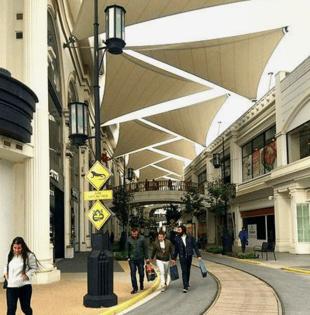 a commercial-level product available for private consumer use.
But why would that be important to homeowners? Why not just go with a run-of-the-mill shade sail?
When these large companies and cities invest in a sun shade they invest in commercial-level for several reasons but primarily due to how long the sails will last, still holding their color and integrity, year after year after year in all sorts of harsh weather conditions. Unfortunately, with all too many shade sails that have been available to the public after only a short time, you can see the cheaper fabric fraying, the hardware giving, and the ropes molding.
One thing's for certain: Shade Escaped by Tara did their homework when creating their sails and all that comes along with them. They brought in a WIDE array of competitor shades to test the product's overall quality of the fabric, hardware, ropes, chains, etc. through a multitude of quality checks, pushing each piece to its limit. At the same time, they combed through reviews of their soon-to-be competition to find and solve the most common customer complaints.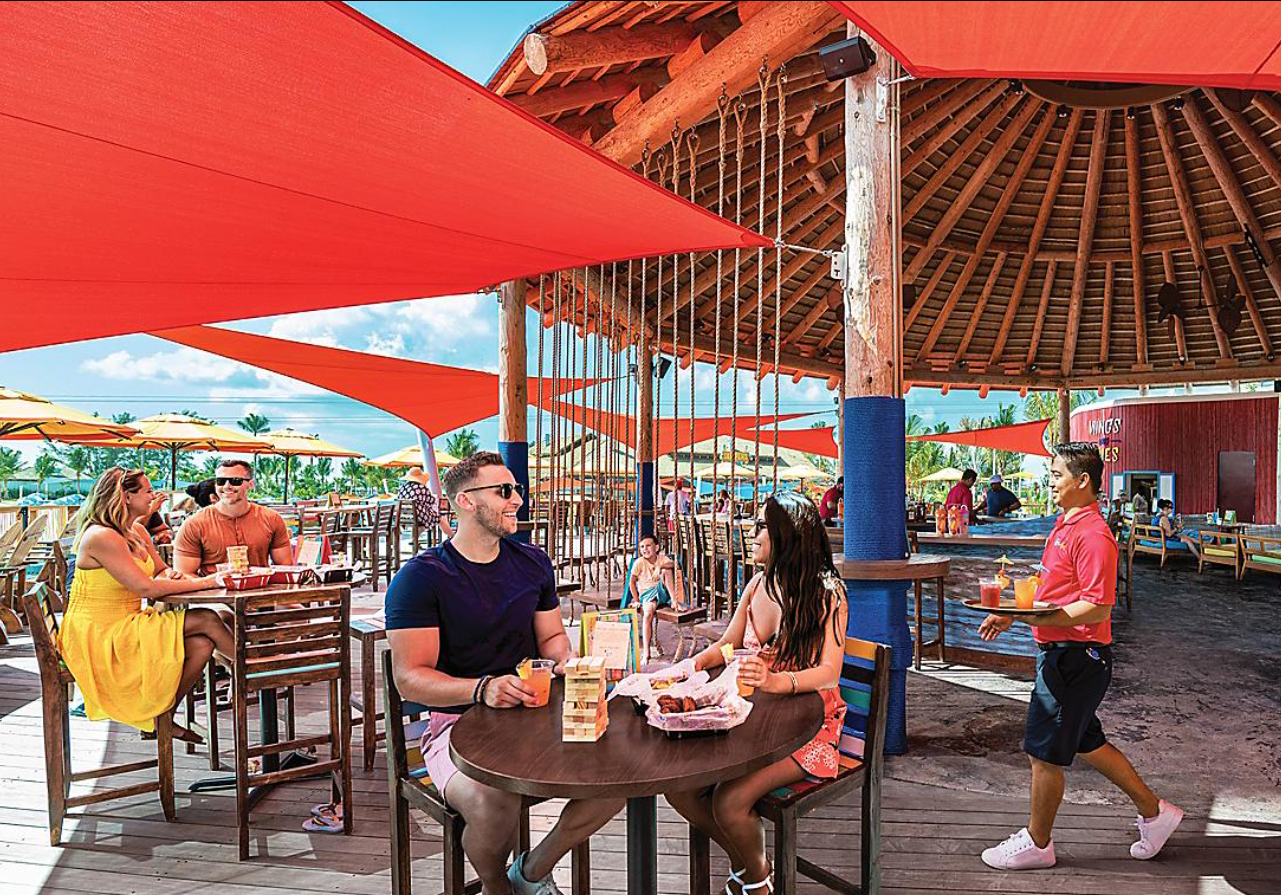 For example, one major complaint from other consumers about the competitors' products was that the construction felt flimsy. As a result, Shade Escapes created heavy-duty reinforced corners to allow safe, strong assembly that no one has to stand under and worry about. Additionally, Shade Escapes does not use lightweight cable and hardware but, instead, relies upon thick stainless steel cable and hardware. So in case you missed it at first glance, take another look at the corner for a Shade Escapes sail below. It may seem like a small detail but that steel rope threading around the entire perimeter of the sail and around the corner hardware is a type of reinforcement other sails simply can't compete with.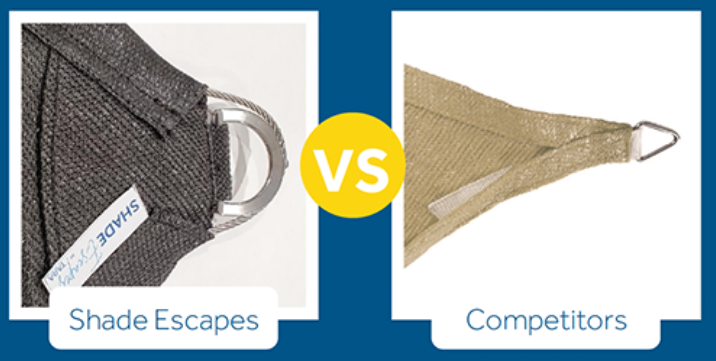 To top off the superior quality, Shade Escapes also offer ample opportunity for great design with fully customized products able to fit existing styles or unique spaces all while using the highest grade equipment in the business.

3. Shade Escapes Can Be 100% Customized For Your Space
Shade Escapes believes that looks and function are equally important in design. They understand that most people interested in revamping their backyard or building a new home need options when picking the product and not a predetermined color scheme picked by an inflexible designer. While others in the industry only offer pre-fabricated products with limited options, we're one of Shade Escapes biggest cheerleaders because they are one of the very few shade companies in the US that can offer our homeowners high-end commercial-quality sails that can also be customized for residential spaces.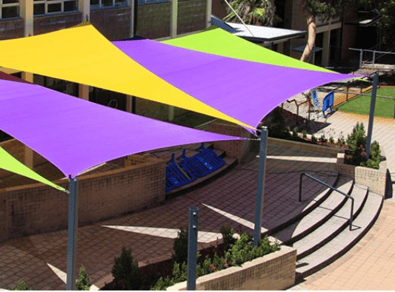 What does that really mean though?
Do you need a custom color to support your husband, the neighborhood Fantasy Football organizer, and his favorite team? No problem. You can even mix and match different colors throughout the year! Unlike many other shade-providing structures that are permanent, shades can be taken down and put back up over and over again.
Do you have a difficult space to design around that other traditional sail shapes and sizes don't work in? No problem. Shade Escapes can accommodate all shapes and sizes of projects. From small city-sized balconies and boat docks to expansive playgrounds and community pools.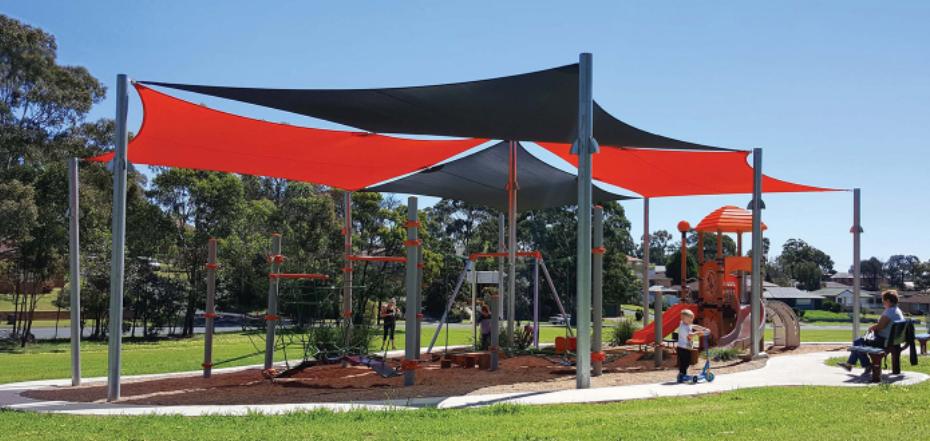 Are you looking to provide a certain area of your space with refreshing shade during a specific time of day? No problem. Whether you're a morning yogi or look forward to afternoons with your grandchildren, we at Royal Swimming Pools can work with Shade Escapes directly to create a design and installation plan custom-made for you. This design will take into consideration when you'll have shade where, making it the ultimate backyard best friend.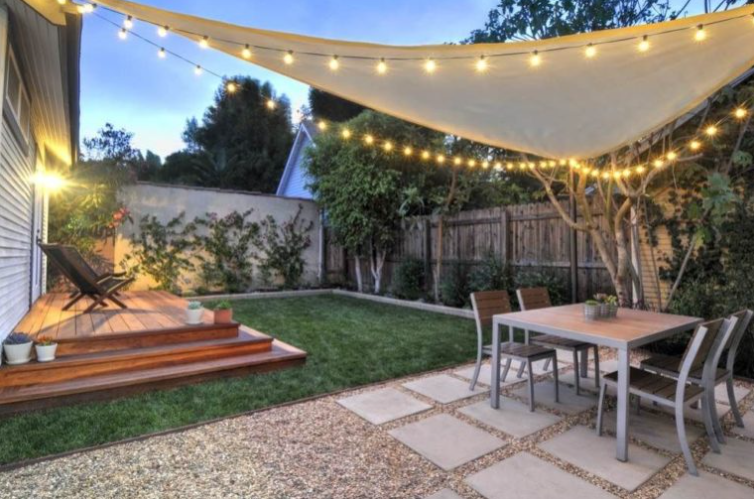 Want to see how your shade design will look in your space, over your pool before you finalize your purchase? No problem! Our partnership with Shade Escapes includes the ability to request seeing the mocked up 3D design in your personal space at any time of day allowing you to fine-tune any details and get the end result you desire.
When incorporating major design elements into backyard, pool, garden, and patio areas, the opportunity for experiment and customization is ideal and allows homeowners and builders to tap into their creative sides. Experienced pool builders, landscapers, and homeowners alike love the options Shade Escapes allows for customization as this ensures that their designs and artistic vision are seamlessly brought to life.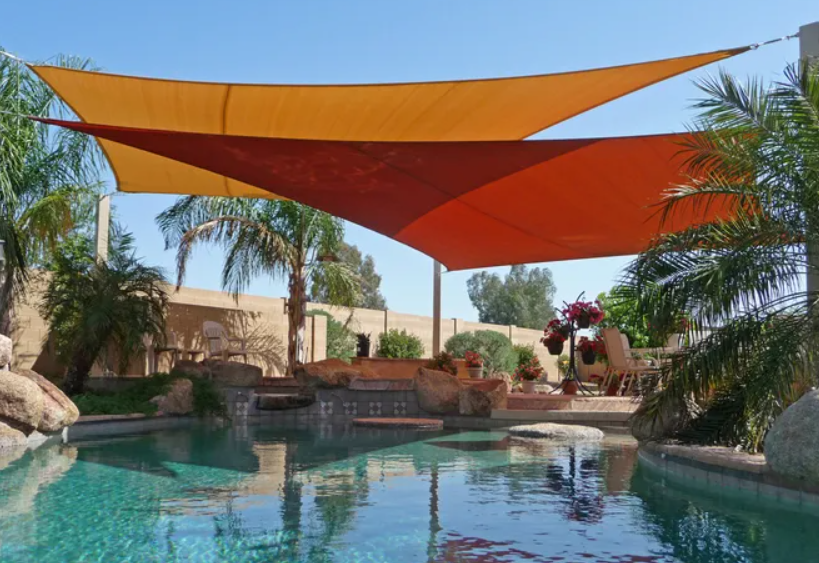 Customization is a great option for many, however, whether you're in a hurry or just want the ease of clicking to buy versus working on a custom masterpiece, you may be looking for quick and easy standard options. Shade Escapes has that as well, and a good amount of those options too.
Shade Escapes come in 8 fire retardant colors and an additional 9 non-fire retardant colors and come in either rectangle or triangle configurations.
2. Shade Escapes Uses the Best Quality Materials for Sail Production in the Market.
While sun shades seem like a new product to those who aren't in the industry and maybe dabbling in outdoor home design for the first time, there's been significant growth of this type of product in the industry. As a result, there are multiple companies you can choose from when selecting your shade sail. While having options is always a good thing, the unfortunate fact of the matter is that whenever something becomes popular, you can bet that many companies will want to hop on the bandwagon as quickly as possible and that usually does not equal a high-quality product. In the case of sun sails being out in the elements, you really need quality if you want to get your money's worth.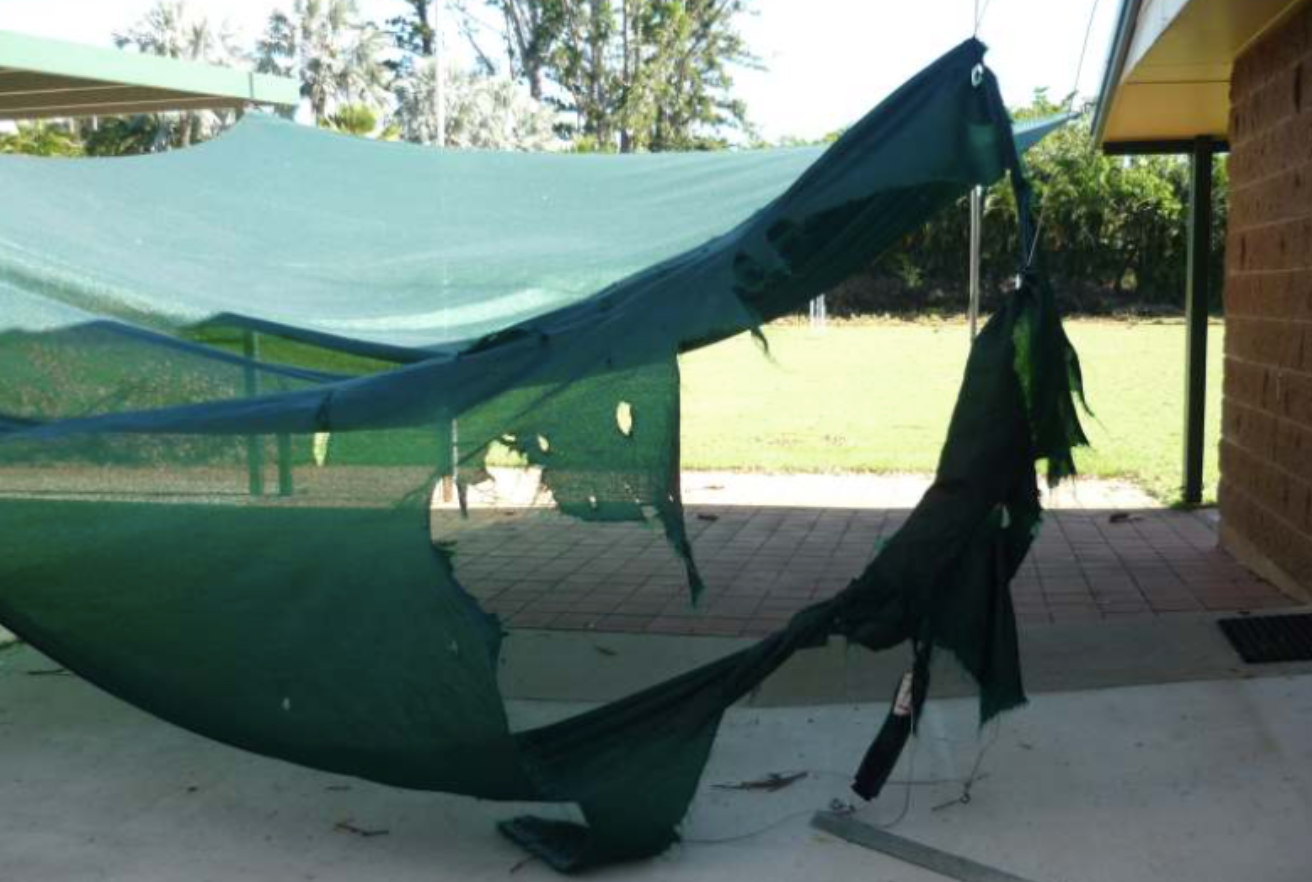 That's one reason why we want to restate that Shade Escapes has identified the weaknesses in the competition's products based on consumer feedback and has used that information to improve the initial design of their own product and start producing the highest quality option right out the gate.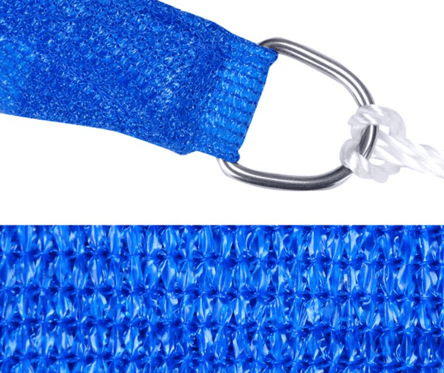 For example, most competitors use HDPE (high-density polyethylene fabric), however, it's a weaker version of the material. Shade Escapes manufacturer, Tara, solely uses 340 GSM commercial grade material, whereas competitors use 185 GSM or less fabric.
So? What's the difference you ask?
While the 185 GSM fabric makes sails less costly, this is a product where the old saying "you get what you pay for '' rings true. Anything under 340 GSM is going to be less durable, of poorer quality, and more cheaply processed. See the closeup image of competition material, hardware, and rope as a clear-cut example of what you don't want if you desire your shade to last for any real length of time.
Another example is that Shade Escapes not only has the best quality HDPE fabric used in sail design, but they also boast more durable stainless steel hardware where the shade connects to the poles. This is because customers of other shade distributors noticed that their shades weren't incredibly secure. Thus, when even semi-strong winds and weather hit, the shades were liable to fly away altogether, not to mention the fraying and tearing that occurred due to the low-grade fabric used.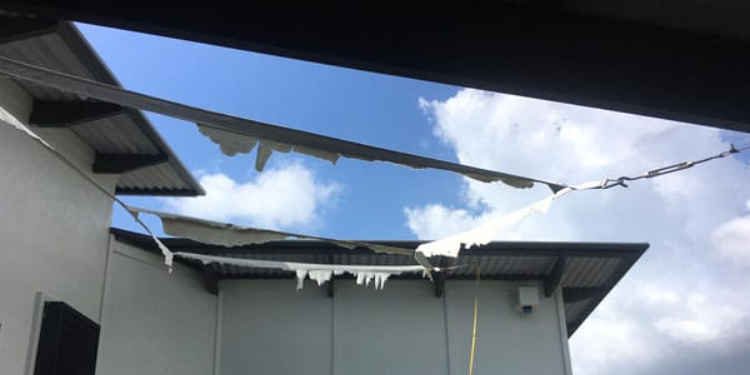 Shade Escapes by Tara fully believes that the most important part of a shade sail component is the corner due to the stress that is naturally focused here. Therefore, they focused on creating their sails with this area being extremely strong, using stainless steel around the entire perimeter of your sail including around the corner connector as well as previously shown above but give it a closer look below now that you really know what to look for. That 3-point inspection check, high-quality fabric, the stainless steel cable not only going around the corner connector but sewn in all the way around the sail perimeter. Thus creating a strong, durable product that will stand the test of time (and nature).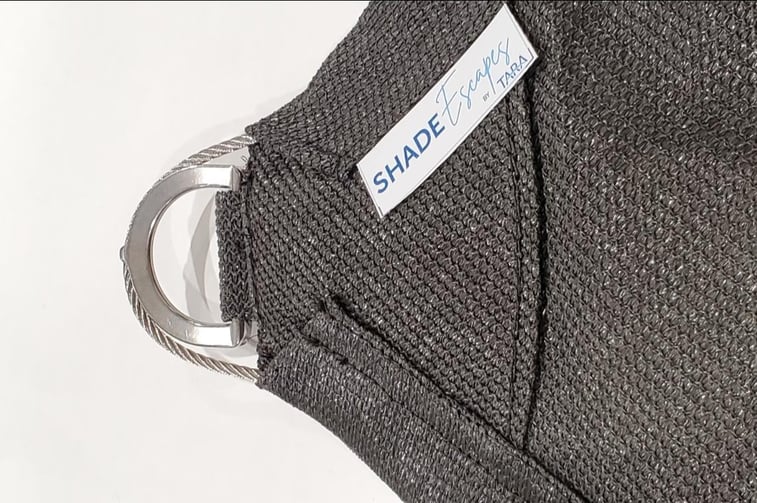 One thing homeowners and builders need to keep in mind is that the correct installation of these products is a major component to their longevity. The poles have to be put in at lean angles and all calculations must be followed, but these precise measurements are one reason why this product is the best on the market. While that can seem a little overwhelming, here's the good news: Shade Escapes has developed installation techniques using their design program to help your installer know exactly what's needed for your design. They generate printable reports and build specifications for your poles in order to help ensure accuracy and precision for your installer.
1. Shade Escapes Offers the Best Sail Warranty in the Industry
As mentioned, Shade Escapes has a 3-point quality inspection that every piece of material and sail goes through prior to shipping to a customer. Therefore it is with confidence that Shade Escapes also offer the best warranty in the sail industry. What does this mean for you?
Keep in mind that many sun shade producers don't offer a means to fix or replace their products if a faulty sail has been sold. Frankly, as you've seen the quality of some of these other sails, you can understand why they wouldn't want to. While most shade sail companies don't offer any kind of warranty. In the best cases where a warranty is offered, it's typically up to a 3-year warranty max,
However, with Shade Escapes having a goal-centered around offering a truly superior product, it's no wonder that a better customer service experience is part of that goal which is why their sails all start at a 3-year warranty and go up to an unbelievable 10-year warranty the Tara Elite line. Because when you know your product is the best, you can offer more, and do so with confidence.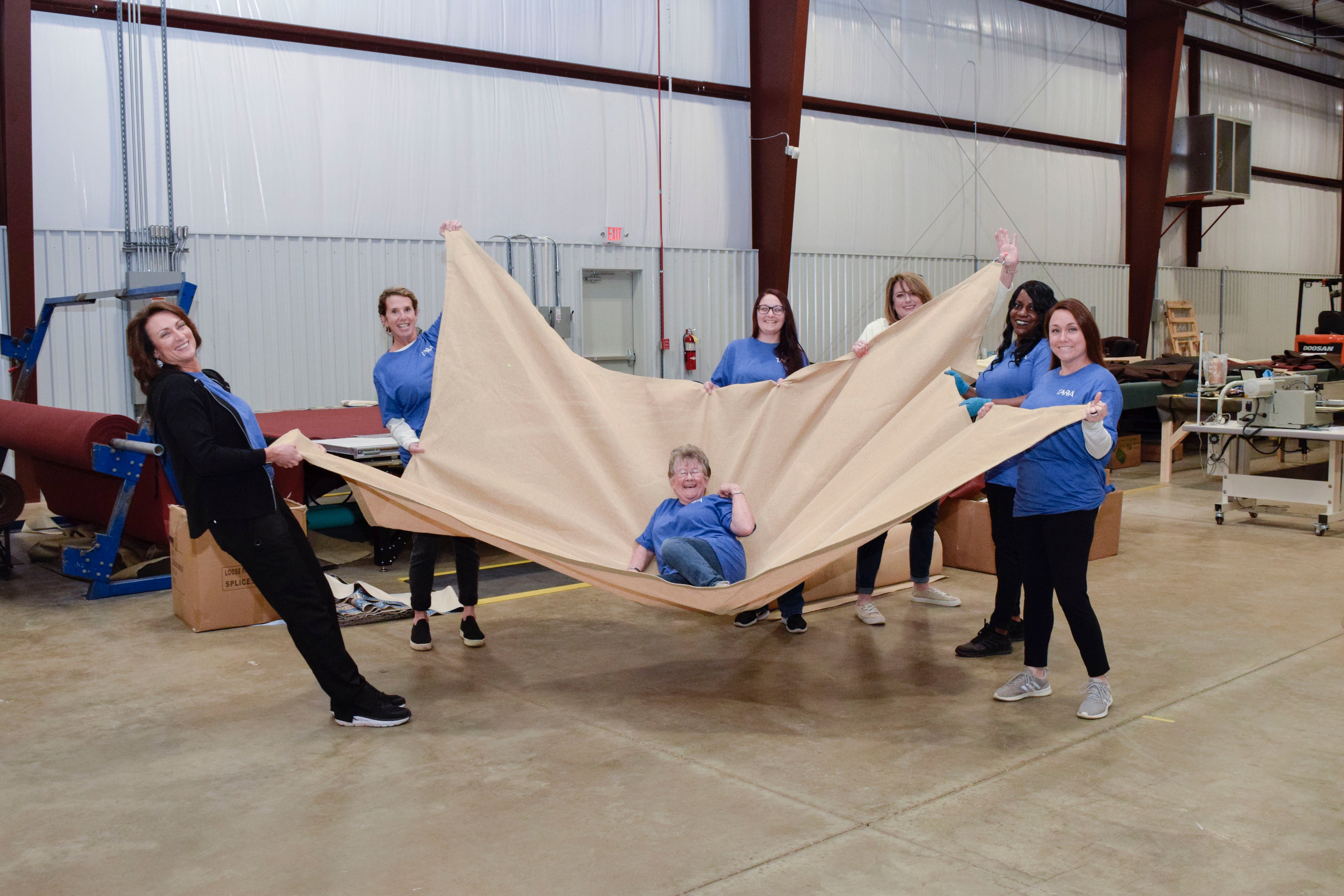 Conclusion
When it comes down to it, Shade Escapes is taking the world of outdoor design by storm. Their ingenious concept of incorporating major feedback from the public about how to beautifully improve sail design from the start has won over the masses. When it comes to people's havens to relax from their hectic lives, entertain cherished guests, and spend time outdoors, Shade Escapes helps ensure that you're making the best choice for your favorite outdoor spaces the first time around. They provide the peace of mind in knowing that your space is not only protecting your loved one, providing a cooler space for all but also keeping the designer in your family happy with countless customization options, all of which are built to last.
If you are looking for a smart way to upgrade your summer and get more time safely in the great doors, Shade Escapes is hands down the best way to beat the heat, incorporate great pool design into a backyard, and get the outdoor hangout area you've always dreamed about. Contact Royal Swimming Pools today to learn more about our one-of-a-kind partnership with Shade Escapes by Tara.