Quite frequently we are asked when is the best time to purchase a swimming pool. Much of the answer to this comes down to when do you want to actually have your pool, and as well as your budget.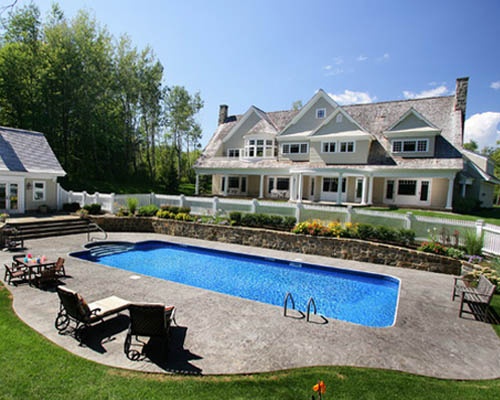 Late Fall, Winter, and Early Spring
There are some definite advantages to purchasing your pool between the time the season cools down at the end of one year but before the weather starts to warm up in the next.
First, any time you are purchasing in the off-season many retailers, wholesalers, and installers offer great savings on pools. The reason is in the swimming pool industry, once the weather starts to get a bit toasty, folks start thinking about pools. And that's when things start getting busy.
This is going to be especially true in the next several years as the entire swimming pool industry is still trying to play catch up from the influx of demand that rose up in 2020. For example, many manufacturers shut down at some point causing a back log of orders. Most international and domestic supply chains were also closed down making it extremely difficult to locate raw materials to make new materials. You can read more details here on what you need to know when buying a pool during or even post-pandemic.
Mid-Spring and Summer
AKA: the traditional busy season. And when we say busy... we mean you'll be lucky to find a builder who isn't booked throughout the rest of the season if you wait until the flowers start blooming.
Due to this increase in demand, there is no reason to offer any discounted pricing. You can expect to pay full price and even some peak pricing for install work in the hot summer sun.
Keep in mind that at Royal Swimming Pools, we sell pools at near wholesale prices all year long. So buying your pool from us will be the same fair rate no matter when you decide it's time to take the plunge. That being said, make sure to schedule your builder in the off-season if you want to make sure to: 1. Save on labor costs 2. Assure that they have the availability.
We would love to have the chance to turn your backyard into a beautiful lagoon pool paradise! If you want a specific size pool, or even a certain pool accessory that you do not see offered on our website you can let us know and we can have it quoted for you. We have custom vinyl over steel steps available also.
Just think of the enjoyment and peace of mind your own backyard swimming pool will bring to you and your family. Swimming pools, whether they are an above ground or an inground pool, bring families closer together by offering quality family fun right outside your backdoor.
Can't get enough? Here's some more resources for your swimming pool journey!