There are three different routes you can take when it comes to how to install a vinyl lined swimming pool. We'll go over some of the costs associated with each . But here's a brief video that touches on what those routes may look for someone just starting to look at purchasing a pool. We'll cover the details of different installation options addressed in this short video below.
Building an inground pool could never be labeled as a small undertaking.While choosing to purchase an inground pool kit takes a lot of the hassle (and cost) out of the process, there are still quite a few questions you'll need to ask yourself when it comes to how or rather who is going to do the installation
WHAT'S YOUR BUDGET?
Don't pass by this one. The cost of your pool is not just the pool kit and putting the parts together in a hole. Knowing all costs associated with the pool and how that relates to your total budget will help you determine how much of the labor (if any) you'll want to do yourself in order to reduce the overall cost. There are costs associated with the pool kit itself, extra features like slides and diving boards, permits, pool lights, installation, decking, fencing (legal requirement), outdoor lighting, landscaping, pathways, covers, water test kits, shade structure/umbrellas, patio furniture, equipment shed, pool toys, maintenance equipment/chemicals, monthly maintenance if you hire someone to maintain your oasis. Obviously, you may not need or require many of these items but you need to determine what you do need/want so you can properly budget. Budget it outright and maybe you add that outdoor sound system you've been eyeing.

ARE YOU OKAY WITH GETTING THE REQUIRED PERMITS?
Most of our customers blink a couple times at that one since obtaining permits isn't usually a thought unless you have a strict HOA. However, most areas require certain permits before installing a new pool and depending on where you live. This could be an expensive and sometimes complicated process. Depending on your local code department, you may be required to have a construction or building permit. Some areas do not require a permit for this but will require an electrical inspection. The best way to find out the requirements for your area would be to contact your local city/county codes department. Permits are not free and prices vary by area but if you hire a builder or subcontract a builder they will almost always obtain these as part of their costs.
WOULD YOU BE ABLE TO DO ALL THE DIGGING AND HEAVY LIFTING REQUIRED FOR THIS PROJECT?
Truth is, there's going to be a lot of dirt dug up and removed. Not to mention, walls that will need to be put up and a pool base that will need to be smoothed out (hands and knees work). We want you to be able to enjoy your pool once it's finished, not have to be laid up in bed recovering from the process. Make sure your body can handle this kind of labor or enlist some friends to help if you're not hiring these jobs out.
WHAT EQUIPMENT WILL YOU NEED?
Luckily, you can rent just about anything these days and some heavy-duty equipment will not only make the job quicker but a whole lot easier! For example, you could consider a mini excavator or skid loader/bobcat for your dig section. The extra cost of the machine would be much less than the cost of an excavator and save you an incredible amount of time compared to digging the hole without it.
*the below-average costs are assuming that you have already purchased your inground pool kit and are just taking the installation into consideration. If you would information on the cost of the pool itself use this link!
FULLY SUBCONTRACTED PROJECT (NO DIY-ING)
The average installation cost of a Vinyl Liner Pools (based on size and location) runs between $22,000 - $50,000 for installation. As you can see, the cost to install a pool varies widely depending on obviously the size and difficulty of the shape, but also the region of the country, soil condition, circulation system, and accessories. The time of year you're looking to install even affects the price you'll be quoted since most contractors will offer discounts for off-seasons builds during the cooler months when business is slower. That being said, you can always find ways to lower or increase the price since vinyl liner pools have come a long way over the last decade in terms of size and customization. It is not uncommon to see vinyl pools bought & installed for well over $100,000. If you're going big and adding a ton of additional features like a slide, diving board, waterfall, deck jets, spillover spa, fancy fencing, bubblers, and additional landscaping needs… it's going to cost you to have someone add all of the extra plumbing and periwinkles.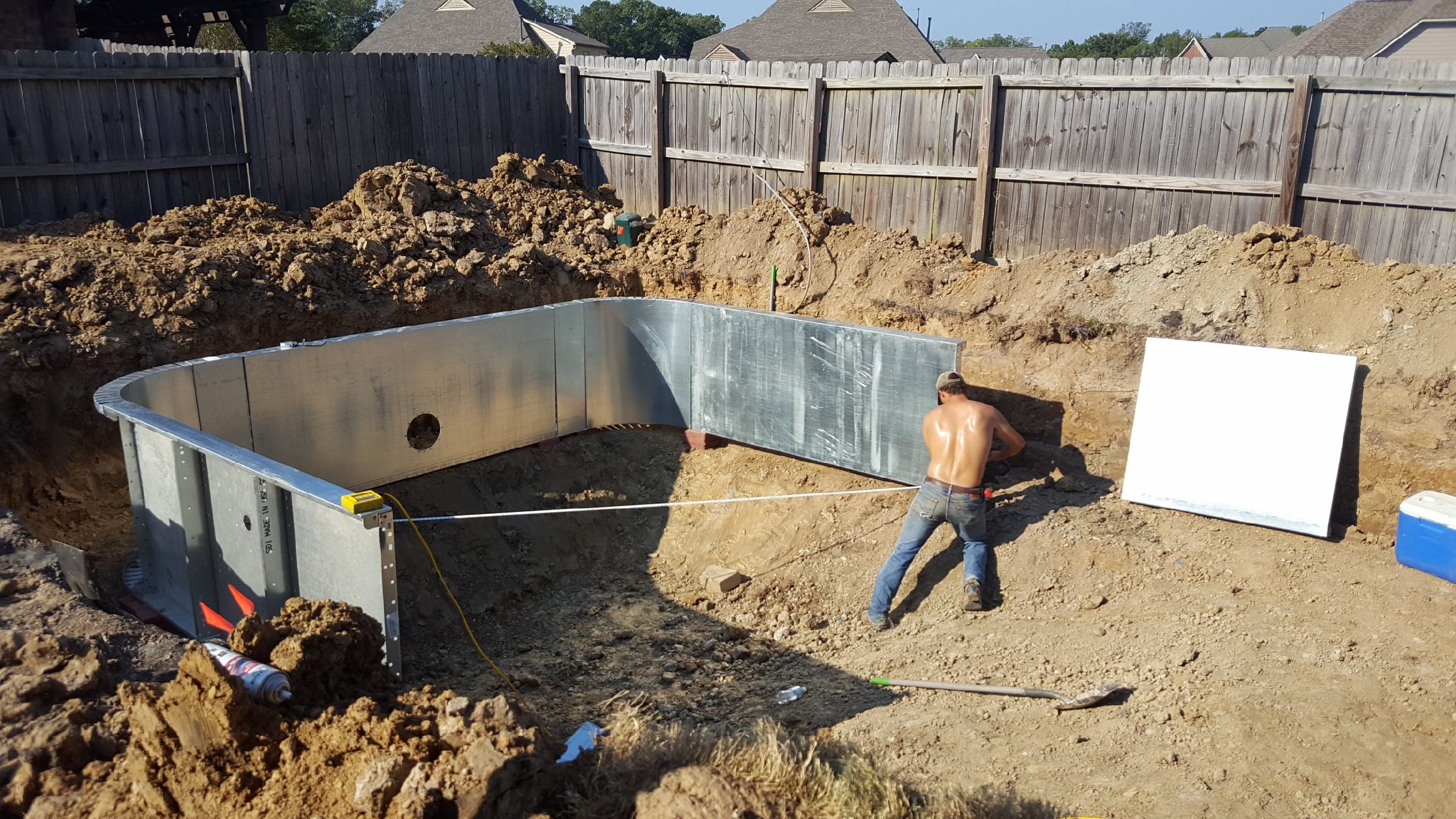 Typically, when you hire a builder you can opt in for a package of items you're hiring them for to encompass your entire outdoor area, from the pool to the decking to the landscaping (even installing your new outdoor kitchen). Just make sure you ask what's included and get it in writing so that you know exactly what you're paying for and if there's anything else will need to arrange to be done separately.
You'll want to contact a few different contractors to bid on your project and be prepared for a range in the prices that come back. Make sure that you know what is included in that price and if you're getting anything aside from the basic install like decking and fencing, etc. While cheaper isn't always better, the highest price-point isn't always best either. Find out what's included for each and then see our suggestions and tips for hiring a builder here.

FULL DIY or PARTIALLY SUBCONTRACTED
When you buy a pool kit, this makes you the project's general contractor. (neat, huh?) With that said, when you opt to do labor yourself you can get more pool for your buck meaning that you can often time afford a bigger pool or neater add on features that you wouldn't normally be able to afford going through a local retail pool company or paying for an entire build to be completed without you having to roll up your sleeves. That's because labor is expensive.

Building a pool is really an assembly line of completing Step A before moving on to Step B. Looking at it from that angle, if you look over each step of the project from start to splash, you may be able to tell pretty quickly which steps you can confidentially complete yourself. The rest you can do a little research on to determine if you'd be comfortable tackling them on your own or if you'd rest easier sub-contracting out.

As the general contractor for your pool, your job is to hire for each job that needs to be done (yourself or someone else). When you choose to sub-out work, you can often times sub-out all the steps you don't want to complete yourself to one builder. The most common subcontracted steps of installing a pool are excavation (digging the hole), electrical work, decking, and fencing.

Regardless, what you're subbing out, contact a few potential subcontractors to bid on your projects just like you would if you were contracting the entire project. Some subcontractors will even opt to work alongside the homeowner, cutting his/her price down if you're willing to some work with them.

If you subcontract a builder for several areas of your install, they will typically cover a great number of steps in their quote. Electrical work, decking, and sometimes excavation are jobs that your builder would sub-contract out for even if they were hired to do the entire install. The below figures are rough estimates meant to assist with budgeting costs and prices will vary depending on the region. These do not include your permits or your pool kit cost.
EXCAVATION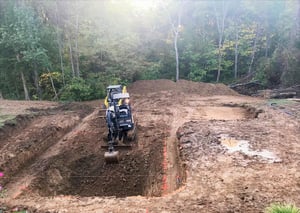 A pool excavator can run you between $800-$2000 (depending on the yard access, slope, size of the dig, the distance it takes the sub to get to the site, and the cost of hauling the dirt away). Or you could possibly rent a backhoe for $300-$600 and do this yourself.
DIY, HANDYMAN, OR BUILDER TO COMPLETE

Typically, whoever does the wall assembly will also do the plumbing, pour the concrete footer, backfill the pool, lay the pool bottom, and install the liner. Your main costs here would be associated with the materials needed for these steps and labor if you hire a builder to complete. Below is the approximate cost of the materials without labor.



Wall Panels: $0 (included in your pool kit)
Plumbing: Price of Plumbing Kit or PVC to run lines from equipment pad to the pool. The distance of pad to pool varies greatly pool to pool
Concrete Footer: Concrete $100 per yard (roughly $300-$800 total depending on the size of your pool); Optional Concrete Mixer $40 a day
Backfill: Cost of fill materials (amount of materials needed varies based on pool size); Clean sand, river run, pea gravel, or small grade limestone; Skid Loader/Bobcat rental $200-$300
Pool Bottom: Material Type $500-$1500; Optional Paddle Mixer $175 per day
Liner: $0 (included in your pool kit)

ELECTRICAL

Electrical work is almost always required to be completed by a licensed electrician. If that's you, great! If that's not you, you can expect to pay between $1000-$1500 for older homes and $500-$1500 for newer homes.

GAS

A gas line will need to be run if you're installing a natural-gas heater. We strongly recommend contracting this job to a professional This will run you about $20 per linear foot including labor and materials.
DECKING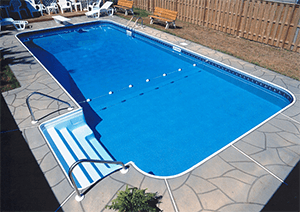 Decking prices vary greatly depending on not only the square footage of your deck (smaller deck, smaller price tag) but also on your decking materials. Concrete decking is usually the least expensive (keep in mind that there are beautiful options these days for stamped concrete decks even that being said, stained concrete is a middle price point between regular and stamped options); while materials such as travertine, pavers, and flagstone will be costlier. All that being said, you can realistically expect to spend between $4-$20 per square foot depending on the material you use. (Learn more about building a pool deck.)
WATER
Water: If you have a garden hose, you can do this for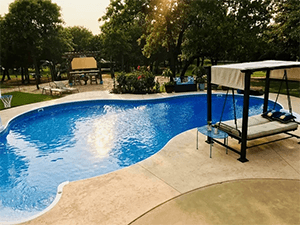 free labor and the only cost will be on your water bill! That price will vary city by city. For some folks, you may have to have water transported in (some fire departments may be able to help with this for a small donation as well). Transporting water will cost you the use of the water and the service and is the most costly method. Depending on how many gallons of water your pool holds this can range around $800-$2000.
If you need to see how many gallons of water your swimming pool will hold, use our water calculator here!
FENCING
Fencing cost will vary widely based on how big your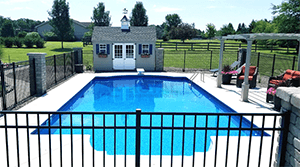 yard is and what material you use. The average price to install a fence is around $2,400. Most homeowners choose a six-foot privacy fence, with costs varying even then from $3-$13 per linear foot. However, fencing may not be required in some areas if you have an automatic safety cover.


That's your breakdown of inground pool cost! While it is anything but basic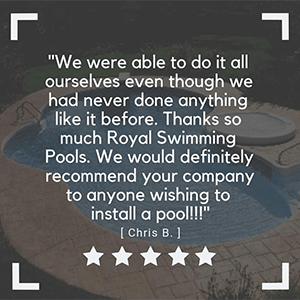 we hope that you've gained insight on how pricing works when it comes to installing an inground vinyl liner swimming pool. As you can see, thanks to how much customization is available, your prices can be as unique as your pool itself but a great deal of that cost can be added back to your pocketbook if you're willing to tackle some or most of the labor yourself (or with a few good friends). Obviously, the more you do yourself the more you'll save but there's something to be said for peace of mind when you sip your iced tea from the cool indoors while a pro does some of the heavy lifting outsides (just be cool and give them some tea too, okay?)
Happy building!
Additional resources on buying your dream pool: