IMPORTANT INTERRUPTION: Due to the rise in demand caused by the pandemic, pools and pool equipment/supplies, in general, are experiencing long delays in manufacturing and shipping. If you are looking to buy a new pool in the next couple of years you may have a longer wait time than anticipated, especially if you're trying to get on a builder's schedule as well. It's important to shop early. While pools traditionally purchased in the Spring or even late Summer can usually have a couple of weeks of use that same year, the entire industry is currently delayed by several weeks and in some cases several months. That's on the manufacturer's side of the business.

Many pool builders are booked 6-12 months out presently. The best plan you can have is to purchase your pool at least 3-6 months before you'd like to start building. More on purchasing a pool during or even post-pandemic can be found here. Now back to your question: How Much Does an Inground Pool Cost?

The short answer for how much an inground swimming pool costs depends on the type of pool and size as well as who builds it. However, the average cost (according to HomeGuide.com's annual review) if you were to buy a common 16 x 32 Rectangle pool, with no upgrades and not considering any extra costs like decking came out to be $66,560 for a Concrete/Gunite pool, $59,900 for Fiberglass pool, $46,592 for Vinyl Liner Pool. But here's what they don't tell you starting with how you can save THOUSANDS of dollars on your pool...

Labor and installation

can account for up to half of your total cost for the pool project. This means that if you either opt to do some of the labor yourself or hire a builder on your own instead of bundled with your pool purchase, you could easily save thousands of dollars just in labor costs since there wouldn't be any markup. But we'll cover that more in a moment.

Here's that same 16 x 32 Rectangle pool, sold as a pool kit without the labor cost or extras (water features, pool cover, etc). Talk about a price difference! Tens of thousands of dollars saved and here's what is (and isn't) included in that pool price. Crazy because it's EVERYTHING you need for a pool build outside of:
Tools
Sand
Concrete
PVC piping
Electrical materials
Water
Labor
Let's break this down a little further as to why there's such a big gap in price and what you can do to save your hard-earned dollars.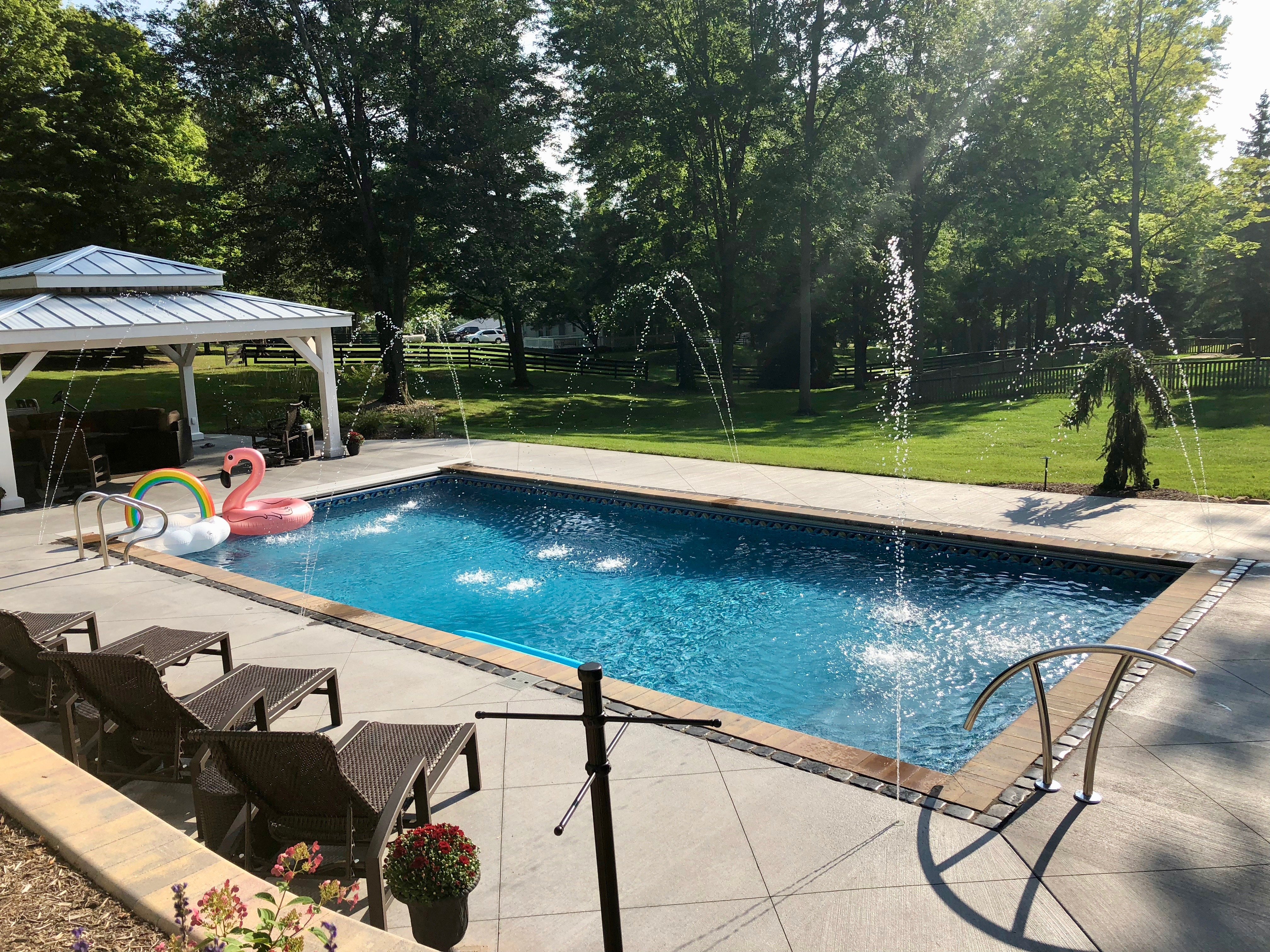 THE TRUE COST OF POOLS
THE POOL COST
Let's assume you're wanting a pool without the bells and whistles and just talk basics. If you want anything extra like full width steps or a slide just know it costs more.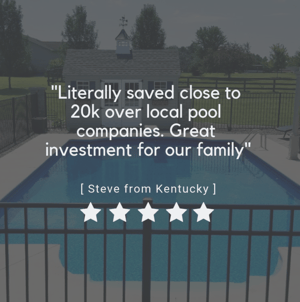 There are two main options for actually obtaining your pool kit; a retail store or an online distributor, like Royal Swimming Pools. This choice alone will affect your budget more than the actual pool you choose. Here's why.
Retail stores often pay the same rates we sell our kits for online, however, they still have to make a retail profit off of those kits. Since RoyalSwimmingPools.com sells the same kits at wholesale, the prices are so good that even builders buy their kits directly from us for their customers. However, since that's just the pool kits, many folks who choose to purchase from a retail store do so because that store also offers the installation at an additional cost. However...
THE INSTALLATION COST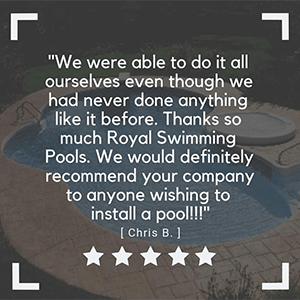 Just because you purchase a pool kit online it does not mean that you have to build the pool yourself. Yes, you will save an obscene amount of money if you choose to make it a DIY project but that is not your only option. In fact, while many of our customers do install the pool themselves, most do not. They subcontract some or even all of the work out themselves but the reason why this saves them a lot of money may surprise you.
What You Don't Know
The bulk of retail stores do not do their own installations. This knowledge can help save you a lot of money on your new pool so let's break it down.
In many cases, the stores sub-contracts the work out to an excavator, a pool installer, an electrician, a decking company, and a fencing company. But you the buyer, will not just pay for the labor of each of these by going through a retail store. The store will make a high margin off of arranging each one of those for you, on top of the higher margins they make off of the pool itself.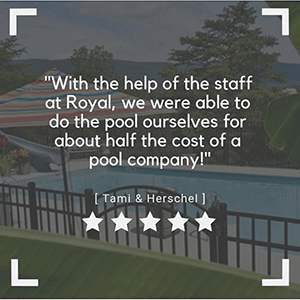 By purchasing your pool kit through an online distributor, outside of buying it at wholesale, you can arrange your own installation crew or do some of the easier work yourself, depending on how handy you are.
If you're buying your pool from an online companies, they can often recommend a builder in your area (sometimes the same one the retail store would have hired) or you can allow several contractors in your area bid on the project. Either way, by cutting out the middle man altogether you'll know the true cost to build and save a great deal in the process.
BUILDING MATERIALS COST
There are also materials that have to be bought no matter who does the installation, like sand and concrete. If you go through the retail store, they'll often times buy those materials from the same locations that you or your builder can purchase them from but once again, will mark-up the costs so they can make a profit on those items. Consider all of this the fee they charge so you don't have to locate the materials and arrange specialists yourself. A high fee.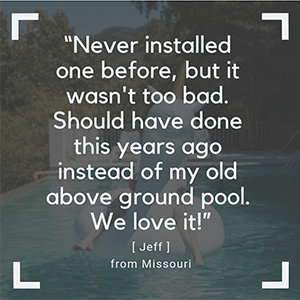 Now let's chat about the costs that aren't really included in "the cost". You're not going to build a pool and then leave it surrounded by broken up dirt. Decks, even a simple concrete one, have additional dollar signs associated with them. And depending on the size of your deck and the materials you choose to use, it could end up being a costly additive that many people don't budget into their final pool project estimate. Another consideration is to see if your county requires a pool fence which yep, you guessed it, requires more dollars.
And let's not forget that there are maintenance costs after your pool is up and running.
All of a sudden saving tens of thousands or even just thousands of dollars on just the pool sounds like a really good idea. That way you really can make the most out of your budget.
By ordering your vinyl pool kit online, whether you hire a installer or DIY, you can spend money that would otherwise go towards services fees and get yourself a pool heater, a diving board, a hot tub, or splurge on your deck design! Or just put it back in your pocket for a rainy (non-pool) day.
However, any way you decide to get a new pool, you'll want to make sure that you shop early. The demand for materials, builders, and equipment are at an all time high. Lead times are mirroring that trend and are expected to stay the course for the next couple of years.
Additional resources on buying your dream pool: