Considering getting an above ground pool? That's great! Not sure what shape you should go with? That's okay too. While some folks have the luxury of personal preference there are actually a few situations where one shape makes a lot more sense than the other and therefore the choice can be made for you.
IMPORTANT: Due to the rise in demand caused by the 2020 pandemic, above ground pools in general are experiencing delays in manufacturing and shipping. Semi-Inground and saltwater friendly resin pools in particular may have even longer wait times.. It's important to shop early if you are in a hurry to start splashing about. While pools traditionally purchased in the Spring or even late Summer can usually have many weeks of use that same year, the entire industry is currently delayed by several weeks and in some cases several months. The best plan you can have is to purchase your pool 3-6 months before you want to start building. More on purchasing a pool during or even post-pandemic can be found here.
WHEN TO CHOOSE A ROUND ABOVE GROUND POOL
COST benefits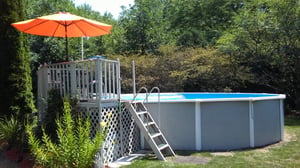 The number one reason homeowners choose round above ground pools over ovals is the price. While that may not be shocking, just how much can be saved overall might be.
Round pools provide more swimming area at a lower price meaning you're getting the best price per gallon. Thinking about it in these terms, an 18' round above ground pool offers the same swimming area as a 12' X 24' oval above ground pool but for the same model often times up to $1,000 less. That's a big price leap for essentially the only difference being shape. This means the average budget finds larger round pools exceptionally more affordable than even a smaller to mid-size oval above ground pool.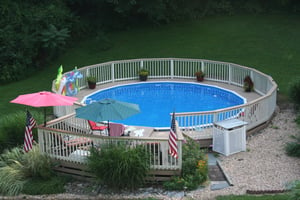 Now that's the pool itself, but the savings don't stop there.
If you're planning on hiring someone to install the swimming pool for you it will cost considerably less to have someone install a round above ground pool, often times almost half the cost it would for a similarly sized oval. This is due to the shape of the round pool is much easier to assemble. The shape enables the water to distribute evenly naturally, which means round above ground pools do not require the assembly of a buttress system.
Lastly on cost, if you ever need to have your liner replaced round liners are priced lower than oval liners. By the time you consider the cost of the pool, installation, and possible replacement liner down the road, your bank account may be waving banners for team ROUND already.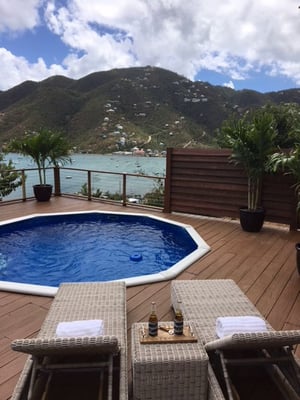 Installation Benefits
If you're planning on installing your own pool, a round above ground is much easier to DIY. This is primarily due to not have that buttress support system previously mentioned or the under the pool support straps required for most oval pools.
There's also the added benefit of round above ground installations having a greater margin for error and therefore being more forgiving than their oval counterparts. This also means that round above ground pools can almost always be installed in less time than an oval pool.


WHEN TO CHOOSE AN OVAL ABOVE GROUND POOL
YARD Space
There are several landscape considerations that could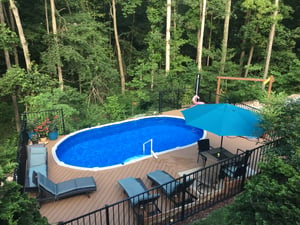 play into your pool shape options. If your yard is longer than it is wide, an oval pool will typically fit better, allowing for more swim space in the available area. This can also be the case for existing yard features such as trees, property lines, yard layout, fences, septic systems, power lines, detached garages, and other free-standing structures. This could even just boil down to having less space available in the yard due to homes these days having less space allocated for yard versus the home, making many modern backyards more on the narrow side.
While some oval pools take up quite a bit of room due to their buttress systems, it's worth noting there are several models these days that offer space saving buttress-free style support systems.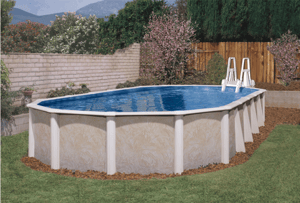 This can save you an extra 2'-3' on the surrounding area of your pool if you're looking to fit your new pool into a tight space or just want to be able to have a larger swim area.
Exercise and Play
Exercise and more play area is another primary reason people opt for an oval above ground pool. Not only do ovals offer long stretches of water to swim laps in, but they're also ideally designed for playing water volleyball. And while yes, you can technically have a "deeper" end in a round above ground pool, it does quite have the same abilities as a "deeper" oval above ground pool which will allow for more games, more treading, and therefore more calories burned.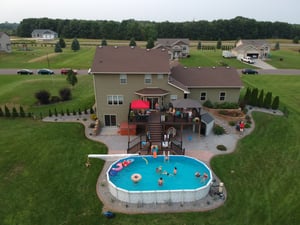 If your budget & yard really aren't making the choice for you on this one, it comes down to personal preference. In this case, we always recommend that you start with the model that you love most and go from there.
Don't forget to check out this related article: