As you're planning your new inground swimming pool, one of the main questions you're going to have to answer is what size pool you'd like. But one thing that can be easily overlooked when choosing the right size pool for your yard is making sure that you also have sufficient space for your deck or patio.
While a deck or patio is by no means a requirement for a pool (you can technically build a pool without one, though we don't recommend it), making sure you design your pool with its deck (and that deck's potential uses) in mind is a key aspect of overall swimming pool design.
Important Considerations When Designing Your Pool Deck

How are you going to use the deck?
A swimming pool deck is more than just a space to stand around your pool. Believe it or not, the pool deck is actually the most-used part of any swimming pool design, as the deck is where you'll spend most of the time. This includes time watching others swim, relaxing with a book, enjoying dinner (maybe a drink) and anything else you'd ever consider doing poolside.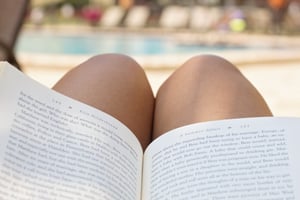 For this reason, it's important that you think ahead into the ways you'd like to enjoy your space. Think about how many people you'd like to accommodate. How much space would you like for seating? Remember a single lounge chair is going to take up roughly 3' x 8' of space. You'll need to allocate room for those, as well as room to easily navigate the deck.
Want to include a grill? A table and chairs? Maybe a hammock, fire pit or even a ping pong table? Plan out what you'd like your pool deck to look like. How do you imagine using it. Even if that actual usage may be a little farther down the line, it's important to plan ahead, since adding to an existing deck is generally more expensive (and difficult) than building it out in the first place.
Additional Pool Features Require More Deck Space
Sometimes there's more to a swimming pool than just the swimming pool. Additional features like deck jets and laminar jets, waterfalls, slides, diving boards, swimouts, spillover spas, and standalone spas are all ways people accent or expand their swimming pool. And all of these will require additional space.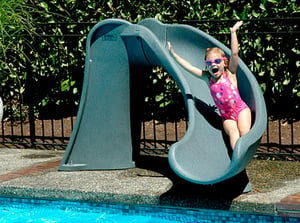 Some add-ons, like deck jets, don't require anything more than a designated area of the deck for them to be installed, as they live "within" your deck. Others like slides, swimouts, and spas, however, act as extensions of your pool and need to be factored in when determining the overall deck space in your design.
Remember, additional accessories also include items like pool covers. If you plan to have a solar cover on a roll, for example, you'll want to think about the space this will occupy on your deck.
Will you need fencing? Where will it go?
Fencing can be used for a variety of different purposes, but is most often put in to keep children or pets safely away from the pool. Safety fencing can go directly around the pool, or if you want to add a larger, permanent fence, you'll need to consider how far out it will be going? Leave room for concrete to be poured for posts if needed.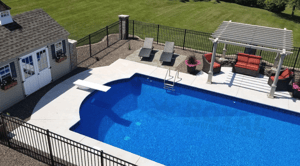 Regardless of which type of fence you use, you will want to make sure you are including enough space to comfortably utilize the area between the fence and the pool. Remember, a fence will act in many ways like a wall, which means you won't be able to as easily access the space outside the confines of the deck (for example, to get to where you plan to store your pool maintenance supplies) as you would without a fence. So plan the space accordingly.
What additional landscaping plans might you have?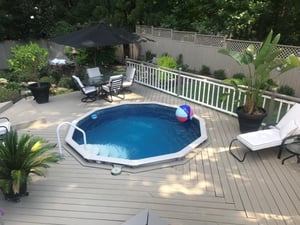 Planning to add a border or tree line? Would you like to incorporate it into your deck design? Take additional planting space, walls, etc. into account as part of the overall space you allocate. This includes plans for plants sitting on your patio as well. And don't give yourself too tight of a space - remember that plants grow, so you'll want to leave enough room for them to fit comfortably even after they've fully matured. (i.e. you don't want bushes crowding out your walking space!)
Where Will Your Equipment Go?
One thing that is sometimes easy to forget is that a pool takes up more space than just the area where the pool itself sits.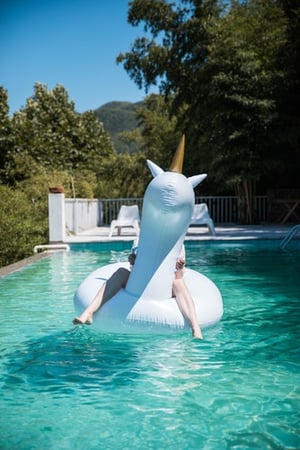 As equipment like pumps, filters, chlorinators, heaters and other items are housed outside of the pool, they will require space of their own. One option is to put these in a pool house or on a specified "equipment pad," but just as often these are located on the deck. If you plan to keep your equipment on the deck, be sure to allocate enough space for it (and any enclosure you may want to place around it to keep equipment hidden from view).
As a general guideline, allocate a minimum of 2' x 3' for a filter and pump. If adding a heater, chlorinator or other items, you'll need more. We recommend a minimum of 3' x 6'.
What about all the other "stuff" you may use with your pool; floats, toys, chemicals and more? Planning ahead and knowing where these will all go when not in use will help ensure your deck doesn't become to cluttered once the pool is ready to start using it.
When in doubt, go bigger.
Chances are, all of this is going to take up more space than you originally design. And that's okay: people take up space and so does furniture - not to mention all the other fun stuff you might have planned. But remember, along with all this you'll also need room to walk around. You'll want to make sure you've given your space allocated for seating enough room away from the immediate "splash zone" so those who don't go into the pool can enjoy the area while still remaining dry.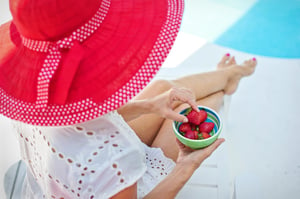 Our recommendation? Always go bigger than you think you might need. Remember, just because an area is designed as "deck space" doesn't mean you can't use it in other, creative ways. Items like patio plants and garden boxes can do wonders to soften the edges and fill in blank space so you can end up with just the right mix of comfort and utility.
General Pool Deck Size Guidelines and Recommendations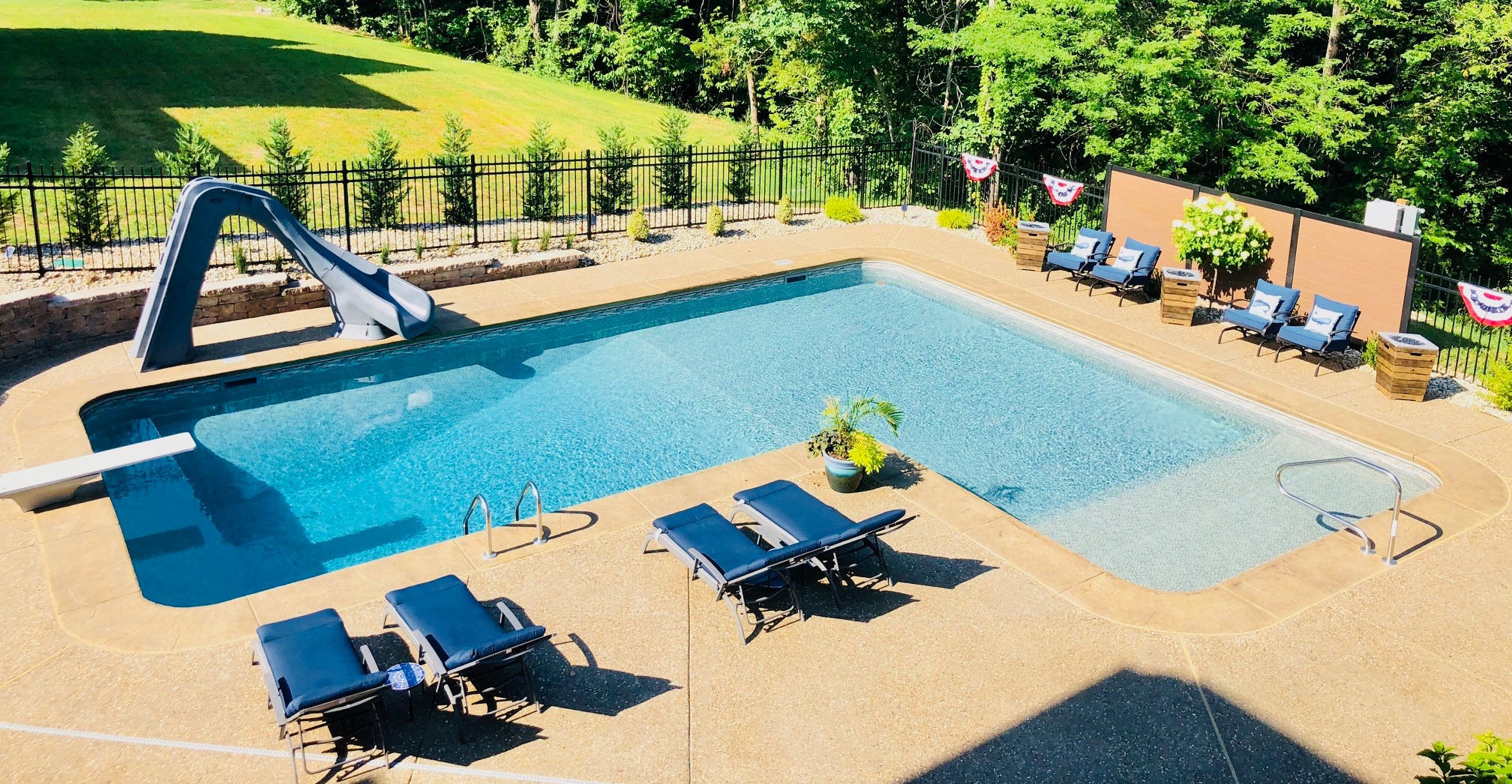 There are no hard and fast rules when it comes to a pool patio, as much of this will come down to a combination of personal preference, pool size, and available space .. but there are definitely a few recommendations we can give for designing your swimming pool decking.
At Minimum, Allow 18"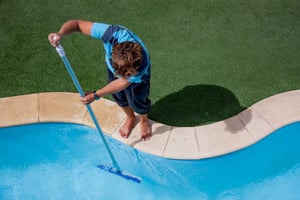 18" (1.5 feet) isn't very much decking, but it's just enough for you to have minimum concrete to encircle the pool for a firm foundation to stand on. This can be especially important to remember when you are looking at how you plan to maintain the pool. You'll likely need to be able to vacuum/brush all your sides, and without at least an 18" perimeter this can become difficult.
A Diving Board requires a minimum of 8 feet
A diving board is attached directly to your pool decking and takes up a decent amount of space on the deck. It also has specific installation requirements that demand a minimum of 8 feet of decking in order to install to code.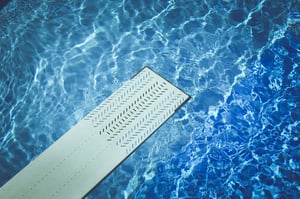 If you have hopes to one day add a diving board to your pool, be sure to include a minimum of 8 feet of decking at the end where the diving board will be placed in the future.
*Important Note: For a diving board to be properly installed, the anchors must be put in place when the original decking is put in. This is not something that can be added later without tearing out the existing concrete and replacing it.
Our general recommendation is a minimum of 4 feet on each side and 8 feet on each end.
If you're looking for a good starting point when designing your deck, we recommend a minimum of four feet on each side and eight feet on each end (for a rectangle pool). This will give you ample room for navigating the perimeter of the pool, and a little space for some seating. You can always adjust from here, but this tends to be a very good place from which to start your deck design process.
Always Check Local Laws and Regulations
As with any part of your pool design, always be sure to follow local laws and regulations. These can vary based on location, so look yours up ahead of time to make sure whatever you're designing will be up to required code standards.
Additional Considerations + Bonus Deck Design Tips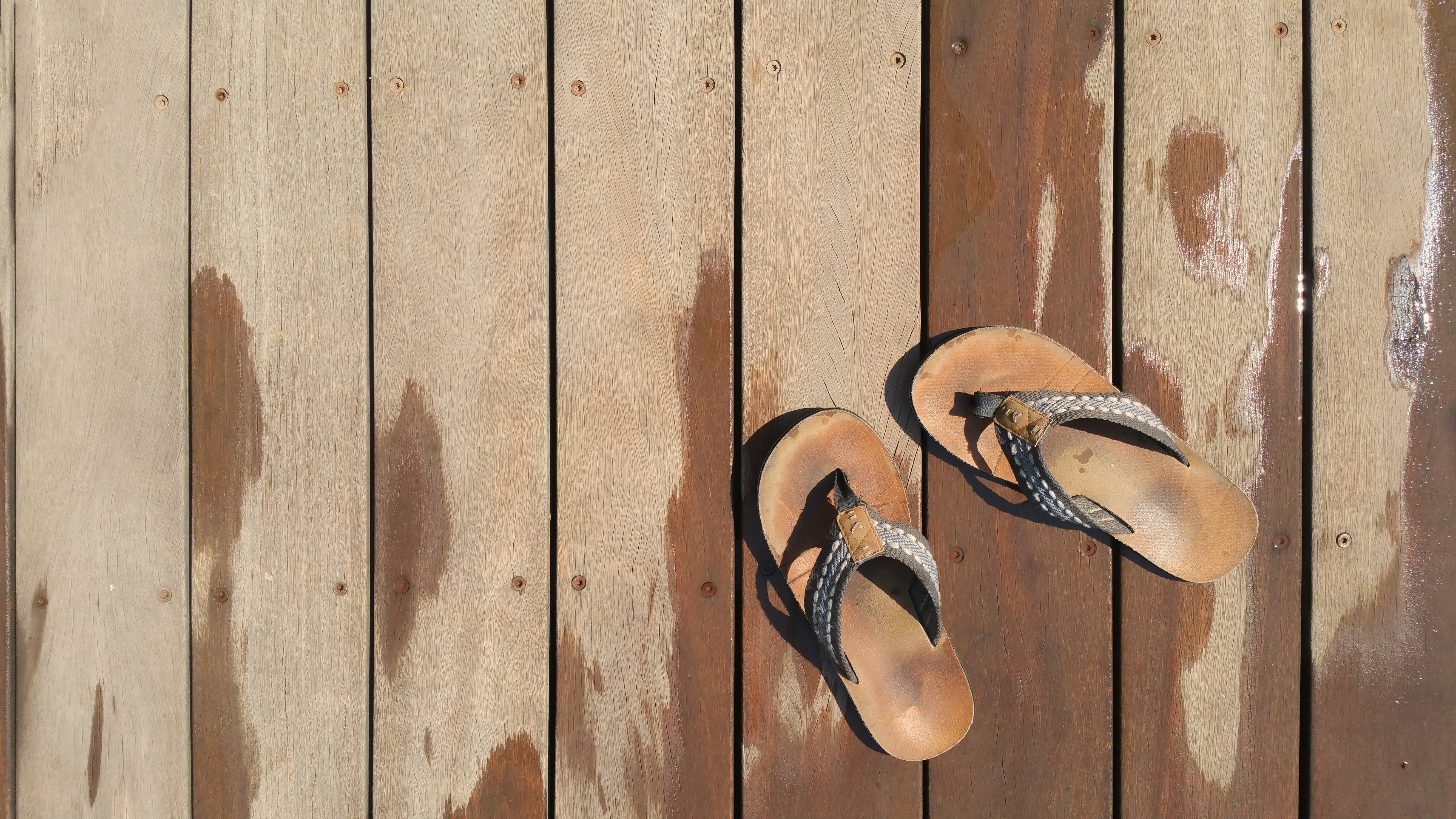 In addition to overall size, there are a few other potential issues we recommend you keep in mind when designing your deck, as these may affect placement, design and your deck's size as well.
Stormwater Runoff and Drainage Considerations
When it comes to pool deck design, not only is it important to determine how big of a deck you would like, but also where in your yard it will go. An often-overlooked aspect of this is how your deck will interact with the geographic layout of your yard. For example, where will the water runoff from your roof, gutters or yard and generally go?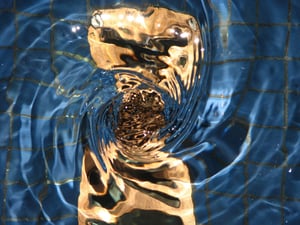 Some basic design tips include to make sure your deck is slightly higher than the rest of your yard, and that the deck incorporates a gentle slope away from your pool to help control runoff and drainage issues. You want to consider additional options you have to avoid too much runoff onto your deck or pool. A French Drain can help with this, or even better, consider adding HydroBlox™ when you install your deck.
Put simply, HydroBlox™ move water from where you do not water, to where you do want water. The water moves from plank to plank by water pressure. As one plank fills up with water, it is pushed to the next plank. This allows you to install HydroBlox™ in a level area. No need for any downward installation.
Consider Hiding Your Coping Track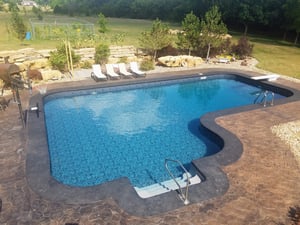 One of the more common complaints about vinyl liner pools is the visibility of the coping track (the part at the top of the pool that holds your liner in place). But did you know it's easy to hide your coping track? All you have to do is choose our Cantilever Track / Flat Coping when you design your pool. This allows you to easily place coping bricks around the perimeter of your pool, hiding your coping track. Or you can even get foam forms to have your poured concrete stretch out over the edge of your coping!
Final Tip: SKETCH IT OUT
The most helpful tip we can provide for determining what size swimming pool deck you'll need is to sketch it out. Getting together a list of all the items you'll have on the deck, what accessories you'll need, and how many people you want to comfortably seat is a great starting point, but there's nothing quite as useful as drawing something up to give yourself a general idea of the layout you have in mind.
Don't worry if you're not an amazing artist. Even a simple sketch can do wonders to help you visualize your space. Do what you can to try to keep the drawing somewhat to scale (you might want a ruler), but trust us that once you start to visualize how your deck will look in relation to your pool you'll have a much better understanding of what you really need.
So go grab a pencil and paper and start sketching. You may need to take several passes to get what you want, but once you do you'll feel much more comfortable with your design choices. Once you have a design you like, walk it out and try to imagine your space.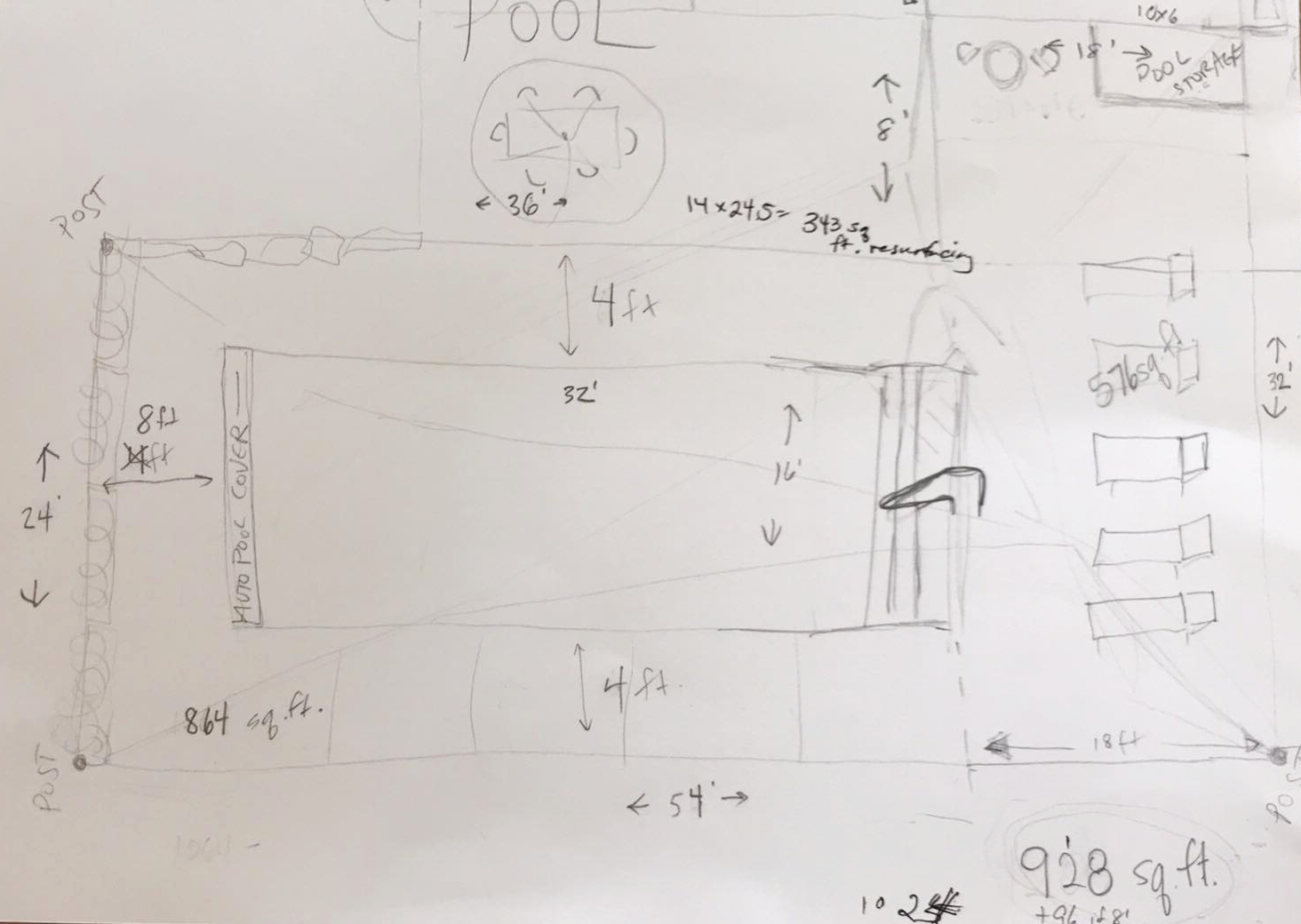 Need even more tips? Read our guide on how to transform your backyard into an oasis.