With Hayward's AquaConnect you can manage your inground swimming pool no matter where you are as long as you have internet available.
That's right! Your pool can now be a part of your smart home!
This allows you to monitor all of your swimming pool and spa settings. And with the purchase of Aqua Connect Home Network subscription, you can even set it up to send you alerts if there are any problems are detected.
This includes issues with your pool equipment and chemistry! Image being able to turn your pool heater off after you've already lefty for vacation. No unavoidable super high electricity bill for you.
With the AquaConnect Web all that is required is a landline Internet connection or web-enabled devices such as most cell phones.
The AquaConnect Web and AquaConnect Home Network are available on many of the existing Hayward products made popular by thousands of homeowners; such as the ProLogic, AquaPlus, and AquaRite Pro. The AquaConnect Home Automation is only available on the ProLogic.
You can learn more about the Hayward Prologic and AquaPlus here, where we have several videos available to help you review the products as well as get them up and running!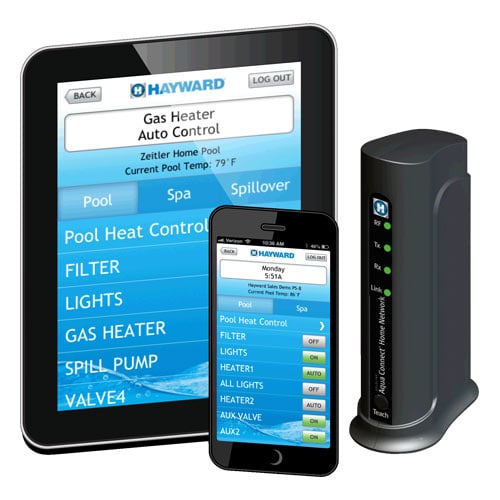 Check out some of our other maintenance related articles below if you want to learn more about the specifics of DIY Pool Maintenance. (Especially the one on REVIVE)!