Except for those of you who are located in the Tropical climates, most of us are able to enjoy our pools 3-4 months out of the year.
While those few months of relief and relaxation do ease the burden of the year-round maintenance & expense, nothing justifies it all quite as much as being able to walk into your own backyard and dunk yourself in cool water on a sweltering Summer day.
This Is Your Time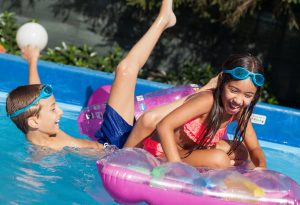 This is your time of year. You can commence unapologetically enjoying your very own personal lagoon.
So how do you "pool?"
Does your backyard become Grand Central Station in the warmer months, full of game-loving kids who love burning all of their excess energy off in the water? (This is an excellent strategy move, parents! Adult beverages for us when they fall asleep early!) Or is it more of an adults-only type of affair, with all the trappings of big kid summer fun? Maybe you have a more Zen approach and seek total serenity, complete with a lux lounger & floating refreshments - book optional?
However you choose to enjoy your pool—and your options are plentiful—keep in mind that your pool-less friends will be longing for you to invite them over for a dip as they melt in the Summer sun. But enough about them, this is your pool and there is no wrong way to enjoy it.
So do it big! Live it up and revel in it. Invite your friends over. Or not. 🙂
Drop us a line in the comments below and let us know how you enjoy your pool!
Can't get enough? Here are some additional resources for even more pool enjoyment!