Independence Day means patriotic parades, incredible fireworks displays, joyous marching bands and festive backyard get-togethers. The Fourth of July holiday is the perfect time to gather friends and family to celebrate summer with a fun pool party. Lucky you—the weather is warm and sunny, summer entertaining is a laid-back, casual affair and best of all, your awesome pool is sure to be the center of fun and games.
With a little advance planning and a few of these clever party ideas, you can host a July 4th pool party that will make Lady Liberty proud!
You're Invited!
With planned vacations, outdoor parties and family events, everyone's summer social calendar fills up quickly. Be sure to give those on your guest list an early heads-up--even as much as three weeks to a month's notice--with a pool party invitation. Mail out a themed printed invitation or opt for a free online e-vite. Even easier, set up a Facebook event. In any case, be sure to include a way for guests to RSVP so that you have an accurate headcount for ordering food and drinks.
Set the Scene with a Fun Pool Party Theme
A party theme sets a festive tone, especially if it is carried through to your decorations, edibles, and games.
Three cheers for the red, white and blue! This 4th of July color scheme is truly a no-brainer. You'll find plenty of choices for napkins, paper plates and garlands celebrating Old Glory. Red, white and blue balloon bouquets are a bright and inexpensive option for instant fun. Be sure to pick up a stash of mini American flags for tablescapes, and have extras for the kids.
The birthday of the United States is a celebration of summer. Salute the season with a pool party beach theme. Check out your local party store or online for paper palm trees, beach ball garlands and plastic pineapples…the more colorful, the better! Add some floating inflatable flamingos to your pool for instant fun. Greet your guests with colorful leis for added flare!
Tasty Pool Party Fare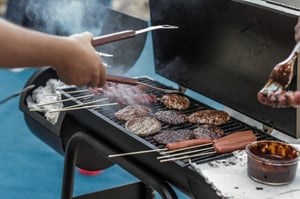 For no-fuss summer entertaining, remember to keep it simple. Treat the group to good old-fashioned picnic fare like fried chicken and corn on the cob. Everyone has a favorite summer side dish recipe; ask your guests to contribute a side so you can focus on grilling some all-American hot dogs and burgers. Make it extra special with a toppings bar offering plenty of toppings like onions, relish, lettuce, bacon, jalapenos, and tomato.
Cool off your party-goers with refreshing watermelon slices, fruity kid-favorite ice pops or an ice cream sundae bar. If you're feeling crafty, go all out with a celebratory July 4th dessert for our sweet land of liberty: a beautiful flag cake is easy to construct with a simple sheet cake decorated with strawberry stripes and blueberry stars.
Toast to Independence Day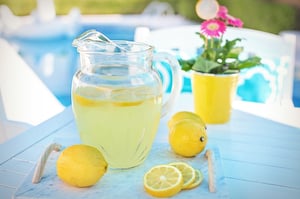 Beat the heat with some refreshing summer drinks. Offer up pitchers of frosty lemonade (vodka on the side for spiked adult beverages). For a festive and colorful toast to Freedom specialty drink, salute the flag with blueberries and strawberries added to a pitcher of white sangria.
Sun, swimming, and lots of fun activities mean thirsty guests. Provide plenty of bottled water to keep everyone happy and hydrated.
Make it easy on yourself; let guests help themselves to canned soda, beer and other beverages offered up in ice-filled coolers. Have a recycling bin on site and properly labeled for guests to discard their cans; helping to keep our country clean from sea to shining sea!
Lots of Fun and Games
Keep the party going with awesome pool party games for kids like that all-time favorite, Marco Polo. Stock up on fun pool toys like pool noodles and beach balls. Little guests will enjoy pool basketball or a turtle egg dive game, while pool rafts and floating drink holders keep the grownups smiling.
Take a break from swim time with a round of cornhole or horseshoes. None pool games are great as not every guest will want to take part in the pool portion of the party.
Independent Extras
Take your pool party over the top with a trendy selfie station—i.e., a photo booth without walls. Check online for free printable photo props with a patriotic theme like the Statue of Liberty crown and torch and an Uncle Sam top hat. The party-goers will have a great time sharing photos of your amazing pool party. Add some sparklers for extra holiday spirit!
The thoughtful pool party host takes care of all the details. Your guests will appreciate extra beach towels, a supply of sunscreen and if needed, bug spray. Splurge on a stash of inexpensive, colorful sunglasses and flip-flops (to match your theme of course) for poolside comfort—makes a great take home favor as well!
Party Tunes
It's not a party without some great tunes. Plan your pool party playlist with summer standards from the Beach Boys and Jimmy Buffet, opt for some down home country music, or celebrate America with traditional folk music (try Woody Guthrie) or classic anthems with patriotic themes (Born in the U.S.A., God Bless the U.S.A.).
Remember: Safety First!
A pool party is time for fun and games, but as the host, remember to make the safety of your guests your number one priority.
Follow these tips for pool safety for younger children and always have an alert adult on watch when there are children in and around the pool.
Set your ground rules from the start: no running near the pool; no swimming without an adult present.
Alcohol and swimming don't always mix; be aware of your guests.
Don't risk ruining a great party with an unfortunate injury. Don't use glass containers around the pool.
Fireworks make for a festive Fourth, but be sure to check your local laws and ordinances regarding private fireworks. Remember, never light fireworks around a swimming pool as it can risk damage to your pool.
Prep Your Pool for Party Day
The invitations are out, the menu is set, and the decorations are ready to go. Get ready for party time by ensuring that your pool is clean and the water chemistry balanced before the big day! Set aside an hour or two pre-party to sweep and vacuum the pool (or toss in your automatic pool cleaner), and follow these tips to keep your pool clean and shimmering.
The most important element for a memorable pool party? Have fun! Your 4th of July pool party is sure to be a celebration to remember.