There are popular party topics like what to serve for sips and nibbles and what theme to shower your guests with (NYE is all about the confetti btw so think bio-degradable if outside); but here we want to focus on utilizing your backyard space (especially your pool) to add some WOW-factor to your abidance and decorate like a master!
1. LIGHTS!
You can't party if you can't see. Well, you can but certainly not safely so make sure that your party people can see! Most New Years Eve celebrations happen later in the evening leading up to and going beyond the stroke of midnight. Having enough light to be able to attend the event safely but not too much to kill the mood is an essential balance. Leave the floodlights off and consider adding lights in a more festive/unique way.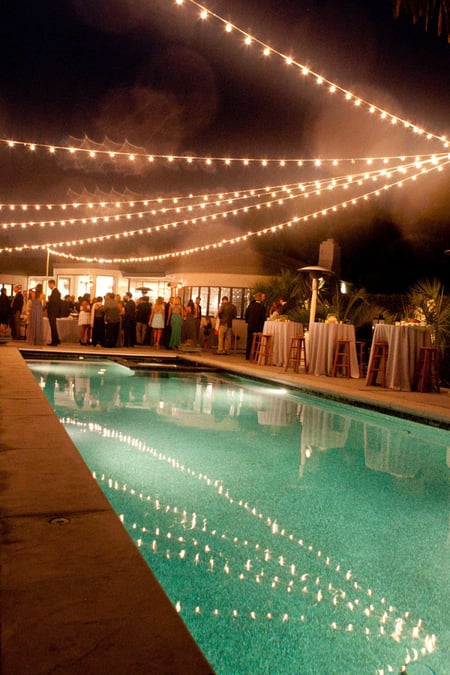 White string lights being all the rage (and conveniently on sale after Christmas) make for an instant chic vibe. You don't have to limit yourself to white lights of course, especially if you have a theme color.
No theme color but still want some pop for the party? Consider adding some uplighting in an array of rainbow worthy hues.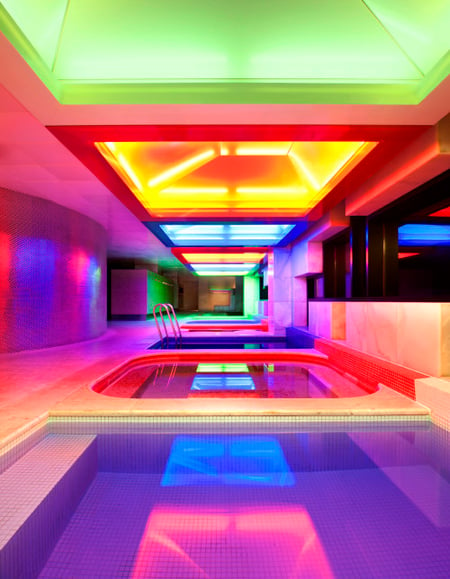 Another quick fix is to add a floating light showpiece (or five) to your pool. These little water dancers add a festive touch by providing an underwater light show for your guests to swoon by. Some even have the added elegance of doubling as a water fountain. Keep in mind that they tend to float together so you may want to do a little work with either weights and/or fishing line to keep your water shows separated.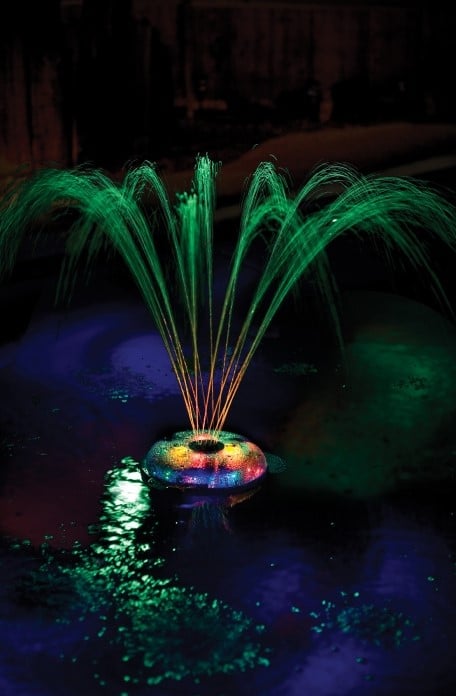 2. CAMERA!
Adding a bit of visual candy for the eyes to focus on is a trick used in most club atmospheres. If you have outdoor TVs you're already ahead of the game! Just turn on Times Square and go! Having a projector will take you far as well. This allows you to customize what you want to be shown a bit further when paired with your laptop. Show the music videos to the songs on your party's playlist. You can even show Movies (sound on or off depending on what you're going for). The last pool party we saw this at had a Great Gatsby theme and so while the music bumped on scenes from the movie could be seen projected over the pool throughout the night. It was a really neat effect, especially since it added to their theme.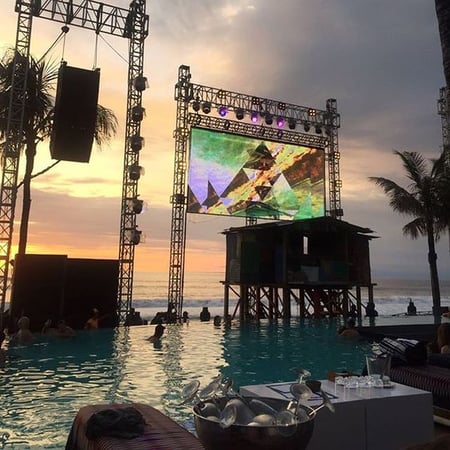 Adding a photo wall (or 12) is a great way to get your guests interacting with their surroundings. Take it a step further by creating and encouraging the use of a custom hashtag so that everyone can see the photo taken throughout the night? A great photo wall needs to be dynamic! Think about color, texture, props, and just have fun with it!
3. ACTION!
Where will the action be? This is crucial for the party planner to keep in mind. Will the guests be surrounding the food stations? Or do you prefer the dance floor to be the happening spot? Make room where you want people to gather! And then make it beautiful so that they will actually want to be there.
FUN FACT: Did you know that you can either build or rent a dance floor to extend over your pool? Walking on water? Nah, we're going to DANCE on the water tonight!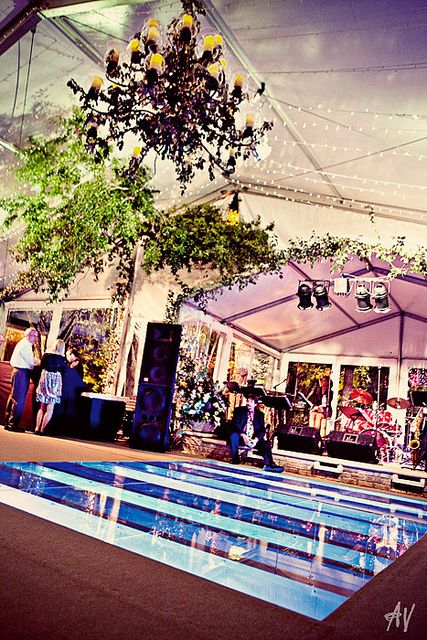 Never underestimate the power of the party balloon. We're not talking about helium on a string here. Make a statement with varies sizes of round balloons floating on or better yet, cascading into your pool.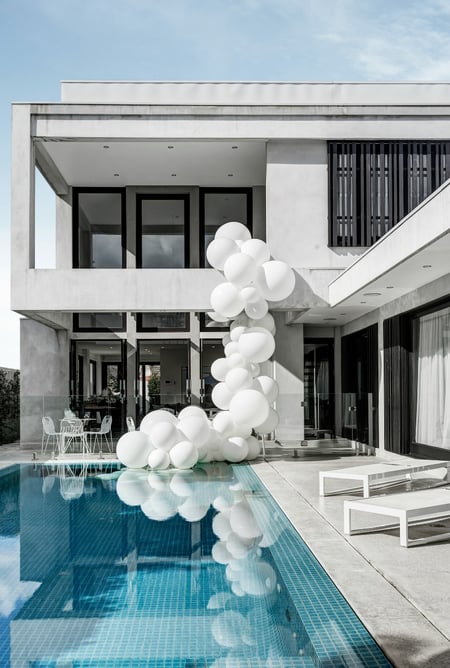 Hang some up-side-down from the edges your patio to create a floating effect without worrying about string on the ground. Take it further by adding glow sticks inside of your balloons for added pizzazz.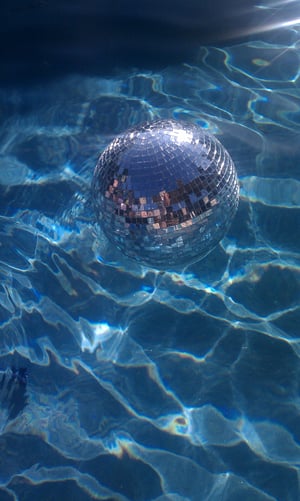 PARTY TIP: For added safety of your guests and backyard, keep all glassware inside. Opt for plastic champagne flutes to avoid a shattering pause in the evening.
Last but not least, find any way you can to add sparkle. Sparklers, Tinsel, Glitter Dipped Champagne Bottles, or a good 'ol fashioned disco ball will do the trick.
When in doubt- add more sparkle.
For more helpful tricks on choosing a theme, food, drinks, and more see our blog on throwing the ultimate party here!
No matter how you spend your New Year, thank you for letting Royal Swimming Pools be a part of it!
Swim Happy!