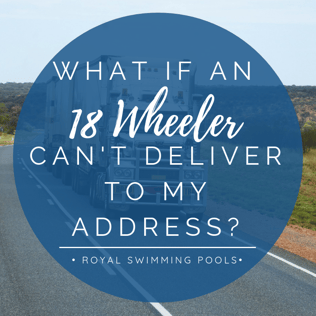 Congratulations! You've found your next favorite place to relax at home! You have a new pool, spa, or sauna heading your way! Just one minor detail stands in between you, and your backyard oasis: how is it going to be delivered?
Good news! We've spent years working out those details, and now it's time to share our experience and expertise with you! Large items, such as above ground, and inground pool kits, saunas, hot tubs, custom safety covers, and liners all ship by 18-wheeler freight truck. While we do offer residential delivery, sometimes there are certain obstacles or complexities that prevent a driver from being able to safely make that delivery at your home. Narrow winding roads, single lane highways, steep grades, or gravel roads are common hazards that prevent an otherwise routine delivery.
While this may seem like a setback, there are easy solutions to any one of these concerns. Alternative arrangements include:
1. Requesting pick-up from the freight terminal: This arrangement is best discussed at the time of order, so that a dock release can be requested. The order will ship as normal, but when it arrives at your local terminal- instead of the residential delivery, you would pick your order up from the terminal. You will need an appropriately sized truck, or trailer to accept your delivery. You will still be required to inspect your delivery at the time that you accept it from the terminal to ensure that nothing appears to have been damaged in transient.
2. Provide an alternative shipping address: Often times customers will have their delivery sent to their place of employment, or a business that they work with on a regular basis (co-operative, hardware/ contractor supply store). This would be arranged at the time of the order. The customer has the same responsibility to inspect their delivery prior to signing for the order.
3. Set delivery to a local public parking lot: Occasionally, there are unforeseen reasons for residential delivery to not be suitable for the driver. In this case, you may coordinate with the freight company's dispatcher to meet the driver at an open area that offers easier access. Commonly, this would be a big box retailers park.
We've found that solutions are everywhere, if you just look for what makes sense for your area.
You are one step closer to enjoying your new pool, spa, or sauna!