Having a pool means having great opportunities for fun summer pool parties and while poolside parties are a great way to celebrate friends and family, getting them right can take a bit of preparation.
Here are some suggestions to make your pool parties spectacularly fun, safe, and memorable for everyone who attends.
Foods and Drinks
Consider that your pool party will include both swimmers and non-swimmers, so your food offerings should appeal to both types of guests.
And while you may be tempted to do the usual hot dogs or barbecue, here's a surprise: A Food Network survey found that Americans overwhelmingly prefer hamburgers (over fifty percent) over hot dogs (ten percent). Additionally, potato salad ranked top as their favorite side dish and one third of Americans said they prefer ice cream as a sweet dessert.
But don't let these statistics deter you from being creative!
Here are some simple food and drink ideas that can add life to your pool party.
Poolside Foods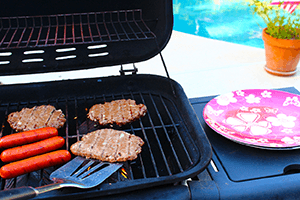 When it comes to poolside foods and drinks, the less waste, the better which means anything that can be considered "finger food" is ideal. This means guests can munch as they desire and the host and hostess get to enjoy more free time and less time sweating over the barbecue grill or in the kitchen.
One thing to be mindful of when serving foods or drinks at your pool party is to try to avoid glassware or any kinds of dishes/glasses that can break since this causes an obvious hazard. Instead, invest in reusable or disposable implements to ensure your poolside stays free of broken glass.
BBQ Bacon-Wrapped Chicken Bites
This simple, three-ingredient appetizer takes very little time to create and is sure to please your guests (who doesn't love bacon?) without much mess or fuss.
BLT Summer Rolls
Another baconized finger food treat, these simple but impressive BLT summer rolls are sure to be a hit with your hungry guests!
The Coveted Burger
The all-American burger is simply a beef patty, topped with cheese, lettuce, tomato, onion and choice/combination of ketchup, mustard, and/or mayonnaise. However, you can amp up your burgers by providing your guests with a smorgasbord of additional toppings so they can build their own great burger.
Toppings can include:
Sautéed mushrooms/onions.
Different cheeses such as Swiss or pepper jack.
Pickles
Jalapenos
Bacon
BBQ sauce
Red onions
To make these burgers poolside-friendly, consider using "slider"-sized buns which can help cut down on waste and make them finger foods so those eating can gobble up their burger and get back to the fun! (No, you won't get sick if you swim after eating, according to Duke University).
Simple Potatoes
Whether you want to make an old-fashioned potato salad, get fancy with baked potato skins, or provide a variety of potato chips (which are ranked as America's number one snack food), having a side of potatoes is a must for any poolside party.
Add a bowl of your favorite dip, salsa, or guacamole and you've got a great way for guests to have a simple snack that will keep them coming back for more.
Antipasto Skewers
These antipasto skewers are not only super easy, but stunning! The best part? You can make them the day before the party too free up more of your time. Plus you can create a meatless version if you are expecting any vegetarian guests.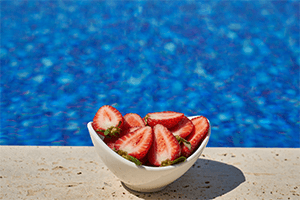 Desserts
Since the Food Network's poll found that Americans overwhelmingly prefer ice cream as their favorite dessert, consider a simple ice cream station for guests to create their own desserts or - if you really want to wow your guests - check out this simple Oreo-based ice cream cookie dessert!
You can also get creative with these finger-sized ice cream truffles and, since you can make them any size, your guests can pop one in their mouth and get on with the fun!
Of course, simple chilled, fresh fruits can go a long way in keeping your guests both hydrated and energized while also providing refreshing snacks throughout the day.
Poolside Drinks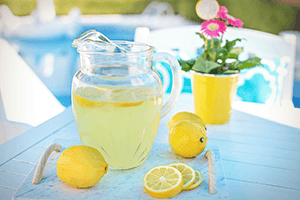 It can be tricky to offer the right drinks when you're having a party with a variety of guests of different ages and different tastes. Of course, water is the best way for people to stay hydrated but here are a couple of ideas for everyone.
Old-Fashioned Lemonade
Lemonade can be improved upon with a punch bowl of this drink dressed up with strawberries and blueberries, creating a colorful appearance (bonus tip: freeze the berries to help keep the lemonade cool).
For your alcohol drinkers, this lemonade can also serve as a great mixer for a variety of lemonade-based cocktails.
Beer
Rather than cases of beer, consider strategically placed keg of beer in a barrel of ice! This can last for the day and prevent the hazard of broken bottles or overfilled bags of empty cans.
Shakes
With some frozen berries, vanilla ice cream, and milk, you can make some colorful and refreshing mixed berry shakes that will satisfy thirst as well as any guest's fondness for ice cream!
Additional Pool Party Prep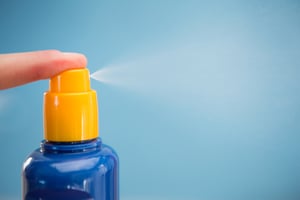 Being prepared beforehand will mean you can focus more attention on the party! Prior to implementing your perfect pool party, be sure you check the pool's chemistry to ensure the pool's water is properly balanced. Also, be sure your guests will be able to easily access things like the restroom or extra towels if necessary.
Have some sunscreen at the ready for guests who have forgotten to bring some, as well as a first aid kit - just in case of an emergency.
Be sure your poolside is equipped with plenty of ways for guests to discard their trash so it doesn't end up in the pool or back yard.
Pool Safety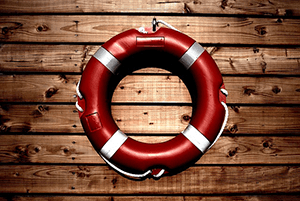 Of course, as with any pool gathering, there are safety measures that should be considered, especially if children will be included. Be prepared with a list of fun games that kids can play, and always make your pool rules clear before anyone gets in the water.
Having a pool provides you with a unique opportunity to enjoy any occasion with friends and families and we are sure your next pool party will be a smashing success!