Looking for a liner for your new above ground swimming pool? Or perhaps you're looking to replace your existing liner. Either way, be sure to know the following when you choose your new above ground pool liner to ensure a proper fit and an amazing look!
Above Ground Liner Installation Type
There are three types of liners used for Above Ground Pools; overlap liners, beaded liners, and UniBead Liners.
| | |
| --- | --- |
| | Overlap Liners are the most economical choice in above ground liner. just as the name suggests the liner literally overlaps/drapes over the side of your pool wall and is then secured by the pool's top rails. This is the kind of liner you'll end up with with you're looking to install an above ground pool with a deep end. |
| | Beaded Liners snap into a bead receiver or track that runs around the top inside portion of your pool. This type of liner is easier to replace compared to overlap liners. |
| | UniBead Liners, or J-Hook/V-Bead, are easy to install, durable, and very secure. You can install UniBead liners in 2 separate ways: as a J-hook or as a Beaded Liner. See more on UniBead Liners here. |
What's the Difference Between Mil and Gauge?

These are both terms used to measure for a liner's thickness. Mils are regulated while guage is more of an approximation.

Mil is an actual unit of measurement and gauge is more of an estimate based on findings. Mil represents one thousandth of an inch.

Mil is a true regulated form of measuring the thickness of a liner.
Gauge, in vinyl liners, is not regulated and is more of an estimated thickness.
Liner Colors
The first step to narrowing down your choices is to determine what you want the overall color of your pool to be! If you know up front that you want more of beachy looking pool, you'll save a lot of time by passing over the dark blue liners scattered throughout the pattern line up.
While the liner plays a very large role in the end result of your pool's color, there are other factors to keep in mind when choosing your liner color as well. For example, one factor is the sky. Your pool will act like a mirror and reflect the sky and clouds. That's why the ocean is blue rather than beige like the sand!
The natural lighting surrounding your pool will also have a major role to play in the color of your finished pool. Just like weather will cause the color of your pool to alter (sunny days making your pool's color more vivid; cloudy days making your pool look darker) so will any large objects casting shadows near your pool; tress or your house for example. Where will these shadows be throughout the day? Will your pool receive a lot or minimal sunlight? If your pool is going to be shaded most of the time, you may opt to go with a lighter/brighter pattern color to offset some of the darkness as well as to avoid being able to notice more UV damage in an otherwise darker liner.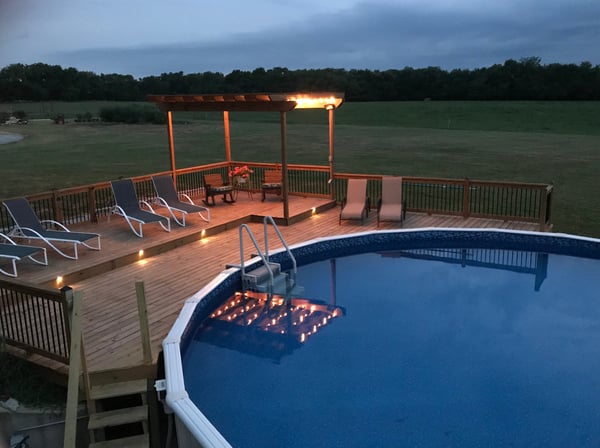 A darker liner is more likely to absorb sunlight, and therefore can help to warm your pool water. Darker liners will also make it more difficult to see debris and dirt in your pool. But as liners become darker, they are more inclined to fade over time due to UV damage and Chlorine. You will notice fading quicker, but it may take longer to actually bleach completely since most liners are printed on darker blue vinyl.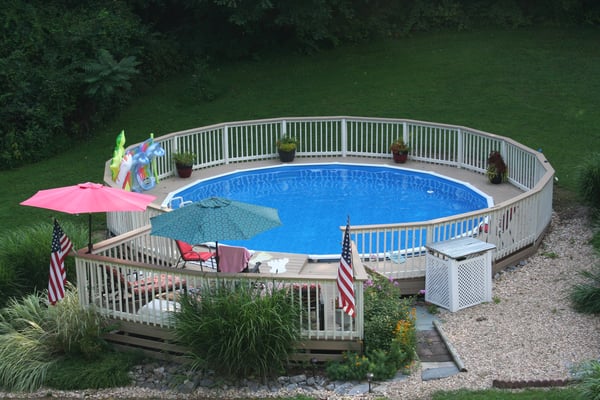 Lighter colored liners will not be as susceptible to fading. They will attract less sunlight and will be less likely to show bleaching and fading as fast over time due to less UV damage. A lighter liner will show more debris and thus, demand to be cleaned on a more regular basis. A popular reason for choosing this style is due to there being less of a change in the way the pattern looks over longer periods of time.
Liner Patterns
The good news is that no matter what color you decide to run with, there will still be a plethora of patterns available to you! You can have everything from a simple design that mimics water movement to an under-water kaleidoscope of swimming fish!
Essentially, it's most important that you know the look that you're wanting to achieve when choosing your liner. This will narrow that long list of choices down exponentially. Knowing the end color you desire as well as if you are going for elegant, simple, or fun vibes will keep you focused on the designs that truly complement your style.
For additional resources on liner care and above ground pools, check out some of our other articles!