At Royal Swimming Pools, all of our pool kits come with everything pool related that you'll need to build your backyard retreat! Everything sold separately will be simple building supplies that can be purchased at your local hardware store. After that, it's just a matter of adding water!
Here we'll break down exactly what is and isn't included for your planning purposes!
WHAT IS INCLUDED IN AN ABOVE GROUND POOL KIT
Keep in mind that the list below includes what comes standard and that you can upgrade almost any item or feature as well as add several on for a truly customized package!
If you want an thorough guide of our above ground customization options, we walk you through line-by-line of choosing your pool kit equipment and accessories here. A highly recommended read for anyone interested in buying a new above ground or semi-inground swimming pool.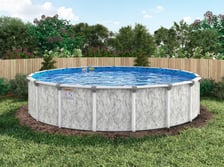 Here's what's automatically included in your kit*:
1. The Pool Frame: Walls, Verticals, Rails, Hardware, etc. This is the entire framework for your pool. SIDE NOTE: This is the only item (along with a skimmer) included if you choose a "Frame-Only" only. If you are interested in just the frame of the pool, scroll to the bottom of this article to see how to select this option online.

2. A Solid Blue Vinyl Overlap Liner: If you're interested in a pattern or alternative liner type you can upgrade this liner online easily starting for under a $20 price difference. Prices go up from there. You can sort liners by type, manufacturer, and thickness. You can read more on what you need to know when choosing an above ground liner here. *Please note that the images used are representations of what is included. Actual products, brands, etc. will vary.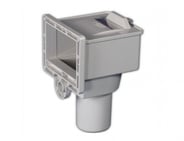 3. A Skimmer: The amount of upgrade options you have in this category will depend on the pool model you choose. However, for most pools that will still only be 1-3 options. If the model you've selected allows for an upgrade to a deluxe skimmer, you may want to consider splurging on this since a larger skimmer will require less attention day-in and day-out.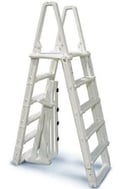 4. An A-Frame Ladder: There are 3 main types of ladders and steps. Each has its own design function. The A-Frame is the most common and what comes included with each kit. However, if you're planning on having a pool deck, you'll want to change this to a Deck Ladder or even an Entry System. Deck Ladders attach to the deck at the top of the pool and use a ladder to come and go from the pool. Entry Systems can be used with pools with or without decks depending on the ladder model selected. Entry Systems usually resemble steps in some capacity instead of a ladder.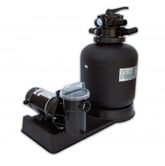 5. A Standard Pump & Sand Filter: There are two different kind of above ground pool pumps: Single-speed, and dual-speed and are available in 1 hp, 1.5 hp, or 2 hp. You can also change the filtration system used to be Cartridge, DE, or another Sand Filter brand/size.
For more details on the above options and their potential upgrades, check out our article here on customizing your above ground pool kit.
There are many more swimming pool accessories that you may want to include with your above ground swimming pool kit in order to create the perfect pool for your family! The most common options are available to add onto your kit straight from the kit builder when you are customizing your pool package.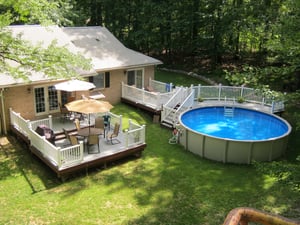 However, if you are looking for something particular that is not listed or have any design questions, reach out to us at sales@royalswimmingpools.com and we'll be happy to look at customizing your pool kit further!
Some of the most recommended items, that are often over-looked by first-time pool owners, include a Pool Pad, Pool Cove, Pump Timer, a Chlorinator, and a Maintenance Kit. Each of these items are designed to save you, the pool owner, either time, money, or both. You can read more about these items here.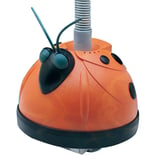 Additionally, many pool owners ask us about adding a covers, heaters, or automatic cleaners

to their pool kits. These are some of our most commonly ask for add-on items and you can click into each one to learn more about the many options that we have available to you! These absolutely can be added onto your pool kit!
WHAT IS NOT INCLUDED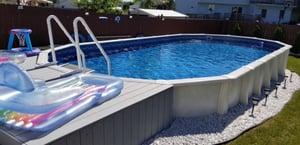 Tools
Sand
Concrete/Decking
PVC piping
Electrical materials
Water
You can find most if not all of these items at your local hardware super store or for adding additional materials to your pool kit.
HOW TO SELECT THE POOL FRAME ONLY
When you select the pool you are interested in you'll be taken to the customization page.
Scroll down just a little to the "customization" section.

Open the sections by selecting the plus signs (+) for Liners & Accessories, Equipment, and Add-Ons.

You'll see a little blue toggle on the top left of each section. Click this so that it is no longer blue for each item you do not want included in your kit.
This should leave you with just the frame which you can now add that to your cart.
CONCLUSION
There you have it! Everything essential to building your oasis! It's never been easier to make your back yard dreams a reality.
Additional resources for your pool buying journey: