If you are currently shopping for a new pool, you've probably noticed that a lot goes into just choosing a pool model. Is it saltwater compatible or approved for semi inground installation? But once you do narrow it down, there are tons of options concerning the details of what makes up the pool kit itself.
This article addresses each section of our above ground pool kit builder line by line. When customizing your swimming pool kit, scroll down to each section and click the "+" symbol to expand each section.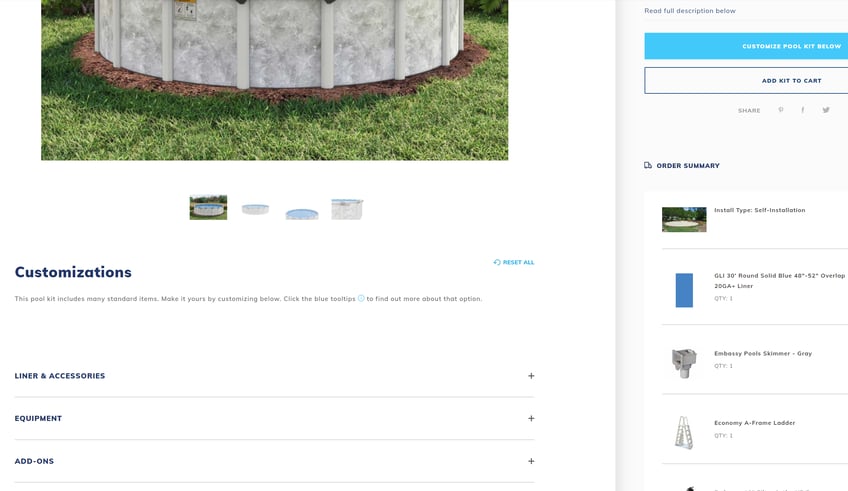 NOTE TO THE READER:

While on the kit builder directly, each customizable item should have an "i" with a circle around it. Click that icon for more information on each specific item.
Let's zoom in and tackle each section.
THE LINER AND ACCESSORIES SECTION

Liners
There are a variety of different liners to choose from, so there are a few things to consider when purchasing a new or replacement pool liner. In most cases, appearance and budget play big parts here, but there are a few other things to keep in mind.
When using our Above Ground kit builder, this section will look like the following. You'll be able to filter liners by three categories:
Type
Manufacturer
Thickness

LINER TYPE
There are 3 main types of above ground pool liners including Overlap, Beaded, and Uni-Bead liners.

1. Overlap Liners are typically the least expensive but are limited in the availability of heavier thicknesses. Overlap liners will drape over the top of the pool walls and hang down on the outside of the pool. The pool's top rails and ledges work with the water pressure to keep this liner type snug in place.

2. Beaded Liners snap onto a required bead track that runs around the inside of the pool. This is what holds the liner in place. Beaded liners are much easier to install and replace than an overlap liner. This is because you do not have to remove top ledges or rails to replace a beaded liner. They just snap on and off as needed

3. Uni-Bead Liners are sometimes referred to as J-hook or V-Bead. These can be installed on nearly any above ground pool. Uni-Bead Liners are easy to install and are very secure and durable. They are attached by simply hooking the "J" portion of the liner onto the edge of the wall.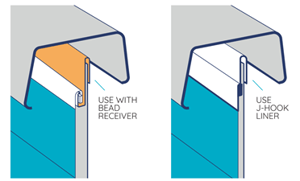 Another nice feature of a
Uni-Bead liner
is that it can also be used as a standard Beaded Liner. This is good news for anyone replacing a Beaded liner and already has a bead track on their pool. Simply cut off the J-Hook portion above the bead, and install as a beaded liner
PRO TIP: The section directly below LINERS is BEAD TRACK. If you are purchasing a new pool and want to use the beaded liner for easy replacement, but found a Uni-Bead Liner pattern you prefer, make sure to add the bead track (just below the liner window) to your kit as well. This is required for any bead installation.
LINER MANUFACTURER
This is going to primarily be a preference if you have a brand that you are particularly found of. Our current Above Ground liner brands are:
Embassy
GLI
Lomart
Swimline
LINER THICKNESS
Think about the realistic amount of wear and tear your pool is likely to encounter. This will help to determine the most appropriate liner thickness for your pool. If you are looking for long-term durability, you will want to select a thicker liner.
Outside of being less likely to tear or puncture, thicker liners have other advantages. They provide protection from liner fading from the sun and keeping your pool looking brighter with less chance of discoloration. For more on Liner thickness click here.
Pool Pad
Pool pad, liner pad, and pool bottom are all many names for the material used as a protective barrier between your pool's liner and the sand base. Pool pads may not always be needed, but they're never a bad idea to have.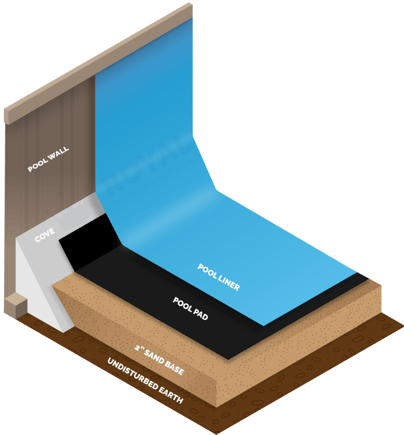 There are many forms of pool pads, but we sell the best two on the market:
Gorilla Pad
Armor Shield Pad
Both pads are Geotextile material designed to protect your pool liner. This is important because sometimes sand can have debris, small sharp pebbles, or other sharp materials in it that could puncture the liner. Nutgrass or other tree roots can also grow under the pool and puncture the liner from underneath.
Pool pads are cut to fit your pool size, so they are easy to install on flat bottom pools and help protect your liner from numerous threats. Thicker liners require less protection, so this is a definite strongly recommended for thinner liners, but as previously stated, not a bad idea for any liners.
Pool Cove
Pool cove is a small triangle piece of pre-formed foam, used during installation around the bottom of the pool wall. The cove itself can be made out of sifted earth, but Pool Cove can be purchased instead and has multiple benefits.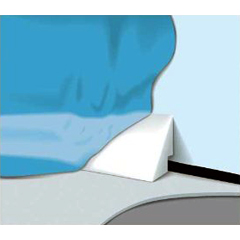 The purpose of the cove, in general, is to fill any gaps at the bottom of or under the pool wall, and provide a gentle transition for the liner from the wall to the floor. This should never be made out of sand and there are problems with using shifted earth:
Earth will Settle over time, which will cause stress on your liner
It takes a comparatively long time to build up the proper heights of packed earth for a cove
You will have to measure the height of the cove around the pool to make sure the earth is even
Foam Pool Cove typically comes in 3" or 4" x 4" x 4' sections with adhesive tape already secured to it. You literally just have to peel and stick the cove to the pool wall. Pool Cove:
Contours to the shape of the pool wall
Install easily and quickly
Will not wash out from excessive rainwater or water from a leaking pool liner
Can be used with, or without a liner pad but when used together, offer superior liner protection.
Bottom line on this one: If you're installing the pool yourself you will SO glad you bought this as the installation is so much quicker and easier. Plus it's better for your pool in the long run. If you are having an builder install the pool, not only will they be thrilled but you'll pool will be ready quicker due to how much faster they will be able to compete the cove.
Grass Killer
Really? Yes, really. Even though you are removing all of the grass and roots from the top of the ground during installation, grass seeds can make their way onto the fresh dirt. While it's true, most grass won't grow without sunlight, nutgrass will.
Nutgrass is very stubborn, and unfortunately, even a pool pad won't stop it 100% of the time. If it takes off and starts growing under your pool it could grow up through the base and destroy your liner. Thankfully, it's not very common, and using a nutgrass treatment isn't expensive for the peace of mind.
We highly recommend using a nutgrass preventative as we do even on our own install team. So to make it easy we've provided this option to come with your pool kit to help make sure no one forgets this small but important step.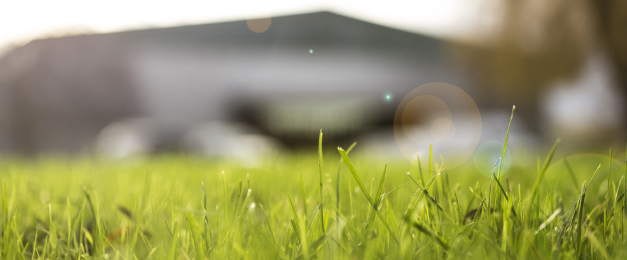 THE EQUIPMENT SECTION

Skimmers
The amount of options you have in this category will depend on the pool model you choose. However, for most pools that will still only be 1-3 options. Here's what you need to know if you're purchasing an H.I.I. pool though:
A standard skimmer will need more attention. It will have to be cleaned out much more often then a deluxe version. This is because the area that holds the leaves and debris that sucked into the skimmer is much smaller in the standard skimmer.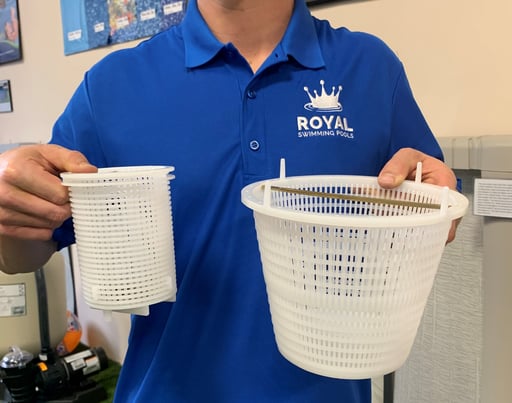 As you can see the standard skimmer is much much MUCH smaller than the deluxe skimmer in every way. This little darling works but does require more of your attention than it's big brother version.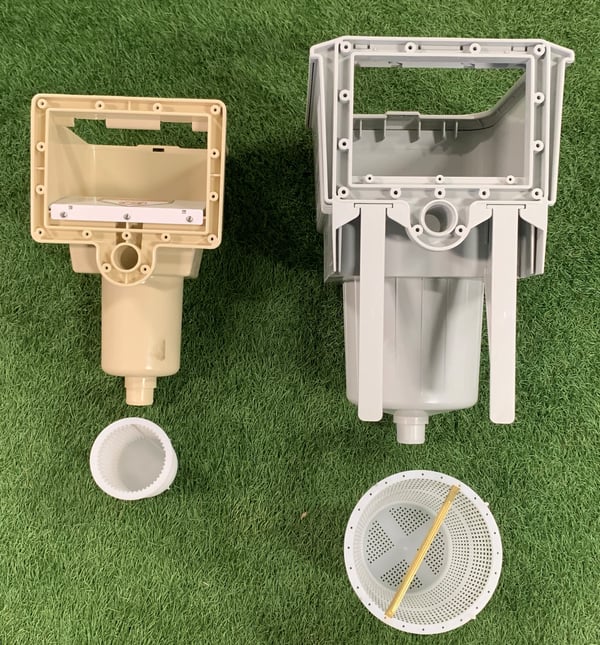 Ladders & Steps
There are 3 main types of ladders and steps. Each has its own design function.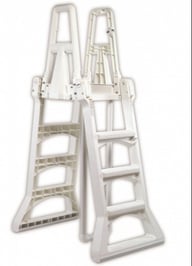 A-FRAME LADDERS
These are the most common. This is a ladder that is equal on both sides to use entering and exiting the pool. This is what you use when you do not plan on having a deck around the pool. A-Frame Ladders are simple, effective, and mostly inexpensive.
A-Frame Ladders come in a few different varieties:
Standard ladders
Roll Guard ladders: with added protection from unauthorized entry
Ladders with removable steps for added safety when the pool is not in use
There is also a heavy-duty version if you need a ladder that's stronger than others.
DECK LADDERS
These are used exactly as named, with a pool deck.
Regardless of if you build a small 6x6 or a full wrap-around deck, this is a small inexpensive way to enter and exit the pool.
Deck Ladders mount to the decking and are basically half of an A-Frame ladder. This is nice since they are also typically half as much as a standard A-Frame ladder.
ENTRY SYSTEMS
These can be a few different things. Most commonly, they are deck mounted or used with a deck, and only have steps inside the pool. There are several designs available, weight limits, and colors. This is mostly personal preference.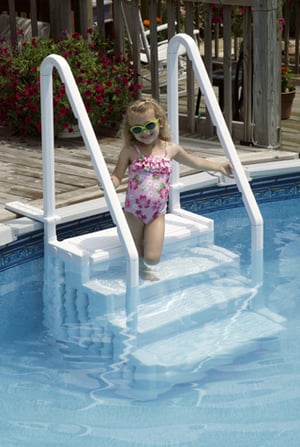 There are a few entry systems that are just like A-Frame ladders but have walk-up steps either on the outside or inside of the pool instead of ladder treads. Some entry systems even have a lockable gate on the outside to help keep people and animals out when the pool is not being monitored.
Pump & Filter Systems
Your filter system gets paired with an appropriate pump and is fairly easy to put together. Unlike in inground swimming pools, the pump and filter system come together.
PUMPS
There are two different kind of above ground pool pumps: Single-speed, and dual-speed.

Single-speed pumps have one speed and can be operated on a timer system or be turned on and off manually. These pumps are either on or off.
2-speed pumps offer a second, low speed, ideal for areas with high electrical costs per kWh. These are typically running longer, at lower electrical costs.
The other question about pumps is typically about power. 1 hp, 1.5 hp, or 2 hp?

1.5hp is enough for most above ground pools, including the largest one we offer. However, a 2 hp is more powerful, and moves more water per minute, requiring shorter filtration cycles. So if you are looking to not have to run the pump as long it's a good choice.
We don't offer any lower than 1 hp, mainly because when it comes time to vacuum the pool, anything less than 1 hp won't move much water, making it harder to clean the pool.
FILTERS
Your pool's water will be pumped to your filter system where undissolved debris will be removed in one of three ways base don the material your filter uses to clean up your water:
Sand
Cartridge
DE (Diatomaceous Earth)

SAND FILTERS
Sand filters are the most popular pool filters our customers choose. this is due to the combination of desired features, low cost and they are incredibly easy to use. Sand filters are effective for most home installations and require very little interaction.
Maintaining a sand filter requires backwashing to remove the debris collected over time. The actual filter does not require disassembling to do this as you only have to turn the backwash valve. Easy! The sand within the filter will only need to be replaced roughly every 5 years, making this filter type the most user-friendly option on the market.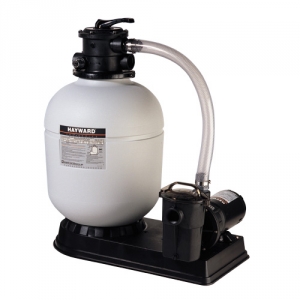 TOP FEATURESMinimal Interaction
MAINTENANCE

Regular Backwashing
Sand Replacement roughly every 5 years
COST

Purchase Cost: $
Maintenance: $
CARTRIDGE FILTERS
Cartridge filters offer longer cleaning cycles and are the most energy-efficient.
This is primarily because cartridge filters do not require backwashing. This saves a massive amount of water (some filters up to 90%). And by not having a backwash valve, restrictions are minimized, creating less demand on the pump. This results in lower energy consumption and more surface area dedicated to cleaning your water.
These filters require disassembly as well as periodical cleaning in order to remove debris from the filter. Simply remove the cartridge(s) and rinse with a hose!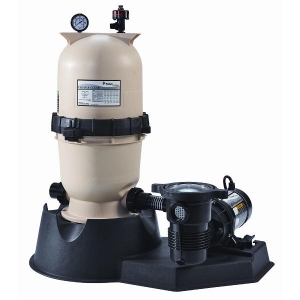 TOP FEATURESEnergy Efficient

Finer micron filtration
Water Conservation
Environmentally Friendly
Takes up Less Room
MAINTENANCE

No Backwashing
Periodic cartridge removal/cleaning and replacement
COST

Purchase Cost: $$

Maintenance: $$
DIATOMACEOUS EARTH (D.E.) FILTERS
D.E. filters have been known in the pool industry for providing the clearest water the most consistently! Great, right? However, this requires more maintenance on the homeowners part.
In order for a D.E. filter to operate, you must add diatomaceous earth to your skimmer so that the "D.E" attaches to a very fine mesh grid inside the filter body.
When it's time for cleaning, a simple backwash is followed by the addition of D.E. through the skimmer. Disassembly of the filter is not required during the standard cleaning process.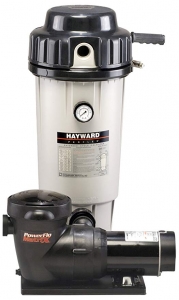 TOP FEATURES

Highest Water Clarity Standards

MAINTENANCE

Regular Back washing / adding DE
Annual grid removal and cleaning

COST

Purchase Cost: $$
Maintenance: $$
Filter Accessories
This option will only show if you choose a sand or D.E. filter.
Cartridge filters automatically come with the first filter element, so you do not need to purchase one.
The sand filter will need sand or equivalent media, and the D.E. Filter will need diatomaceous earth powder. You can purchase either of these locally, or we offer it to ship with the pool kit so everything is ready to go when you are.
Pump Timer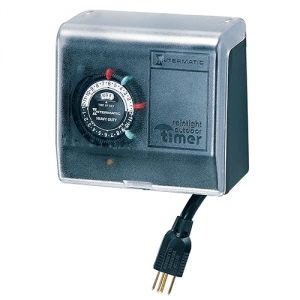 Using a simple timer means not having to go outside twice every single day. Having a pump timer instead of having to turn your pump on before you go to work, and then remembering to turn it off when you get home, can save you tons of time and money. If each trip to and from the pump took 3 minutes, at twice a day, 7 days a week, for 4 months you're looking at over 11 hours of just turning your pump on and off.
Most of us don't end up doing that though. We end up just leaving the pump running 24/7, instead of the 8-12 hours a day it needs. Then we pay the cost of that $39 timer to the electrical company. Only we pay it every month we don't have a timer.
A pump timer is a good investment. It will pay for itself in very little time and is super easy to use. We highly recommend this item for a happier (and less costly) pool experience.
Chlorinators
Having some sort of chlorination device will help you greatly reducing time spent balancing chemicals.
All chlorinators will slowly disperse chlorine to your pool over time, keeping a flat line of chlorine in your pool. This is better than peaks and valleys when adding shock by itself. A chlorinator will also save money on chemicals, especially when compared to putting a tablet in your skimmer which has no adjustment and dissolves fast. Below are the most common types of chlorinators.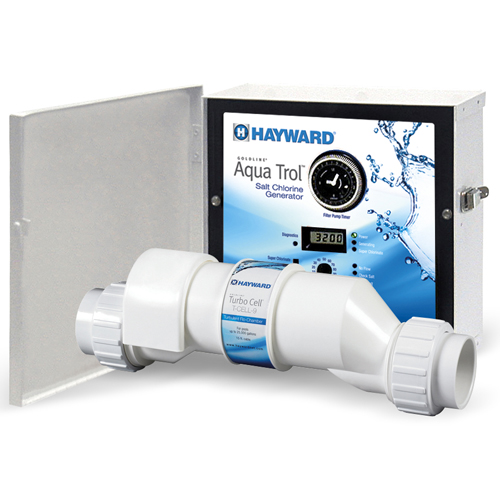 SALT SYSTEMS
If you have decided that you want a saltwater above ground pool, not only do you have to make sure the pool model you select is saltwater compatible but you'll also need a saltwater chlorinator.
A saltwater chlorinator allows you to make your own pure chlorine each day. Saltwater pool systems evenly disperse the chlorine throughout the entire swimming pool via the return jets of the pool's filtration system. This provides up to 100% of your swimming pool sanitation needs automatically.
Simply test your swimming pool water weekly, add salt as needed, and adjust for more or less chlorine.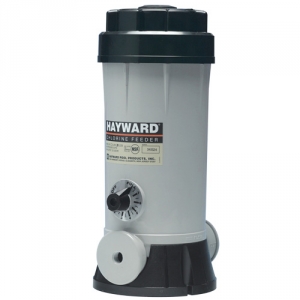 AUTOMATIC CHLORINATORS
As you can imagine, these are simple and easy to use. Automatic chlorinators will hold chlorine tablets and have adjustable dials to regulate the output of chlorine based on your filtration cycle. Which is very helpful.
Keeping a schedule of adding tablets once a week simplifies the process of chemical maintenance at a very low cost.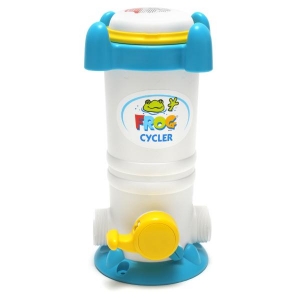 MINERAL SYSTEMS
Mineral Systems are low chlorine options that basically reduce your need for chlorine. This can be used with a salt system or a chlorinator, but the benefit is softer, less irritable water.
These systems have replaceable mineral packs, typically only need replacing once per season. If you use a mineral system, you use about half as much chlorine, so the savings there help to pay for that mineral pack. Mineral Systems are inexpensive, and about $90-$100 to replace.
Chlorinator accessories
These items populate if you have chosen a compatible item in the chlorinator section. Here you can buy sacrificial anodes to help with corrosion for use with salt systems, or extra mineral packs to go with your mineral system. It only shows what is compatible with the chlorinator you previously selected.
Auto Cleaners
These have all types of names but are made for one thing. Cleaning your pool! They come in many different styles and prices.
Unfortunately, there isn't really a one cleaner answer for all pools.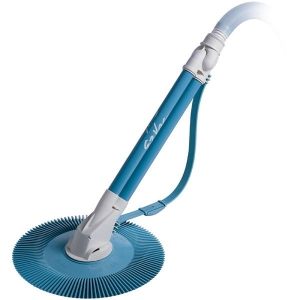 SUCTION CLEANERS
Most wallet friendly, but work best when there are no trees around. This cleaner connects to your existing skimmer or dedicated suction line and travels around your pool sucking up debris to send through your pool's filtration system.
Pros

Easy maintenance
Lower cost
Great for smaller to medium sized pools
Less moving parts

Cons

Dependent on efficiency of filtration system
Requires most user interaction
PRESSURE CLEANERS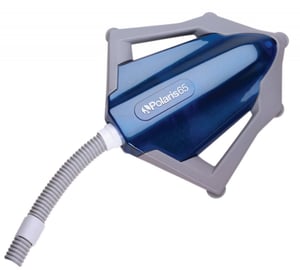 These use water pressure from a dedicated booster pump and/or pool pump to drive the cleaner around your pool and are better if you have a lot of leaves that end up in your pool.
ProsCan be on a daily timer

Less filter and pump maintenance
Great for medium to large pools
Easy to maintain

Cons

Can require a second pump or booster pump
Booster pump can use more energy
Requires pool pump to run
ROBOTIC CLEANERS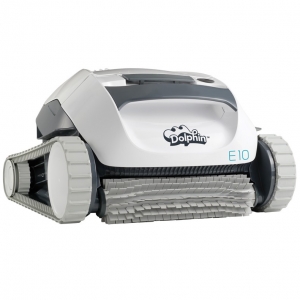 Robotic cleaners are the best of both worlds but are the most expensive. They do not hook up to any part of your pool's existing filtration system!
Pros

Superior cleaning
Eliminates wear on pool equipment
Operates quietly
Remotes and storage caddies available

Cons

Higher cost upfront
Requires the filter to be emptied
Additional parts to be replaced when needed
Maintenance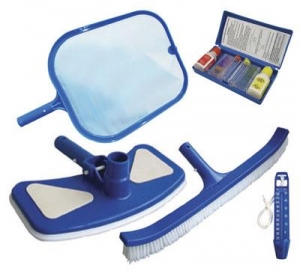 This section has several items to help you keep your pool clean. You can choose a full maintenance kit at a discount, or add only the items you think you'll need to keep a clean pool.
Even with an auto cleaner, you will need these items just maybe not all of them if you have an automatic cleaner.
If, when looking ta your yard, there isn't a tree in sight, you won't need that really big net, but everyone needs a pool pole, brush, and most of the time, a hose and vac head. Choose what's best for you.


THE ADD-ONS SECTION

Pool Alarms
There are some counties and states that require a pool alarm.
Most local codes require above ground pools to have a ladder that is removable or locking but may not require that you have a pool alarm in this case.
Check your local codes closely to see what is required in your area.
As backyards tend to be noisy, or apart from the rest of the living area, it;s too easy to not notice something or someone accidentally falling into the pool.
A pool alarm is beneficial even if it's not a requirement.
Lights & Fountains
While this may seem like a want vs. a need, we always recommend using a light in every pool. Even if you don't swim at night, having a light in your pool is a very inexpensive feature that is beautiful at night just to sit outside with but also adds a safety element by making your pool more visible when there's already low visibility.
Adding a fountain for that water flowing sound creates a back yard oasis that is relaxing, and peaceful. Plus it makes for an easily added wow-factor. And the best news is that most of the add-ons in this category are under $75.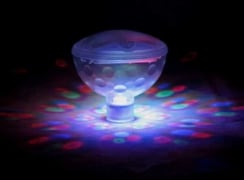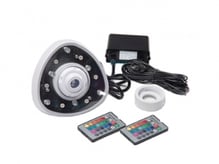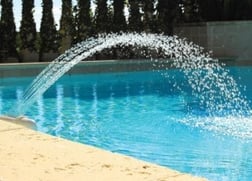 Winter Covers
Winter covers are a necessity in some areas. They help to keep the pool clean and are used when winterizing the pool. We have several different covers available, the biggest difference being thickness. This is one case where more is better.
The more expensive, the longer it will last due to its thickness. Some prefer to change every couple of years, in which case an inexpensive cover is fine.
In heavy snow or ice areas though, a cheaper cover is not the way to go. Ice will puncture a thinner cover, and cut it. Once cut, it will start to unravel just like a pulled thread in a sweater. Warranty does not cover damage, so choose one appropriate for your environment.
There are two different kinds of covers: Mesh which allows water through the cover and Solid which does not. While Solid covers help keep the pool cleaner while not in use, you,ll have to monitor how much water is on the cover more closely. Standing water s a big no-no if you want your cover to continue working properly and not weighed down at the bottom of your pool.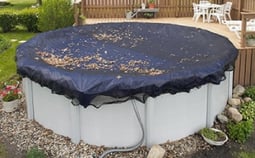 Winter Cover Advantages
Keeps the Pool Clean
Blocks Out Sun which means Less Algae Growth
Product Cost is Comparatively Low to other Cover Types
Easy Installation
Quick and Easy Availability
Solar Covers
Solar covers offer a low-cost heating solution by magnifying sunlight to create heat. The process can take a while but it isn't nearly as expensive as a heater.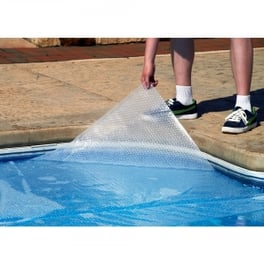 These are essentially a heavy-duty bubble wrap looking material that floats on the water and is cut to fit your pool. It is important to keep your chemicals balanced at all times, but more so with this cover as high ph or chlorine levels will deteriorate the cover material, and make it fall apart, which is not a warranty issue. Keep those chemicals balanced!
Solar covers also act as a thermal blanket at night, which protects your pool from losing heat in the cooler night air.
These can extend your swimming season by a few weeks, both at the beginning and end of the summer.
Solar Reels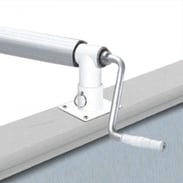 Available for pools up to 28' wide, this is definitely a convenience item.
It makes taking the solar cover off and on the pool a lot easier. Especially for one person.
Once rolled up the reel can be moved easily to one side of the pool or another.
Conclusion
The above ground accessories page has a few other options not shown here or in the kit builder. These items include heaters, leaf net covers, and certain other items we touched on earlier in the article.
If an item does not appear on the pool kit page, but you find it elsewhere on the site, you can still add it to your order, it will just most likely ship separately.
There are a lot of options on our site so if you need any guidance do not hesitate to call us at 866-532-8194. Pool experts are standing by to answer your questions or provide pricing on products you may not be seeing in the builder but are interested in.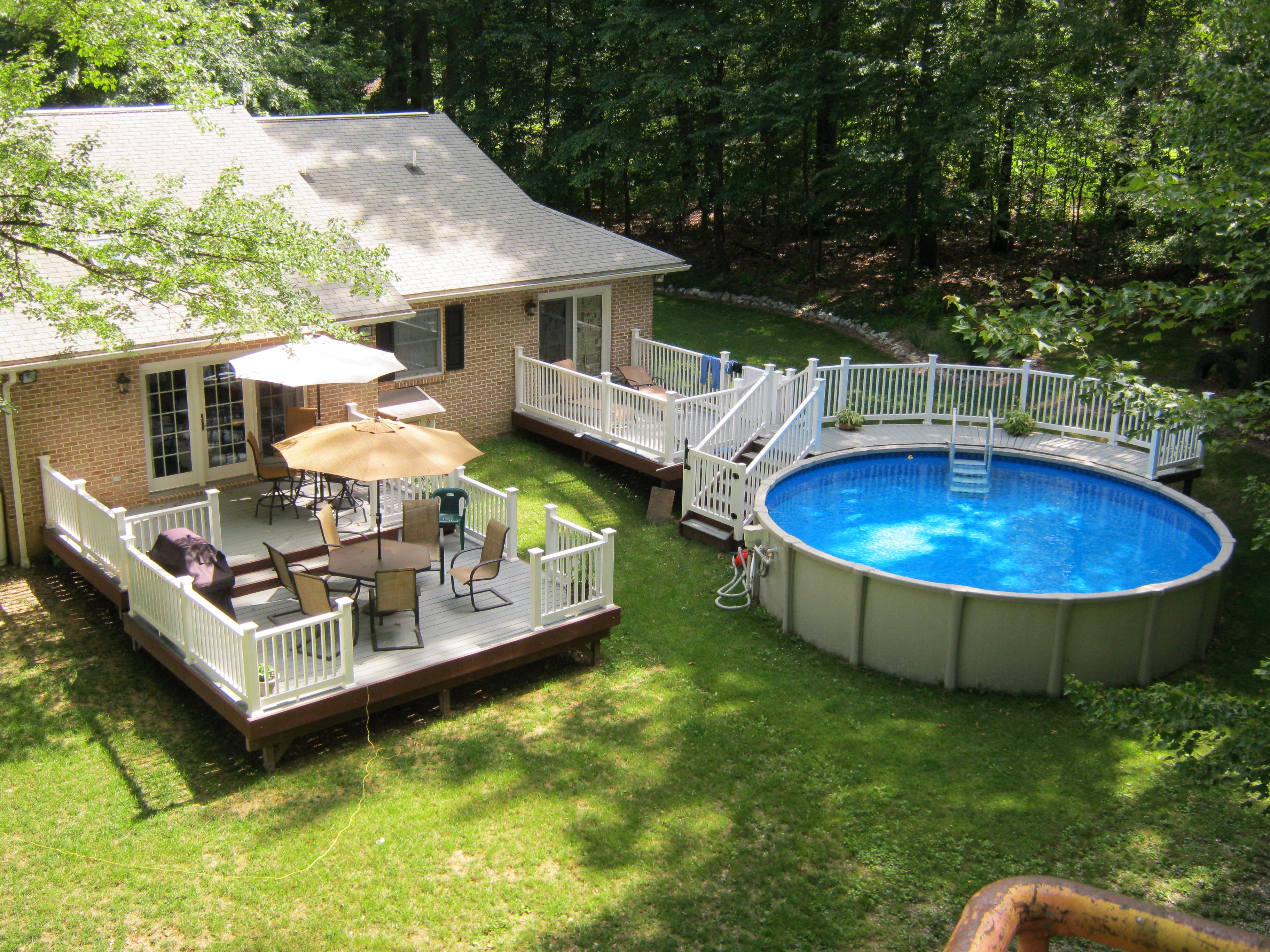 Can't get enough? Here are some additional articles we think you'll find helpful.