Everyone wants the luxury of their own beautiful swimming pool. However, between price points or sloping backyards, it's a dream that sometimes has to be put on hold for a time. But that was before the Verona. Finally, a pool versatile enough to fit any yard using high-quality products without the high inground pool price tag.
The Verona Pool is extremely comparable to the Optimum & Radiant Pools.
Whether you choose an above ground, semi-inground or inground installation, the Verona Pool will enhance your backyard with years of summer time memories for you and your family. There is simply no other pool that is as affordable and versatile as the Verona pool.
THE VERONA POOL: 3 POOLS IN 1

ABOVE GROUND:

With some of the strongest building material in the industry, your pool will withstand the harshest of weather conditions even completely above ground! No more winter worries!

SEMI INGROUND:

The Verona's semi in ground option is a perfect fit for sloping yards or unique landscaping! Turning challenging terrain into a one-of-a-kind sunken paradise!

INGROUND

:

The Verona pool can offer you nearly every feature of a traditional in ground swimming pool at a fraction of the cost and is compatible with any decking!
VERONA BENEFITS:
VAST VERSATILITY

:

Perfect for any yard! Verona can be built into a hill, on a slope, completely in-ground, and more! You can choose between round or oval, multiple entry types, and much more.

UNSHAKABLE STRENGTH:

Each wall panel has two aluminum panels of the highest quality aluminum used in the above ground pool industry!

EFFORTLESS ASSEMBLY:

Wall Panels lock together in two easy steps. Meaning you can have your pool walls up in hours instead days.

INCREDIBLE INSULATION:

With R-10 insulated walls, your pool stays warmer longer! Remember: retaining a pool's existing heat lowers heating costs.

HIGHER STANDARD WALL HEIGHT:

With 52" walls starting out, this is a great option for families with older children or those who want more privacy.



While the Verona can be installed fully in the ground, where you're real cost savings come in are when you have a sloping yard or you're interested in only part of your pool being inground as shown in the image below: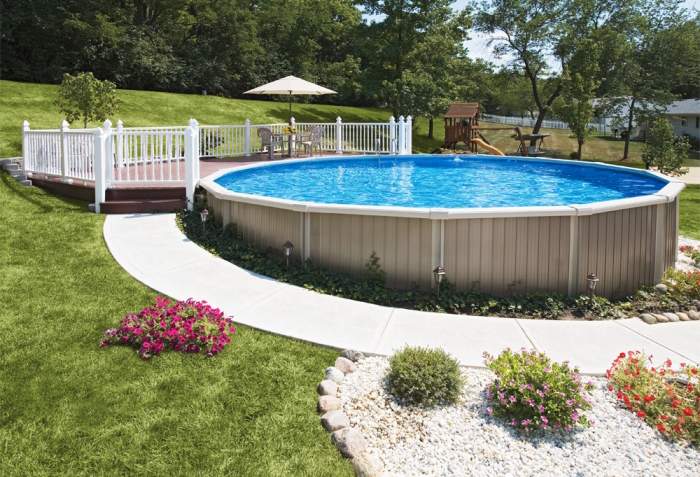 Easily one of the biggest reasons that our customers are going crazy for the Verona pool is its ease of installation in any backyard. Installation can be one of the costliest parts of adding a new pool to your home; especially if you have to build retaining walls and change the lay of your land.
For many years, a steep hill or slope in your yard meant that a refreshing pool was out of reach without spending more money on the excavation than you did on the pool itself.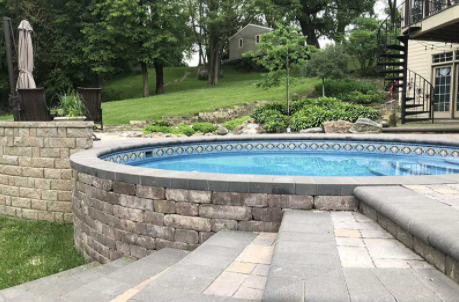 Now with the Verona pool, you save that money as Verona's stronger walls means there's no longer need to give your yard a complete facelift in order to support your pool. Check out our video below on semi inground pools to see if it's an install type that's right for you.
The Verona Pool is classified as a Semi inground swimming pool however it is one of the only pools on the market that was made to be able to installed fully in ground as well making this a hot commodity for any would be pool owner due the immense amount of quality and strength Verona pool walls have under any circumstance.
Another benefit is that the Verona pool comes with a standard wall height of 52", where a traditional inground pool's wall stand between 42"-48".
You can certainly order a 52" wall for a traditional inground pool, but it's a significant price increase to do so. This is potentially another great money saving advantage for the homeowner looking to have deeper pool with out dipping deeper into the budget!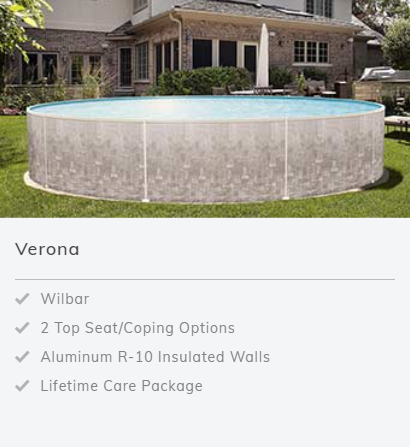 We ship all over the continental United States, but if you live in the greater Memphis area we can install for you as well! Click the button below to learn more!
Looking for additional resources, see below!