Being able to enjoy your own private pool is a fantastic activity that families across the country enjoy all summer long. However, for many homeowners that have backyards on a sloping, hillside property, that dream may be a distant reality. We have the solution!
Even if your family would love to have a pool but thinks their terrain is just too challenging to install one, we've got you covered!
A Pool for the Hillside
For decades installers and homeowners alike suffered from the lack of pools that were available for hilly yards. The introduction of the semi-inground swimming pools brought pools that were much stronger than your typical above the ground pool.
If you have a hill or sloping backyard, the only way it's possible to have an above ground pool is to have one specifically designed to be a semi-inground pool. Semi-Inground pools in the most basic description are above ground pools that can withstand the pressure of being buried. They were also the perfect scenario for those that wanted a more aesthetically pleasing pool landscape. So even if you don't have a hill in your yard but want the quick and budget friendly of an above ground pool, many homeowners are opting for this semi inground style.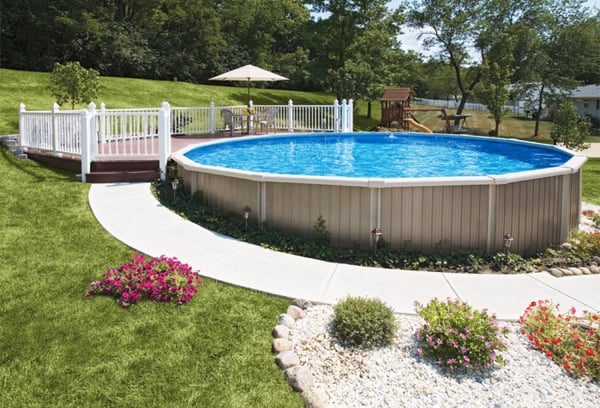 Semi-Inground Swimming Pool: The Ideal Model
Installing a semi-inground swimming pool kit is a lot faster and more manageable than a traditional inground pool kits. What is even better about these types of pools is that almost anyone can have one! Here's just a few of the added benefits they provide:
Semi-inground pools only require the installer to dig down about half the amount of depth compared to an inground pool. Any dirt that is dug up can be used to backfill against the pool.
Semi-inground pools are the ideal option to make for more affordable swimming holes quicker. This is especially true for those who have yards with a lot of resistance to digging.
Semi-inground pools are perfect for a landscape that includes a high deck and a low yard. Plus, the beauty of these pools is that they can match up to the actual height of the existing deck.
IMPORTANT: Due to the rise in demand caused by the 2020 pandemic, above ground pools in general are experiencing delays in manufacturing and shipping. Semi-Inground pools in particular may have longer wait times in some sizes and models. It's important to shop early if you are in a hurry to start splashing about. While pools traditionally purchased in the Spring or even late Summer can usually have many weeks of use that same year, the entire industry is currently delayed by several weeks and in cases several months. The best plan you can have is to purchase your pool 3-6 months before you want to start building. More on purchasing a pool during or even post-pandemic can be found here.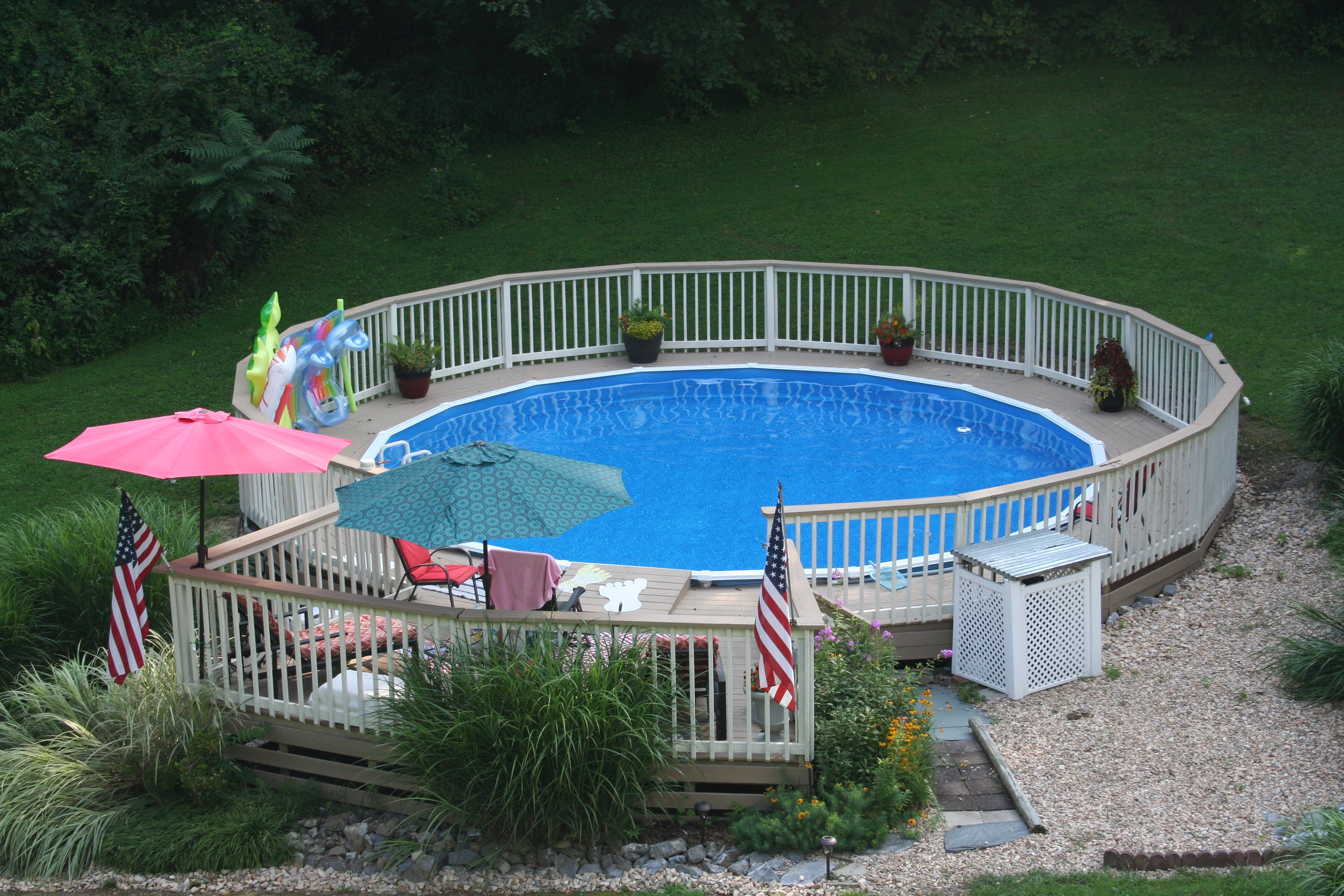 The Installation Process
Keep the following in mind before and during the installation to ensure that the process is done right:
Know Your Backyard Conditions:
The first thing you need to do is review everything about your yard carefully. This includes the basics like soil composition as well as the size and shape of your yard. However, you'll also want to note how much it rains, how much room you have to build, and how easy it is to dig in your soil. It is essential to remember that these elements will influence what type of pool you will end up building.
Excavate the Area:
Even though the pool will be semi-inground, you will still need to dig a little. However, before you grab a shovel, you will need to first take measurements and stake out where you want your pool. You'll also want to visualize the area around it to make sure you have enough room.
Keep the pool away from any underground plumbing, gas lines, and do not put the pool under any power lines.
Once everything has been marked, you will also need to decide how deep you want your pool. Use a measuring yardstick to verify the depth until you have met your goal.
For good measure, dig down an extra two inches from your ideal bottom. Then tamp the ground down until it is even.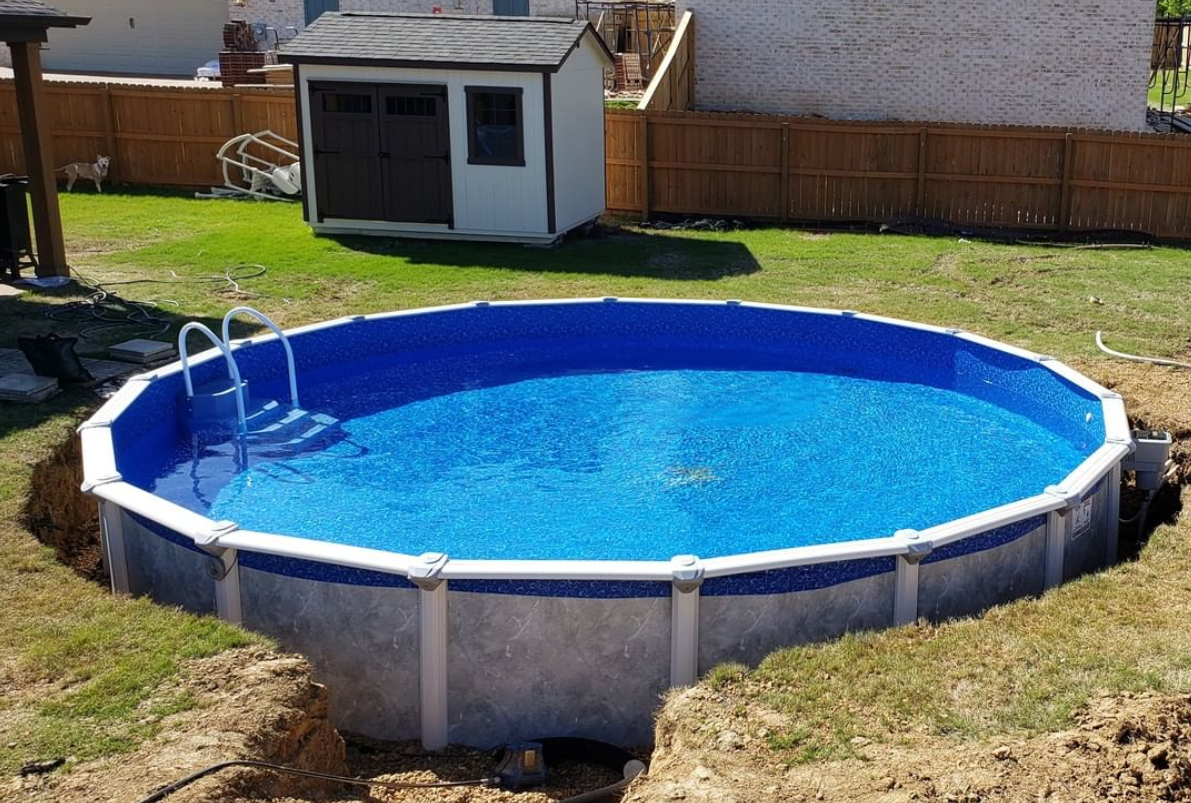 Follow Directions and Protect the Pool Area:
The most important thing about preparing the semi-inground pool is following the instruction manual and making sure the pool area is properly set-up.
Before you begin installing, you will want to make sure the pool is adequately protected. To do this, we suggest using a pool pad if you're opted int have a flat bottom pool. If you have a hopper style pool you can consider using a landscaper's fabric if you want additional protection for your pool. However, when digging down deeper for a hopper most pools will not require this.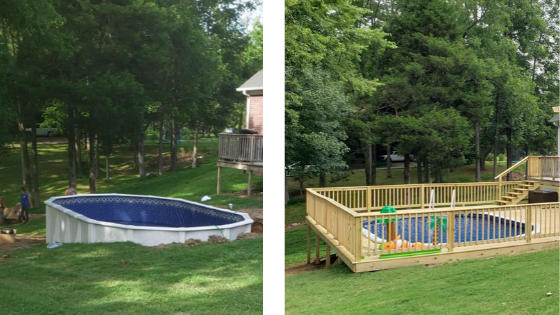 Find Your Dream Pool
There are pools available for every budget, every landscape, and even every sloping hill. Regardless of your hilly terrain, you can enjoy warm summer days from the comfort of your own pool. Buying a semi-inground swimming pool may just be the answer to all your questions and concerns.
If you would like more information about semi-inground swimming pools, do not wait any longer. With new summer memories just around the corner, check out our selection of pools at Royal Swimming Pools for more information. Our team is happy to help design the perfect pool for your family. Learn How to Purchase Your Above Ground or Semi-Inground Swimming Poo!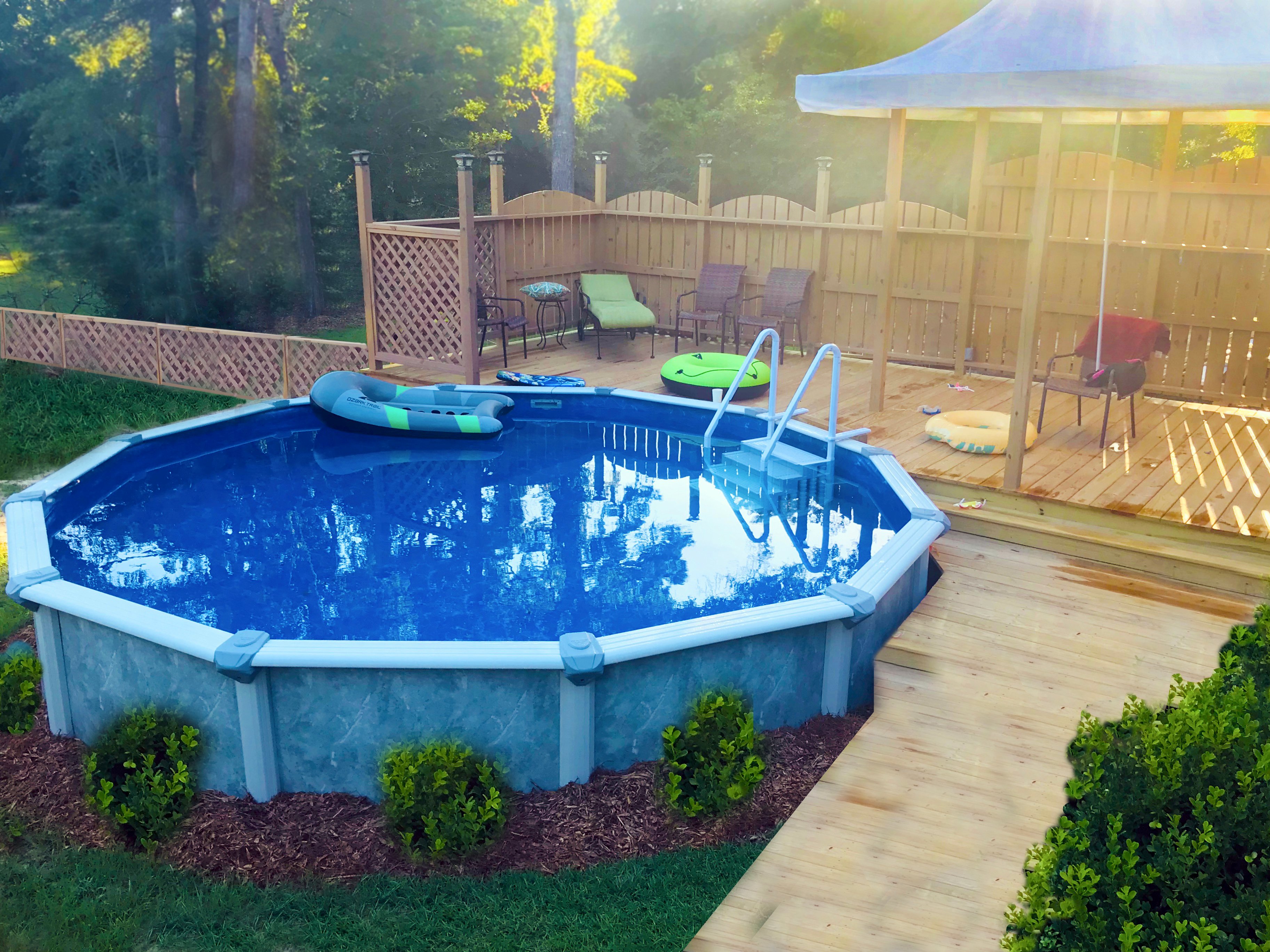 Thanks for reading! For more information on Semi-Inground swimming pools check out our additional resources below: