Since the COVID-19 pandemic, more people than ever are working remotely in the comfort of their own homes. With this shift in the workplace, there is an added need for our home workspace to be both efficient and inviting. A place that we want to be. Right now is the best time to adapt your poolside patio into a cozy and inspirational workplace. Not only will you leave your video conference viewers in awe, but also have a welcoming patio space to use both during and after work. We'll explore some tips and product ideas to up your patio game to fit the work-from-home lifestyle!
Defining Your Workspace Needs
When creating your workspace at a traditional office, knowing what you need to work efficiently is usually straightforward. Your company will provide a dedicated computer already optimized for their internal network, but when making the move to home, you will need more than a laptop to be efficient. Setting up a space that incorporates some of the tools and gear you used in the office will help bring that sense of productivity to the home. Some common examples of home office gear are a desk, monitor(s), ergonomic chair, and necessary internet equipment such as a router or ethernet cable.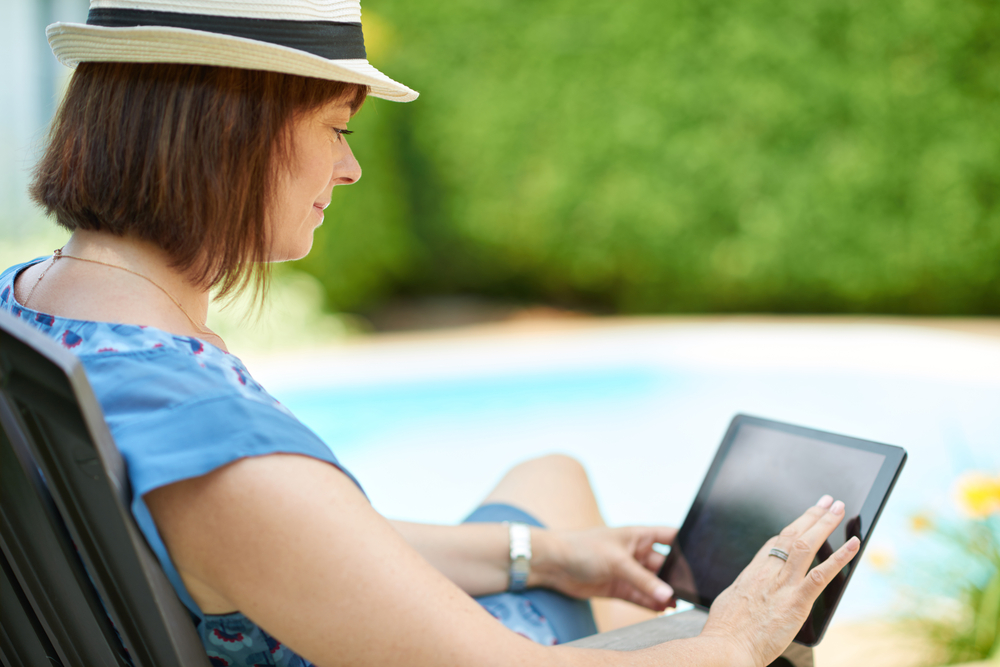 Transitioning your existing office equipment to the deck is likely not possible, or the look will clash with the cozy aesthetic of a poolside patio. Also, that same indoor furniture is not intended to withstand outdoor weather like heavy rain, sun exposure, and humidity. With the right outdoor furniture, it will hold its integrity against unpredictable weather and take minimal setup time to cruise into the workday. As you begin your transition to working by the pool, take the time to truly identify what you will need to make each day a success starting by making sure that your set-up is outdoor weather resistant.
Remaining Connected
The most important task to working successfully outdoors is maintaining stable internet and power connections.
Upholding a strong wifi connection is not only crucial to an uninterrupted workflow, but it also will keep your video meetings looking crisp. Wifi range extenders are the easiest solution to strengthening the internet out to the patio. Take some time to test the speed of your connection on each outlet you try.
In some scenarios, you may be able to work on certain tasks offline or rely on the laptop's battery. This will ultimately lead to trips walking back inside to upload any of your offline work or charge up while the beautiful weather passes by and your productivity dips due to the interruption. Luckily, there are innovations available to improve outdoor connectivity that will help you avoid unnecessary back-and-forth.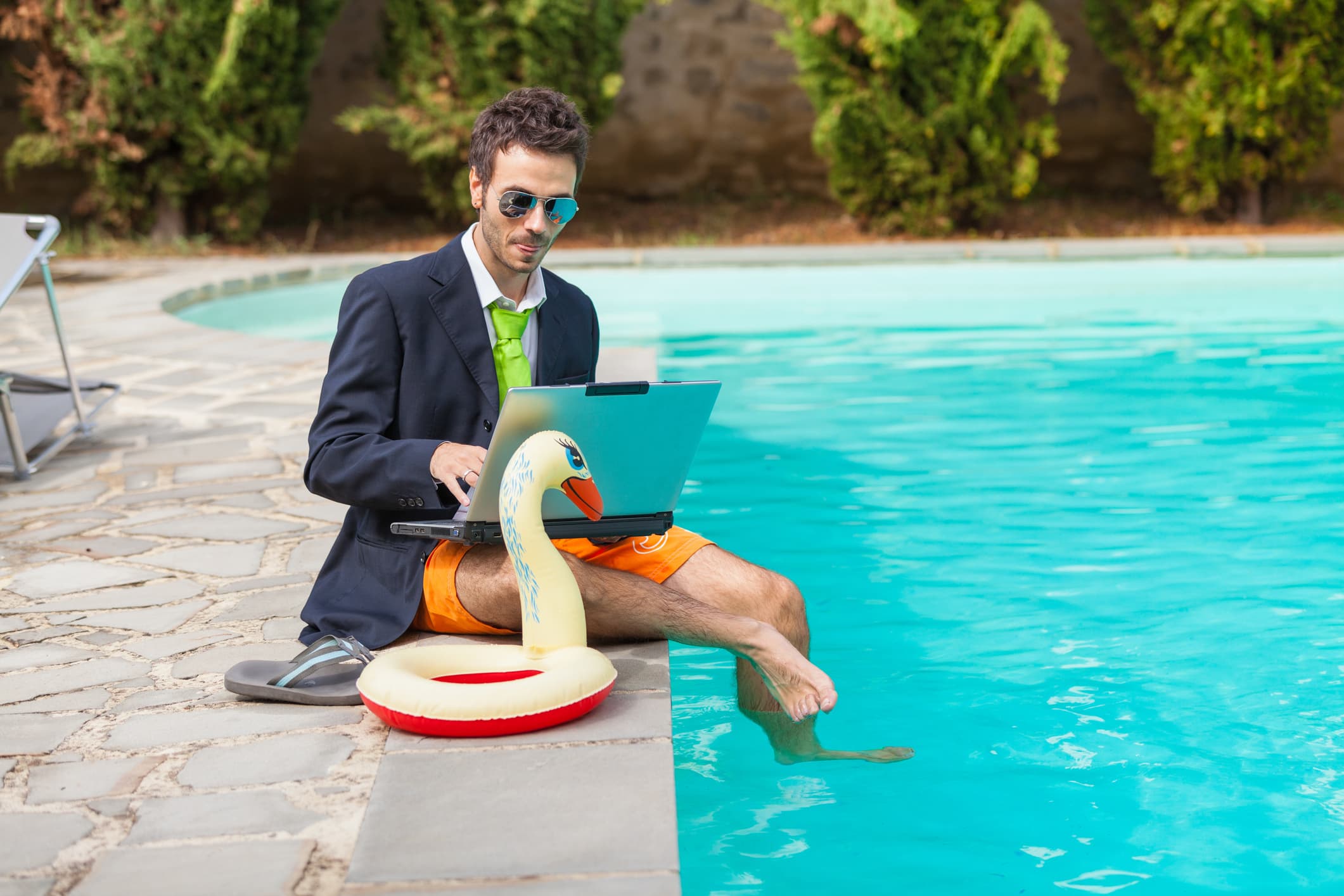 Extending power can be a simple upgrade or more advanced depending on your dedication to maintaining a clean and sleek aesthetic. The simple solution is to run a heavy-duty, weather-resistant extension cord all the way to your poolside workspace. Although this option is a quick fix, having a large extension cord run through the patio is not the most appealing and can actually be a safety hazard. These can be painted to blend in with your decking or wall color and secured in place so as not to throw off your design or cause tripping.
However, those looking for a more practical and long-term solution should consider installing an additional power outlet near your intended workspace. Not only will this provide quick charging access for work, but it will also provide more options for lighting and refrigeration. Did your dream backyard office just get a little more exciting? After all, depending on your working hours you may need more than just your pool light to work by.
If you're not an experienced electrician, it's highly recommended to seek their expertise when considering this option.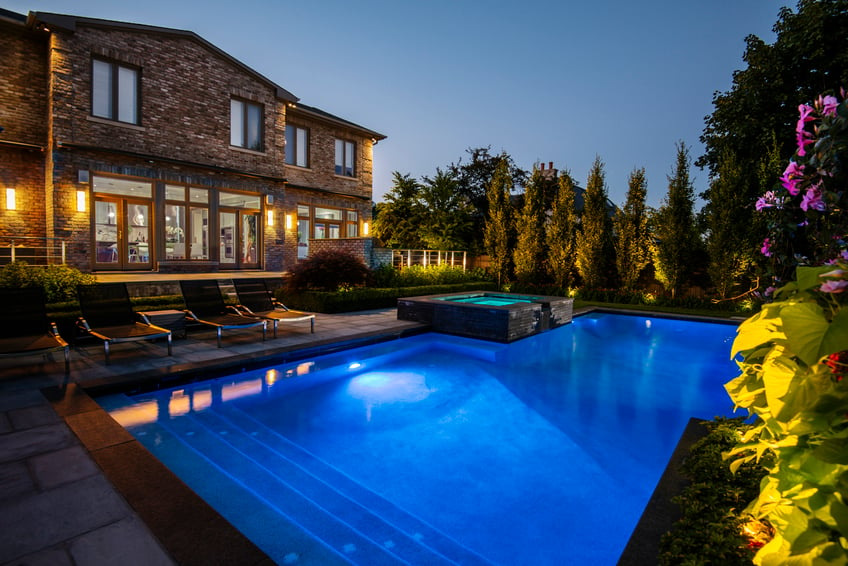 Another way to increase work productivity outside is by investing in a portable monitor for your laptop. These allow you to have dual or even triple screen space to work on and can also be used when traveling. They are ideal for the outdoor workspace since multiple traditional monitors would not be able to stay outside but would also be cumbersome and impractical to move in and out every day. Portable monitors can either be small stand lone pieces that you sit next to your laptop, or I personally use the ones that attach to the back of your laptop via magnets and slide out to the side off of your screen. Sincerely, one of the best purchases!
Optimizing Comfort During the Workday
Now that you've solved the must-have logistics of the average workday, let's get your setup as comfortable as the traditional home office. Factors like food, drinks, shade, and sunscreen are all to be considered when creating the ultimate outdoor workspace.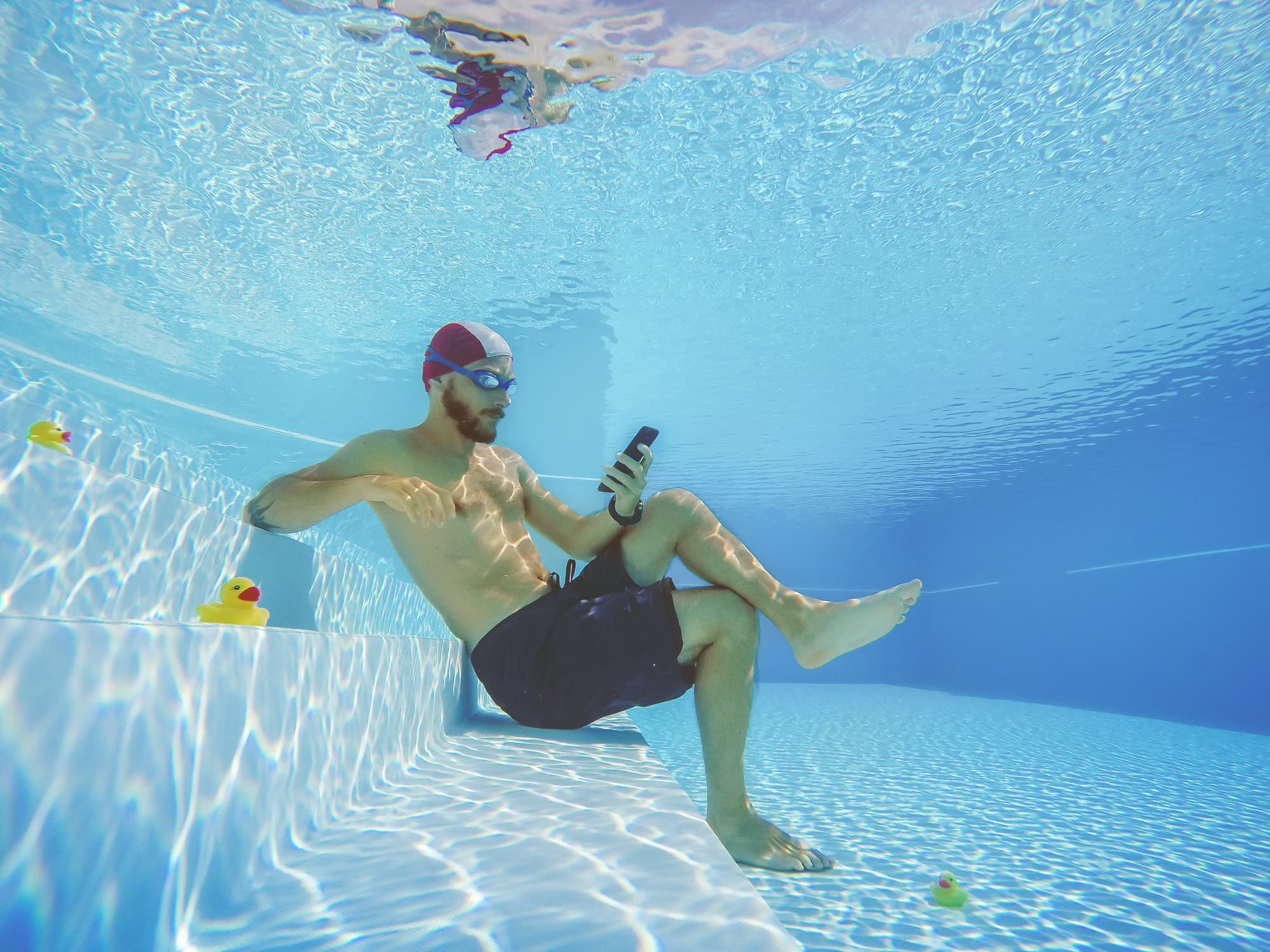 Easy Food and Beverage Access
Every hard-working person knows the importance of a decent meal during a lunch break, so why not kick it up a notch and enjoy a freshly grilled lunch on the patio? A new grill or addition to your outdoor kitchen will allow you to cook fast, easy, and healthy meals to help carry you through your workday.
Alongside your meal plan should be access to all-day hydration, especially when spending excess time in the sun. Keeping a cooler or outdoor minifridge nearby will save the trips inside and help encourage hydration. Regardless of what you choose to stock, make sure to drink plenty of water to avoid dehydration while increasing helpful vitamin D from the extra sun exposure.
If you're a classic coffee drinker throughout the workday, you won't be able to have your Keurig outside. However, you could consider looking into a camping coffee maker or a larger insulated coffee pot that you can take with you outside so again you are making fewer trips away from your workstation.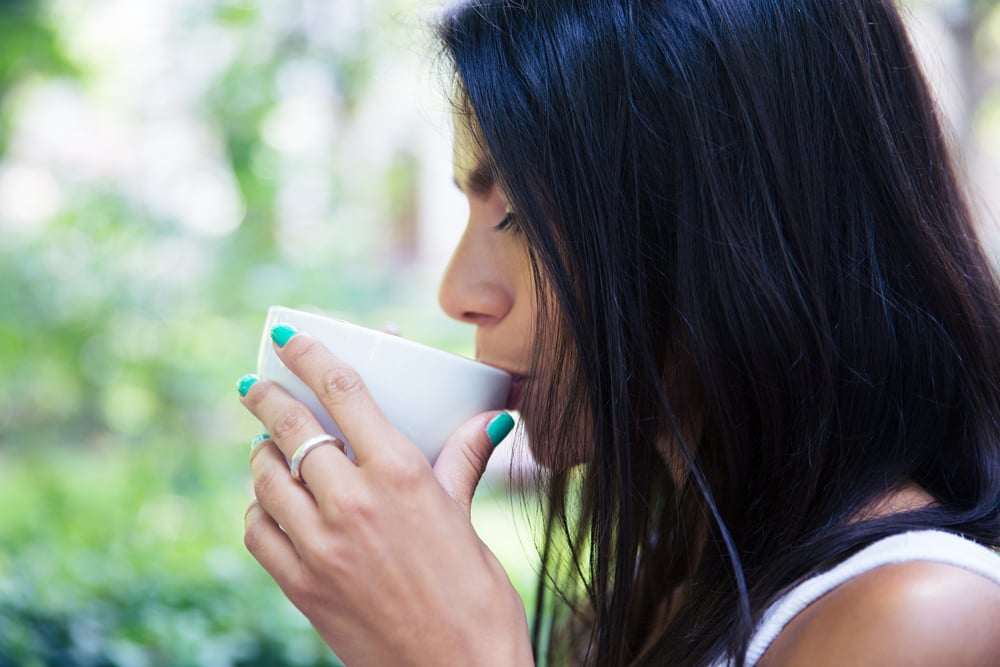 Protecting Against the Sun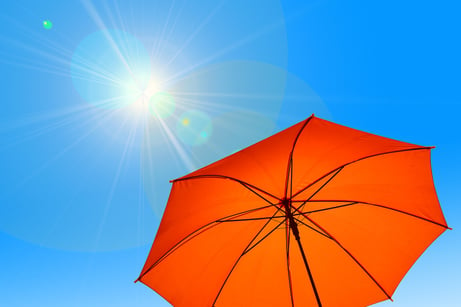 Not only will you want to prevent unwanted sunburns you'll also need to have a place to prevent electronics like work laptops and smartphones from quickly overheating. If you don't already have a covered patio here are some options for keeping you and your office cool.
An easy way to ensure your all-day comfort is a sun-shade patio umbrella. A quick measurement of the intended workspace will give an idea of the size needed for proper coverage and save you the headache of returning the wrong size.
A more long-term solution could be installing a modern sun shade. A good sun shade will not only provide the same shady benefits of a traditional umbrella but will also offer UV protection all year long. Sun shades can be as simple as one single shade in one color or as intricate as overlapping multiple shades in complimenting colors for a real visual show-stopper.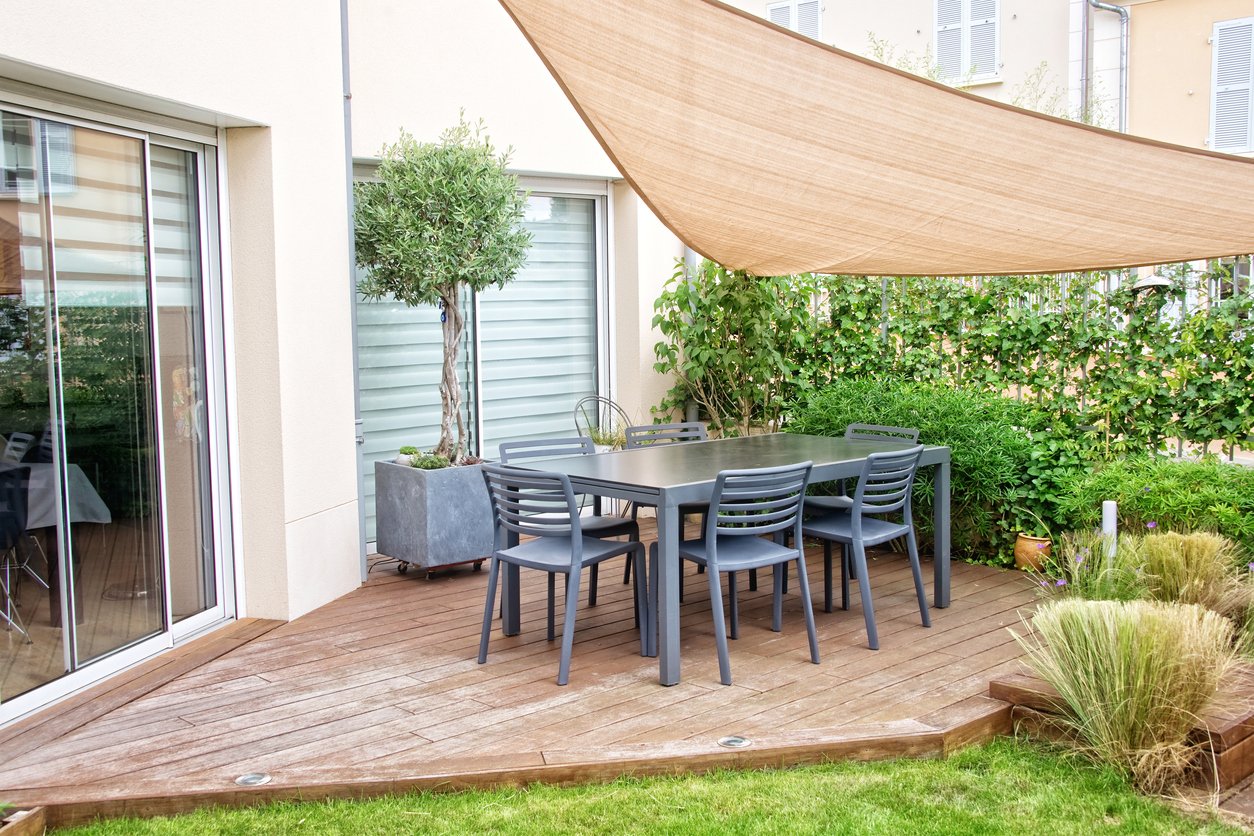 Speaking of sun protection and sunburn, having sunscreen readily available is a must when spending hours in the hot summer UV rays. While this reminder may seem like a no-brainer, being unprepared will leave you regretful with sunburnt skin making day-to-day tasks difficult and harder to focus on. Whatever route you take to protect yourself, make sure you are practicing the best sun safety tips to keep feeling cool and healthy when you are hanging by the pool every day.
Unfortunately, not all electronics are made to cooperate with sunlight. If you've ever set up a TV in the wrong spot or taken a laptop outdoors, you're probably familiar with the annoyance of screen glare. Screen glare can quickly impact your productivity by making your laptop screen nearly unreadable, but this issue is easily remedied with a glare cover for the screen.
And a quick note on glare: whether a laptop, a grill, or TV, beware of where that glare is hitting every day. If you have a strong sun spot on your swimming pool liner day in and day out, you risk the sun eventually melting that area of your liner.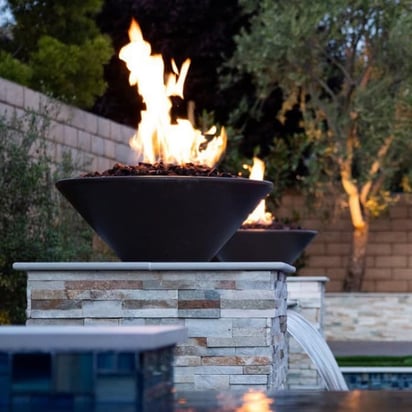 Sun protection is great but if you're planning on utilizing your outdoor workspace during the cooler months you have to plan for that as well. Items like fire bowls are a major win here as they add to your ambiance year round with an impressive display but also put off heat! You can even get these with the waterfall feature to create a beautiful sound garden in your backyard.
Other heating options include fire pits and stand-alone space heaters that are commonly used on outdoor patios at restaurants.
No matter what option you go with you'll want to have a plan as the weather turns colder. Even if it's just getting your Snuggie out!
Forgotten Details
Now that you've defined what you need and want from your outdoor workspace, it's time to put everything into action. With some financial planning and an extra hand, your poolside workspace is closer than it seems.

Being Mindful of Your Total Investment
Commonly, outdoor furniture can come with a higher price tag due to the higher quality of materials used to withstand the environment. With many angles of home improvement, planning and budgeting will set you on the right course.
To create a budget plan for your poolside workspace, take the total of everything you'd like to purchase and divide that total by the amount of months leading up to the goal date. When you are doing this, know that life happens and plans often get interrupted. Don't beat yourself up if you fall short of the budget goal, you can keep your poolside work plans alive by utilizing a personal loan to help fund your home improvement projects. A loan, or similar financial product, will allow you to purchase and install anything left on your list, with the ability to pay over time. Getting the right amount of funding to do the job will be a must if you don't want to cut corners when building the patio workspace of your dreams. You can of course choose to buy each additional piece by piece over time until you achieve the desired looked and vibe you're dreaming of.
Recruit Some Set Up Help
While it may seem easy enough to handle all of the new furniture and equipment by yourself, all too often do people wind up with an injury or realize they've assembled something completely backwards. It's wise to call a favor from someone in the household or a nearby friend to assist you with lifting any heavy packaging, keeping heavy items upright while assembling or double-checking instructions.
Getting help with set-up doesn't always mean an extra hand, sometimes you'll need to call in an expert. Take the wifi extender mentioned previously as an example, more often than not these extenders require specific configuration to cooperate with your home wifi network. Lean on your tech-savvy friends to help translate confusing instructions and save unnecessary headaches. Or have a contractor install your new sun-shades!
Conclusion
Working from home doesn't mean your work has to be in the home. That is one of the many benefits of being able to work from the home! You never have to let another beautiful day pass you by. Take the opportunity to be productive and draw inspiration next to your favorite leisure spot. And if you don't have a pool yet we can help with that as well. If you have any questions about how our pool and patio accessories can amplify your backyard experience, contact us today, or give us a call at (866-532-8194).
Want more? Here are additional articles we think you might find helpful: