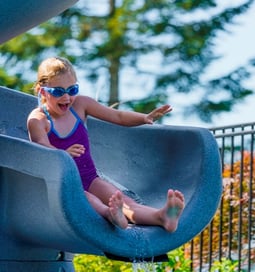 If you have kids or even grandkids, a pool slide is a fun addition your backyard swimming hole that's sure to bring extra laughter and cherished memories.
You can add a slide to an existing inground pool as long as you follow certain safety guidelines. And with several different slide models available, there really is something for everyone!
If you have an inground pool*, here's what you need to know when adding a slide:
*You should not use a slide with an above ground pool, as it violates safety codes in most areas.
Slide Location
The first thing you need to decide on is where to put the slide. In order to install a slide, you need enough space on your patio. For most slides, this means a minimum area of 7' x 15'.
When selecting this area, make sure you will still be able to get past the side when walking around the pool, without having to duck under it. Make sure there is also enough space for people to line up. For all you party animals out there, consider shade if lines are likely.
You also don't want your slide to be in the middle of the main area people are likely to hang out in. You don't want the slide to become a visual and physical obstacle in the middle of your party.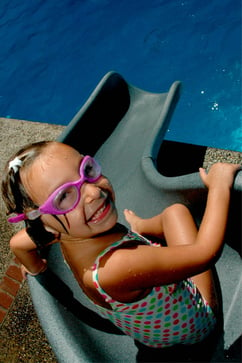 Ideally, you want the slide on the opposite side of the pool from your main gathering place. This will allow it to be a water feature and you can see people use it rather than staring at the back or side of the slide. In other words, if you can, position the slide across from your patio seating area, grill area, etc.
Where ever you place the slide, make sure there is an exit point relatively close to the slide; like a pool ladder for quick exits.
As with diving boards, slides have a water safety envelope. Slides must be installed over a water depth of at least 36 inches, dropping to 42-54 inches as you move away from the slide. This generally means the middle of a pool, neither the shallow end nor all the way in the deep end. Too shallow and a slider can hit the bottom of the pool which is dangerous. However, putting the slide in the deep end can be intimidating or even unsafe for younger children or inexperienced swimmers. Exact depth measurements and requirement do depend on the specific slide. Check the slide's installation guide for further insight.
Choosing Your Pool Slide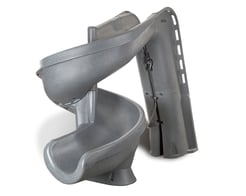 The next step is to choose your pool slide. You want to look at how the slide attaches to the deck, your available water envelope based off of the shape and type of your pool, and your preferences.
You should measure your pool to double check the depth and shape of the bottom, rather than relying on information from a previous owner. Most backyard pool slides have a slight curve and come in left or right versions (from the perspective of the slider); which direction you pick usually depends on the space available. Or you could go with a helix slide (see image); these form a spiral and can sometimes fit into a smaller deck footprint.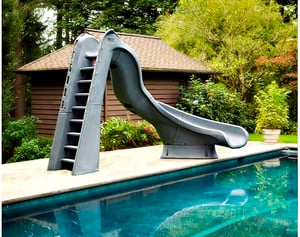 You will need to think about how the slide attaches to the deck. Molded leg slides have enclosed staircases (safer for young kids) and are mounted to the deck. Straight leg slides have actual legs and often open staircases. These are less expensive, but may not be as suitable for young children. Final item to decide on is color, and since slides usually come in multiple colors options you can choose one to fit your overall backyard vibe.
Slides typically have a 250 pound weight limit; make sure this isn't exceeded, for safety reasons. If you throw a lot of pool parties, a polite sign is a good idea. A few heavier slides may have a higher limit, generally 275 pounds.
If you don't anticipate adults using the slide, smaller slides designed just for children are also available.
Regardless of which slide you choose, make sure you comply with safety standards. The U.S. Consumer Product Safety Commission has a standard that applies to residential pool slides. It covers factors such as:
The strength of the slide
Avoiding sharp edges
Ladder design including width of tread and the size of the platform if needed
Hand rail design
Slides made to this standard have been designed and tested to be safe for your family.
Installing Your Pool Slide
Pool slides are generally easy to install as long as you follow the manufacturer's instructions. Generally, installing a slide is a two-person job and should take you about four to eight hours to install. You may need a third person to help manage the slide's weight as moving the slide into position is the most demanding part of installation.
You will need measuring tape, chalk to mark your deck, and the appropriate wrenches. The slide's installation manual will tell you what you need to have on hand for installation. Your slide will come with the appropriate hardware for a concrete pool deck; if you have another kind of deck, you can discuss your installation options with your vendor or installer.
Measure your deck and mark the position for the slide
Double-check the measurements
Drill the anchoring holes into the deck
Insert the deck bolts as needed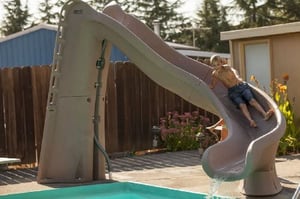 The slide has a water pump to push water up the back of the slide; this can be turned off when the slide is not going to be used. Make sure your swimmers know to turn it on or ask you to turn it on when they need it.
If your pool was not designed with a slide in mind in the first place, you will need to hire a plumber to add a line from the pool's return line to the slide's water pump. This requires cutting through the deck to add it at the best point under the slide. Don't connect your slide's water pump to another water supply, or you will keep adding water to the pool, with obvious overflow problems.
Make sure that the water supply is running before you or anyone else uses the slide, or else the rider could get stuck.
The most important thing is to double check at every stage to ensure that the slide is properly secured to the deck to avoid tipping.
Conclusion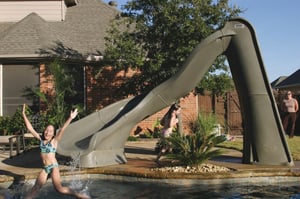 Adding a slide to your in ground pool is a fantastic way to add to the fun for younger generations (and not-so-young in the case of larger slides). However, you need to choose the right slide that fits your space and make sure it's properly installed to be as safe as possible. When it's safe for everyone, it's fun for everyone! What are you waiting for? Add an extra element of enjoyment to your pool this summer!