The BIG kahuna of pool questions: what size? This question affects so many factors when not only buying your pool, but also when building, maintaining, and ultimately enjoying the space you created.
Start with your vision: how do you see backyard when thinking about your new pool? How much space is the pool taking up and is there room left over for anything else, say for your patio or other outdoor features you'd like to incorporate down the line?
While your pool can ultimately be as big as your yard and budget allows, there are a few keys points you'll want to go over to ensure that the space created meets all of your goals.
Some considerations are pool-specific:
What's the goal of purchasing your pool?
Who will be using the pool?
Other thoughts are more focused on the entire backyard space:
How much patio would you like to have around the pool?
What other items (grills, furniture, spa, outdoor kitchen, etc.) would I like to fit on the patio or in the yard?
What restraints currently exist?
WHAT'S THE GOAL IN PURCHASING YOUR POOL?
| | |
| --- | --- |
| | What dream brought you to the decision of owning your own pool? Did you envision yourself lounging beside a beautiful oasis with trickling waterfall sounds while you soak up the sun and sip on something with an umbrella in it? You don't necessarily need a large pool for that and the extra money saved in going a little (or a lot smaller) can be put towards those extra fancy features! |
| | Did you see your kids learning how to swim & splashing about in a shallow end until they're old enough for you to school in water volleyball? An easy accommodation for both younger and advanced water lovers would be to have a larger pool with a combination of depths; where the shallow side is big enough for sporting games while the other end is deep enough to dive for items, and the whole length is long enough for family races. |
| | Is your backyard going to be the neighborhood hangout? Will your pool parties will be the stuff that legends are made of? It's great to have a large pool to meet this goal however it's not always needed. Most people who hang out at a pool never actually take a full dip. The bulk of their time is spent on the patio. If you have a diving board or waterslide, you're pool will have to reach a certain minimum length, therefore, may have to meet size laws to ensure safety. |
| | Will your pool be used for the bettering of you and your family's overall health? Laps and/or gentle exercises are perfect for both athletes and more seasoned swimmers. The pool size can be long and slender therefore taking up much less reality in your yard and still serve this purpose. Just make sure your pool is long enough (and deep enough) for those wishing to do laps regardless of the overall perimeter that you go with. |
WHO WILL BE USING THE POOL?
Only Adults? Then divert back to your pool's purpose to best choose your size.
Kids? (The ones you have now, will have down the road, or those of your visiting friends and family). You'll want to incorporate a shallow end. Even if your kids are still in school now, your pool will potentially be around to welcome grandkids too. Think of the long game when planning your purchase!
Older friends and family or anyone with mobility concerns? Contemplate your pools accessibility and factor that into the size.
Out of the "who", also examine how many. The size of your family and friends circle should absolutely play a part when weighing the size of the pool you get.
HOW MUCH DECK OR PATIO WOULD YOU LIKE TO HAVE AROUND THE POOL?
Do you have that basic idea? Great! We recommended adding at least a little more patio space to that plan. As mentioned most folks (especially visitors) spend the majority of their time on their patio when compared to the pool. The last thing you want to feel like you don't have enough space to enjoy being pool-side. (For more on this, check out our guide on "how much decking do I need around my pool?")
WHAT OTHER ITEMS WOULD YOU LIKE TO FIT ON THE PATIO OR IN THE YARD?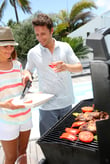 These items mean that you'll want extra patio space to accommodate them and still have room to move. Don't think of your yard as Tetris by trying to fit the greatest number of items without any extra wiggle room.
This needs to be more like the old-school game Perfection. Fit everything properly with plenty of board (patio) space around it.

WHAT RESTRAINTS CURRENTLY EXIST?
Let's cover physical restraints first. How much space is readily available in your backyard? Where are the property lines? Are there landscaping features that you want to keep? If so, your pool will either have to be sized accordingly or be shaped to go around that feature. Don't forget that ever so important patio space as you'll want decking all the way around the perimeter of your pool.
Next, the most vast non-physical restraint- cost. Size is one of the largest factors in the cost of a pool and therefore your budget may help to narrow down the potential size options.
---
SMALL VS. MEDIUM VS. LARGE: GUIDELINES
While all the additional considerations above may be useful, you may be just trying to figure out what the standard sizes for pools are. So let's simplify this to the basics: small, medium and large. Keep in mind that these sizes are based on rectangles, and any shapes you consider would be the shape as it would exist within the constraints of that rectangle.
Small pool: Basic size is about 12' x 24'
Medium pool: Basic size is

about

16' x 32'
Large pool: Basic size is

about

20' x 40'
---
Overall, make sure that you have a largest enough pool to meet your overall purpose, please your regular swimmers, and meet your predetermined budget. This will ensure you have many fun-filled summers ahead.