When you own a pool, you have a responsibility to make sure its safe and secure when you aren't using it, and a safety cover is a great way to achieve that goal. Pool safety covers provide a safe and long-lasting covering that prevents children and animals from falling in to your pool during the offseason. Safety covers also help keep debris and critters out of your pool during the winter months, and they can help make cleanup easier when you open your pool up again. However, safety covers aren't one-size-fits-all. One of the most common questions we get from pool owners when they decide to buy a safety cover is how they can tell whether their pool needs a standard safety cover or a custom-made cover tailored to the pool?
When Do I Need a Custom Safety Cover?
Our standard safety covers are versatile products, but they aren't suited for every pool. Custom sizes, custom accessories, and non-standard layouts might require a custom cover. If you're wondering whether you need a standard or custom pool safety cover, there are a few things you should consider.
1. What Shape Is Your Pool?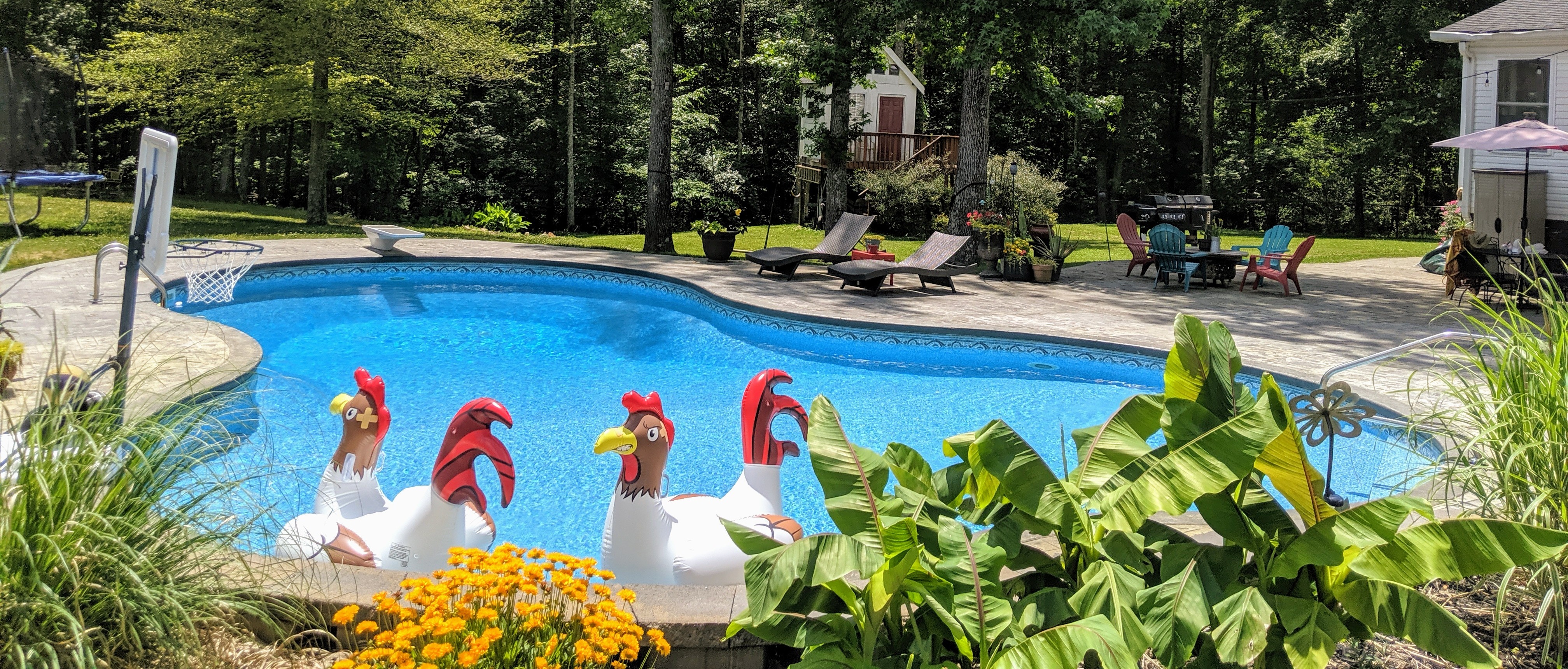 The first factor that determines when custom covers are needed is when your pool is a non-standard shape. At Royal Swimming Pools, we offer standard safety covers for several of the most common swimming pool shapes such as rectangular pools, Grecian pools, and oval pools. However, if your pool is a non-standard or irregular shape, you will need to order a custom cover to fit it.
2. Does Your Pool Have Any Special Features?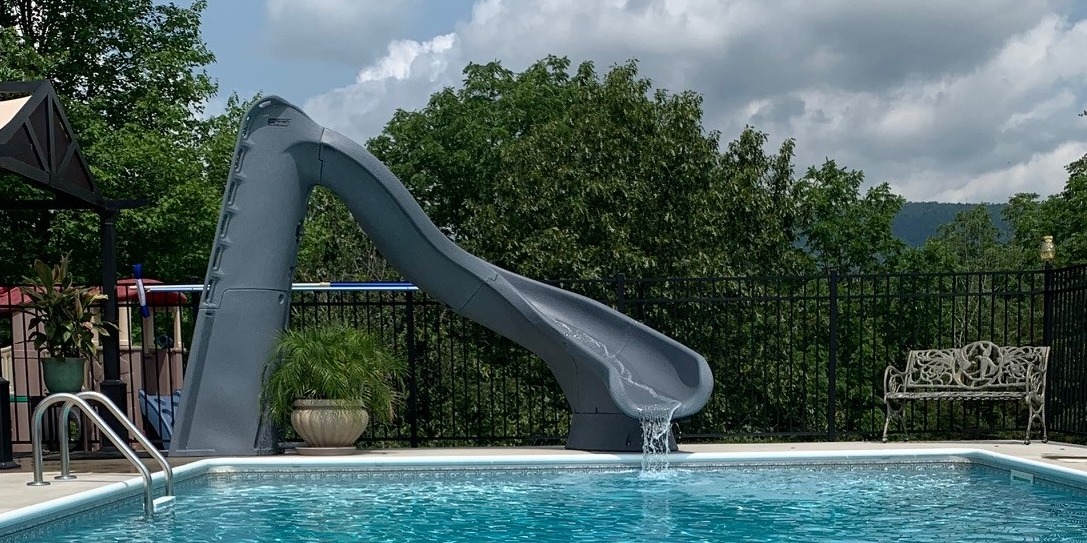 Another important consideration is whether or not your pool has special features that the cover would need to account for. Common pool features that can affect your cover include:
Offset or irregular steps that the cover would need to go over
Water features such as waterfalls
Built-in hot tubs or spas next to your pool boundary
Non-removable ladders, slides, or railings
Diving boards with the base within 12' of the pool's edge
If your pool has any of the above features, you may have to order a custom-made safety pool cover instead of using a standard safety cover. Custom covers can be made to fit over or around these obstacles.
Do You Have Existing Pool Cover Anchors?

If you're replacing your old safety pool cover with a newer, safer model, chances are your pool already has anchor points set up to attach the cover to your pool deck. Unfortunately, a new standard cover will likely have different anchor points than the cover you had previously.
It's never a good idea to try to "force" a new standard cover to use existing anchor points, as this could cause the cover to bunch, stretch, rip or fray. On the other hand, custom safety covers can be made to perfectly match your existing anchors for a secure fit without worry.
Do You Have Enough Deck Space?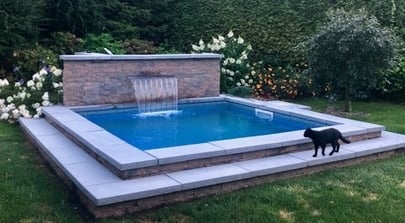 Standard covers require you to have at least 30" of deck space on all sides of your pool to install properly. This is required so the anchors have enough room to securely hold your cover down and so you can move freely around them. If you don't have that much clear space around your pool on each side, a custom cover is the best way to achieve a safe and secure result.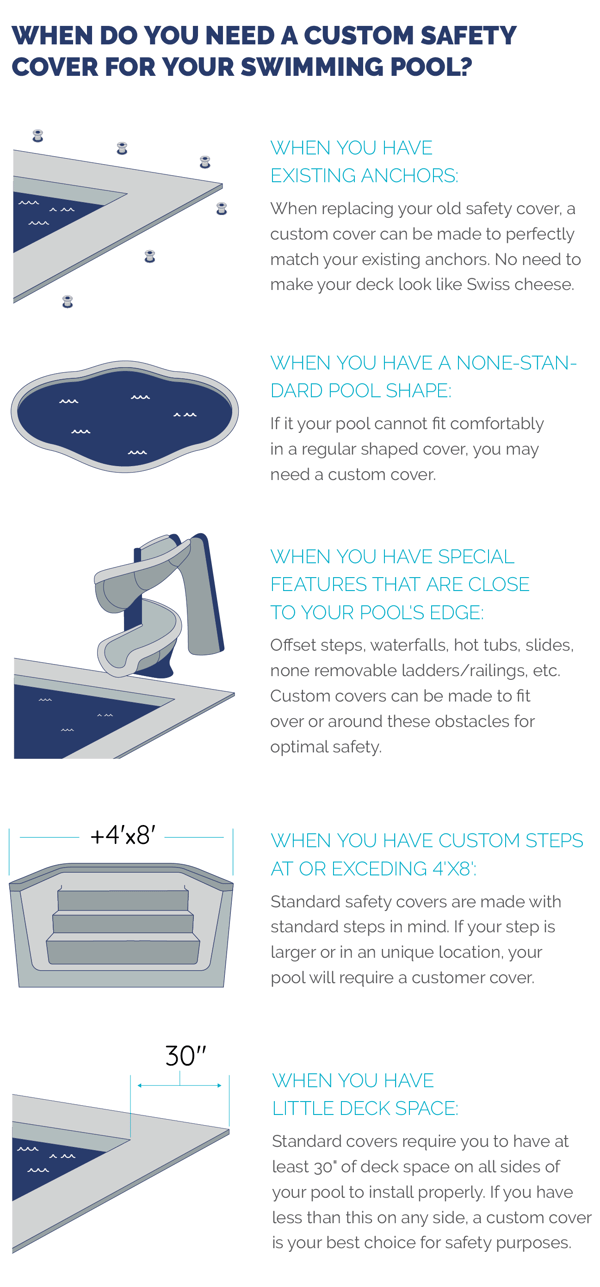 How to Order A Custom Safety Cover
If you need a custom safety cover for your pool, don't worry. Although each custom safety cover is made to your specifications, the process of ordering one is simple and straightforward. Simply visit our custom safety cover page and follow the steps below:
First, measure your pool's square footage using our detailed online measuring form. If you aren't sure how to get accurate measurements, you can watch our instructional video to make sure the measurements are correct. You can also estimate your costs using these measurements. Plus, if you already have a safety cover, we can use it as a template to create a new custom cover with anchors in all the same positions as your existing cover.
Second, decide what kind of safety cover you want. At Royal Swimming Pools, we offer several types of custom safety covers:
Standard Mesh Covers - These lightweight, easy-to-handle covers are simple to install and remove. They prevent the majority of debris from entering your pool and are easy to store when not in use.
High-Shade Mesh Covers - High-shade mesh covers combine the simplicity of mesh with more UV blocking and durability. High-shade covers inhibit algae growth in your pool and keep out more debris due to their tighter, heavier weave.
Solid Safety Covers - Solid covers are the most durable and protective but are also heavier than mesh. They block 100% of UV rays and prevent rain and snowmelt from entering your pool. Because they don't let water through, we sell solid safety covers with either a drain or a cover pump that removes water from the cover surface. Our covers with pumps use automatic pumps to make the job even easier.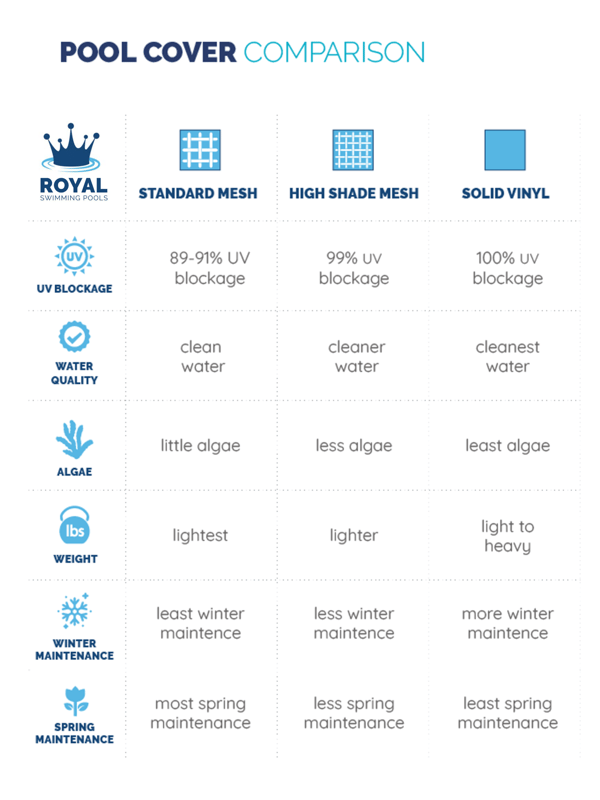 Third, submit your measurements and order to Royal Swimming Pools. We'll get started on your custom cover right away. Generally, once you've ordered your cover and submitted all the required measurements we have custom safety covers manufactured specifically for your pool and shipped within 1-2 weeks. Download your measurement form here!
One more tip: send us pictures of your pool! If you didn't get your pool from Royal Swimming Pools, it can be a big help for us to see the pool and make sure there aren't any important considerations you missed. And even if you did get a pool from us, pictures can help us judge what kind of material would be best for your project and why.
What About Automatic Covers?
Automatic pool covers provide all the same benefits as standard safety covers, with the additional benefit of being easy to install and remove by yourself at any point. Many of our automatic covers can be positioned in just 45 seconds, meaning you can cover your pool any time you aren't using it for added safety and protection. We offer both new and replacement automatic covers for a wide range of pool shapes and sizes. If you want to keep your pool as safe and secure as possible, an automatic cover can be a great investment.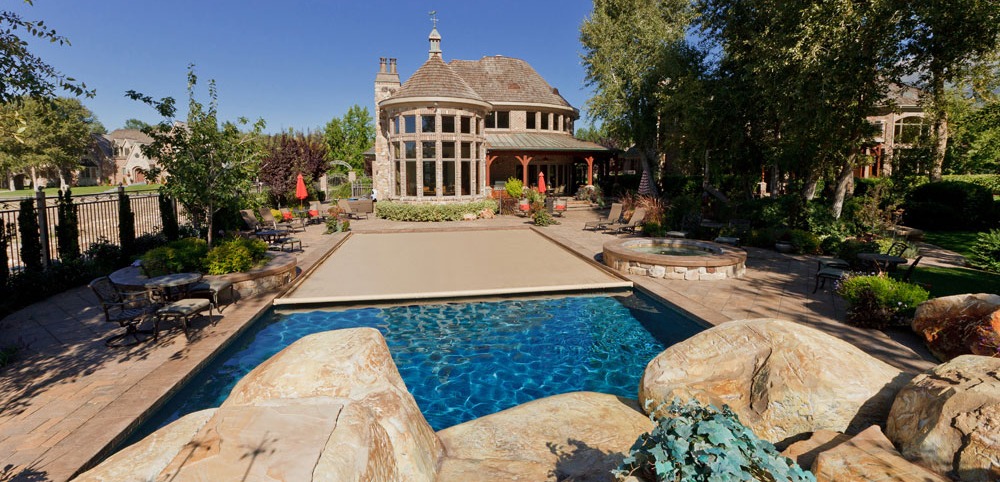 Learn More About Our Pool Safety Covers Today
Whether you're in the market for a custom safety cover or a standard one, the specialists at Royal Swimming Pools are happy to help. We have years of experience with every part of swimming pool design and maintenance, and we'd love to start caring for your pool as well. Call 866-532-8194 to get a free estimate for your custom swimming pool safety cover today!
For more resources on swimming pool covers, winterizing, and more, check out our other articles below!