If you are thinking about getting an in-ground swimming pool, the question "which pool is the best for me?" has already come up. While the choices may seem vast, there are three popular categories that most people considering making a pool purchase will lean towards.
When it comes to inground pools, the three most common types are vinyl liner pools, fiberglass pools, and concrete (gunite) pools. And while we're partial to vinyl liner pools, the truth is they all have advantages and disadvantages.
Concrete (Gunite) Swimming Pools

Pros of Concrete Pools
Just to be clear gunite pools are concrete pools. The term refers to the method used to apply the concrete since the concrete is shot from a gun onto steel-reinforced walls. Once the concrete sets, it is either plastered to a smooth finish, tiled, or painted. Concrete pools are going to be the highest class of swimming pools on the market and are often referred to as a traditional pool.
The reason for this is their major advantage of being completely customizable. You can design these pools however you like! Vanishing edges, grottoes multi-tiered levels, etc. are completely open to design within safety limits. These pools are made out of a rebar structure that concrete gets sprayed into and onto, then troweled and finished. Many colors and finishes are also available. And of course all of these wonderful unique features come at a price.
Cons of Concrete Pools
Concrete/Gunite pools have the highest cost of ownership due to the highest initial installation costs, the higher amount of chemicals needed annually, refinishing the pool every few years, and the potential excessive cleaning needed.
Acid washing every 3-5 years, and resurfacing every 10-15 years can get expensive, as well as tiresome. Most work (other than the routine cleaning) usually requires professional experience and expensive equipment. While many gunite pool companies will offer a "lifetime structure warranty", it's good to know that this does not cover anything to do with the pools finish, only the structure.
With the surface of a gunite pool being concrete, not only with the walls and base of your pool be rough and tough for your swimmers (be careful playing as scrapes are easily obtained in a gunite pool), but the pool itself is very sensitive to wear and tear over time. It is for this reason that salt systems are not recommended in gunite pools as the natural chemicals occurring in salt will result in having to resurface your pool even sooner.
A big difference in this type of pool when compared to the other below is that you'll also have to be concerned with your water's calcium levels. It's just another line item that you'll have to check for when measuring your pool's pH.
Vinyl Liner Swimming Pools

Pros of Vinyl Liner Pools
The main advantages of a vinyl liner swimming pool are the low cost of materials, fairly quick installation, and the customization available. In addition to these reasons, vinyl liner pools are fairly easy to maintain and the least expensive to own. You will spend less money up front, and less money refinishing vinyl pools than the others.
There are 2 main wall types with vinyl lined pools, steel and polymer. There are of course advantages to each, mainly based on your soil type. You can learn more about wall type here! And unlike a fiberglass pool, vinyl liners can be customized into virtually any shape or depth. So, whether you want an 'L' shaped pool, a classic Roman, a Grecian, or even a pool shaped like a guitar, a vinyl liner pool will fit the bill. Options available are wide open and almost limitless.
One of the nicest things about vinyl liner pools is the softness and smoothness of the liner. There is no surface available in other pool types that will match the comfortable feel of a vinyl liner pool. It's safe for even the wiggliest of swimmers!
The surface of vinyl is not as porous as a plaster finish on a gunite pool, which means vinyl liner pools use less sanitizer than a gunite pool (roughly around 25% less on average.) The non-porous surface leads to less chemical usage during the season and therefore less money spent on chemicals.
Lastly, a vinyl liner pool can be a DIY project which leads to even more savings, especially in regards to one of the most expensive parts of a pool installation: labor. The helps further elevate the fact that vinyl liner pools are the most cost-effective option for inground pools.
Cons of Vinyl Liner Pools
This one depends on the pool owner if it considered a drawback of benefit: the liner will have to be replaced eventually. I'm sure that some of you are thinking, "Surely this is a drawback."
Liner replacements are usually done every 7-10 years (the better you take care of your pool the longer you can expect the liner to last, some up to 25 years), and average $2,500-$3,500. This is however much less than the typical $5-$10k for resurfacing concrete or fiberglass.
So the difference in price between this sort of pool maintenance across the three pool points, is actually a benefit for vinyl lined pools; not to mention that a new liner means having the chance to change the look and feel of your pool every decade or so. Think of it as a facelift for your favorite hangout spot!
Fiberglass Swimming Pools

Pros of Fiberglass Pools
The main advantage of a fiberglass swimming pool is the product is ready-made, delivered, and installed quickly in most cases. This can include several features besides just "the pool" portion such as steps, ledges, benches, and additional accessories. Basically, you're entire pool is one piece presented more or less as a shell and is popped in the ground, leveled, and backfilled.
Additionally, the chemical benefits associated with vinyl lined pools are also applicable to fiberglass pools in most instances as these pools require less chemicals and maintenance when compared to gunite pools.
Fiberglass pools do take longer to fade than liners, but keep in mind that when you do go to re-coat it, the cost is typically much higher when compared to a liner and comparable or slightly less than resurfacing a gunite pool. Resurfacing with plastic costs roughly $5-$7 per square foot.
Cons of Fiberglass Pools
Unfortunately, fiberglass pools are limited in shape and size. These pools get transported on a truck, which only allows for them to be up to about 16' wide and 40' long. Most are not very deep compared to vinyl or concrete. More options come out all the time for fiberglass, like new finishes, tiles, etc. however, the overall max size remains reasonably the same.
Fiberglass pools can be just as expensive as a comparable concrete pool in a lot of cases, and can also develop hairline cracks both on the top and around the body. These can be unsightly, and cause leaking on top of being expensive to repair.
Which Pool is Best? Concrete, Vinyl or Fiberglass?
The fact is that all of these pool types last about the same when properly maintained. While some just require more costly repairs or additional maintenance than others than others, it is possible that any of them could have major mishaps that require more expensive repair. Typically speaking, vinyl is the cheapest to own, then fiberglass, then concrete. There are of course outliers for each of these. That being said, often times budget is the final determining factor.
Even with vinyl generally costing less, there are vinyl pools out there that rival some of the best comparable concrete pools, at a fraction of the cost! Here is vinyl lined pool-scape that cost a little over $100k, minus the outdoor kitchen.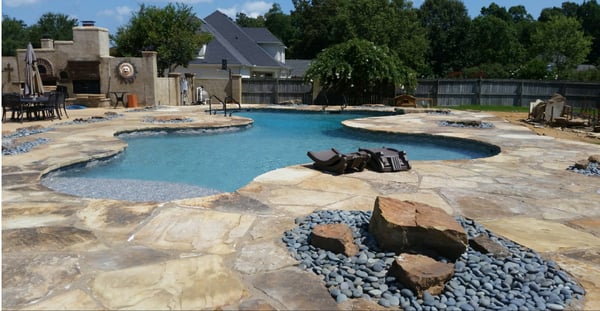 This same pool, equipment, and stonework in concrete or gunite would cost approximately double; and fiberglass pools wouldn't even be a possibility in this size.

Concrete swimming pools:
Completely customizable and great aesthetics
The highest demand for maintenance
Highest cost of ownership, initial installation, and resurfacing
Takes the longest to build and install
The most return on your investment if you sell the house
Vinyl liner swimming pools:
Largely customizable
Fairly easy to maintain and least expensive to own
Liner replacement every 7-10 years
Soft comfortable texture
Easier installation with DIY as a possibility
Fiberglass swimming pools
Less customization/sizing limits
Low maintenance
Resurfacing required down the road
Quickest installation
Vinyl Lined Pools are our specialty by trade but our favorite because they're both economical and highly customizable, giving our customers the best of all worlds. Regardless of the pool type that you choose, know that ph balance, water maintenance, & keeping your pool clean will only help to extend the life of your pool.
We hope that this helps answer some of your big questions with it comes to the three major inground swimming pool types. Below are some additional resources that dive a little deeper into these and other related topics.