When shopping for a new pool, there are several types of pools out there, with different surfaces. To narrow down the field, the 3 most popular are gunite (plaster/concrete), vinyl-lined, and fiberglass pools and they each have their pros and cons. A gunite pool's biggest pro is having the most durable finish of any swimming pool surface. However, the con is the cost with both the initial set up/installation and the resurfacing (when needed, not if needed) is much higher than the other common pool surfaces. Compared to vinyl-lined pools for example, a liner normally lasts from 7 to 10 years depending on how well you keep your water chemistry and costs significantly less both upfront and down the road. But if concrete durability is what you're looking for keep reading to learn more about your options.
Gunite pools have been around since the '60s and are the most durable pool finish due to being made from concrete. The pool's structure consists of a steel rebar frame coated with a mix of cement, white sand or marble aggregate, and water. This is applied to the rebar frame and troweled for a smooth looking finish still making it very popular.
However, this means you have to be careful of rough play in a gunite pool since these pools won't have any give and are not soft the touch; a common concern if you have children playing in the pool.
While Marcite plaster is the least expensive of the gunite pool surfaces, it does have its disadvantages. The surface can start to show visible chipping or etching after 5 to 7 years. They will also start to stain, and inhibit algae due to its porous surface and is the least durable in the plaster pool family. The better upgrade for this pool type would be to opt for exposed aggregate surfaces as these offer more options from pebbles, sand color and more. Diamond Brite, Pebble Tec and Hydrazzo are a few common types of aggregate surfaces which we'll break down further here.
Diamond Brite $$
Diamond Brite is made with a quartz aggregate and a polymer modified cement which increases bonding and hardness of your pool's structure. It has a textured surface consisting of small pebbles in the cement being brought to the surface. The life expectancy is on average approximately 8 to 12 years. A light acid wash is recommended after about 5 years to keep it looking bright.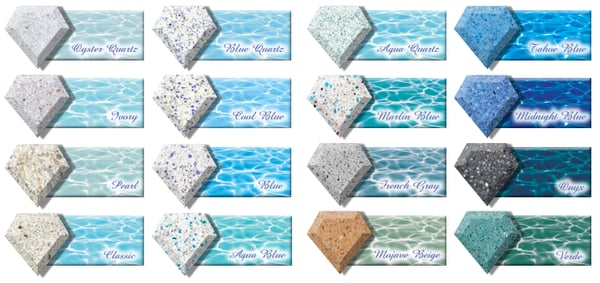 Hydrazzo $$$
Hydrazzo was the first pool surface to be polished. It consists of coarse crystalline (a crystal compound), colored marble and Portland cement as well as a few other ingredients to beautify the surface. This is the smoothest finish available in gunite pools but is still hard as a rock. Its life expectancy is 15 to 20 years and comes in a wide variety of colors as well.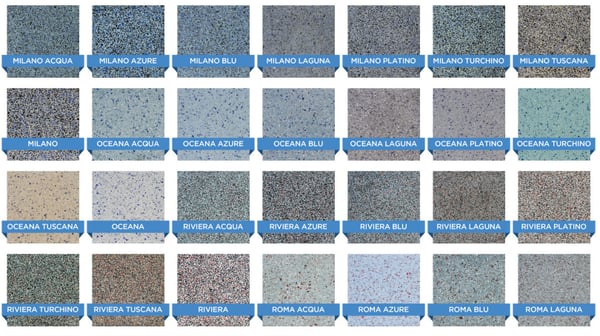 Pebble Tec $$$$
Pebble Tec is on the higher end of the cost spectrum. Pebble Tec is a mix of large pebbles, stone aggregate, and cement. This is the most durable of the plaster pool types as its surface last from 15 to 20 years +. Pebble Tec is the top choice for gunite pool buyers.
While all of these are great products, like much of the pool design process, the main factor in choice simply comes down to personal preference.
If you have small children or even rambunctious teenagers you may want to think twice before adding a concrete pool to your family's backyard as scrapes and boo-boo's will be a common pause in the fun. For these types of family settings, a vinyl liner pool is strongly recommended as the surface will be soft to touch and provide a slight give, almost like a cushion. Plus you like a change of scenery every 7 to 10 years, a vinyl liner allows you to completely change the look and feel of your pool (for less than the cost to resurface a gunite or fiberglass pool). You can even create a gunite look using liners with textured pebble patterns similar to the plaster, aggregate surfaces for fractions of the cost. You can compare the pros and cons of the three major pool finishes here to help determine what is best for you and your family.
If you're looking for complete durability, a pool that pushes back, concrete may be for you. The costs will add up so it's important to be aware that you're opting for the most expensive pool type up front.
No matter which pool surface type you decide to go with, please know that the entire pool industry is still backed up when it comes to materials and products. You'll want to plan and buy as early as possible to avoid disappointments. We strongly recommend that you order your pool and it's supplies prior to trying to schedule a builder as delays in manufacturing and shipping can cause you to incur additional costs charges if your builder is ready and your supplies are not. More on what to know when buying a pool during or post the pandemic can be found here.
Additional resources for your pool buying journey: