Scroll down for the 10 basic steps to installing your inground swimming pool
BONUS: Pool Installation Video
--- 1. Pre-construction considerations. Check for local fencing, property line, sewer, drainage and electrical code requirements for your area. Obstructions must be considered before selecting a final pool site. These include: underground wires, gas lines, septic tanks, dry-well systems, plumbing, trees, and overhead power lines. Utility companies will usually locate underground pipes and cables that are located on your property for no charge. Use spray paint, dig flags or flour to mark the swimming pool in your yard. Obtain the required permits before starting your inground swimming pool installation. Order your swimming pool kit on-line or call toll-free 866-532-8194.
---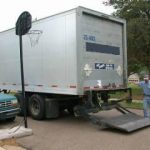 2. Receive swimming pool kit delivery. The inground swimming pool kit includes a step-by-step manual and is designed for the homeowner to become the contractor so you can subcontract some of the work and do some of the installation yourself. The manual will arrive in a few days and you will usually receive your kit in 1-2 weeks based on the swimming pool kit order and your location. Check the number and marking of cartons against the packing slip before signing the delivery ticket. Click here for swimming pool shipping information
---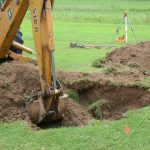 3. Excavation. Google search "excavating contractor" to help find a qualified excavator. One of the most important phases contributing to a smooth swimming pool kit installation is the excavation. Keep in mind that a machine can do in minutes what it takes hand labor hours or days to accomplish. A skilled excavation contractor should be chosen for this part of the installation process especially for a diving swimming pool. Shallow and play swimming pools can be excavated using a rented skid loader.
---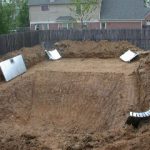 4. Assemble swimming pool walls. See the tool list below. Most homeowners complete steps 4 - 8 themselves however each step can be subcontracted to a handyman or temporary labor service. An experienced swimming pool installer is not necessary. Assemble the panels using the 5/8" nuts and bolts provided. Attach a swimming pool wall brace where two wall panel sections are joined. Check to insure that the swimming pool is level and correctly shaped.
---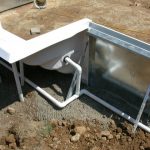 5. Concrete footer and PVC plumbing. Set the pool wall braces in 6" of concrete. 3 - 7 yds will be needed based on the pool size. Schedule 40 PVC pipe is used to connect the pool to the filter system. The amount of pipe needed will vary depending on the number of return inlets, skimmer, automatic cleaner and the distance from the pool to the pump. A plumber is usually not needed to complete this step however some local codes may require a deep seal trap be installed by a licensed plumber if the swimming pool equipment is to be connected to the city sewer system. PVC can be purchased from your local hardware store or from Royal Swimming Pools. Click here for plumbing kits.
---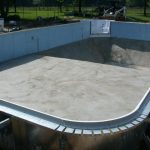 6. Sand and Portland floor. Sand and Portland cement is mixed into a grout that is hand troweled for the pool floor. A rented mixer will make this step much easier. Vermiculite should be used with Portland in high water table areas. Vermiculite should be used with sand and Portland for ground water seepage areas. Portland cement is available from any hardware store. Click for more information
---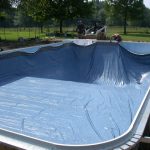 7. Install swimming pool liner. The use of a shop vac cleaner will help insure proper fit without any wrinkles in your swimming pool liner. The picture on the right shows a pool without any water in it. The shop vac has pulled all the air out from behind the swimming pool liner . Click here for swimming pool coping information
---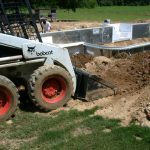 8. Back-fill the swimming pool. A rented skid loader will make back-filling and landscaping much easier. The dirt that was excavated from the area can be used to back-fill in most areas. Gravel should be used to back-fill if you have a high level of expansive clay or high water table.
---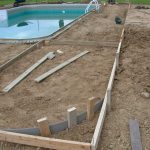 9. Electrical and Concrete deck. Grounding of the swimming pool and GFCI electrical connection as per your local area code must be done by a licensed electrician. Use wood to form the area for the concrete walk around deck. Look under "concrete contractor" to subcontract the deck.
---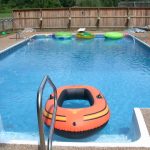 10. Enjoy completed swimming pool. Click here for swimming pool gallery including pictures from homeowner swimming pool installation
---
Six days is the average construction time for two or three workers building the swimming pool kit. Some pool kits can be done quicker and some will take longer if you prefer to work part-time on the project o have less qualified help. It is important to keep in mind that planning and organization will always speed the process.

Tool List: Most tools are available from a hardware store or equipment rental store. Water level or Transit level, 9/16" wrenches (2), 1/2" wrench (1), Carpenter's hammer, 3/8" electric drill, 3/8" bit, , 5/16" hex head bit, Sledgehammer, Extension cord, Pick ax, Pocketknife or utility knife, Concrete shovels (2), C-Clamp, Wheelbarrow, Long handled square shovels (2), 50'-100' measuring tape, Mason's string, 4' Carpenter's level, Screw drivers, Hacksaw, Spray paint, Shop-Vac vacuum cleaner, Channel lock type pliers, Several large plastic buckets, 5 or 9 cubic Ft. paddle type mixer (optional), Garden hose, 16" round edge pool trowels (2)