When I joined the team at Royal Swimming Pools in October of 2018 I didn't know all that much about swimming pools. I was brought in to help with our marketing, and other than having an above ground swimming pool when I was growing up, I hadn't had much recent experience with swimming pools, their technology, or their maintenance.
I've lived the majority of my life in the midwest. Mostly Wisconsin, with a little stint in Iowa. So when I joined Royal Swimming Pools and moved with my family to the Memphis, Tennessee area (where Royal Swimming Pools is headquartered) my wife and I made a promise to my kids: to help make the hot summers here a bit more fun, we would get a swimming pool.
With that decision, my family and I have recently gone through the process many of you may be considering: how to choose the right pool for our family, and how to get it installed.
I went into this personal project with the goal to also share with folks looking to get a pool of their own exactly what the entire process was like, what decisions we made during the process, and why we made the decisions we did.
With that in mind, I hope this will help you end up with the pool of your dreams, just like my family and I did.
Inground or Above Ground?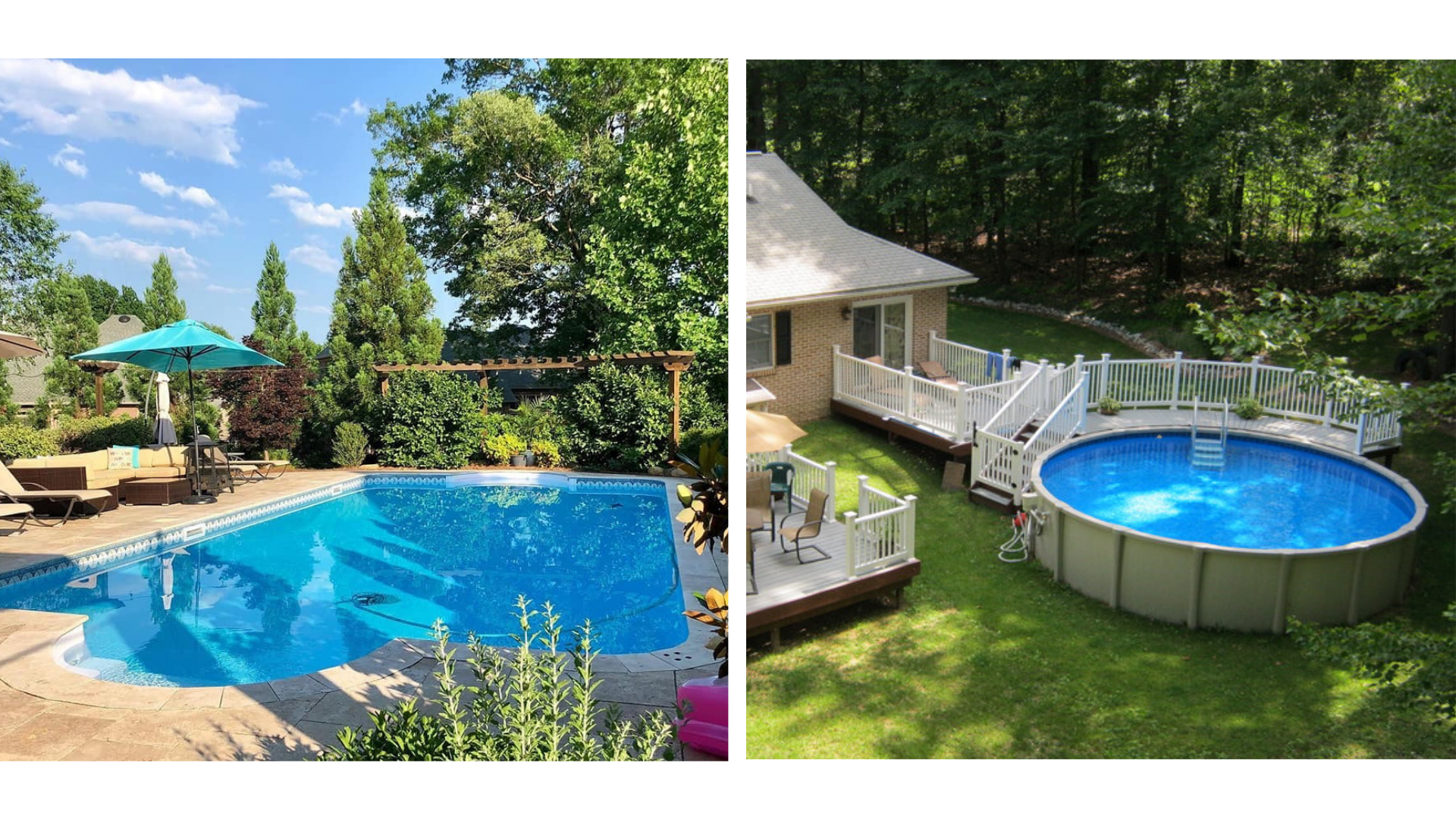 I remember going to my friend Kelly's 8th grade graduation party. She had an inground pool and I thought it was the coolest thing ever. Since then I've wanted an inground pool of my own. So I already had my mind made up as to which I'd prefer.
Turns out in the neighborhood we live in, above ground pools are not allowed; inground only. So the decision was made for us (which made things much easier for me!)
Decision: Inground
What Shape Swimming Pool?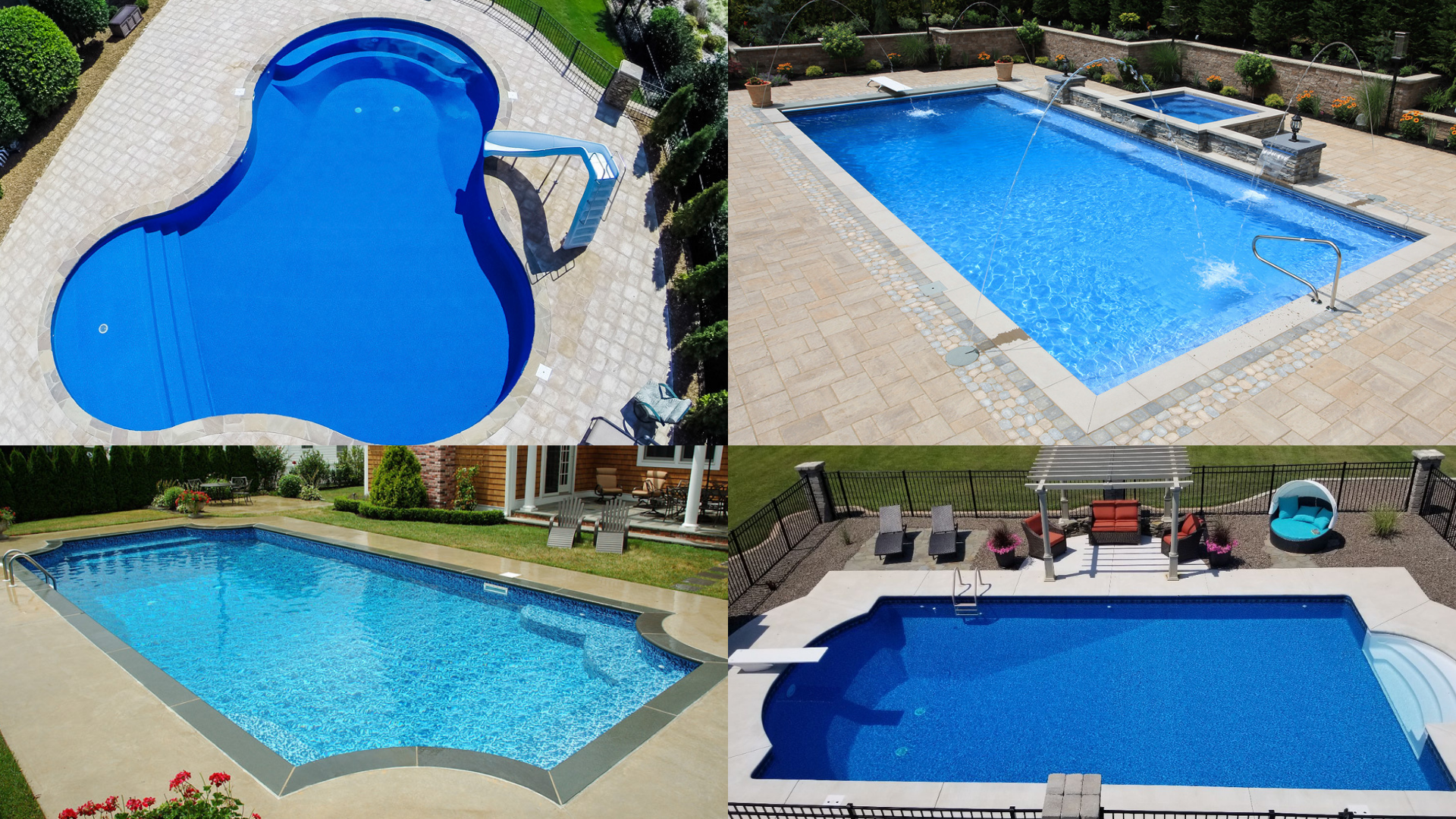 We're a pretty contemporary family. My wife and I both prefer clean lines and sharp angles, so a rectangle pool was already at the top of our list. After taking into account the layout of our yard and our existing patio, the rectangle shape became even more obvious as the right shape for us. That may not be for you though, so I recommend checking out this article on pool shapes to be sure.
And since we wanted to get an automatic cover (more information on that later), due to shapes and angles and other bits of geometric limitations, the only option that exists for an automatic cover where the cover lives inside the perimeter of the pool is the rectangle shape. So our decision again, was made quite easily.
Pool Shape Decision: Rectangle
Need help choosing your pool shape? This article can help!
What Size Swimming Pool?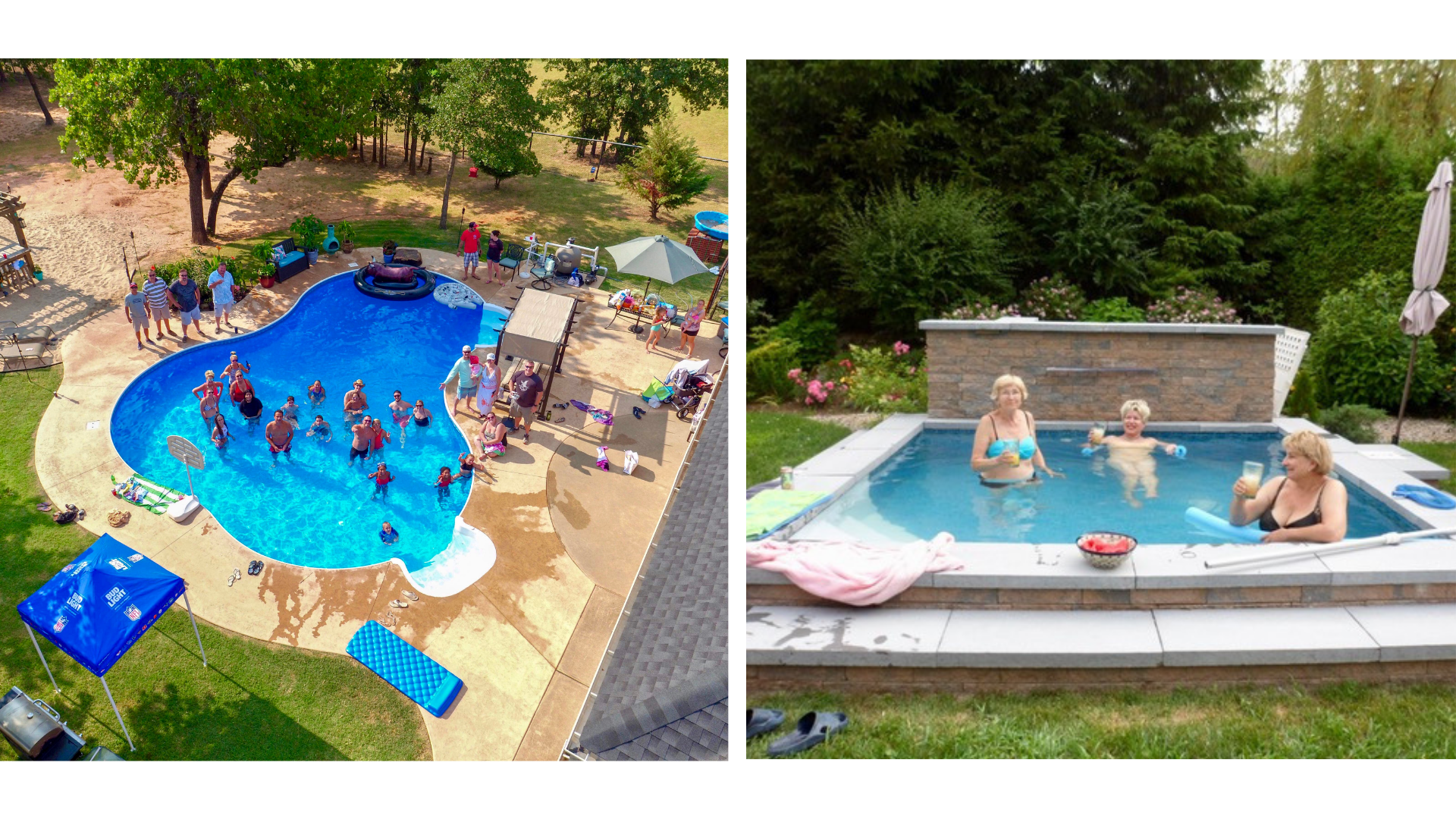 Size ended up being a little trickier to determine. Originally, we had wanted a swimming pool that could support a minimum depth of 8' so we could have a diving board - and the smallest pool we could get with this option would be 16' X 32'. After much discussion we decided that a diving board wasn't something we really wanted after all and that allowed us to opened up our size options.
Our backyard isn't huge, but it isn't small either. We wanted to still have some room for the kids to play, as well as some room for trees and other plantings to help separate our house from the neighbors. Also we have a trampoline and a play structure (this is what life looks like with three young boys!) and we didn't want to have to lose any of those just to have a diving board compatible swimming pool.
After a lot of measuring tape, walking around our backyard, and some internal visualization, we came up with a good idea of what size pool we wanted. In addition to this, we also figured in how much deck space we would need which has to be taken into consideration upfront as well.
This is something I can't stress enough: When you plan your pool, be sure to plan for the deck space as well. Consider how much of your yard you want your "pool area" to take up, and mark that first. Once you've done that, then look to see how much of it you want to reserve for the deck (I suggest erring on the side of too much deck vs. not enough), and then start figuring out where the pool fits in.
Since my wife and I tend to make better decisions together when we can actually see an example, we started out with a roughly-to-scale sketch of the back yard. This allowed us to figure out the basics of where everything would be. (One helpful hint on this, use items like windows, edges of the patio, etc as "landmarks" to get your rough scale closer to accurate).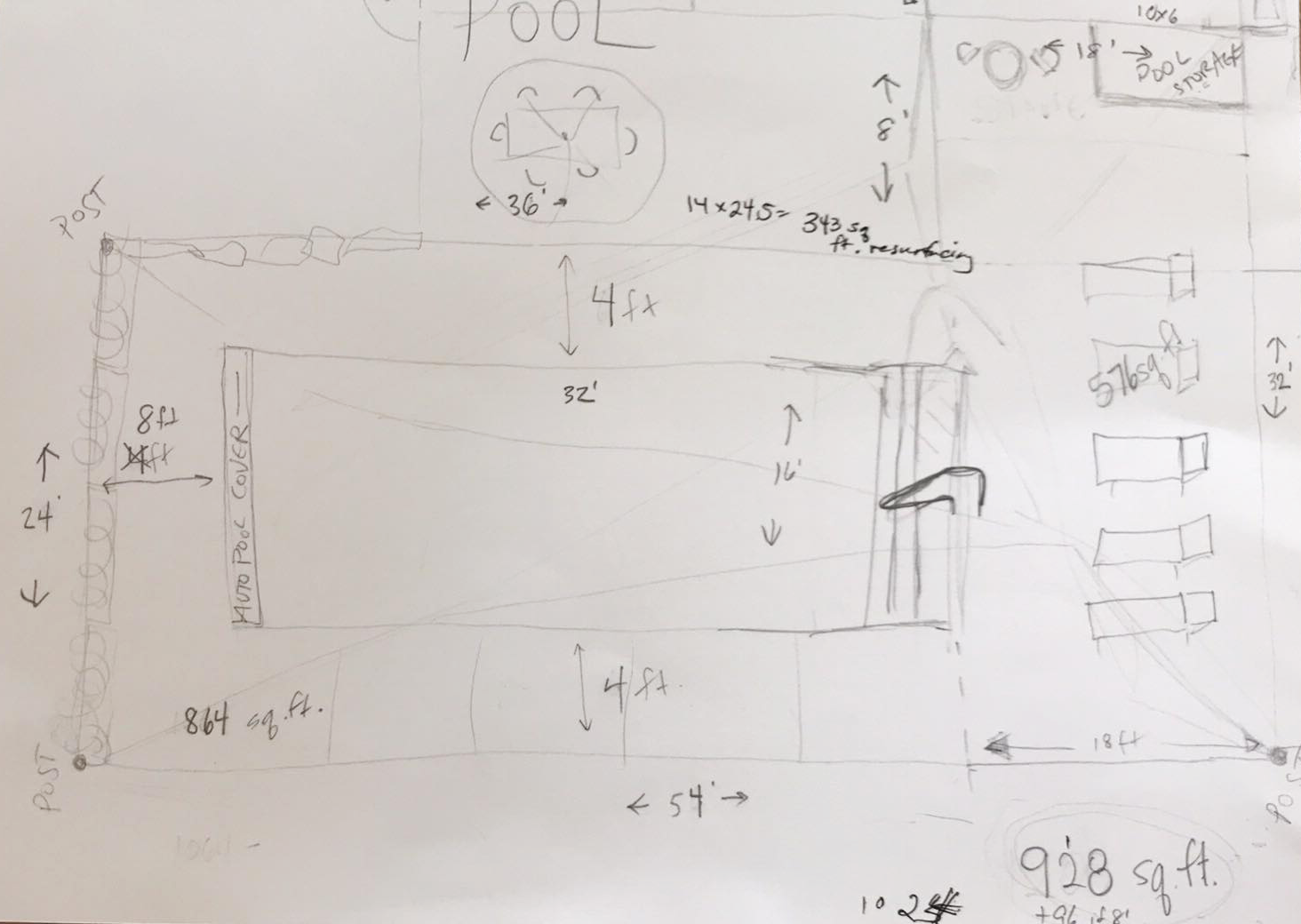 Since we are really visual people, we took this design a step further than I would image most would. Once we thought we had the sizing narrowed down just about right, I went to Google Earth and found the satellite view of my house. I took a screenshot and resized the image to scale so that every 72 pixels equated to six feet, and started drawing again on my computer. After several more iterations, we had what we felt was a good patio design/size for us in terms of both aesthetics and usability. Then we found the pool size that would fit the patio/decking best.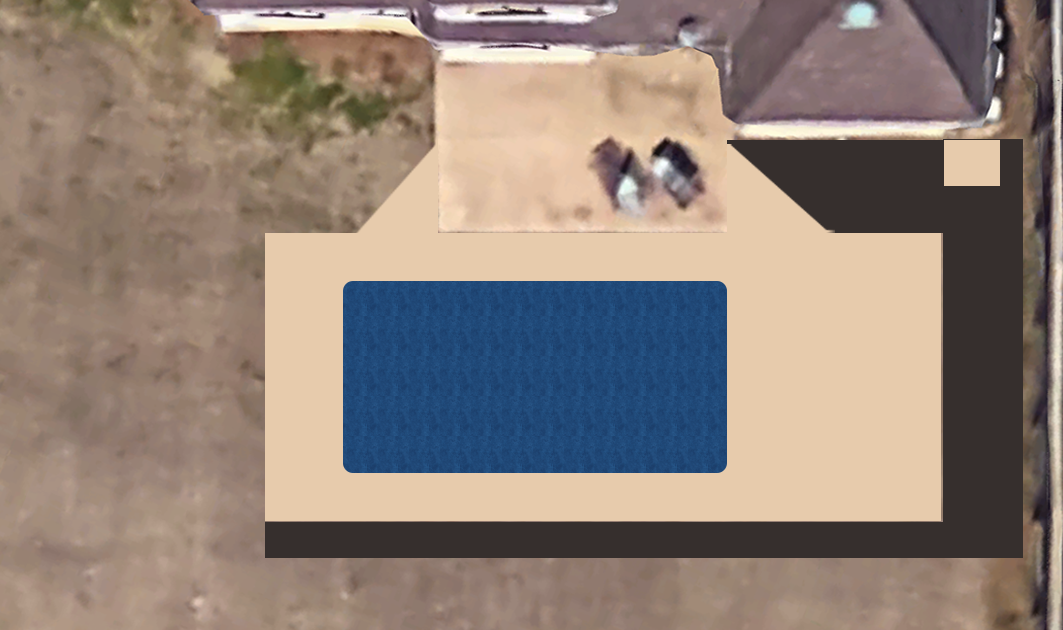 It turned out the 16' X 32' pool was our best match after all. But before making the final decision on size, we went out to the yard and measured off the 16' X 32' space for the swimming pool in real life, just to confirm it would be the right size for our family. Everything looked good from that end as well. Not a huge pool, but not a small pool. Sized just right for our yard (and also appropriately sized compared to other pools in the neighborhood - another question we answered through some Google Earth sleuthing).
Pool Size Decision: 16' x 32'
Need help deciding what size pool is right for you? Check out this helpful article.
Wall Height, Max Depth, Bottom Type and Slope
Now that we knew the general footprint our pool would be taking up in the yard, the next thing we needed to decide was how we wanted to use the actual space. Since we have three boys, ranging in age from five-years-old to twelve-years-old, we wanted to have a pool that could be enjoyed by all of them.
After doing some research, we came to the conclusion that while the deeper water is a fun place for swimming and maybe a few cannonballs, the majority of time spent in the pool is actually spent in the shallower areas where you can stand. This meant we wanted to give a decent amount of space to the shallow area, but also dedicate some space for deeper water (especially since my older kids like to play the games where they swim to the bottom and retrieve rings or other toys).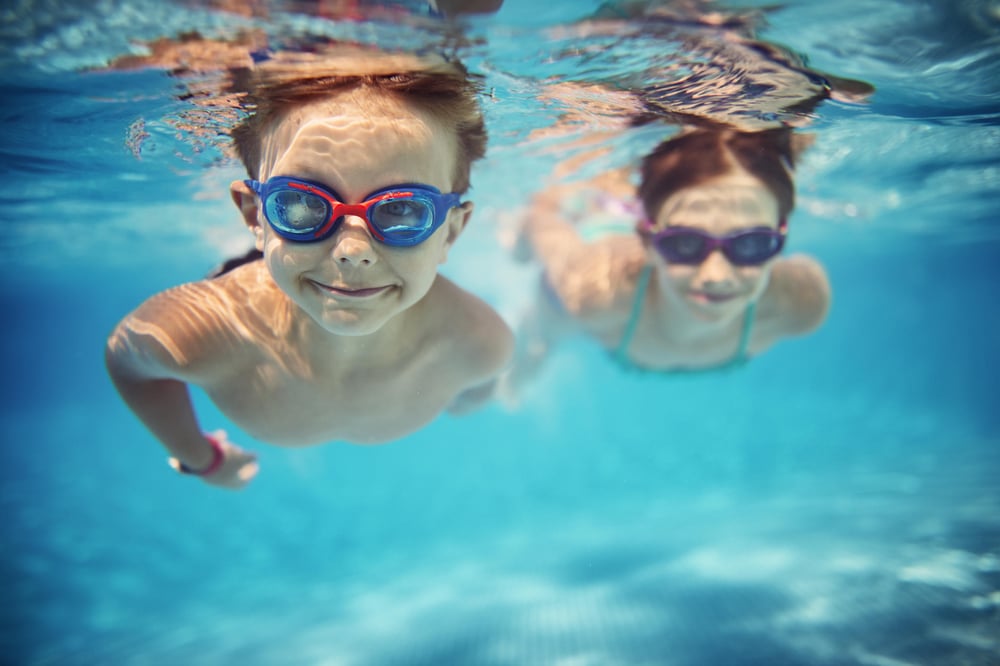 When considering the pool's bottom, there were a lot of choices, however with our goals in mind we knew we wanted to go with a standard bottom pool design; a shallow area, a deep end (called the "hopper"), and a slope connecting the two. Since we had already decided we did not want a diving pool, we kept the deep end to only about 5'8" of water. As for the shallow end, we needed a space where our five-year-old could stand and play. So this meant we didn't want much more than three feet of water on that end so we needed to consider the height of our pool walls.
The key in determining the depth of your shallow end comes down to the selection of your wall height. In the shallow end of the pool, the wall height is generally the max depth of your pool. And since the water line in a pool is about six inches below the top of the wall (to ensure the skimmer works properly, and to avoid getting water trapped between the liner and the pool walls), that means a standard 42" pool wall would give us about 36 inches of water. Perfect for our needs.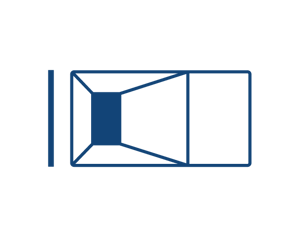 Pool Bottom and Depth Decisions:
Standard Bottom
42" Walls
Wall Material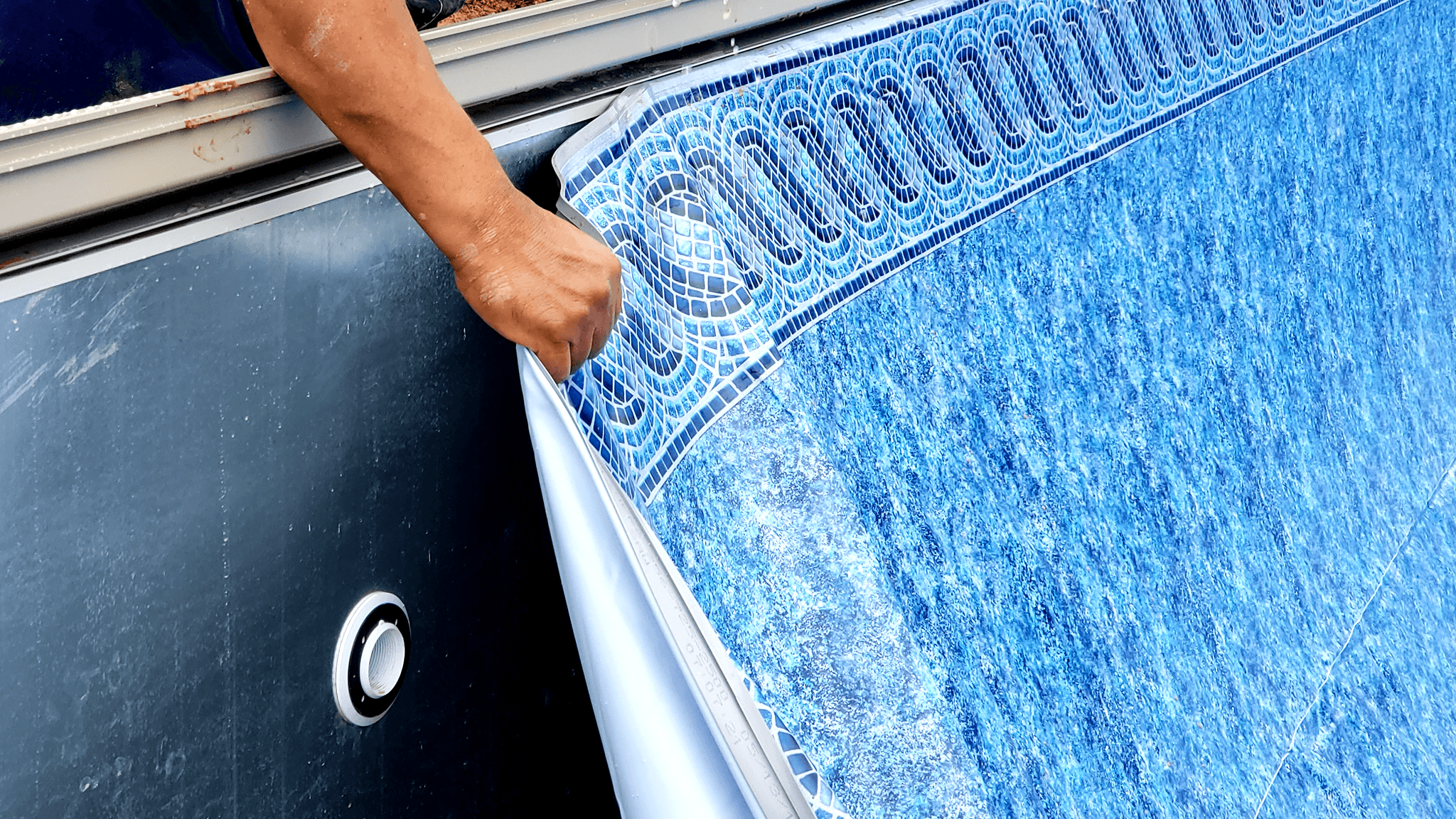 When it comes to choosing the wall material, there are really only two options: galvanized steel or polymer pool walls. Since polymer's primary benefit is that it doesn't corrode when exposed to salt, since we 1.) don't live near the ocean, and 2.) opted not to build a saltwater pool, there wasn't much reason for us to choose polymer.
With the decision to choose steel walls, we did have the option to also choose higher-gauge (thinner) steel for a slightly reduced cost. However, since we really want this pool to last, we went with the 14-gauge option (which is the standard on all Royal Swimming Pool inground pool kits).
Pool Wall Material Decision: 14-Gauge Galvanized Steel
Liner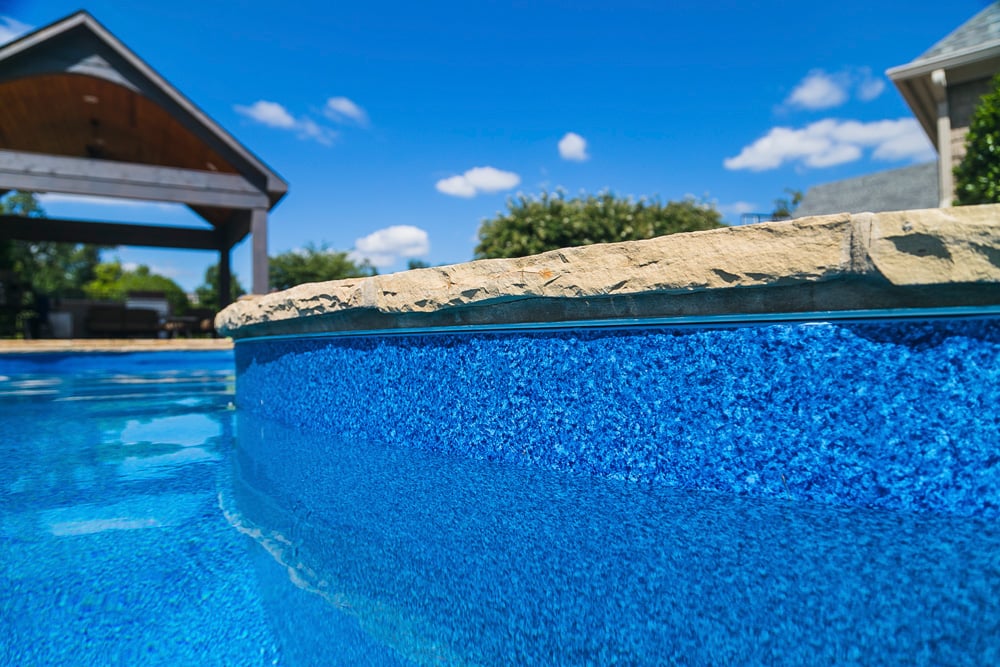 Deciding on the liner really came down to two things: 1.) What did we want the pool to look like and 2.) Which liners were available with "textured" steps (where extra texturing is added to the liner itself to make it more "slip-proof.) We spent a lot of time looking at photos of other pools to first determine what "color" we wanted the pool to be, and came away with a desire for a light blue look. We also looked at reviews of different liner companies as well as who offers texturing in their steps, and narrowed it down to a few patterns we liked. In the end we chose the "Gulf Breeze" pattern from Tara Liners, as it was the color we wanted, had a tile (the pattern that shows up at the waterline) that matched the style and aesthetic we wanted, and was available with Tara Sure Step texturing. Since Tara is well-known for the high quality of their liners and all our needs were met, we were set for our decision.
NOTE: If you end up opted for customer vinyl over steps, consider a pattern without a tile as the end result can appear more seamless.
Decision: Tara Gulf Breeze Liner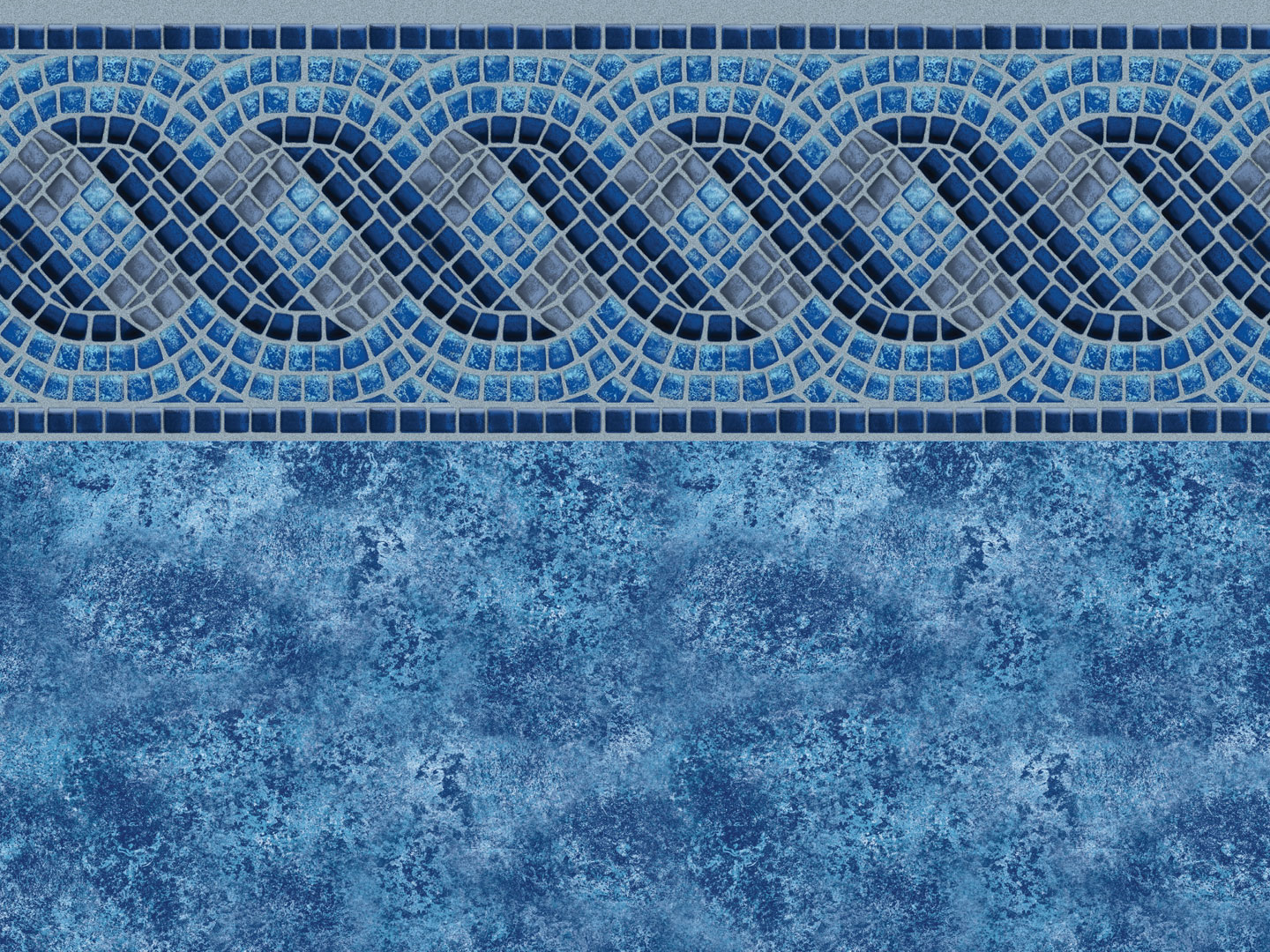 Swimming Pool Cover
We initially considered skipping any pool cover decisions during the initial build as we thought we would just add it later, maybe in the fall once it was needed to closed down the pool in preparation of winter. After a lot of research and discussion, however, we made a big change in our approach to the cover—one that ultimately resulted in some major impacts on the pool design, and we are extremely happy we made the changes we did.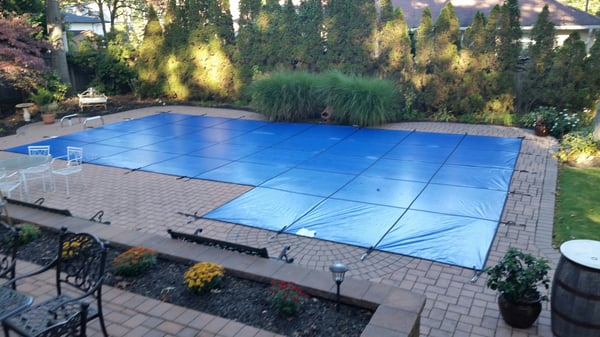 First, some context. We live in a neighborhood, and though we have a fence, you never know who might find their way into the yard. On top of this, we have a five-year-old son who is still learning to swim and he loves to play outside. Our initial plan was to have a safety fence put in around the pool to keep anyone from accidentally falling into the pool. The problem was, fences can be expensive and they're not all that pretty to look at. So, we started to look seriously into our options for daily safety. We discovered there's a lot to love about automatic safety covers.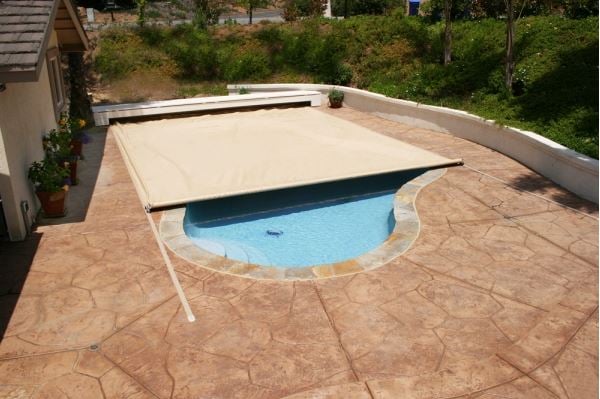 Not only would adding an automatic safety cover allow us to make the yard a much safer place for when the pool wasn't in use, but it turns out that adding an automatic safety cover comes with a slew of additional benefits. Since we didn't have the room in our budget to add a heater during the initial install, one of the immediate benefits we'd experience by adding a daily use cover would be that we could keep the pool from cooling off at night simply by closing the cover. (The cover helps stop evaporation, which is a major cause for water temperature drop).
UPDATE: We have opted to leave the cover open a night or two during our hot Mississippi summers as the pool can become almost too warm, and this is without a heater! It's been wonderful being able to extend our swim season due to warmer water.
On top of this, a having a cover over the pool when it's not in use also helps reduce the need to add additional chemicals to the pool, since the cover stops evaporation as well as sunlight. (Did you know that just two hours of sunlight on a pool can degrade your chlorine by almost 90%?) <-- Kind of insane.
Yet another bonus, an automatic safety cover helps keep dirt, leaves and other contaminants out of the pool, which helps reduce the amount of time and money spent just keeping the pool clean. Instead of skimming the top of the water prior to your dip, all you have to do is open up the cover and your clear, warm water is there waiting for you.
Putting all these benefits together, and comparing them to the costs of a cover just for winter, a safety fence for the swimming season, and the additional chemicals we would end up using... adding an automatic safety cover was a no-brainer!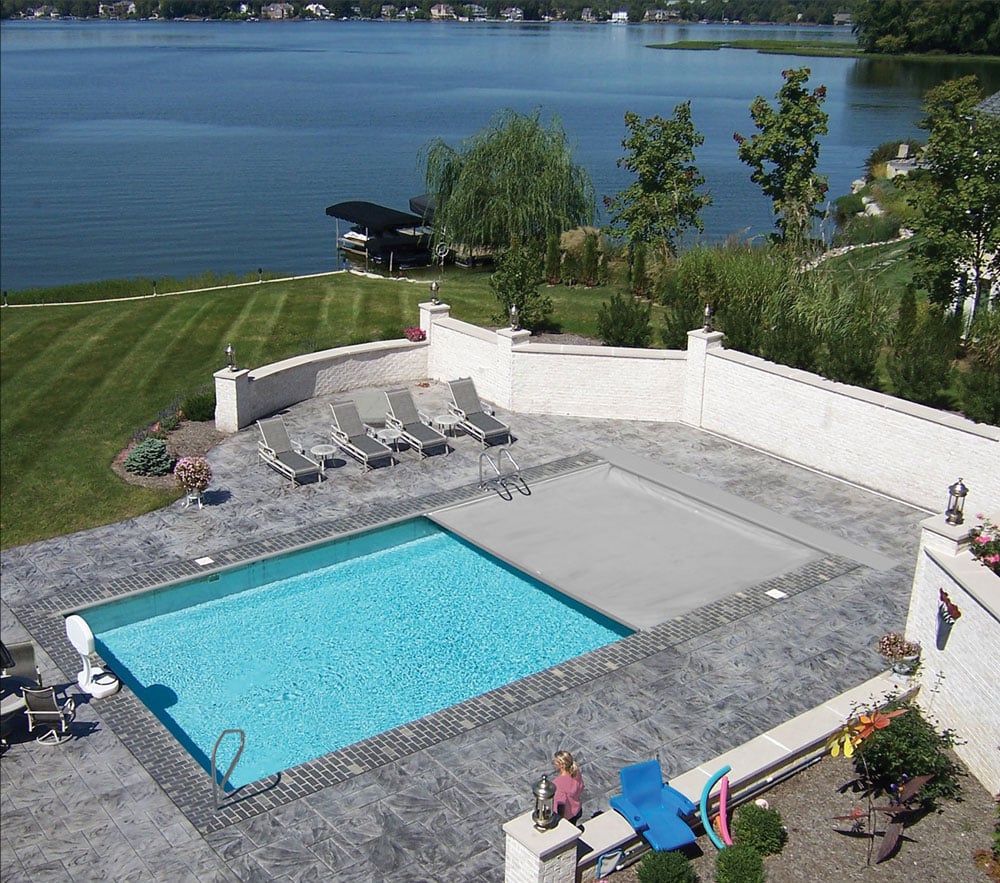 All we had to decide on once we'd made that decision was if we wanted to have the cover be part of the pool and what color we wanted. Since our goal was to keep the pool design as clean as possible, we opted for the under-coping built-in automatic cover in charcoal.
Decision: Built-In Automatic Safety Cover in Charcoal
Helpful links:
Entry Steps + Handrail
Before building our swimming pool, we spent a lot of time looking at photos of other pools to get an idea of the style we wanted. One of the looks that we kept coming back to was ones with "vinyl over" steps, instead of the plastic drop-in variety. While they can cost a bit more than using the premade steps, we wanted to have a large entrance that felt like part of the pool, and matched the rest of the pool as well. So, given our preference for this look, along with the fact that we knew we wanted to have an automatic cover (which meant we couldn't add on an external side entrance), we decided to go with full-width vinyl-over stairs in the shallow end.
One option we did consider was to add a sun ledge on the second step, which would have given us an extra area where we could put in lounge chairs and be "in the water" but not really in the water. This is also a popular choice for folks with younger children as it provides an even shallower area of play. However, we ultimately decided against this add-on as we wanted to reserve that extra space for more swimming area.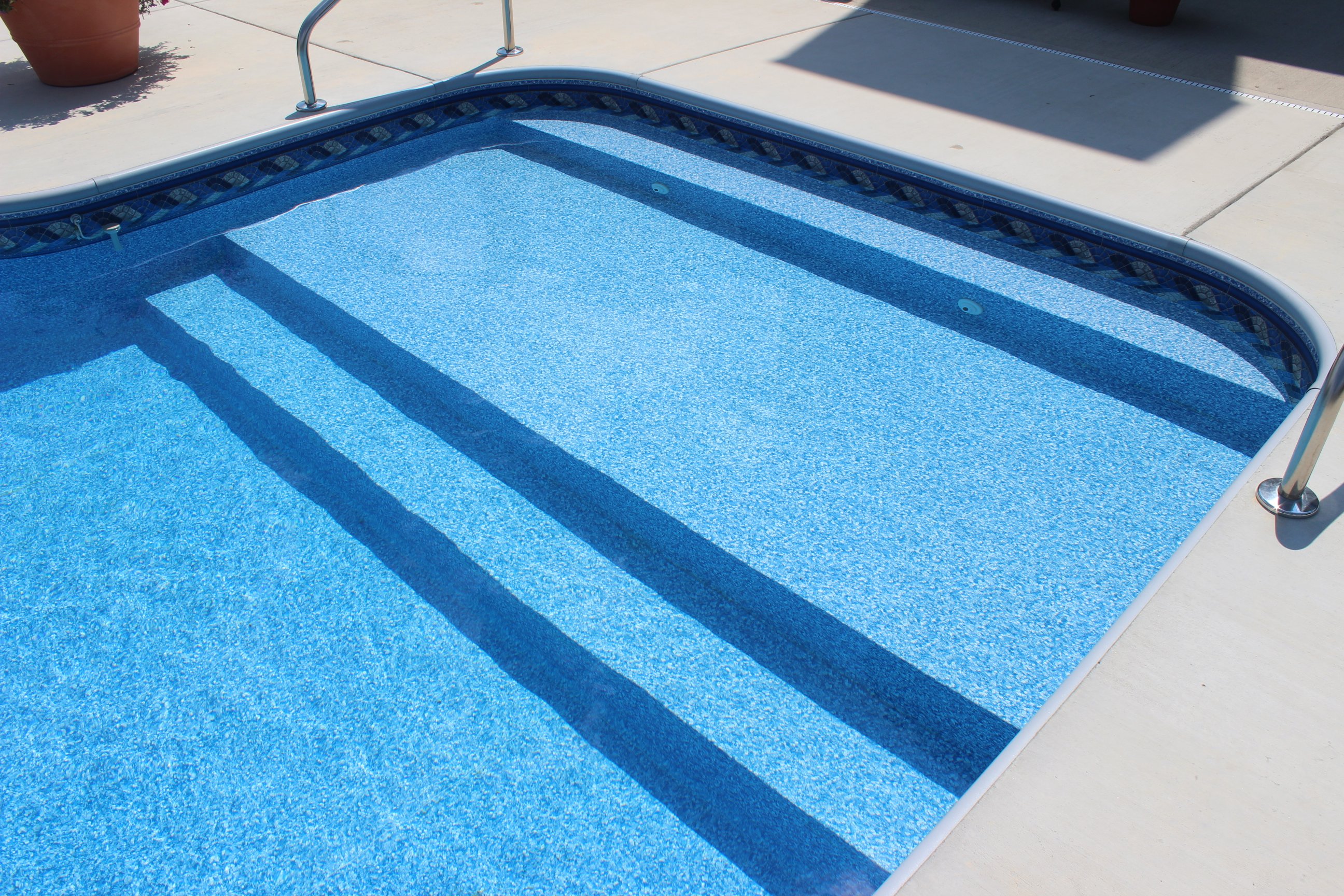 To keep with the clean look of the pool, we also opted for just one single handrail centered on the steps. This would help people be able to get in and out of the pool, but not be too intrusive in the overall design. Plus, by centering the handrail it added a slight addition of symmetry to the design, effectively splitting the pool into two visual halves at the entrance.
For the rail itself we chose a rail manufactured by the company Saftron, featuring their graphite gray coating. With the coating, not only are we are less likely to experience any sort of corrosion, but the coating also features a "cool-touch" technology that keeps the rail from getting hot. This allowed us to have a darker-color hand rail out in the heat of the Mississippi sun and not have to worry about anyone potentially burning their hand when they grab on to get in or out of the pool.
Note that we decided against adding an exit in the deep end. With the automatic cover, standard ladders get in the way of opening and closing unless you manually take them in and out. With our goal to keep the design clean, adding in the inset ladder panels would have taken away from the look we wanted. Since the pool is fairly small, we decided to have the only entrance in and out be the shallow end. After a few months of using the pool, we're happy with this decision.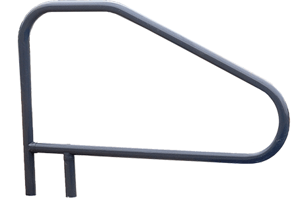 Entry and Handrail Decisions:
Full-width vinyl-over steps
No deep-end exit
Lighting + Extra Features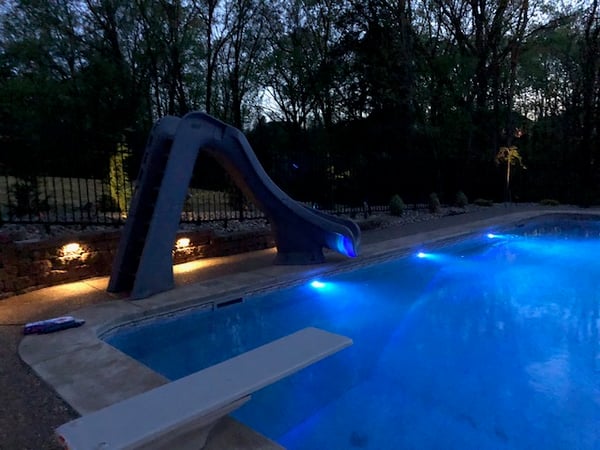 We love how swimming pools look at night. Especially when they are able to "glow" as a centerpiece in the dark. To accomplish this, we knew we would need to have evenly distributed light, which meant adding several lights throughout the length of the pool. None of these needed to be overly bright, especially since our deep end isn't all that deep, and we also wanted them to be as energy efficient as possible. This led us to look at some of the smaller LED light options.
After researching further, we came to the conclusion that three Pentair microbrite LEDs would do the job of illuminating the pool with the effect we wanted. Then it was just a question of which models and where to put them. Since we're fans of adjusting ambiance through light color, we chose the Microbrites that allow for custom color programming. And since we also didn't want to have any of the lights shining directly in our eyes while we were in our house or in our main seating area, we put the lights along the side nearest to the house, pointing away from us.
Lighting Decisions:
3 Pentair Microbrite Programmable Color LEDs
(note: Not available for individual purchase. Available in pool kits only.)

Pump and Filtration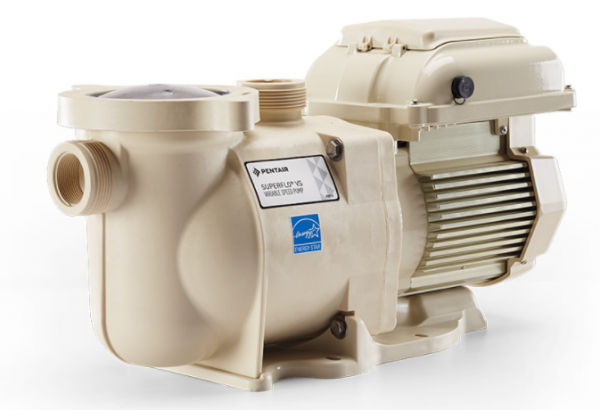 As mentioned in the discussion about our lighting, energy-efficiency was an important factor in most of our decisions on our pool. For this simple reason, we knew we wanted to use a variable speed pump. These pumps are able to run at different speeds on a preset schedule, allowing for all the required water turnover in the pool through the filtration system, but also don't have to run at full speed all the time. Not only that, but they are extremely quiet when running at low speeds, which was another deciding factor. We want our pool are to be calm and relaxing, and that includes reducing any unwanted sources of noise.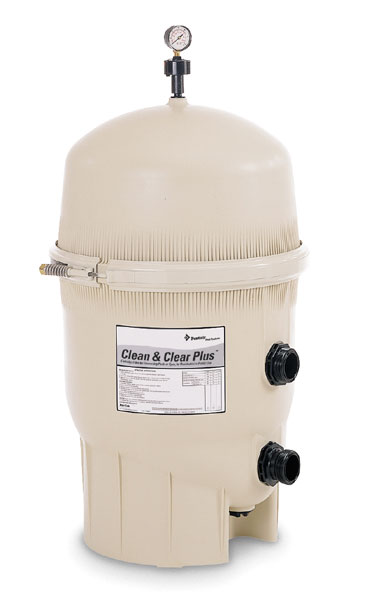 After looking at many different options, we finally decided on the Pentair SuperFlo VS.
The choice of which type of filtration system we wanted was a fairly simple one to make. As the previous owner of several home aquariums, I was familiar with cartridge filtration systems and had seen strong performance from them in that type of environment. The cartridge systems have not only always done an excellent job in keeping water clean, but maintenance on them is straightforward. Just remove the cartridge every once in a while and rinse it off. No backwashing, no replacing sand, or any of that.
As we wanted to keep our pump and filter the same brand and large enough for our pool (without requiring us to clean the filter cartridges too often), we chose the Pentair Clean & Clear 320 filter.
Decisions:
Helpful Links:
Sanitation System: Traditional Chlorine, Saltwater or Mineral?
This is an area we went back and forth on a few times, and for a short time had decided to use a saltwater system. One reason for the initial decision to add a saltwater system was to avoid the up and down "seesaw" effect that manually adding chlorine can cause to your chlorine levels. Plus it would be much easier to have a system that automatically creates chlorine as needed than to add it by hand. The other reason was because some members of our family have sensitive skin, we wanted to have lower levels of chlorine in the pool.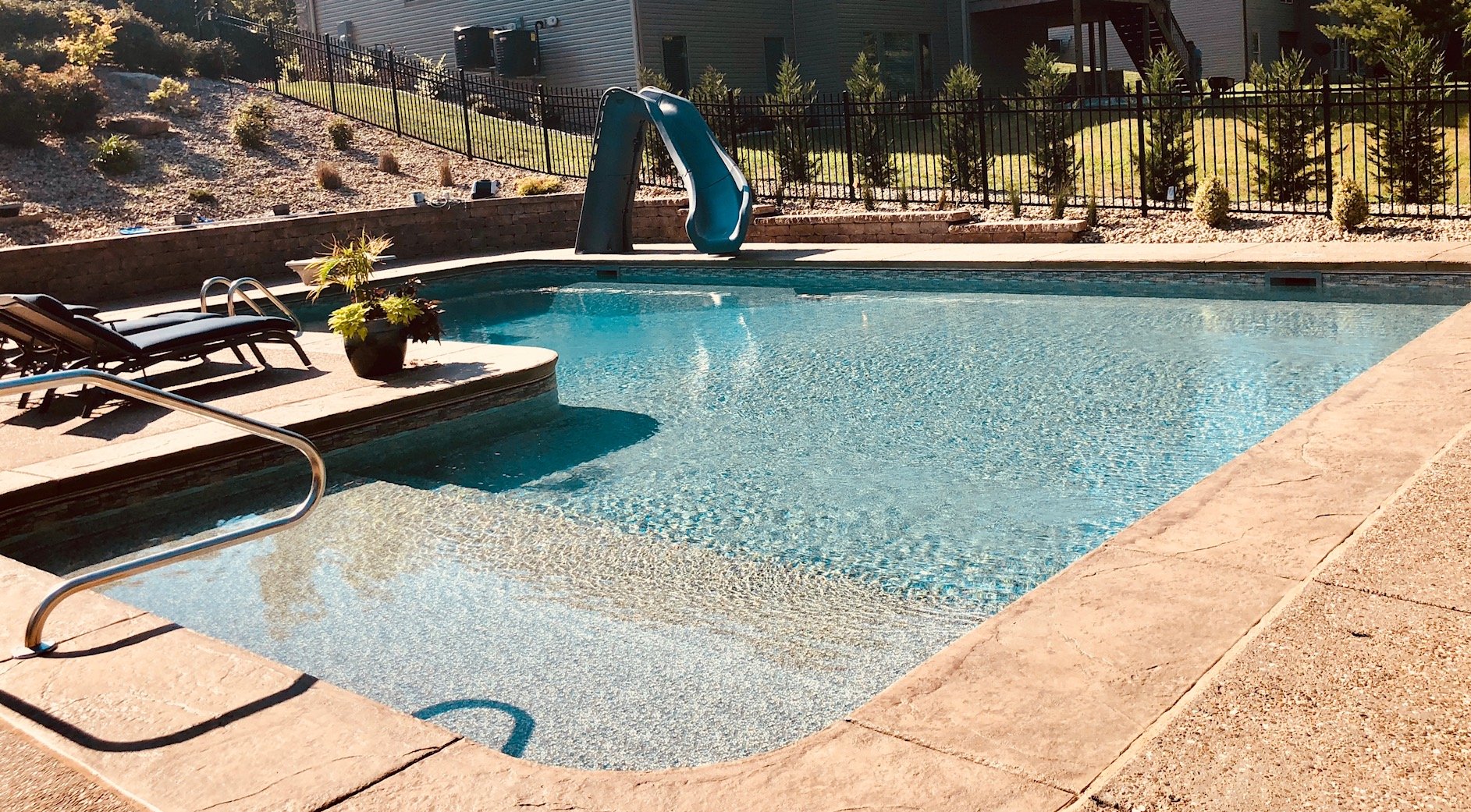 The problem is, a saltwater system doesn't actually reduce the amount of chlorine in the water. It just creates it automatically and by doing so keeps it from spiking or dipping. This wouldn't help us achieve our goal of a lower base chlorine level ... but a mineral system would. Since a mineral system uses a combination of chlorine and minerals to fight bacteria, the recommended chlorine level is only about 0.5- 1.0 ppm vs the 1-3ppm that are recommended on traditional chlorine or saltwater pools. Then it was as simple as finding a mineral system that has its own integrated in-line chlorinator (so we don't have to manually add the chlorine - it's just added automatically through the filtration system) and we were set.
While multiple options exist, we decided on a FROG mineral system. In particular we chose the Frog XL Pro as it has two separate canisters: one for their mineral pack and another for their large chlorine "bac packs." While the larger "bac packs" allow for installation in much larger pools (up to 40,000 gallons - or twice the size of our pool) they also can just be set to lower chlorination setting and last longer. This meant that all we'd have to do is get one new mineral pack per season, and only replace our chlorine packs once every few weeks. Nice, low maintenance, with clear, sanitized water, and much less of the sensitive-skin side-effects of traditional chlorine!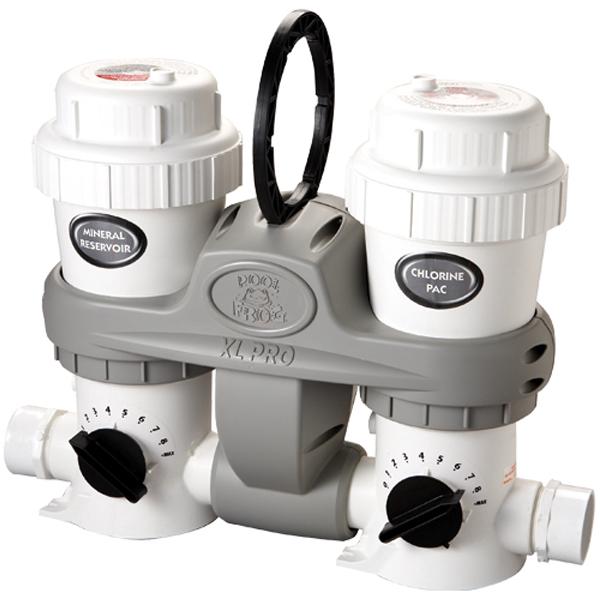 Helpful Links:
Automation and Timers
Pools today are much like modern homes, in that a large variety of automation options are available to make pool maintenance easy. For our build, however, we chose not to add any of automation systems—in part because we were not using a salt cell system, which usually requires an external controller. The Pentair Superflo VS pump we chose is programmable on its own, and the Frog XL has a kind of "set it and forget it" continual chlorination system (with no electrical components whatsoever). As for the automatic cover, those have to be manually opened and closed by pressing a button or entering a code so as to ensure you don't accidentally trap someone in the pool.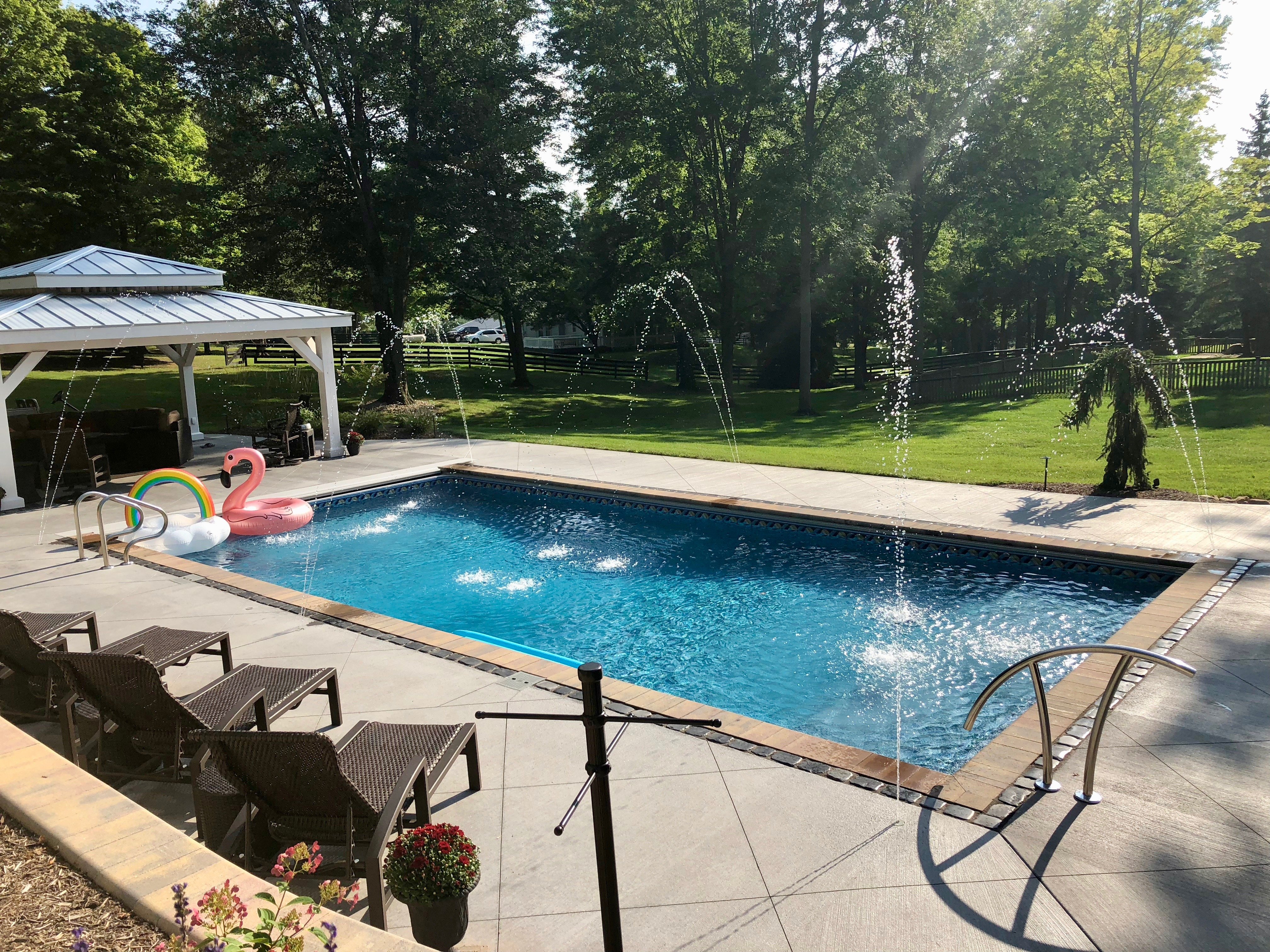 This meant the only electrical component on the pool that we would want to automate would be the lights. And although there are multiple different light controller options available, we already knew we would likely stick with just one light setting as our primary display, so we chose not to add on an external light controller. (You can choose which color display you want on the Microbrites also by just flipping the on/off switch a preset number of times, and it keeps track of whatever your last setting was if you turn it off and then back on a few hours later). This meant we only needed to add an external timer for the lights, as we did want them to turn on and off every night. So for this we simply added an outdoor timer and planned on having our electrician wire it between the circuit box and the switch, then we could set it to turn on and off whenever we want. Plus it has a manual override option if we wanted to turn the lights on or off outside of the preset schedule.
Automation and Timers Decisions:
Built-in programming on the SuperFlo VS Pump
Helpful Links:
Final Pool Design
With everything chosen, we finally had a pool design that matched what we wanted. Next up was using the Inground Pool Kit Builder on the Royal Swimming Pools website and selecting each of the different options. Once we had that together, we submitted a request for a quote through the website's "lock in this price" tool, and waited while the design and engineering teams at Royal Swimming Pools went through everything we chose to ensure all our choices were compatible with one another to build exactly the pool we wanted. This also allowed them to quote any customer items we chose versus stock options.

Soon after submitting our quote request, we received a confirmation email that the pool choices would work together, along with a thorough breakdown of all the parts that would be included if or when we completed the order.
This in hand, we were ready to figure out how we would build this and what building option would be best for us to end up with a quality-built pool, within our budget.
Now ... Who Will Build the Pool?
Now that we had the pool all designed, we needed to figure out how we were going to build it ... and how that would fit into our overall budget. While we've done quite a bit of DIY projects ourselves over the years, building a swimming pool was a bit outside of our comfort zone. So we started looking into options as to who could help us make our dream pool a reality.
We'll dive into how we decided just how to get the pool built in the next article.
Additional resources for your pool buying journey: