There's some really specific information that's needed to be able to give a safety cover quote accurately. Part of the reason is to make sure that 1. you receive the correct KIND of safety cover that is best for your specific pool and 2. to ensure that your cover actually fits your pool properly.
An ill fitting safety cover is not safe. Period. So you have to account for special features around your pool when doing your measurements.

Here are a few questions that will be asked:
What shape is your pool?
What size is your pool? (longest by widest points)
Does your step extend out from your pool?
Do you have at least 3 inches of concrete/decking all the way around your pool perimeter?
Do you have any non removable obstructions within 12-18 inches from your pool's edge? I.e.

Offset or irregular steps that the cover would need to go over
Water features such as waterfalls
Built-in hot tubs or spas next to your pool boundary
Non-removable ladders, slides, or railings
Diving boards with the base within 12' of the pool's edge

Do you prefer mesh or solid material?

If mesh, what grade of mesh?
If solid, with a drain panel or cover pump?

And finally if you need standard or custom safety cover? Some of your above answers may help you answer this question as well.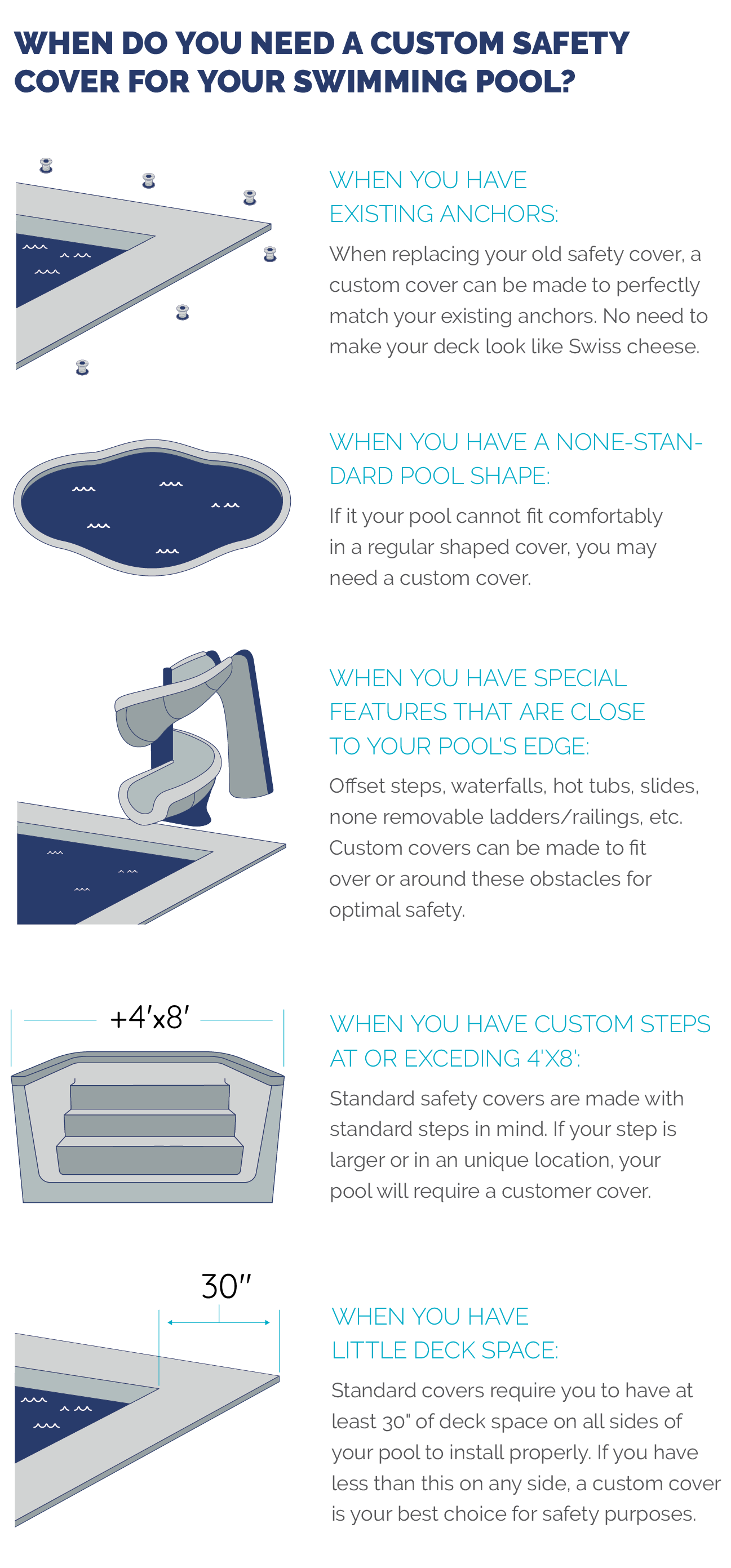 Looking to replace an existing cover? No Problem! We can make that easy too.
Depending on the answers to those questions, we can give you a quote or we may need you to fill out the custom safety cover quote form. You can find the correct form needed here.
If you have any questions the team at Royal Swimming Pools will be more than happy to assist you.
Also, here are additional resources for Swimming Pool Covers: