Main drains and skimmers are used to help filter the water in your swimming pool. The two main drains, if you have them, should be located in the deepest section of your swimming pool about three feet apart. Skimmers are located on the swimming pool wall.
If you have a prevailing wind in your area, you will want at least one skimmer on a wall opposite from the prevailing wind.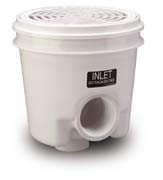 Main drains are not required in an inground swimming pool, however, they are strongly recommended and can be extremely useful in some circumstances.
The advantages of main drains are to give you the ability to drain the water from your pool without the use of a sump pump. This is useful when replacing your pool liner. Main drains are also helpful in the filtering of water and dirt from the bottom of the pool.
If you choose not to put two main drains in your swimming pool, you are required to have two skimmers.
You might ask "Why am I required to have two?" The answer to this question is two-fold. First, there is the Virginia Graeme Baker Safety Act which requires two suction points in your pool for safety vacuum release reasons.

The second reason is simply in order to provide your pump with plenty of water. In addition to providing the pump with more water, having two skimmers will help circulate and filtrate your swimming pool water. The baskets located in your skimmers will catch leaves, small twigs, bugs, and other debris.
Can't get enough? Here are some additional resources you may find helpful!