Before you can add water to your above-ground swimming pool, first you'll need to make sure your liner is installed properly. These steps outline how to properly install an above ground pool liner, on both new and existing above ground swimming pools.
The below information covers basic installation instructions. We have broken out thorough liner installation instructions based on the liner's installation style. You can click the links below to go to the most up-to-date and thorough pages on installing your specific liner type.
First, complete the steps for your pool kit assembly up to the liner installation step. You may need to install some of the top rails for stability of the pool wall, especially on a windy day. Next use the plastic coping strips to hold the overlap liner in place. The JBD liner has the plastic coping strip made into the liner so you will skip the next step of these instructions for a JBD liner. For detailed Unibead liner instructions, click here.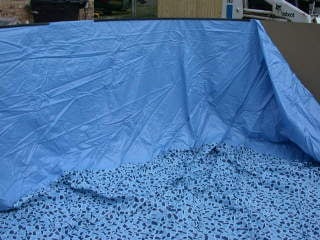 For flat bottom pools and up to 5' deep in the middle pools, measure 6" to 12" of liner to overlap the top of the pool wall. Cutting a piece of coping works great for measuring the liner evenly around the pool. For 6' deep on one side pools, the liner will overlap more on the shallow end of the pool than on the deeper end of the pool.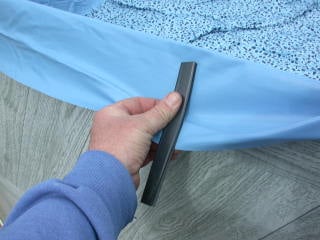 Reinstall the pool top rails as per the manufacturer's instructions. Then insert a shop-vac hose into the skimmer opening approximately 2' down toward the bottom. The suction opening of the hose will be 6" to 12" above the cove area. Turn on the shop-vac watching the liner closely. All the air will begin to be sucked out from between the liner and the pool wall after the shop-vac runs a few minutes. If the liner is too loose you will have wrinkles in the liner. If the liner is too tight there will be too much space between the liner and the pool wall. If necessary turn off the shop-vac and make adjustments to the liner by removing the top rail and increasing or decreasing the liner overlap as needed.
DO NOT ADD WATER UNTIL THE LINER FITS PROPERLY.
Make sure the shop-vac hose is not too close to the sand cove because the vac will suck out the sand pool cove. Begin filling the pool with the shop-vac running. Do not turn off the shop-vac until the entire pool floor is covered with water.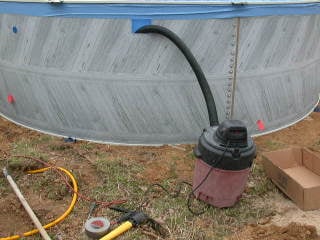 Can't get enough? Here are some additional articles we think you'll find helpful.