Whether you're building a pool for the very first time (congrats!) or you're the designing the custom built pool you've been waiting a lifetime for, there's no business quite like pool business. That's because when it comes to the wear and tear (and hundreds upon hundreds of hours you'll enjoy your pool over the years) everything needs to be just right.
Which will it be—a steel or polymer pool kit?
To determine which one best matches your needs, we've broken them down so you can determine the perfect one for your pool.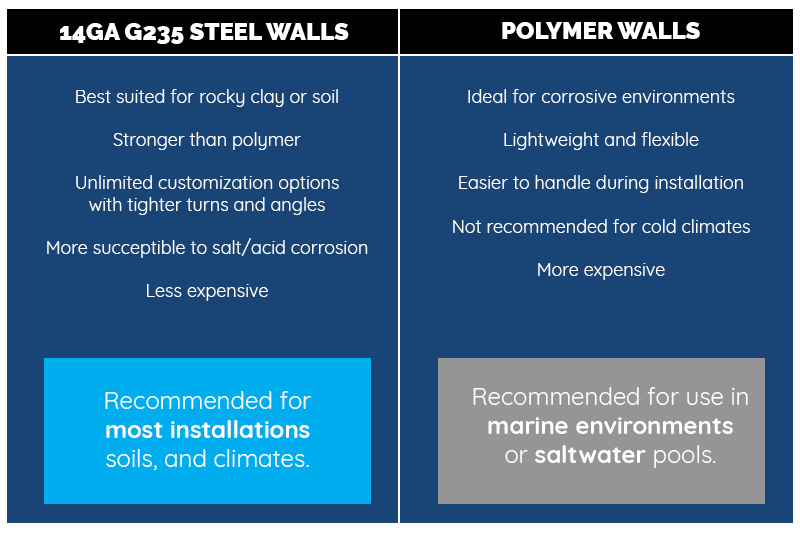 The Skinny on Steel Pool Kits
One of the benefits of choosing a steel pool kit is that the steel panels are stronger than the polymer panels, and more compatible with rocky clay or soil. Choosing a steel pool kit from Royal Swimming Pools ensures you that you are getting Northern America manufactured panels—which means they are built to be durable and as sturdy as they come.
As the stronger of the two, choosing a steel kit means that you'll only need to worry about installing extra support if you're planning on building your pool along a hillside. Otherwise, steel will be strong enough to do its job, as well as being customizable to fulfill your additional needs!
The Low Down on Polymer Pool Kits
By choosing the polymer pool kit for your pool, you're choosing a lighter material. Polymer is often used in corrosive environments, such as salt water pools, areas with acidic soil, and on or near coast lines. It is not used in rocky areas, or areas with expansive clay.
One of the greatest benefits of polymer pool kits is their lightweight nature, which means that they're relatively easy to install, and offer a high resistance to most types of underground deterioration. Their panels are also impressively strong, thanks to the extensive research and engineering that backs it up.
Improve the comfort and convenience of your home by choosing the right customized pool for your needs—and it starts with the right pool kit! A knowledgeable team member at Royal Swimming Pools is ready to point you in the right direction.