Which will it be—a steel or polymer pool kit? This is one of the main decisions you'll need to make in designing your swimming pool, as the walls make up your pool's primary structure. They're the part that gets buried in the ground and holds the entire thing in place, which means choosing the right one for your project will be key in ensuring a long lifetime for your pool.
To determine which one best matches your needs, we've broken them down so you can determine which is right for you and your new pool.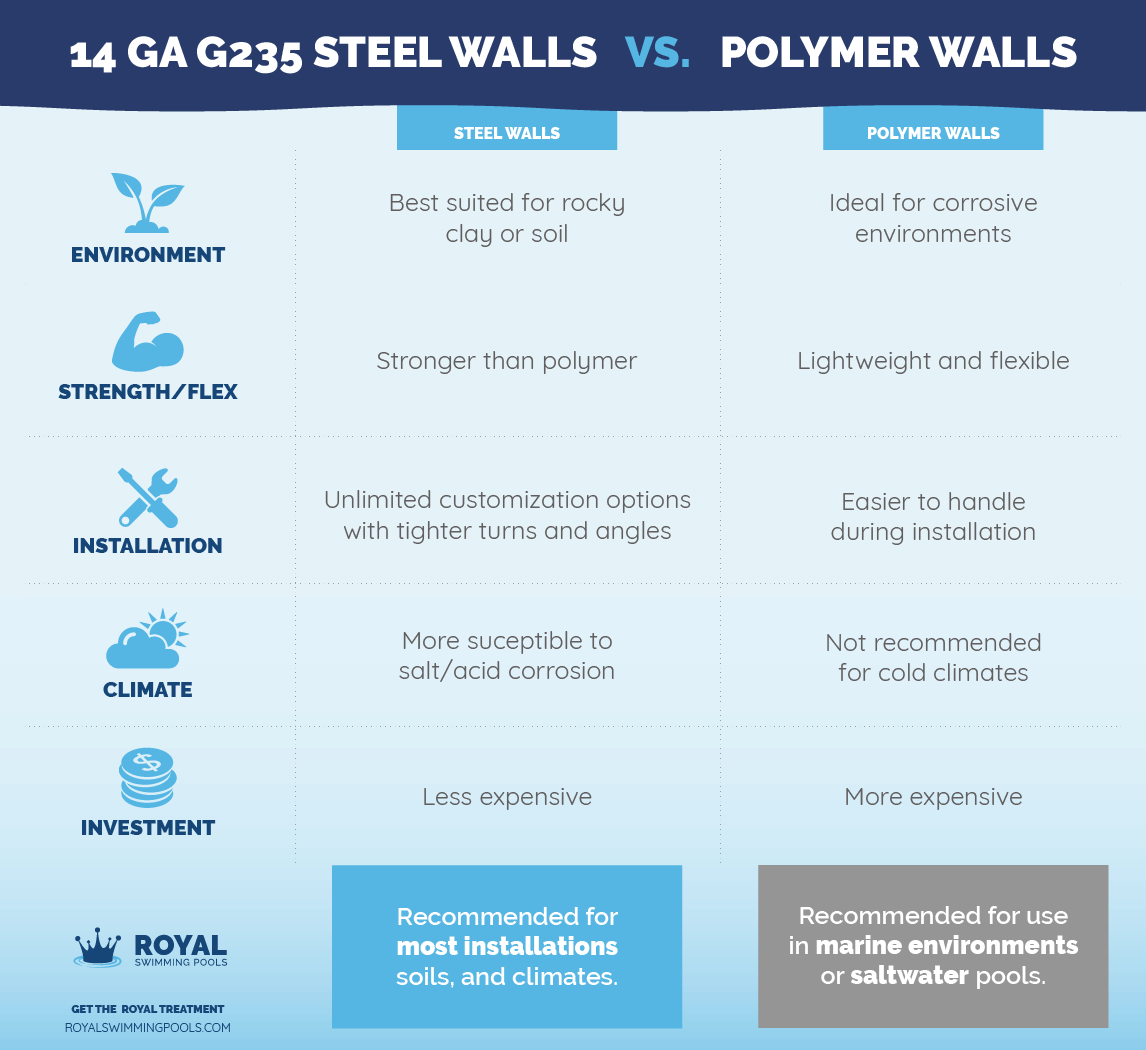 The Skinny on Steel Pool Kits
One of the benefits of choosing a steel pool kit is that the steel panels are stronger than the polymer panels, and more compatible with rocky clay or soil. Choosing a steel pool kit from Royal Swimming Pools ensures you that you are getting Northern America manufactured panels—which means they are built to be durable and as sturdy as they come.
As the stronger of the two, choosing a steel kit means that you'll only need to worry about installing extra support if you're planning on building your pool along a hillside. Otherwise, steel will be strong enough to do its job, as well as being customizable to fulfill your additional needs!
A Quick Breakdown of Steel Swimming Pool Walls:
Best suited for rocky clay or soil

Stronger than polymer

Unlimited customization options with tighter turns and angles

More susceptible to salt/acid corrosion

Less expensive than polymer
Steel panels are recommended for most installations soils and climates.
Don't Compromise on Quality!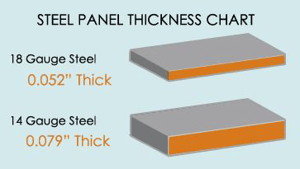 14 Gauge North American steel is the standard option on ALL Royal Swimming Pools steel swimming pool kits. The steel goes through a premium G235 Zinc Galvanization process to ensure it resists all the elements.
You're putting a permanent structure in the ground, so don't compromise with a thin 18 gauge steel pool kit (like you might get from the other guys) when they are nearly 35% thinner than an Industry Standard 14 gauge steel panel.
---
The Low-Down on Polymer Pool Kits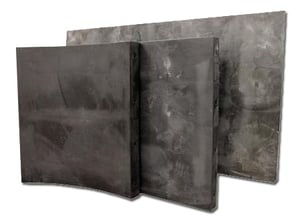 By choosing the polymer pool kit for your pool, you're choosing a lighter material. Polymer is often used in corrosive environments, such as salt water pools, areas with acidic soil, and on or near coast lines, as they offer a high resistance to most types of underground deterioration. It is not, however, recommended for use in rocky areas, or areas with expansive clay.
Polymer is also not recommended for use in climates where you may experience substantial ground freeze, as these panels are less able to withstand the shifting pressure exerted by expansion of freezing soil.
If you're planning on installing your pool by yourself or with a minimal team, one additional benefits of polymer pool kits is their lightweight nature. This means that they're relatively easy to maneuver and install, compared to the more heavy-weight option of steel.a
A Quick Breakdown of Polymer Swimming Pool Walls:
Ideal for corrosive environments
Lightweight and flexible
Easier to handle during installation
Not recommended for cold climates
More expensive than steel
Polymer pool kits are recommended for saltwater pools, acidic soil and marine environments.
---
Improve the comfort and convenience of your home by choosing the right customized pool for your needs—and it starts with the right pool kit! A knowledgeable team member at Royal Swimming Pools is ready to point you in the right direction.