So, you've decided you want a swimming pool, but you're not quite sure how to go about actually getting one?
This guide will give you some basics on things to know up front and tips to help ensure your pool buying experience goes swimmingly. There are a lot of things to look at, and taking the time to consider them now can help out a lot in the long run. For example, you don't want to purchase a swimming pool kit, only to find out local codes, or the space you have will not allow you to install that size pool in your yard.
We'll help make sure you're buying with confidence, starting now.
First, if you haven't checked into the permits you need or decided on the size and shape of the pool, we strongly suggest you start with this article here.
CHOOSING YOUR POOL ONLINE
Visit our website and navigate to the Above Ground pools. There are a number of ways to get to these pools from our homepage or you can use the big blue button below.
Filtering Pool Models
Once on the above ground page you'll be able to sort the models shown by shape, size, saltwater, or semi-inground. If you want a saltwater friendly semi-inground pool, select both options to see those models.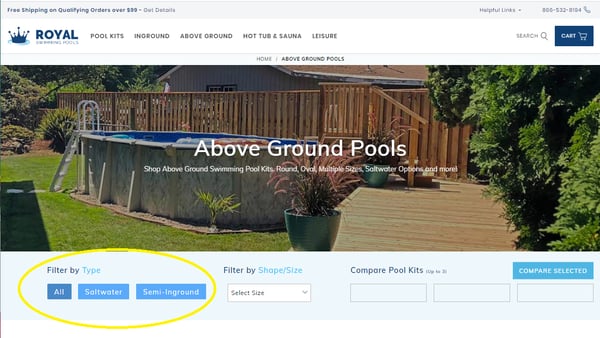 Comparing Pool Models
You don't have to use the filtering tools if you're more concerned with just finding a pool model that meets the look you were hoping for.