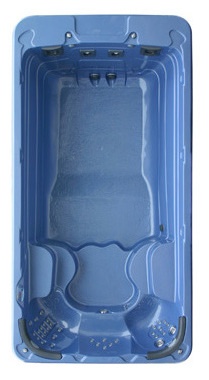 A Swim Spa is like a pool and spa combined into one machine that allows you to swim in place against water current.
Swim spas are the best swimming exercise work out with the least amount of space needed which is great for the people that have a zero lot line or little space for an inground swimming pool.
Swim Spas have became much more popular in the last few years because of its reasonable cost compared to an inground pool and lots of people who want to purchase a Hot Tub Spa are now purchasing a Swim Spa because it combines the best of both worlds.
A Swim Spa is like have a small inground swimming pool. You can play around with the kids or you can turn the spa jets for relaxation after a hard day at work.
Self-Contained Portable Swim Spa:
Portable Swim Spas are fast becoming the most popular style of Swim Spas because of the ease of installation they don't require must to start using them just electrical, water, and chemicals. Portable Swim Spas do not have to be permanently installed and can be moved from location to location in a yard and can be taken with you when you move.
Inground Acrylic Swim Spa
Most Inground Swim Spas are made like a Hot Tub Spa molded out of acrylic. Installation is similar to an inground swimming pool where the pumps, filter, heater, and all other equipment can be located wherever you choose and the Swim Spa can be installed into deck and landscape around it anyway you like.
Inground Vinyl Swim Spas
Inground Vinyl Swim Spa is basically an Inground Swimming Pool with the added benefit of the Badu swim jets that allows you to swim continuously against water current for endless swimming. You will never hit the wall or have to turn around to continue to swim laps like in a swimming pool.