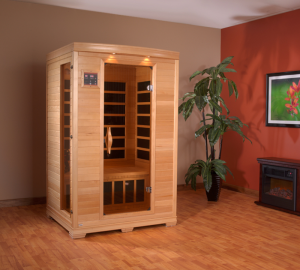 Many parts of the country have experienced winter's sting early on this year, with temperatures plummeting to record lows, deep freezes, and snowfall having already taken place in October and November. While the first official day of winter does not fall until December 21st, this onset of cooler weather often times includes the additional onset of sickness such as cold and flu. Along with these comes the hustle and bustle of the holiday season—both Thanksgiving and Christmas—which can overwhelm a person, creating stress. Though there may be a bite in the air, a harsh crispness to the wind, and the occasional flurry sighting, this in-between-seasons time can be spent in a cozy, peaceful atmosphere, where holiday cheer is sure to be a result.
Prepare yourself mentally and physically for the holiday season with the help of HeatWave saunas from Royal Swimming Pools. With many options to choose from, Royal offers the latest in infrared heat advancements to make your sauna-buying experience beneficial in more ways than one. One major, positive difference between infrared and traditional saunas is that infrared saunas heat your body directly, as opposed to just heating the air around you. They require lower temperatures to heat your skin and body directly, therefore the sauna itself does not become unbearably warm, and your body receives more direct, penetrating warmth without causing harm to the skin. Mayo Clinic's website confirms that "…studies have looked at using infrared saunas in the treatment of chronic health problems, such as high blood pressure, congestive heart failure and rheumatoid arthritis, and found some evidence of benefit" (mayoclinic.com). It has also been said that, through the perspiration induced, saunas aid in removing toxins from the body and skin, improve circulation, weight loss, and stress relief. These possible links between infrared saunas, or "far-infrared saunas," and the relieving of many aches, pains, and even perpetual symptoms makes them more than just a convenience, but a smart health choice.
If getting a quality sauna while being savvy with your money is on your list of TO DO's for the holiday season, Royal Swimming Pools has some great options for you to choose from. The first thing to consider is what size of sauna you would like. While Royal offers saunas that fit up to six people, if you're looking to stick to a lower-budget and still reap the benefits of a sauna, the one or two person sauna may be a more practical choice for your home. Additionally, the sauna is most often intended to be a relaxing, calming environment, which can be most effectively achieved by oneself. Once you have chosen the size of sauna you prefer, another thing to be aware of is the difference between carbon and ceramic saunas. While carbon saunas are more expensive than ceramic saunas, there are some noticeable differences that may aid you in your choice between the two. Carbon saunas heat more evenly throughout the sauna, while the heat in ceramic saunas is more intense the closer you are to the heater itself. And while carbon saunas may take a bit more time to heat up, this evenly distributed heat fills the entire sauna, encompassing a larger surface area. Another major difference in carbon versus ceramic saunas is that, while ceramic saunas do have a low operation cost, carbon saunas have the most cost-effective operation. Finally, take a look at all the features these saunas include: beautiful Hemlock or Cedar wood, a user-friendly control panel to adjust sauna settings, interior lighting, and a sound system complete with mp3 hookup and built-in speakers! This holiday season, consider making an infrared HeatWave sauna from Royal Swimming Pools an enjoyable, health-friendly addition to your home!