Under normal conditions in today's industry, a pool motor should last 5-10 years. If protected and properly maintained the latter should be reached fairly easily. From time to time, problems do arise. We all know how expensive it is to call a service company and pay labor charges, so here are a few insider tips from the pros to determine some issues. Once you have determined where the problem lies, you can move forward with the proper fix.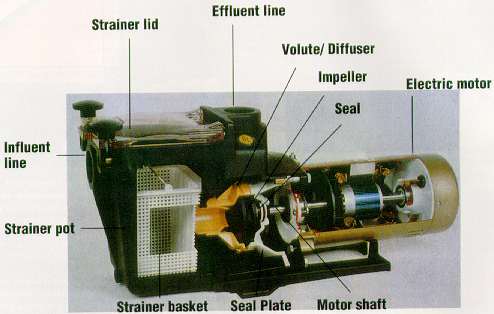 Symptom: Motor will not start, it hums, buzzes or smokes.
Check the shaft, does it turn freely? If not, check impeller and diffuser for debris or breakage
Check bearings
Test the capacitor & replace as needed
Check the starting switch for proper adjustment
Could it have a short in windings ... if so replacement is answer
Symptom: Loud Motor
Bad bearings due to leaking seal (leaking seals are usually caused by other problems that will need addressing)
Worn bearings or end bells (9 out of 10 times it will be in your best interest to replace)
Improper voltage to motor (call electrician)
Symptom: Motor Runs HOT and Shuts Off
Pump not sized properly
Wrong impeller
Clogged vents or restricted suction due to dirty baskets
Symptom: Motor Smokes
Windings shorted
Improper voltage
Welded starting switch
Capacitor failure
Replacing the motor does not always fix the problem. Knowing what caused the problem, and fixing that issue will prevent premature failure of new motors. If your motor is over five years old, and you have determined that it needs rebuilding, it may be in your best interest to go ahead and replace it.
If you are still experiencing issues with your swimming pool's pump motor, it may be time to call in a professional. Experiencing a leak in the your pump? We have help for that here.