If you already have your dream pool, you may find that it's too cold to use it. When it comes to heating your pool, you don't have to spend a fortune with a pool heater just to take a dip here and there. In fact, there are several affordable and efficient ways to heat your pool (with easy techniques that anyone on any budget can afford.)
If You're On a Tight Budget, Go Solar!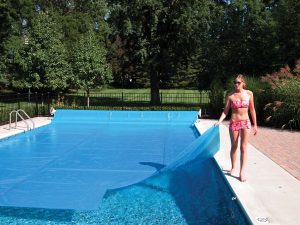 Pool maintenance can be pricey, but when you want to enjoy your pool before the summer weather hits, you may find that you need a cheap, effective method that won't break the bank. In this case, a solar pool cover is the perfect option. A solar heating system (along with a heater pump as a back-up) is a great option. Number one, because it's one of the cheapest options you'll find, and number two, because it's a convenient method that works on any type of pool, as long as the sun is out and solar is available. Solar covers act like a blanket for your pool, shaped to your pool's design and covering it on all sides and angles. It works by absorbing the heat of the sun and heats your pool naturally (by trapping the sun in).
A Second Affordable Option Comes in Liquid Form
Liquid solar covers are another great option for every kind of pool, from small to big. Instead of a big, heavy, bubble wrap type of material you'll find when using a solar pool cover, liquid solar covers involves a chemical that, when applied to the surface of your pool, traps in heat and reduces evaporation (in fact, a test showed that within 48 hours of applying the liquid cover, the pool was 5 degrees warmer, with less evaporation than the pool that did not have the liquid.)
If You Have a Storage Issue, Solar Rings Are a Perfect Choice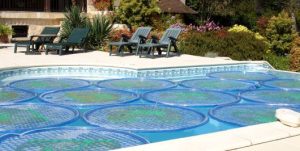 Solar rings, otherwise known as heating rings, are another efficient alternative (to the traditional pool cover or expensive heating system) that will keep your pool perfectly pleasant, all year long. Solar rings are in a nutshell, inflatable large rings that you place on the surface of your pool. They work in the same way a solar cover does, and with similar benefits: they reduce evaporation (which helps you to save money!) and they trap in the heat from the sun, so your pool warms up, naturally. An added benefit? They fold up nicely, and don't take up nearly as much space as a bubble wrap blanket.
No matter what route you choose to take to heat your pool, solar blankets, liquid solar covers and solar rings all work effectively to save you money, and reduce evaporation. Invest in one now, to save hundreds of dollars later!