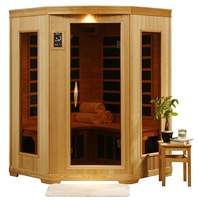 Over time you might need to replace your thermostat in your Heatwave sauna. Royal Swimming Pools wanted to provide you with the instructions on how to do that.
1] Unplug all connections to the roof panel. Remove the roof from the sauna and and set it on its side.
2] Looking at the roof from the finished side, mark a spot in between the 2 reading lights to drill the hole for the thermostat.
3] Choose a drill bit that closests matches the width of the thermostat tip, and drill a hole in the marked spot.
4] Plug the end of the thermostat wire to the end of the thermostat connection that was fed through the power box.
5] Feed the metal tip to the thermostat wire down the roof so that only the metal tip sticks down. In this step duct tape can be used on the top of the roof to hold the thermostat in place. You have now successfully installed the thermostat wire.