Saunas are used for many reasons and by all types of people. Professional athletes like boxers, MMA, and wrestlers use saunas to cut weight right before a weigh in for a fight. I know that the majority of people are not professional athletes, so how can a normal person benefit from using a sauna?
Yes, saunas can help with weight loss but the health benefits are more important. Saunas can help relieve many ailments, infrared saunas were recently featured on Oprah as being beneficial to health and longevity. Infrared saunas are listed as one of the top High tech ways to extend your life!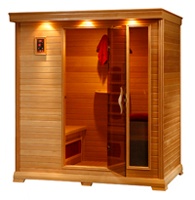 Weight loss with saunas are great. Spending just 30 minutes in a HeatWave sauna can burn up to 600 calories. Fluid lost can be replaced by drinking water, but the calories burned will not be replaced! Burn more calories in 30 minute using a sauna compared to other activities like running, cycling, golfing and walking.
Saunas are also a great stress reliever and provide great relaxation! Your stress and tension will melt away as you bask in the warmth of a sauna.