Spring is just around the corner which means it's never been a better time to head outdoors to your backyard, and make your swimming pool the main attraction. Accentuate your pool with these decorative deck ideas, and become the talk of the neighborhood.
Make it Multi-Layer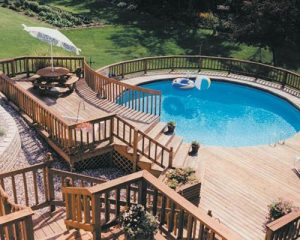 The days of the old tried-and-true single deck style is over. Now, it's all about multi-level, multi-functioning decks. You can transform your outdoor space by designating the lower level deck for entertaining, and the upper level deck for cooking, and activities. Invest in some shade—either a few stylish umbrellas or misting fans (or a combination of both)—and your guests and family members alike will stay cool and relaxed all summer long.
Deck Privacy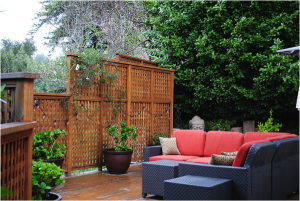 Does your backyard feel like it's just a big outdoor space without any real depth, or privacy? If so, there's a way to bring in relaxation – which will make you feel miles away from your home, or your worries. Create backyard privacy to your deck space by adding shrubbery, plant boxes, a decorative wall, or artistic privacy screens for added warmth and ambiance. You can also invest in various privacy screens for a varied, colorful addition to your backyard—and that isn't just for a practical purpose, but that reflects your personality. For example, if you enjoy reading in your sun room, invest in a sliding shutter leading out to the backyard. Or, if you're eco-friendly, why not use bamboo as planters, and turn your spacious outdoor space into several 'rooms' for various functions?
By Fireside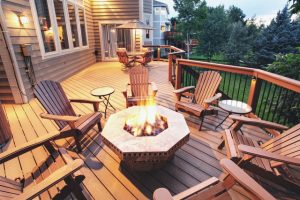 Why not design part of your deck (or the center of your deck) to become a bonfire retreat space to relax, chat with your loved ones, or simply decompress from a long day with a cup of cocoa. Your deck can instantly transform when you invest in a mosaic fire pit, and a beautiful couch, along with a few lounge chairs. Decorate your couch with comfy pillows, and twinkling lights that hang overhead and you've achieved instant backyard beauty! There are many variations you can do on a theme here.
Whether you make this area 'adults only' while the kids play (and you and your guests enjoy the fire while sipping on a Moscow Mule) or its your family zone, area of the deck (where every Saturday night you spend time laughing with your kids and roasting marshmallows), a fireside camp-like setting is an instant way to transform your backyard.
No matter what you do with your backyard, there are ways to decorate it so that you feel good in the space you live. Your pool will always be a showstopper, but now you ways to enjoy your backyard when you aren't swimming, all year long.