The answer is in fact, Yes! Most automatic cover manufacturers such as Coverstar offer a conversion kit that will allow their motor and switch to be used with other brands's mechanisms such as Cover-Pools.
In the attached photo you will see an example of the motor mounting plate which is attached to the mechanism and allows the use of the Coverstar motor on the Cover-Pools system.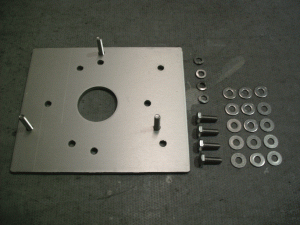 With so many brands of automatic pool covers on the market today, the top manufacturers have designed universal parts to allow the use of their parts on other brands.
The cover fabric is one of the top items that is easily interchangeable from one brand to another.
This makes it easy for installers to purchase and install cover systems that they may not sell.
For example, a Coverstar installer wouldn't purchase items from Cover-Pools so this is why universal parts are crucial.
Are you in need of a replacement motor or any other part for your automatic pool cover?
If so, contact us at sales@royalswimmingpools.com or 866-532-8194 and we will be glad to help assist you.
Brands that we have sold replacement parts for include:
American
APC (Automatic Pool Covers)
Aquamatic
Cantar (WET)
Covermatic
Coverpools
PCS
PoolSaver
and more.
We hope this helps and that you are well on your way to a splash filled day of fun! If you have additional questions, please let us know if the comments below.
Looking for reading material? Our blog is full of fun facts and helpful tips. Check out some of our recommended posts below: