Not all private pools are built alike and we're not just talking about rectangles versus kidney shapes here. Each homeowner builds a pool for their own specific reasons and the design of their pool will reflect ultimately that. Some people want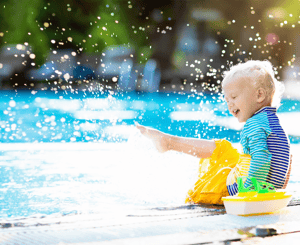 that perfect vacation home getaway, and build themselves a cool lagoon. Some build long, deep rectangles for lap swimming, possibly without a shallow end since their goals are solely centered around exercise. While leisure is great, and exercise is encouraged, the largest category of people looking to add a new pool to their backyard, is parents seeking the ultimate fun spot for their children to learn to swim, enjoy many happy pool parties, and make endless summer memories from their own backyard.
When you're building a pool for children and family events, it's important to think about the design features available to you. Today, we're diving into how to design a pool with safety and fun child development in mind. Let's take a look at the key factors in creating the perfect family backyard pool.
Shallow vs Deep End
The first feature to think about is your shallow end.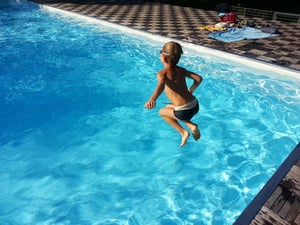 Most pools have one, but some don't and that's part of your design phase. A pool built to be welcoming for small children should have a dedicated shallow end of considerable size so that there's plenty of room for multiple children to swim and play together in a side of the pool that is safe for them. Shallow end water is usually about 3 feet deep, making it safe for approximately first-graders and up to keep their heads above water with their toes on the pool floor.
Learn-to-Swim Steps
Pool steps are also incredibly important when it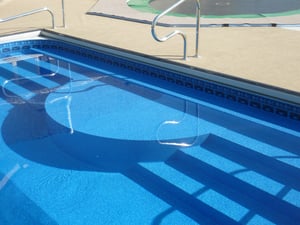 comes to introducing your children to the water and the time in which they are not yet avid swimmers. There are several different styles of pool steps, and for families with small children we suggest wider steps that create more of a gradual experience than a quick drop-off. Not only are these safer, they also give children a chance to learn to paddle and kick in the water without even reaching the full depth of the shallow end.
Another great option for growing families with really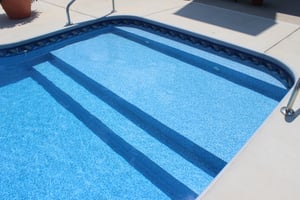 little ones would be to include a tanning ledge in your step design. This is essentially an elongated step tread that can be used by adults as a lounging area or smaller swimmer who still aren't completely comfortable in their water wings just yet.
Steps are also a great place for parents to sit with very young children, letting your babies and toddlers get used to floating in the safe encirclement of your arms.
Sitting Ledge
A wonderful yet under-utilized pool feature for kids is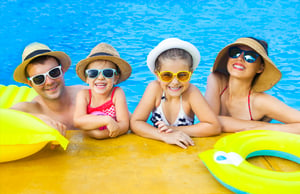 a sitting ledge—a ledge about two feet below the surface of the water and approximately a foot wide, protruding from the wall of the pool. Essentially, it's the same kind of seat you might find in a hot tub, but in your pool instead. This can run along one wall or even all the way around your pool!
This gives kids a place to rest without getting out of the water, as well an easy extra step for climbing out of the pool when a ladder isn't nearby. As mentioned, sitting ledges can go all the way around the pool's perimeter, but they are most useful in the deep end where children are more likely to swim until exhausted, then pull themselves up to rest and hang out.
Slides and Diving Boards
Then there's the question of fun pool additions: slides,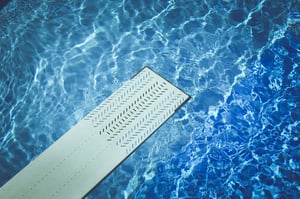 diving boards, and other pool features that bolt on but are not part of the proper structure. Naturally, children love pool add-ons. And let's be honest, big kids and even adults do as well. A volleyball net will spur endless games of beach ball volleyball in the shallow end, no doubt featuring an annual summer championship game, Whereas a slide will always be in use.
However, as a parent you want to think carefully about safety and logistics. These add-ons are great fun but only when added-on correctly. For example, only put in a diving board if you'll be OK with your kids jumping off it and if your pool depth meets the proper requirements. Only put in a slide if it can safely allow for waiting room as well as deposit the user into a deep enough area of the pool. And always make sure you are only working with safe equipment designed to be used with your pool that has been installed properly.
Paving Choice Matters
Yeah, it seems odd but believe it or not, even your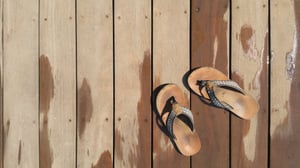 choice of paving around the pool can have a big impact on how your kids and family experience the backyard for future decades. Textured concrete is the usual go-to option and it works. But as you probably know, it also has a tendency to rip up pool-softened feet as well as a favorite float that gets used all the time. This is why many homeowners go for tile or another type of poured paving instead. But not all pool tile is created equal.
A couple thoughts to consider with pool paving: how hot are they going to get in the sun, how abrasive are they going to be on wet tootsies, and with tiles, how slippery are they going to be when wet? Kids are going to frolic and play in this area so choosing a decking material with your little ones in mind can save you time outs for boo boos and band-aids.
Storing Pool Toys
The next question for practical pool owning parents is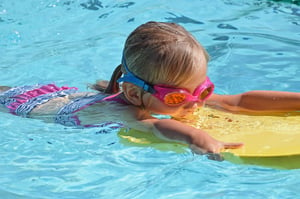 where you will store your pool toys. Because we promise, you won't want to bring them inside the house during swimming season and leaving them out and about will not allow you to experience that subtle relaxation that comes from enjoying the trickling sounds of toys crunching under your foot. Pool toys spend their entire active lives dripping with chlorine water and, not to mention, when inflated can be quite large. The last thing you'll want for it to be a huge hassle putting away pool toys. So this is mostly a matter of logistics.
If you have a back shed, it may be time to clean it out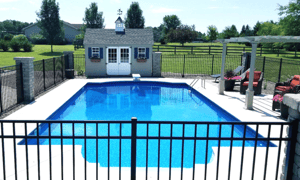 and make a place for splash-balls, noodles, and inflatable castles. get a mesh net for smaller toys to drip dry without getting a lovely layer of mildew. If you don't have a back shed yet, or something similar, then perhaps that could become part of your pool building plan. But don't worry, pool toy storage is widely available and can be quite decorative even if you just start out with a smaller trunk.
Pool Cleaning Chores
I know... who put this on the list? If you are like most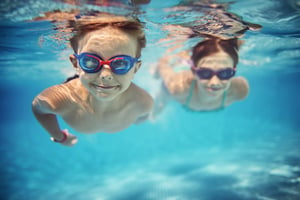 parents, you are probably planning to have your kids help maintain the pool when they're old enough. Let's not get too crazy and have little Johnny testing water chemistry at 5. But you do want to think about designing a pool that's relatively easy to clean. Both for your own sake and for your kids' down the line. This could be as simple as that last line item of storage and making sure that your little ones know it's their job to put things back where they belong.
For bigger jobs, like brushing the pool walls,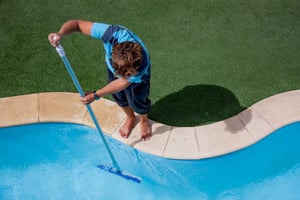 rectangular, oval-shaped, and circular pools are the easiest to clean because they have smooth walls with less nooks for pool-debris (leaves, pollen, toys, etc) to get caught in. They are also easier for a pool cleaner robot to navigate because the paths are simple to follow.
Decorative Pool Floor
Finally, take a moment to think about how you want your pool floor to look. There are many basic liners that will be great for your pool budget and will look nice in your pool. But for kids, you might consider splurging on something fun and decorative instead. Without choosing anything that might be 'uncool' later when your kids develop that pre-teen sense of uncoolness.
A hypnotizing swirl of blues and purples, a mosaic turtle, or even a colorful 'game board' for years of creatively invented pool games are fun variations that your children may delight in. And you can enjoy every time you take a swim for yourself. This is one area where you can really have fun with now and then change again later!
As a parent (or parent-to-be) planning for a family pool, these key factors will help you to make important decisions about pool shape, size, and features. With a little extra consideration, there's no doubt your children will find endless joy from whatever design you choose. If you are currently planning your family pool or have additional thoughts on fun and safe pool design ideas, share your thoughts in the comments! Our goal is to build a community of ideas, plans, and advice that all pool owners and planners can share.
Happy designing!
Additional resources for your pool buying journey: