Diving boards are not restricted to public swimming pool. You can include a diving board on your new residential pool or even potentially add one to your existing backyard pool. Diving boards can add a lot of fun for both you and your kids, but keep in mind that they have to be installed correctly. Ensuring that everyone is safe while making those big splashes is crucial to the enjoyment and well being of others.
This article explains what the minimum requirements are and what you should implement if you are designing a new swimming pool or just adding a board to an existing one.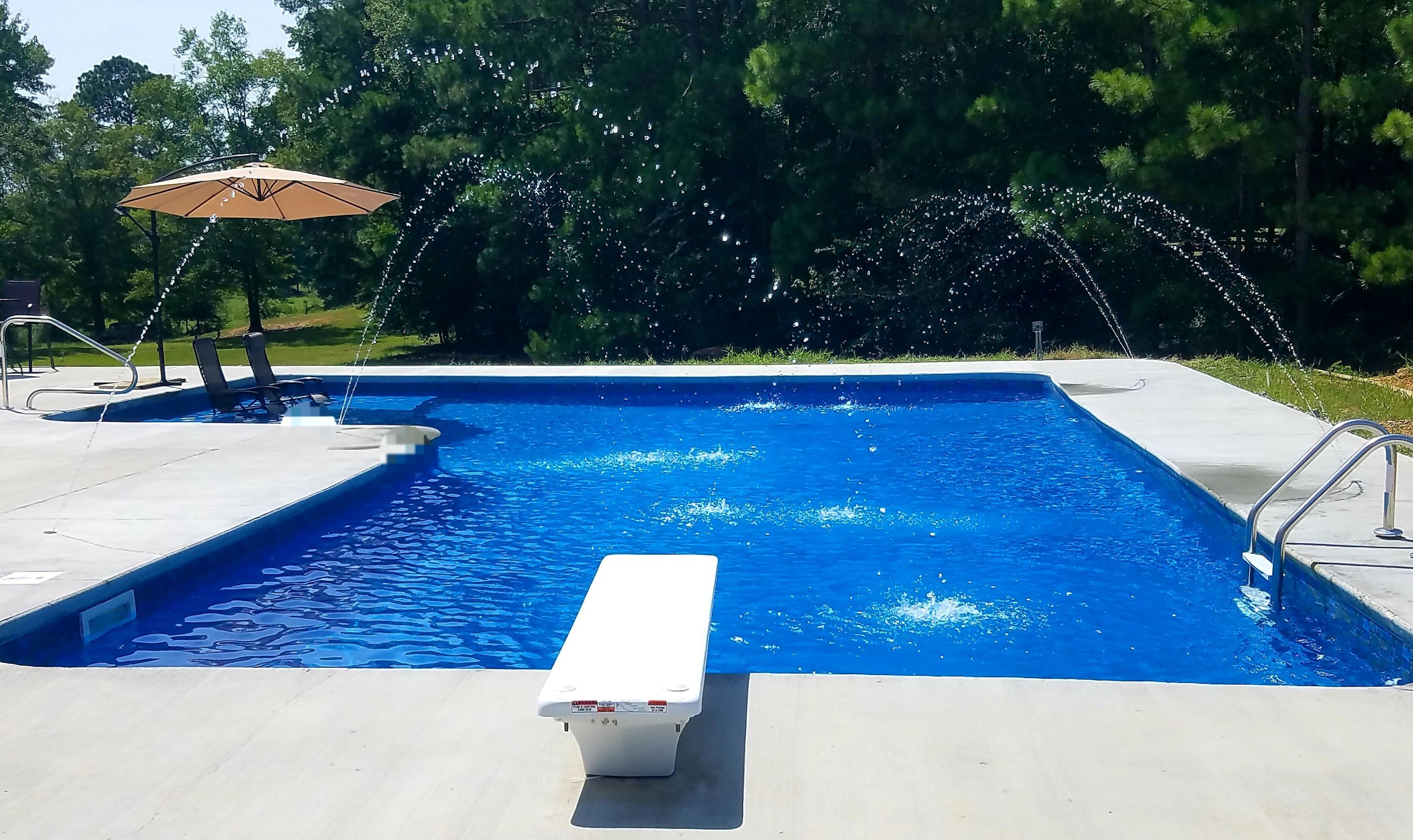 What is the Minimum Depth?
To qualify for a diving board installation, your pool has to have a diving well that meets a certain depth. The American National Standards Institute (ANSI) have set the standard diving well depth of 7.5 to 9 feet, depending on your exact configuration.
NOTE: competition pools are deeper because the boards are higher.
Many municipalities have a minimum depth they require your pool to be if including a diving board, and diving board manufacturers may also have recommendations. For example, for our Inter-Fab jump diving boards, the manufacturer requires a minimum depth for the well of between 7'6" and 9', depending on the exact shape of your pool. This depth doesn't have to be the entire pool, but rather the "well" below where the board is installed. This area of the pool is commonly known as the hopper, or the deep end.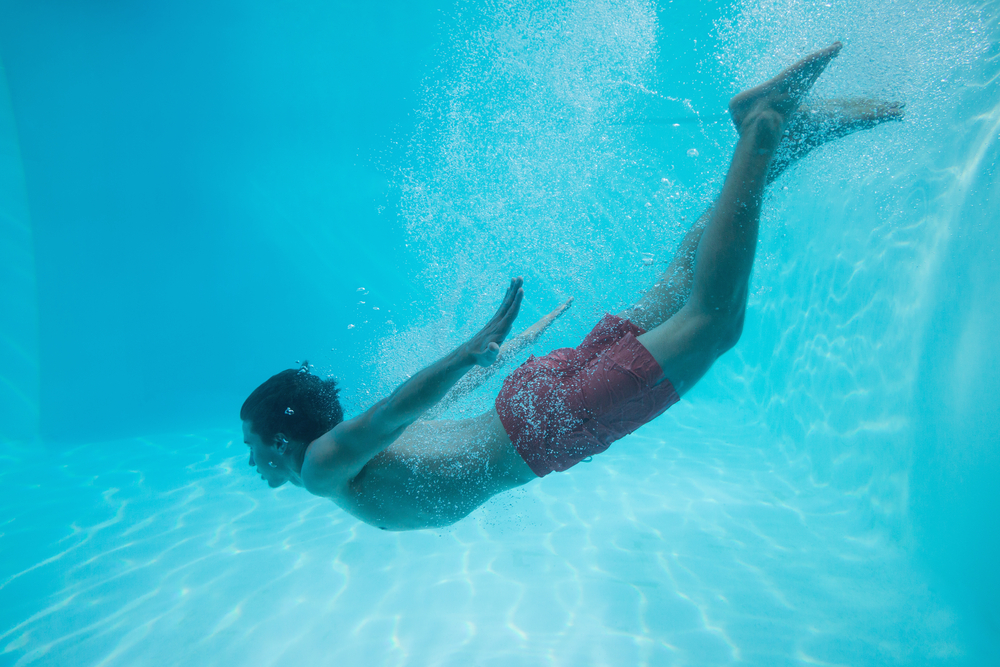 What is the Minimum Size of Your Pool?
Generally, it is only safe to install a diving board in a pool that is 16' x 32' or larger, and if you have the space to enlarge your pool consider doing so. Bear in mind that the larger you make the diving well the less amount of shallow end space you'll have if you don't make your pool larger overall.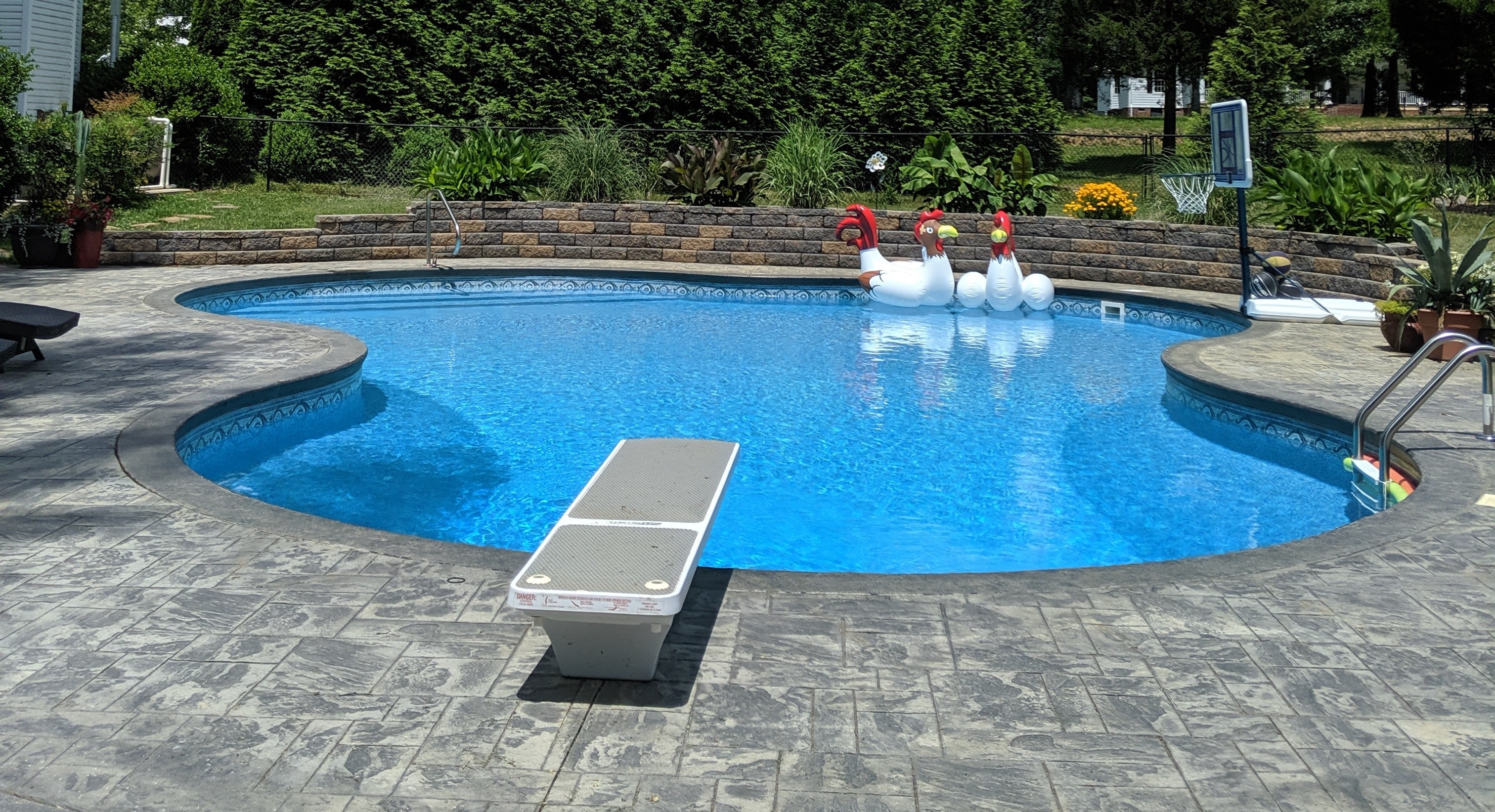 Keep that in mind when selecting your pool size so you can properly plan for younger children and weaker swimmers.
Another good option if you want a pool that has more deep end than shallow, is to add vinyl over steps with a tanning ledge or sun ledge.
These spaces serve multiple purposes; from an entry way and exit from the pool to allowing a shallow space for the young to play safely and older swimmers to relax.
Keep in mind, that you will still need a shallow end to accommodate the needed slope specification for diving pools, which may make your pool longer, but this is a beautiful option if you have the space.
You can learn more about these step types here.
What Other Requirements Are There?
Outside of meeting the required pool depth and size there are few other regulations you should be aware of.
Never attach a diving board to an above ground pool; they simply can't be made deep enough. This will violate codes no matter where you live and voids warranties due to the extreme hazard it would provoke.
The shape of the pool is flexible, and diving boards can be put in pools that are in decorative shapes as long as the "dive envelope" remains intact. I.e. the proper diving well depth and slope transition from shallow to deep end.
The diving well needs to be a certain minimum size, depending on the type of board and board length, and the slope between it and the rest of the pool has to be fairly gradual (which is one reason why diving boards can cost you a lot of shallow end space).

Never simply move a diving board from one pool to another. If you have an old diving board from a previous home that you want to move, check thoroughly to make sure that it is suitable for your new pool; you may need to switch to a shorter board or you may be able to upgrade. In many cases it's better to leave it for the new owners and get a new diving board for your new place.
The location of the physical board stand/base has installation requirements as well that have to be adhered to in order for your diving board to meet code. These specifications are based on your board length and model and can be found in diving board's installation manual. You can also read more on jig placement here.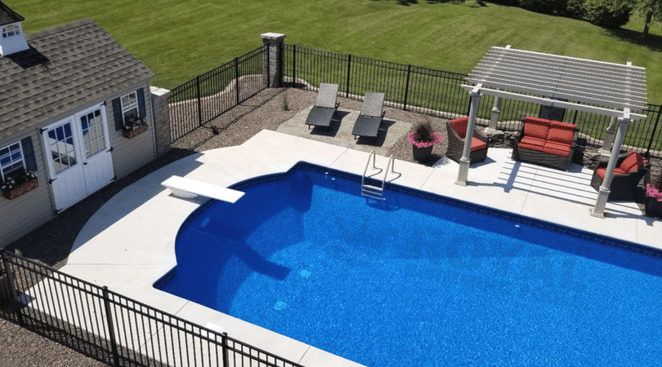 Spring boards and higher platform boards require even more depth. If you're considering one, you should talk to a professional pool designer. For the most part, residential pools are not large enough for these kinds of boards as opposed to simple jump boards.
There is also generally a maximum height the board can be above the water for safety. This depends on how tall your stand is so make sure to discuss this with your builder or sales consultant ahead of time.
What Kind of Diving Board Should I Get?
The kind of board you should get depends on your needs, aesthetics, and the type of pool you have. The longer the board, the deeper the pool will need to be for safe diving.
The type of base you want is primarily an aesthetic consideration. Based on the base (that's just fun to say) some diving boards can be stored indoors in the off season (just make sure you know exactly how to put them back). Most bases are permanent structures.
Diving board now come in different finishes/colors and can have a waterfall kit installed on them. This allows your board to not only serve as a main entertainment function but double as a fountain and added sound ambiance.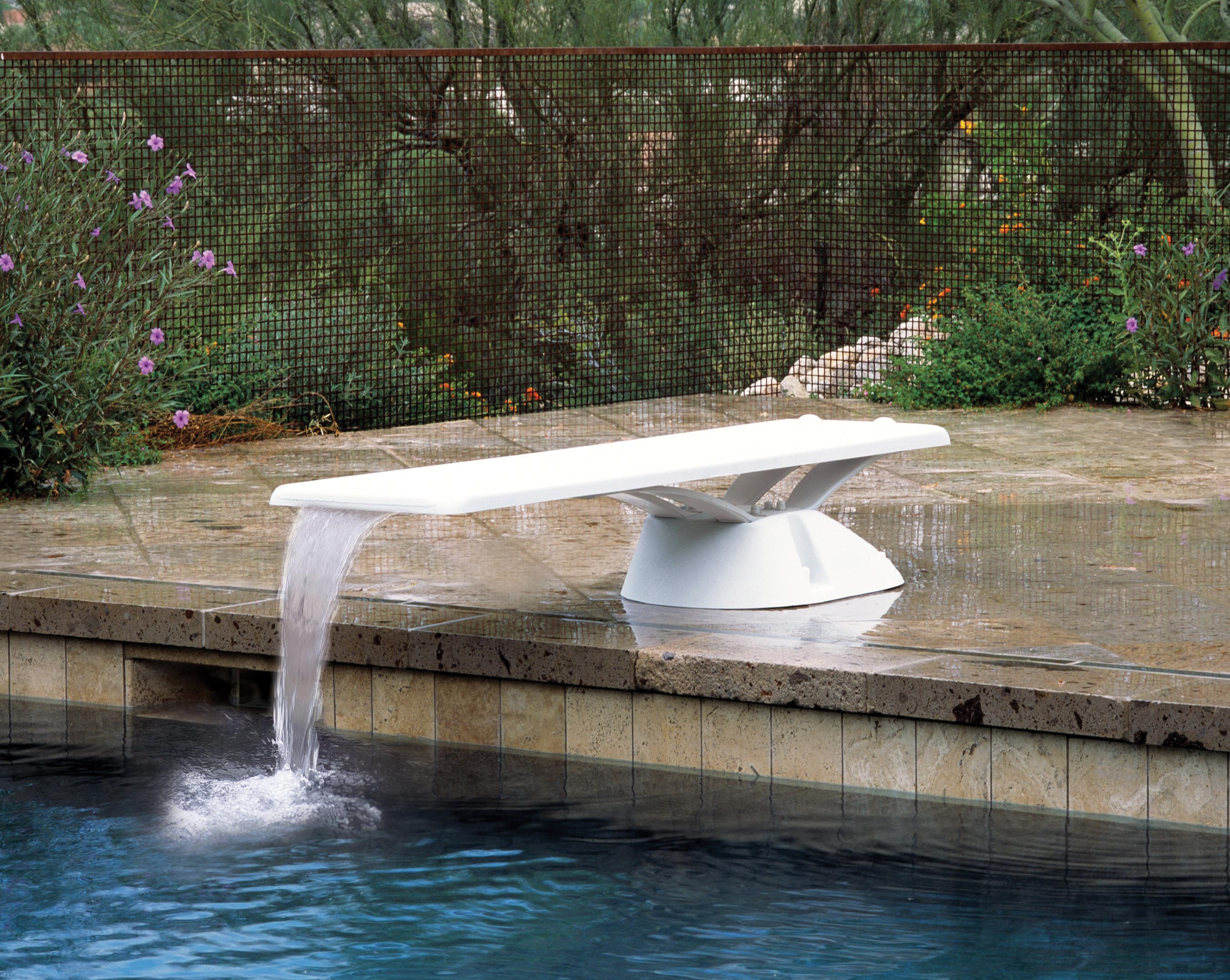 Can I Install a Diving Board Myself?
Yes, but you need to strictly follow the installation instructions (this also goes for storing and replacing a board). Your board will have a minimum distance from the pool edge to the diving board stand, and it's very important to abide by this to keep the board from tipping into the pool.See the below example of one type of board placement for the Inter-Fab T& Diving System.* If in doubt you can hire a professional installer.
*Always refer to the included manufacturer's instructions when installing a diving board.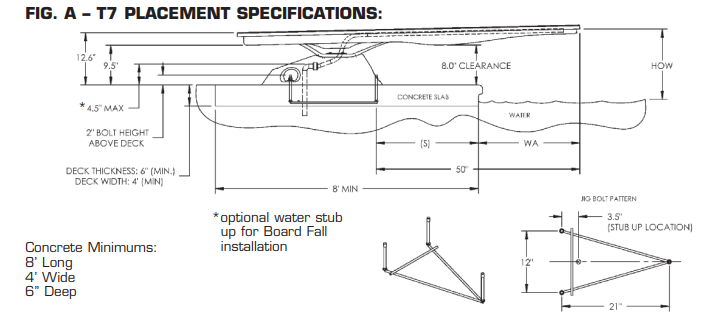 Your board will also have to be properly bonded. This means it needs to be in contact with electrical bonding wire running around your pool to ensure that it is at the same electrical potential as other metal, which reduces the risk of getting a nasty shock when you touch the metal stand. This has to be done by a licensed electrician. Learn more about bonding here.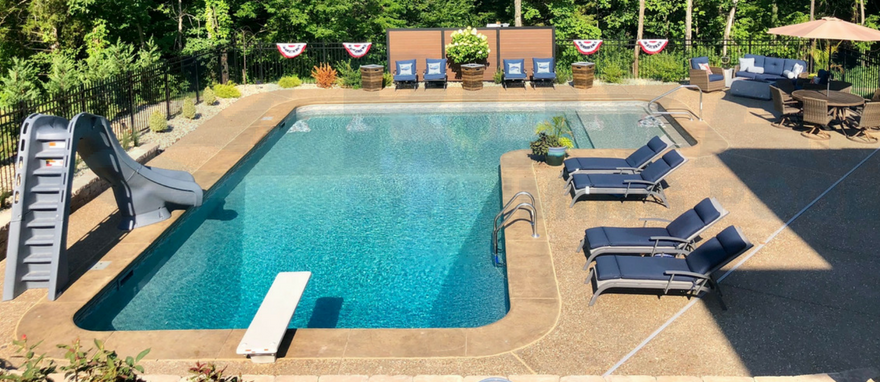 Having a diving board in your pool can be a lot of fun for everyone, but it's vital to do it safely and make sure that your pool is the right size, shape, and installed correctly.
If designing a new pool, talk to your pool designer from the start about wanting to have a diving board so they can work with those requirements as well as your budget. Give us a call today at 866-532-8194 or reach out online here and we'll happy to get you started!
Can't get enough? Here are some additional resources you may be interested in: