So you need to replace the safety cover on your pool, but would like to avoid the mess or hassle of drilling new anchor holes? The good news is, no you don't have to drill new holes. The other side of that though is that you do have to order the new cover s certain way to avoid this.
Ordering a new safety cover straight out, will come with a slightly different template than your previous cover, which will require new holes and anchors, so we're happy to say that there is a much easier solution.
Royal Swimming Pools offers a service where you can ship your existing safety cover to the manufacturer and they will use your old safety cover as a template for the new safety cover. The cost of the cover is the same regardless of how it is ordered, you simply pay the template fee charged for having this service.
A common question we get is if you'll have to keep the old and used hardware from your old safety cover. Good news! You will still receive all new hardware for your new safety cover.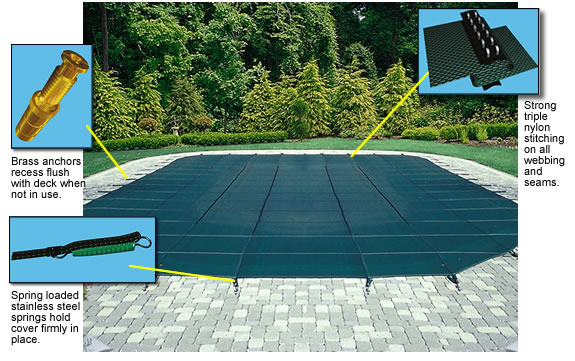 We would just need to know what type of safety cover you would like to purchase so that we can get you the information needed to send in your existing cover (minus the hardware) to the manufacturer.
If you'd like to work with a team member to order your custom safety cover,click here to get started!
Here are some additional resources for swimming pool covers: