Automatic pool covers are one of the most innovative items in the swimming pool industry, however they are not new inventions. The first known auto cover dates back to 1959. Although that automatic cover was very primitive, technology has since taken over.
Every year we are seeing continuous improvements in the cover design, hardware, and installation process. With so many great manufacturers in the industry we expect this trend will continue.

One of the most crucial components of the automatic cover is also one of the most overlooked. The webbing, which is attached to the side of the cover fabric, is the piece that locks the cover into the track.
Most automatic cover manufacturers use standard sewn-on webbing. Thus, making the stitches crucial to the safety and durability of the cover.
Over the years, many covers have been replaced due to sewn threads fraying, being cut or disintegrating over time. All these issues with sewn threads can lead to cover failure. Another issue with sewn webbing is the tendency it has to bunch up around the rope which can damage the fabric itself.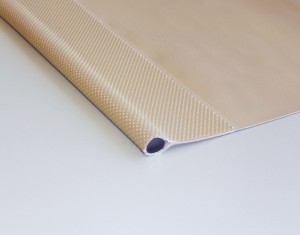 In 2003, Coverstar introduced a new Heat-Sealed webbing which actually bonds the webbing to the fabric without the need of sewing. This provides a substantially longer webbing life and improved cover operation and reliability.
This option is offered in white or it can be color matched to the fabric color. Color matching is a more aesthetically pleasing option and is also longer lasting than white webbing due to color pigments which reduce UV light exposure to the fabric.
When converting auto cover fabric from sewn-on to heat-sealed, you will need to make sure you have adequate housing space due to the added diameter of the cover with the thicker Heat-Sealed Webbing. When ordering replacement automatic cover fabric, make sure to note you are converting from sewn-on webbing to heat-sealed.
Here are the Heat-Sealed Webbing cover housing width and depth guidelines from Coverstar:
12"X12" box 36' Track Length 40' Cover
13"X13" box 40' Track Length 48' Cover
14"X14" box 51' Track Length 55' Cover
(Add one inch of box for each additional 8 ft of fabric from this point on)