When choosing a winter cover for your swimming pool, some folks find it helpful to learn more about the brands available to them.
In this article we'll cover some details about Arctic Armor Winter Pool Covers.
First, if you're wondering whether or not a winter cover is necessary, check out this article first so you know you're spending your research time wisely.
If you're ready to move ahead, let's get started!
Arctic Armor offers swimming pool covers for both above ground and inground swimming pools. So not matter what kind of pool you have, we have you covered! (Get it?! Dad would be proud of that one!)
All Arctic Armor above ground covers have a 4-foot overlap that provides a better fit, especially on pools with large top rails. While their inground pool covers have a 5-foot overlap.
Arctic Armor safety covers feature superior strength and top quality solid and mesh pool safety covers. (Do you know if you want a solid or a mesh cover? Find out which is best for you and your pool here)
Arctic Armor high quality safety covers are available with a 12 and 15-year warranty.
We at Royal Swimming Pools, offer 3 levels of Standard winter pool covers: Bronze 8-Year, Silver 12-Year, and Gold with a 15-Year Warranty.
Keep in mind that a winter cover is NOT a safety cover and does not provide any safety benefits for people or critters. If you are looking for a cover that provides safety features, you'll want to look into safety covers.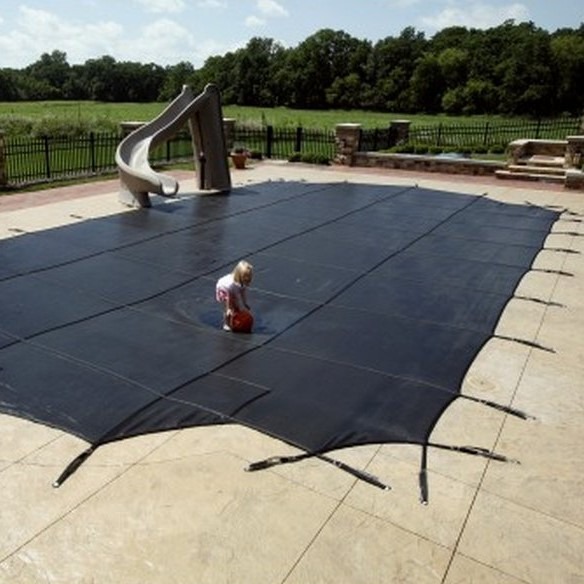 We also carry all winterizing accessories like water tubes, air pillows, winter chemicals, winterizing plugs, winter cover patch kits, cover pumps, and much more. If you don't see it on the website just give us a call 877-607-7067.
For more resources on swimming pools in the winter, check out these helpful topics below!